Reading Time:
8
minutes
To those who think an adv motorcycle trip means riding wine country around Europe on a Ducati Monster. Taking the paved roads to must-see stops on South Africa's Garden Route on a brand new BMW 1200GS. Or, capturing some stunning photos of their Kawasaki W800 with cherry blossoms in full bloom and Mt. Fuji in the background. For you my friends, these trips are part of our list of high end motorcycle tours around the world.
What Makes An ADV Tour "High End"?
When you think adventure motorcycling the first thing to come to mind isn't usually how you're going to pack the champagne in the Givi panniers or how good the hotel room service is going to be.
I'd say the standard adventure rider is expecting a bit of mud in the face, a cold beer at the end of a long day, and getting to know a few of the roads less traveled. But the adventure is in the eye of the beholder, right?
Expectations on a High End Motorcycle Tour:
Late model, low mileage motorcycles

Upscale accommodations with A' la carte dining

Two or more professional tour leaders

Comfortable support vehicle for non-riding companions, luggage & parts

May include all or some of your riding gear

Extensive insurance for your motorcycle 

Comprehensive pre-trip planning and detailed itineraries

Exclusive, surprise extras not always listed 

A price tag reflective of the experience
Check out some excellent riding gear options at Chrunix

What To Expect On A Standard Motorcycle Tour
If you prefer the taste of fresh mud over fresh chocolate mousse on your lips after a day's ride, don't run away just yet. There are more options out there for standard motorcycle tours then high end motorcycle tours.
Non-luxury standard motorcycle tours will have:
Quality adv bikes suited for your riding conditions

An experienced guide with a well traveled route of where you are going to be riding

Quality hotel rooms for one or two people

A guide who knows the local language as well as English

Suitable motorcycle equipment for the bike you are riding

Basic safety equipment like a helmet and gloves
Check out the multi-day tours on this list of options in Vietnam. The motorcycles are perfectly matched for motorcycle tours in Asia. The tours are exciting, and the guides will take you to places you might never get to experience on your own. 
1. Alaska Motorcycle Trips – Bears and BMW's
America's last wild frontier awaits adventure seekers looking to buzz by bears, call out to caribou and meander backroads for moose. Alaska's short riding season packs a big punch with adv riders looking for more than just dusty trails.
Ayers Adventures takes riders on some of the top guided motorcycle tours for USA over paved and gravel roads to the Top Of The World Highway. Stops include; a tour through the Denali National Park. The Gold Rush town of Whitehorse. Side trip options to the Arctic Circle and a walk over the ancient Matanuska Glacier.
Details
Tour name: Alaska/Yukon Adventure

Start and finish in anchorage

13-day tour

$7,495 for a solo rider

Motorcycle options: Suzuki V-Strom6500, BMW F700GS, BMW F800GS,

Honda CRF1000 Africa Twin

or the BMW R1200GS

Book with Ayers Adventures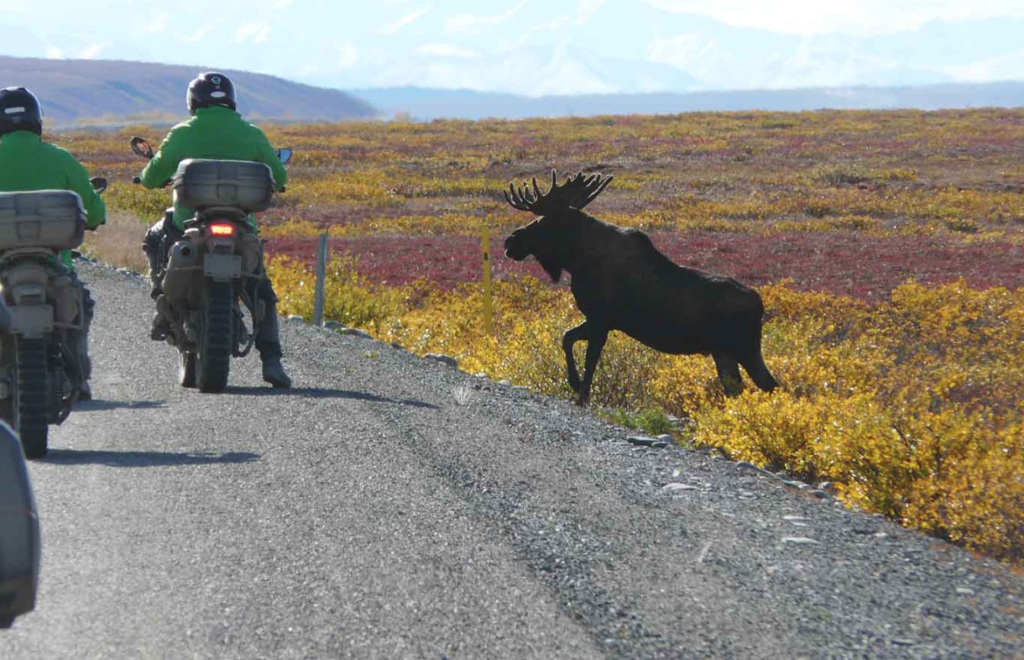 2. Motorcycle Tours In Africa – Victoria Falls To Cape Town
Africa is home to some of the most incredible adventures you can have on two wheels for any continent on the planet. On this tour, riders make their way across Zimbabwe, Namibia, Botswana and South Africa to see the amazing wildlife and natural wonders Africa is known for. 
Let RTW motorcycle adventure Rene Cormier take you to experience elephants swimming up the Chobe River into the sunset of the Okavango Delta. Get wet at the magnificent Victoria Falls. Take a break from the road with a fly-in night of bush camping.  Get your souvenir t-shirt on the well-ridden garden route. Ride 4,000kms of paved roads, 1,000kms of gravel roads, and try your hand at some sand dunes.
Details
Tour name: Victoria Falls To Cape Town

Start in Victoria Falls and finish in Cape Town

22-day tour

$11,500 per person based on shared accommodation

Motorcycle options; BMW F700, BMW 850GS,

BMW R1200GS

Book with Renedian.com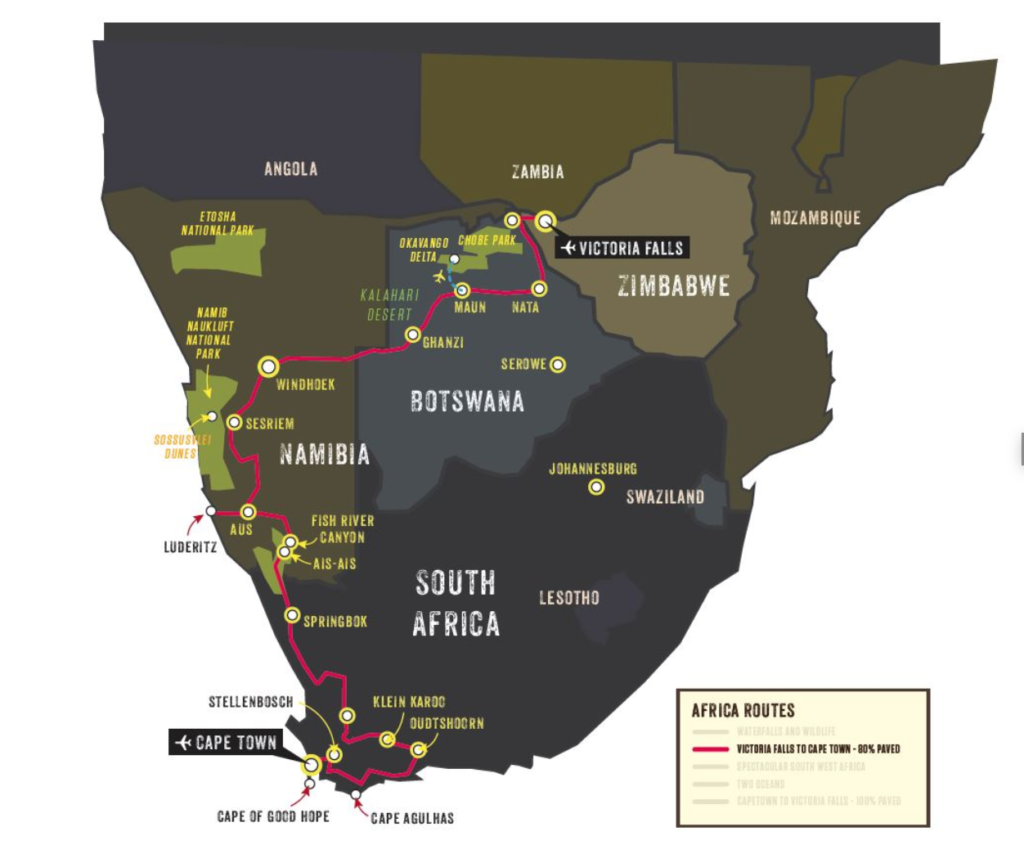 3. Thailand Off-Road Adventures
The Land Of Smiles awaits thrill-seekers for an off-road experience of a lifetime in northern Thailand motorcycle trip and through the legendary Golden Triangle. Ride Doi Inthanon National Park up 2565-meters to the highest peak in the country. See Royal Pagodas that symbolize the country's strong history of ruling Monarchs. Soak your motorcycle tensions away in mineral baths. Then ride highway No. 1148 to Nan, one of the most exciting motorcycle roads in Asia.
Details
Tour name: Unseen Thailand

Start and finish in Chiang Mai

8-Day tour

$2240 for a single rider

Motorcycle options: BMW F800GS, BMW G310GS, Kawasaki Versys 650, Kawasaki ER6-n 650, Honda CB650F,

Honda CB500X

, Honda CB30F, or the

Honda CRF250

Rally

Book with Big Bike Tours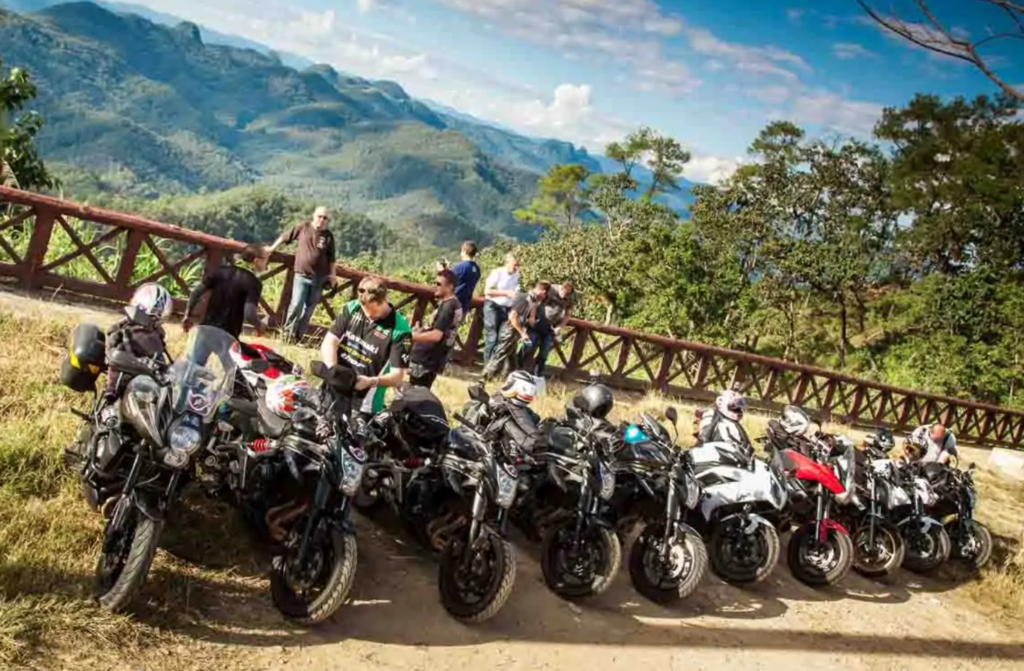 4. Luxury ADV Motorbike Tours – Japan Cherry Blossoms
Once a year the infamous Cherry Blossoms of Japan bloom to life in a bright pink that brings the trees to life and fills the air with a fragrant aroma. With these beautiful buds as the backdrop of your motorbike photos, holiday-makers will enjoy a 14-day tour of Japan.
Stops include; The historic city of Kyoto. Yoshino, home to an abundance of cherry blossom trees. Koyasan, the Buddist place of pilgrimage. Mt Fuji, Japan's active, snow-capped volcano. Expect plenty of Sushi and Sake options while you twist your way through The Land Of The Rising Sun.
True moto-enthusiast will know that Japan is the birthplace of popular adv motorcycles like Kawasaki's KLX250cc or the Honda XR150L one of the best small displacement bikes for adventure riding in Asia. 
Details
Tour name: Cherry Blossoms and Mt. Fuji

Start and finish in Kyoto Japan

14-day tour

$9975 for a single rider

ADV Motorcycle options: Suzuki Gladius 400 ABS,

Suzuki V-Strom650

, Honda NCX750, Yamaha MT09 Tracer, BMW F800GS, BMW R1200R,

Book with Ayres Adventures
5. Wales Motorcycle Tours & The Isle Of Man
Picture yourself riding the Isle Of Man Race that runs between England and Ireland, but at a comfortable pace with plenty of time for shopping and seeing the sites.
One of the great motorcycle holidays in Europe, MotoQuest offers a 13-day adventure on two-wheels to the birthplace of Shakespear, through Wales, then takes riders on a section of the Isle Of Man race! After you'll have a couple of days to watch the race, and all along the way you'll be pampered with meals and exquisite hotels. If you enjoy a good race at a leisurely pace, this is for you!
Details
Tour name: Isle Of Man And Wales Adventure

Stars & finishes in Farnborough.

13-day tour

Starts at $9,200 for a single rider

Motorcycle options: BMW F750GS, BMW F850GS,

BMW R1250GS

, BMW R1250RT, BMW R1250RS, or BMW S1000XR

Book with MotoQuest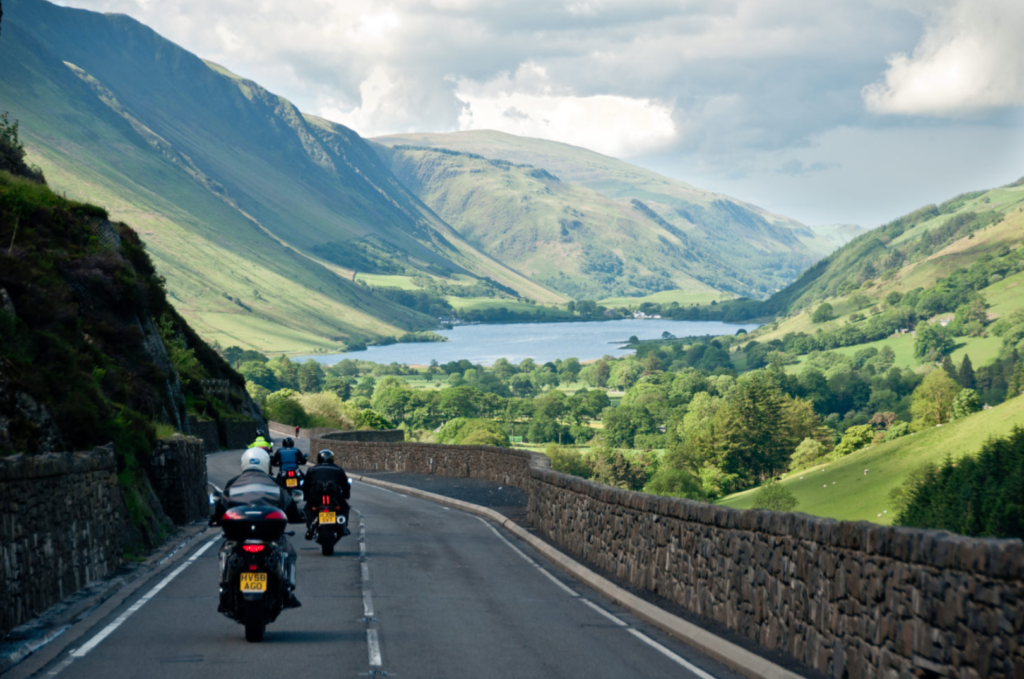 6. Edelweiss Motorcycle Tours Europe – Italy Alps Deluxe
When you think adv tour do you think; How do they make Prosecco? When is the next cappuccino break? And, do the linens in this spa-hotel appeal to the adv rider in me?
If you answered yes, you're not alone. In fact, there is a tour designed just for you. The Edelweiss motorcycle group has 2350 tours in over 180 destinations and 40 years of experience. Amongst these tours they offer two "Royal Tours". One dubbed the "Mystery Ride", a 14-day tour with a high emphasis on food & drink as well as hinting there will be no early-rising days.
The other option for European motorcycle tours 2020 is their Royal Alps Deluxe ride. An 18-day motorcycle tour that includes 10-days of vacation time and 8-days of riding. In case you missed that, there are more days of vacation than actual riding. 
Highlights include wandering through Glurns, Italy's smallest town. Riding twistys over the 8,500ft Gavia Pass, 4,500ft Mendel Pass, 5,000ft Monte Grappa, and visiting stunning Lake Garda.
Details
Tour name: Alps Deluxe

Starts and finishes in the Seefelder Plateau

18-day tour

Prices from $5300-$5900 based on one rider

ADV Motorcycle options:

BMW G310GS

, Suzuki V-Strom650, Yamaha Tracer700,

Honda Africa Twin

, Ducati Multistrada 1260S, Triumph Tiger Explorer, Yamaha Super Tenere, BMW R1250GS

Book with Edelweiss Motorcycle Tours
7. France Motorcycle Tours – The French Riviera
When your motorcycle life deserves a little 'Je ne sais quoi', you deserve to give it a taste of Frances revered French Riviera and the Côte d'Azur. With a high emphasis on comfortable accommodation, this tour takes you to explore the regions of Aquitaine, Languedoc-Roussillon, Midi-Pyrenees, Provence and Côte d'Azur as well as the famous Riviera coast cities of Saint Raphael, Saint-Tropez, Fréjus and marvelous Monaco.
Details
Tour name: French Riviera

Stars & finishes in Saint Viet.

12-day tour

$4,200 for a single rider

Motorcycle options: BMW line of bikes

Book with CRMT Tours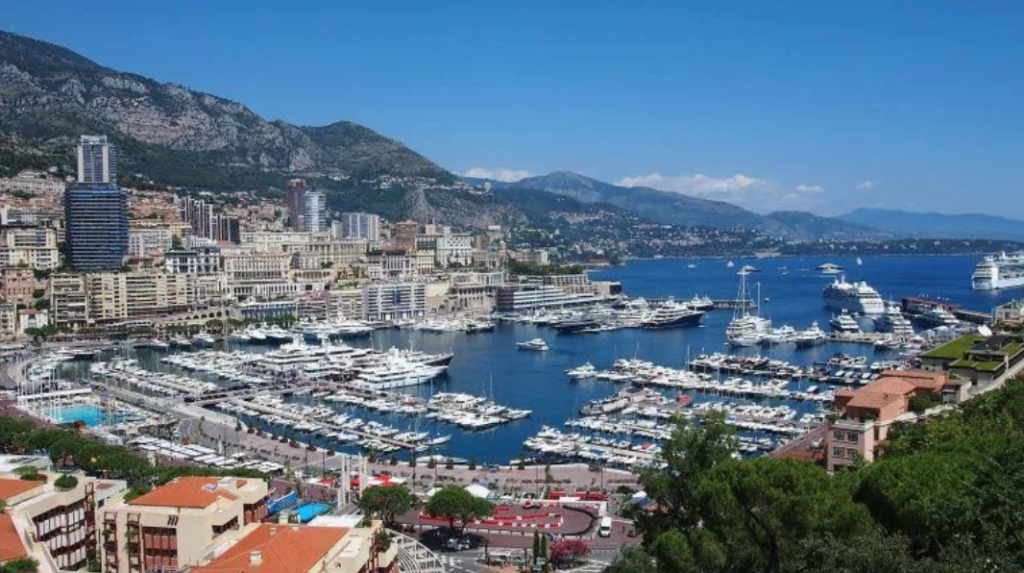 8. Motorcycle Tours South America – Tierra del Fuego
As a kid you probably asked why the sky was blue and where the world ended. If you want to know for yourself, come and find the blue skies that lead to the end of the world in Ushuaia Argentina.
16-days of crisscrossing the Andes mountains between Chile and Argentia, through the wilds of Patagonia where all roads lead to the end of the earth in the town of Ushuaia. Enjoy looking for penguins on ferry rides through fjords. Stop and see the wonders of crumbling Perito Moreno Glacier. Experience the beauty of Torres del Paine National Park, and take in all things Patagonia and the Routa 40.
Details
Tour name: Ushuaia Tierra del Fuego Ride

Stars in Puerto Montt and finishes in Punta Arenas.

16-day tour

$8,400 for a single rider

Motorcycle options:

Kawasaki KLR 650

, Suzuki DR650 or BMW G650 GS

Book with Moto Patagonia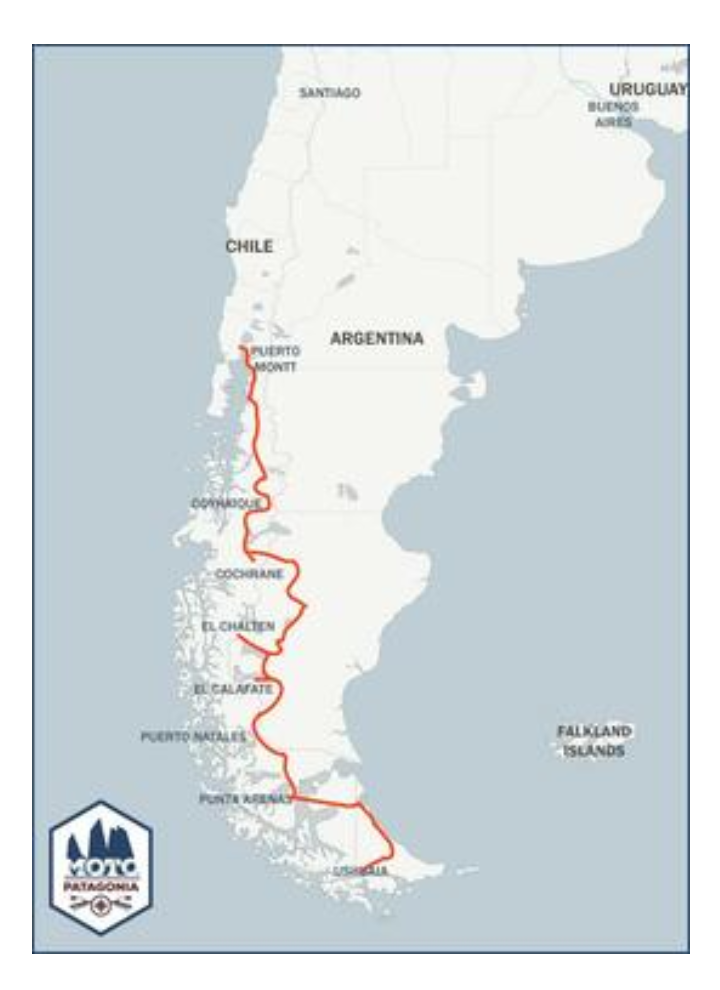 Worlds Best Motorcycle Rides
If you asked 10 different adv riders what the best rides in the world were, you'd get 10 different answers. If you listen closely though, the most memorable rides were likely with friends no matter if the trip cost them $1,000 or $10,000. As you expand your motorcycle adventure across the globe, you'll find that one of the best-emerging countries for moto excitement is Vietnam. The tours certainly won't cost you as much as these high-end adv tours and if you're looking for a self-guided tour you can rent adventure bikes in Vietnam like the Honda CB500X or Royal Enfield Himalayan from $950 a month.