Reading Time:
7
minutes
The fastest growing segment of the motorcycle world is adventure motorcycling. As the world becomes more and more accessible by road, adventurers are looking for more exciting ways to explore it. For that marketplace, the BMW adventure range is the number one adventure mode of choice. 
BMW Motorcycle History
BMW found its way into the world in 1921 as an engine manufacturer for WWI warplanes. After two years attention shifted to manufacturing motorcycles. In 1923 this is where the premier BMW design came to life. The R32 was born. This first addition R32 featured a flat twin boxer engine with a shaft drive. This initial design worked so well, both the flat twin and shaft drive are still used in a number of BMW motorcycles to this day.
Today the BMW motorcycle brand has exploded to reach nearly every motorcycling demographic on the planet. BMW motorcycles now offer Sport, Roadster, Touring, Heritage, Urban Mobility (scooters), and of course, the Adventure Range.
What do the letters on a BMW motorcycle mean? 
What does BMW stand for? BMW is a German company. Their German name is Bayerische Motoren Werke or Bavarian Motorworks in English.
How about Motorrad, pronounced "Moto-Rad"? This is the german name for motorcycle.
The numbers and letters on my BMW? F800S, R1200GS, K1300GT, or S1000RR. Let's decode the BMW naming system.
The First Letter
The first identifier on a BMW is the engine letter. The type of engine will typically start with that letter. There are six different engine styles on offer:
C. Used primarily for

Urban Mobility

with parallel-twin engines like the C650GT Maxi Scooter

F. Parallel twin engines. Like

the F750GS

. 

G. Single cylinder engines. The

G310GS adv bike

is a prime example.

K. Engines with three or more cylinders. I.E.- K1600 Grand America

road touring

bike.

R. Engines with an opposed twin-cylinder configuration. Bestselling

R1200GS model

. 

S. Sport motors like the 320km/h BMW S1000RR

Sportbike

.
The Numbers
Next in the description is a number that explains the size of the engine in cubic centimeters typically rounded to either 00 or 50. However, there are times when a number is given to a bike that actually has no reference to the engine size. In the adventure range, the 750GS and 850GS adventure bikes both use an 853cc engine.  
The Last Letter
The final identifying marker on a BMW motorcycle is one, two, or three letters explaining the purpose of the bike. For this article, we're going to focus on one A, GT, and GS bikes.
A. Adventure (usually spelled out)

B. Bagger

G. Terrain 

GS. Off Road

GSA. Grand Sport Adventure (usually spelled out)

GT. Sport Touring

GTL. Luxury Sport Touring

L. Luxury

R. Road

RR. Road Racing

RT.

Road Touring

S. Sport / Street

T. Touring

X. Extreme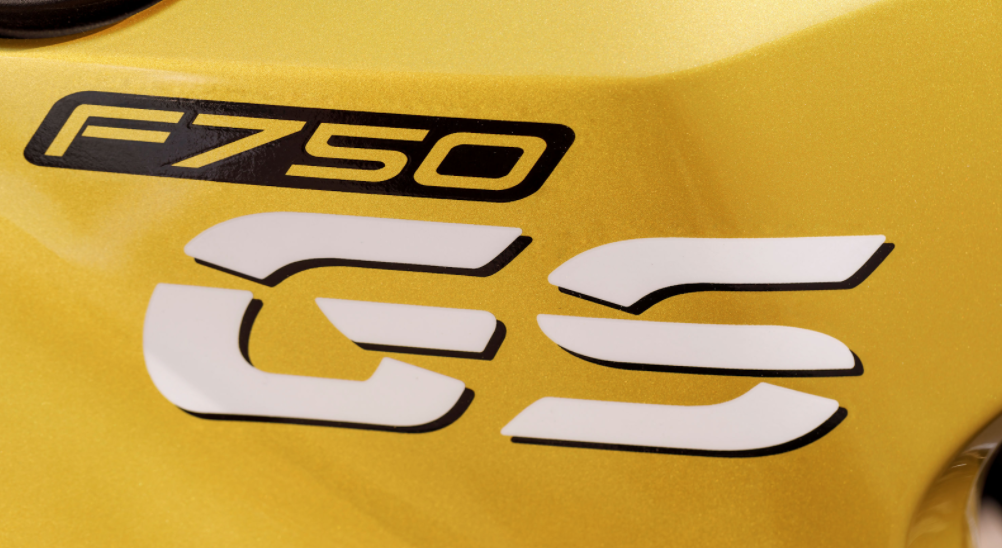 Why Choose A BMW Adventure Motorcycle?
BMW sold a record 175,000 motorcycles in 2019, up 5.8% from 2018 and up for the 9th consecutive term in a row!  The BMW R1200GS/ R1250GS/ and Adventure models accounted for nearly 60,000 of those motorbikes making them the #1 adventure bike sold around the world.
With a well-funded global sales force, the ability to obtain service and parts in most major centers, and some hefty media influences help to sway buyers, capitalizing on sales continually gains traction. 
The globally recognized Dakar Rally is continually dominated by KTM who has won the race from 2001-2019. However, BMW has featured a motorcycle in the Dakar Rally year after year with their winning hay-day spanning from 1979–1993, 1995–1998. To recognize their efforts they produced a street legal Dakar F650 version from 2000-2007. 
These accolades along with celebrity riders like Ewan McGreggor & Charley Boorman who can be seen riding the world on BMW adventure bikes in movies and books help coddle sales along. This premier recognition gains customer reassurance as it sifts into independent moto-bloggers like On Her Bike, a solo female rider traversing the globe via BMW F800GS.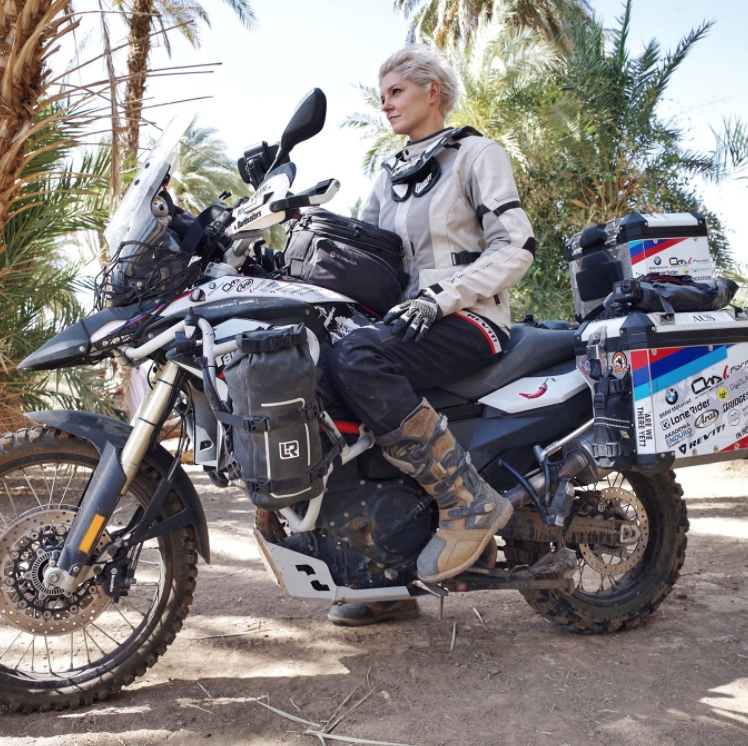 BMW Adventure Range Current Models
BMW currently offers eight design models in their adventure lineup. The R1250GS Adventure, R1250GS, S1000XR, F900XR, F850GS Adventure, F850GS, F750GS, and the G310GS.
Each bike is designed to handle on and off road terrain, with no exclusive street or track use like an enduro or street motorcycle design. Some models like the R1250GS & F850GS come in an adventure option that usually includes extra kit like upgraded suspension, larger fuel tanks, and hand guards.
What's The Difference Between The R1250GSA and R1250GS?
R1250GSA

R1250GS

Fuel: 30L
Weight: 268kg
Seat Height: 890mm
Front Travel Suspension: 210mm
Rear Travel Suspension: 220mm
Extras:

Bash plate, handguards,

bike touring

windscreen, enduro footrests,

on-board computer pro

Fuel: 20L
Weight: 249kg
Seat Height: 850mm
Front Travel Suspension: 190mm
Rear Travel Suspension: 200mm
What's The Difference Between The F850GSA and F850GS?
F850GSA

F850GS

Fuel:23L
Weight: 244kg
Seat Height: 875mm
Front Travel Suspension: 230mm
Rear Travel Suspension: 215mm
Extras:

Bash plate, handguards,

bike touring

windscreen, enduro footrests,

on-board computer pro

Fuel: 15L
Weight: 229kg
Seat Height: 860mm
Front Travel Suspension: 230mm
Rear Travel Suspension: 215mm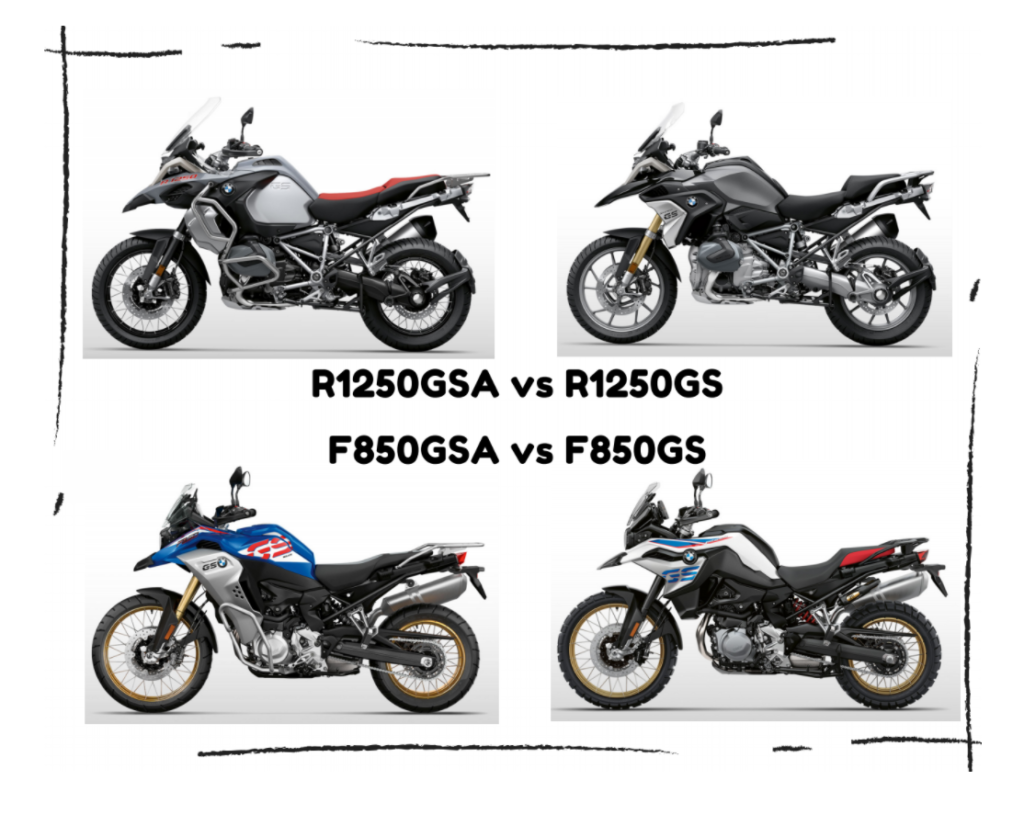 BMW Adventure Motorcycles In Vietnam 
Nearly everyone in Vietnam rides a motorcycle, it's not only a necessity, but it's also a way of life. Often one small motorcycle will be the only mode of transportation for an entire family. Everything from Honda Waves and Winners to the incredibly popular Yamaha Exciter or Nouvo's. We have a well-documented list of the 40 best and worst motorbikes in Vietnam to give you a clear picture of the options.  
That said, this Southeast Asian country isn't just small bikes with four people and a dog on them (though that's not uncommon). Vietnam has nearly every motorcycle brand available to the rest of the world. Harley Davidson, Ducati, KTM, Honda, Yamaha, and BMW. They're all here. BMW Vietnam also has a selection of GS bikes for sale for adventure riders.
This brand has now become popular enough in Asia that BWM hosts a Southeast Asia qualifier tournament here where participants are put through a series of skills events. Everything from mud and rock challenges to less likely events that may occur on your motorcycle like the one-handed tire transport challenge and pushing a giant ball with a rake across the finish line while you ride your GS. Check out the short video highlight reel here.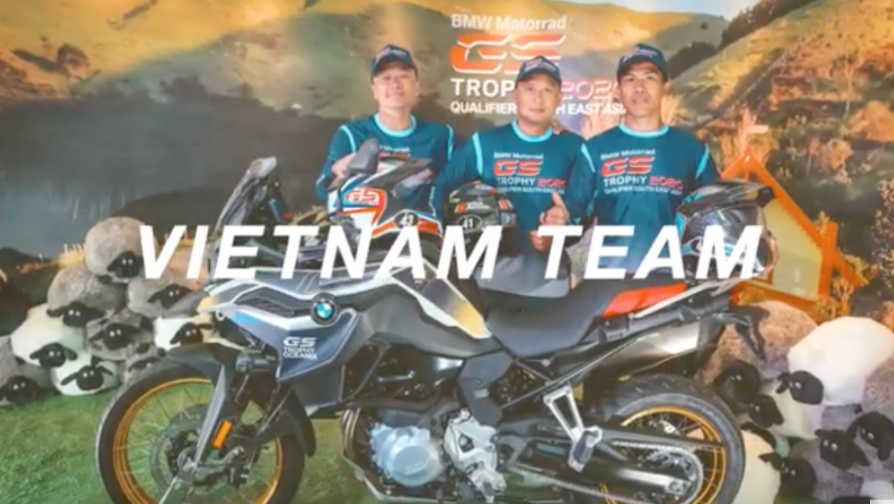 Renting A BMW Motorcycle In Vietnam
Currently, no one offers a BMW motorcycle for rent in Vietnam. The standard motorbike rental in this tourist-friendly country are smaller, nimble bikes like the Honda XR150 or mid-sized motorcycle like the Royal Enfield Himalayan. A motorcycle like this is perfect for venturing on and off road as well as navigating through the busy cities. 
As a company that is at the forefront of turning adventure dreams into memorable motorcycle realities. Tigit motorbikes are aiming to be the first to provide the option to rent a BMW motorcycle in Vietnam. For those of you who have a similar bike at home and want to ride it in Asia or want to explore the world from the seat of one of the most recognizable adventure bikes on the planet for the first time. We are hoping to add Tigit to the list of High End Motorcycle Tours around the globe with these bikes.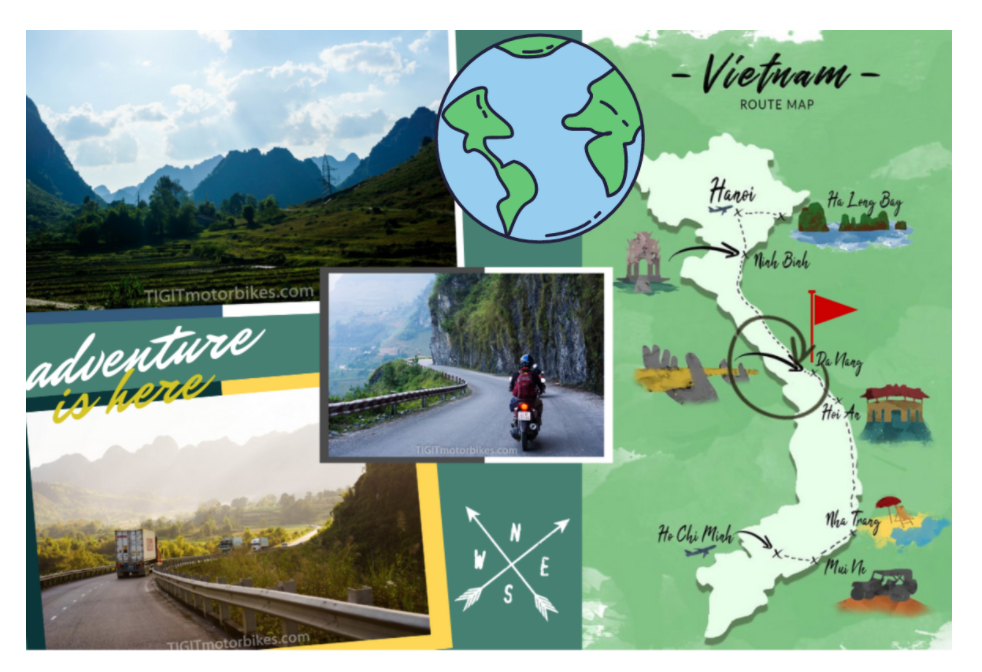 What Is The Best BMW Adventure Bike?
To quote many a seasoned adventure traveler, "The best adventure motorcycle is the one you ride". Plenty of people get hung up on the idea that you need just the right kit or proper bike or that the type of tires you use are going to dictate the adventure you'll have. In reality, the adventure is up to you.
For those who don't buy into the satire and need some concrete facts, there are a number of factors to consider when choosing your BMW adventure bike. A primary concern is weight and height. 
In total you may want to consider the weight, fuel capacity, price, engine size, seat height and if the final drive is chain or shaft driven. Though heavier, a shaft drive requires minimal maintenance and is virtually indestructible.
Conclusion
Every motorcycle has the potential for adventure, but not all adventures are created equal. When you're ready to cross over from talking about real motorbike excitement and actually going on the trip of a lifetime, Vietnam is ready for you. Check out renting your own motorcycle or joining a fully guided tour in Vietnam, then leaving the planning up to us. By the time you get here, we might have a BMW waiting for you!
BMW Complete Adventure Line Up Compared
Motorcycle
Weight 
Fuel Capacity
Average Price
Engine Size
Seat Height

*Kits required to obtain some heights
Drive

R1250GS Adventure

268kg

30 Liters

$20,195

1254cc

890mm - 910mm

Shaft

R1250GS

249kg

20 Liters

$17,895

1254 cc

800mm - 870mm

Shaft

S1000XR

226kg

20 Liters

$17,645

999cc

790mm - 840mm

Chain

F900XR

219kg

15.5 Liters

$11,695

895cc

775mm - 870mm

Chain

F850GS




Adventure

244kg

23 Liters

$14,445

853cc

815mm - 890mm

Chain

F850GS

229kg

15 Liters

$13,345

853cc

815mm - 890mm

Chain

F750GS

224kg

15 Liters

$10,395

853cc

770mm - 830mm

Chain

G310GS

170kg

11 Liters

$5,795

313cc

820mm - 835mm

Chain
*Source BMWMotorcycles.com