Reading Time:
7
minutes
We spend time traveling Vietnam looking for unique and new experiences. Recently we stumbled across Pu Luong, a place of natural beauty not far from Hanoi. Somehow, it has remained off the tourist trail and remains a rarely visited beauty.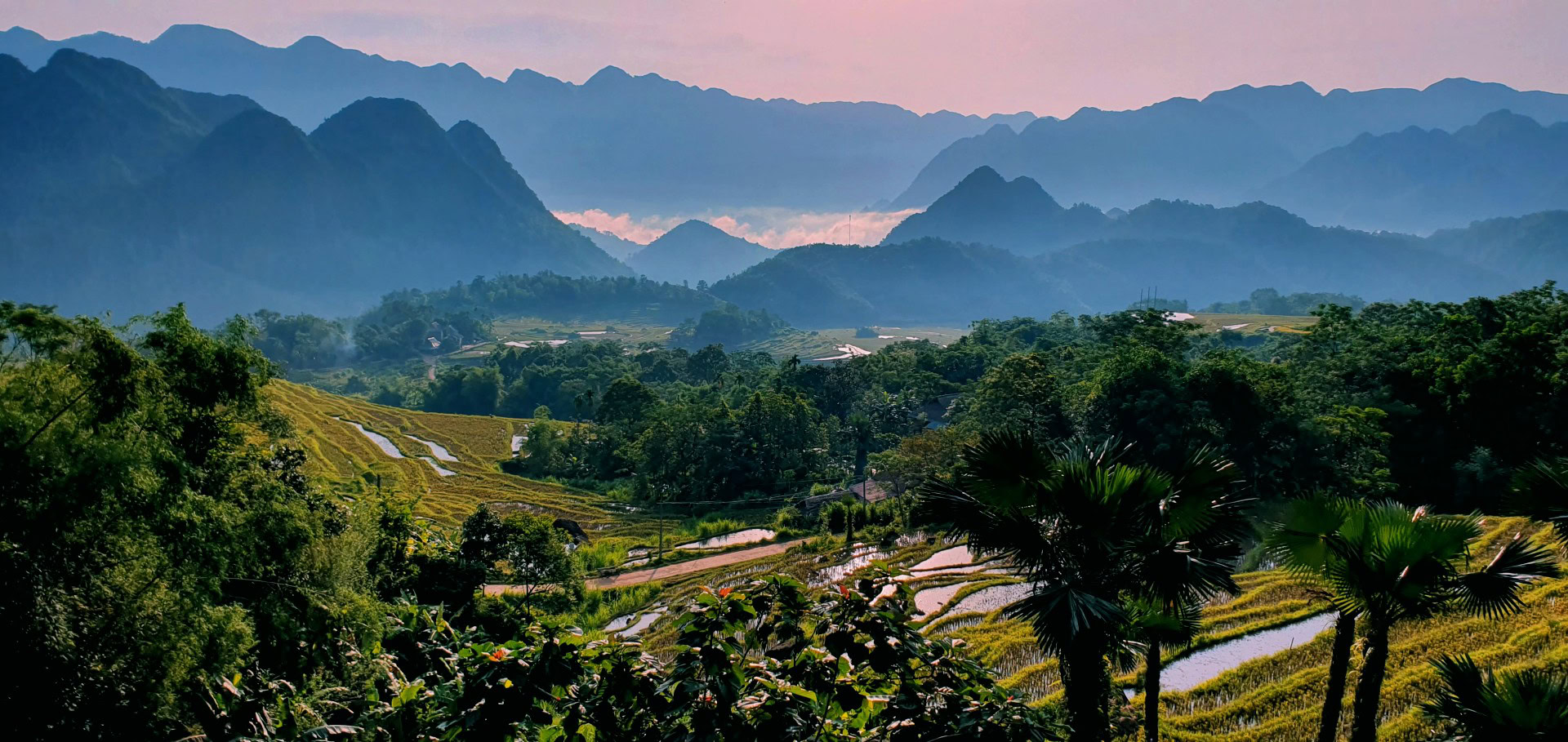 Established in 1999, Pù Luông Nature Reserve is a reserve in the northwestern area of Vietnam. Situated in Bá Thuoc district of Thanh Hoa Province, North Central Coast region of Vietnam, the area covers 17,662 ha with ¾ of the nature reserve is primarily tropical forest, encompassed by three districts of Hoa Binh province including Mai Chau, Tan Lac & Lac Son. The area has two parallel ranges of mountains drawing a picturesque lush valley scattered with rustic villages of Thai & Muong ethnic minorities living in harmony. The name Pu Luong is Thai which means "the highest peak of the village" that points to the Pu Luong peak standing at 1700m.      
How to get to Pu Luong? 
Pu Luong Nature Reserve is about 130 km northwest of Thanh Hoa City, about 150 km from Hanoi. The road to Pu Luong, whether from Hanoi or Thanh Hoa, is very easy to travel by motorbike, even the passes.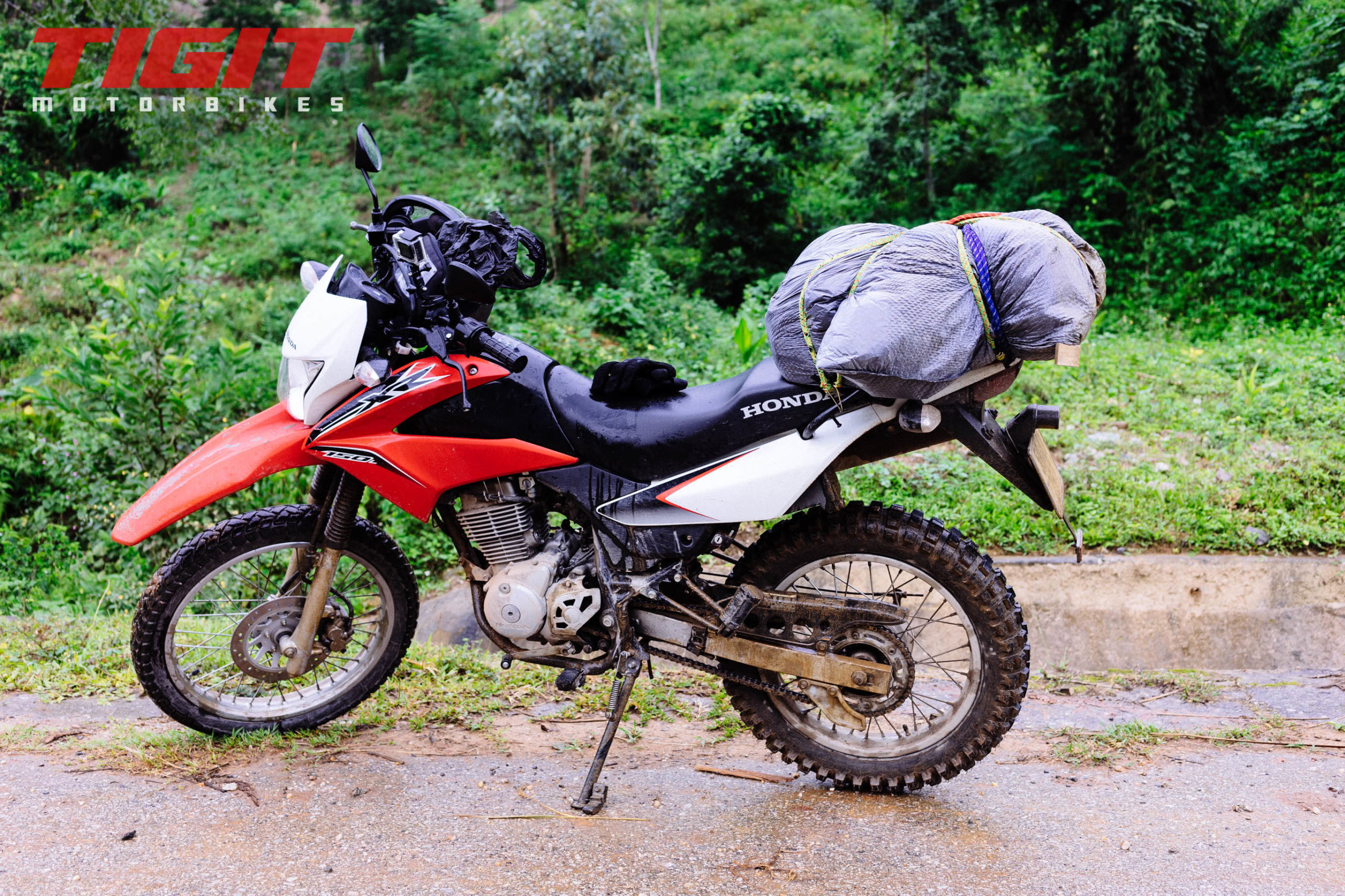 Motorbikes are the most suitable means to explore Pu Luong
There are 2 routes that we recommend. If departing from Hanoi, you need to go to Ban Lac- Mai Chau, then follow the road QL15C to Co Luong, Dong Dieu and you will reach Pu Luong Nature Reserve. If starting from Thanh Hoa, you should drive back to the Northeast, follow Ho Chi Minh trail, turn right in Cam Thuy town, then to Canh Nang town. Finally, you turn right on QL15C, head  about 10km to get there. 
When is the best time to travel to Pu Luong?


As a highland area surrounded by primeval forests, the climate in Pu Luong is quite pleasant even in the hot summer days.
If you expect a perfect retreat in Pu Luong, below is your quick takeaway:
At the end of May and early June, it is the occasion to start a new crop of rice when terraced fields wear a layer of green, extremely nice and peaceful.

September and October are the times when Pu Luong enters harvest season. During this time multi-layer terraced fields on the hillside will turn yellowish, making Pu Luong more spectacular!

Mid-summer is also a good time to go to Pu Luong (although it is the rainy season). Because Pu Luong is in a low land limestone area, with many tropical forests and few inhabitants. The weather here between summer days is still quite cool.
By the end of June, all terraced fields bring a green shade. According to people here, for about 10 days, the rice will turn a brilliant yellow. That is also the time when Pu Luong attracts a lot of tourists.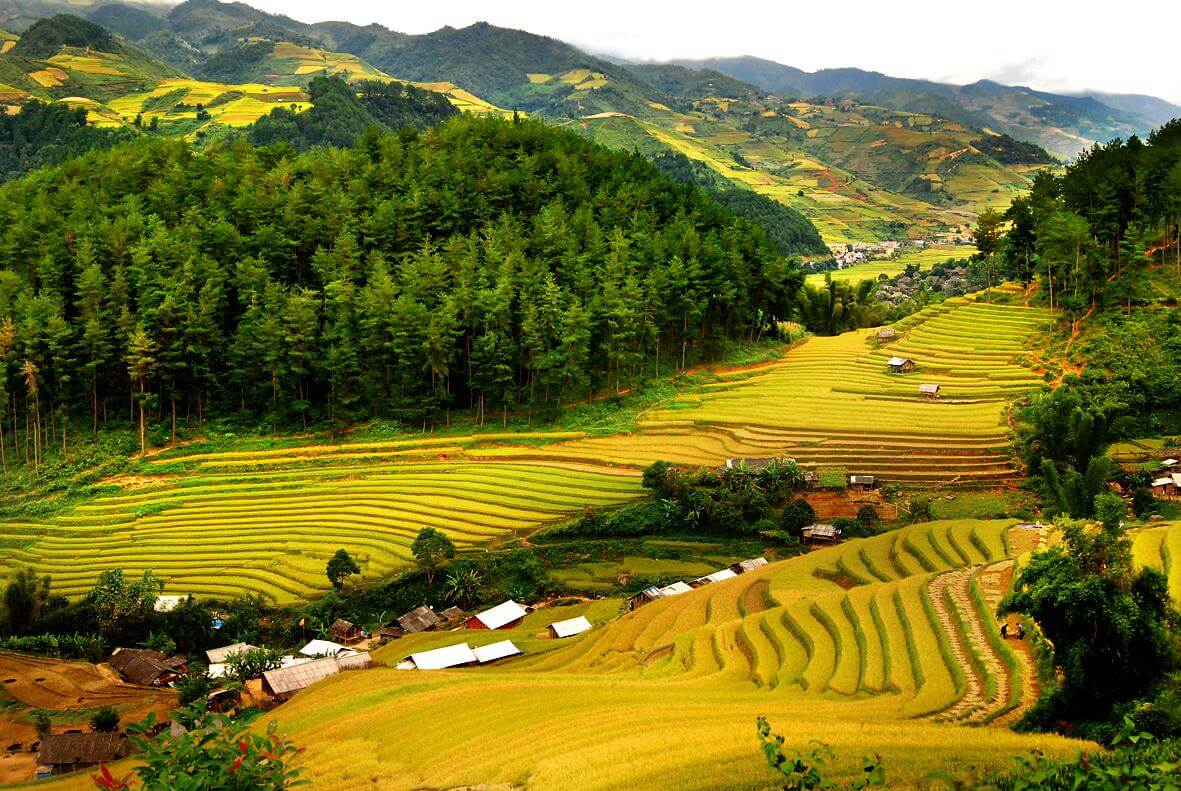 Get up early to enjoy the first rays of the dawn, until the end of the horizon shines blue in the evening, and the feeling of standing in the clouds, amidst the mist. And if you can go to sleep a little later, pull each other out to a clearing, lie between the grass and watch the starry sky.  
Top things to do in Pu Luong Nature Reserve 
One glance at the Pu Luong Nature Reserve and you'll see why the ethnic Thai people made this enchanting valley their home long ago. The slow pace in Pu Luong is a striking contrast to life in the capital just a few hours away. Endless mountains, fertile valleys and pristine jungle are just a few good reasons to visit. Here are several ways to make the most of your time in this beautiful destination.
With only 2-3 days, visitors can completely enjoy all the beauty of Pu Luong. 
Pay a visit to Kho Muong Village and Kho Muong Cave 
Kho Muong is a pristine and rustic valley located deep in the core zone of Pu Luong nature reserve. It's less affected by human impact, so it retains its inherent wild and poetic features. This is home to 60 Thai households, with 230 people. The road to Kho Muong is not easy to drive. However, it is a challenge for those who love exploring here.
Another attraction in Kho Muong Village is Kho Muong Cave, which is one of the most stunning caves discovered in Pu Luong Nature Reserve. Formed by limestone stalactites about 250 million years ago, the cave has a connection with the underground river system with a length of about 2.5 km. The river and stream system that flows in the cave is a common feature of the Kart rocky areas, which creates a connection between the valley by the flow of the streams.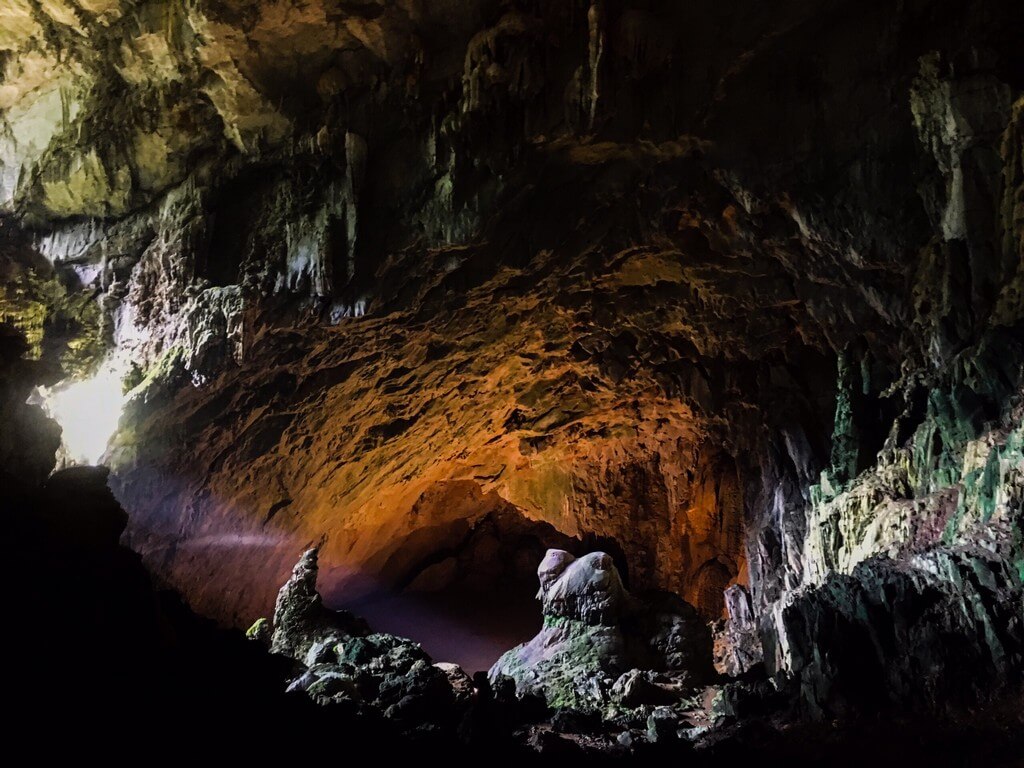 Visit Ban Hieu & take a swim in Hieu Waterfall

Hieu is a Thai village located on the bank of the Hieu stream, which is originating from the Pu Luong peak, flowing tortuously across the village with hundred rooftops scattered along its both sides. Lying in the steep slopes of jagged mountains, Hieu village overviews stunning valleys with its natural waterfall running day & night. 
Hieu Waterfall stands out in the green jungle deep inside Pu Luong Nature Reserve, about 25 km from Canh Nang Town in the central province of Thanh Hoa.
Whoever sets foot here agrees that Hieu is one of the most beautiful waterfalls in central Viet Nam.
Check out our article on the beautiful waterfalls of Vietnam
From the top of Hieu village, it's only a short hike through the rice fields before you're showed with a series of dreamy waterfalls cascading down the hillside. Climb down and follow along to where the two streams meet and the pools become larger. This is the perfect spot to cool down with a quick dip, relax in nature, and explore different sections of the falls.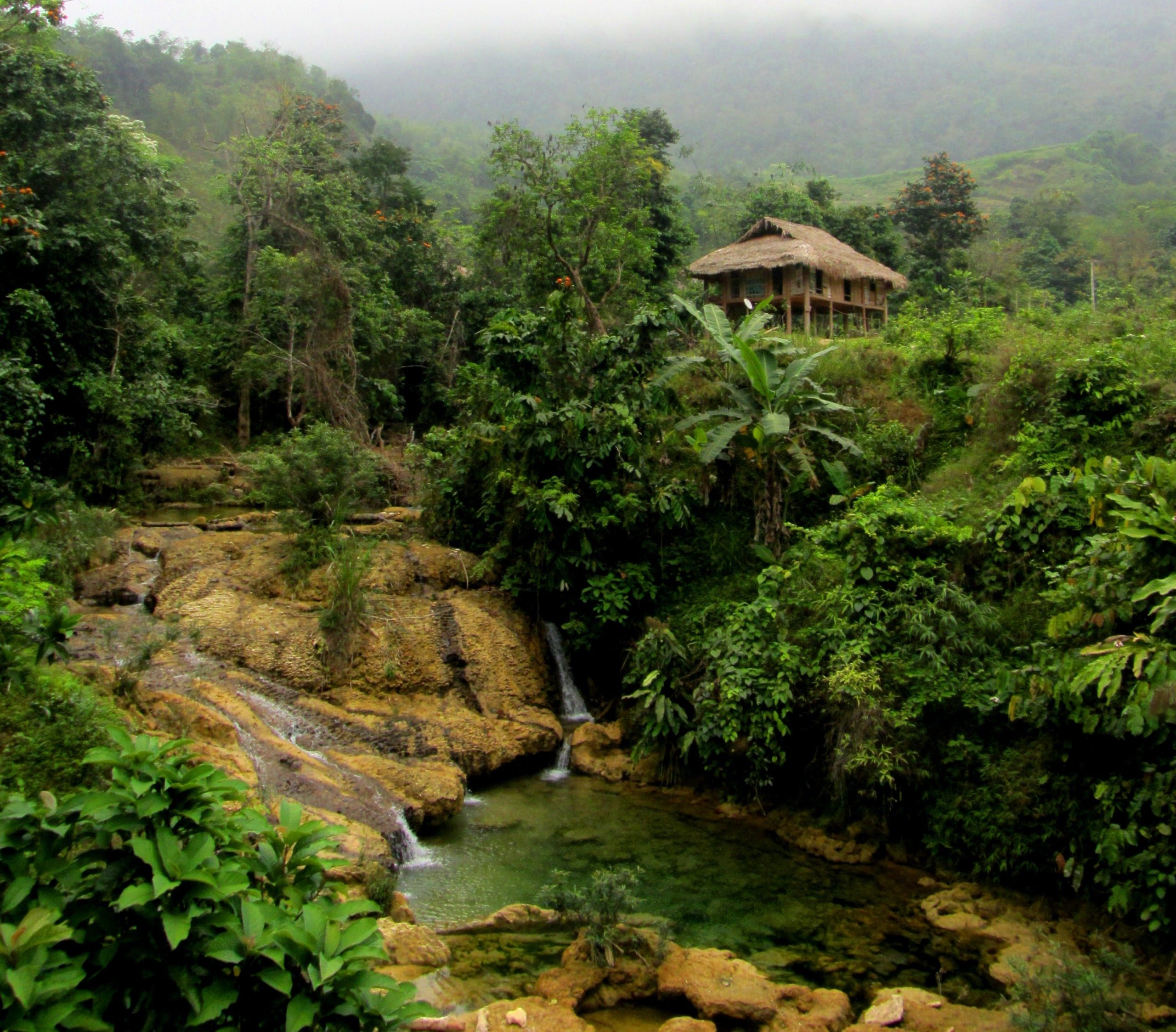 Conquering Pu Luong mountain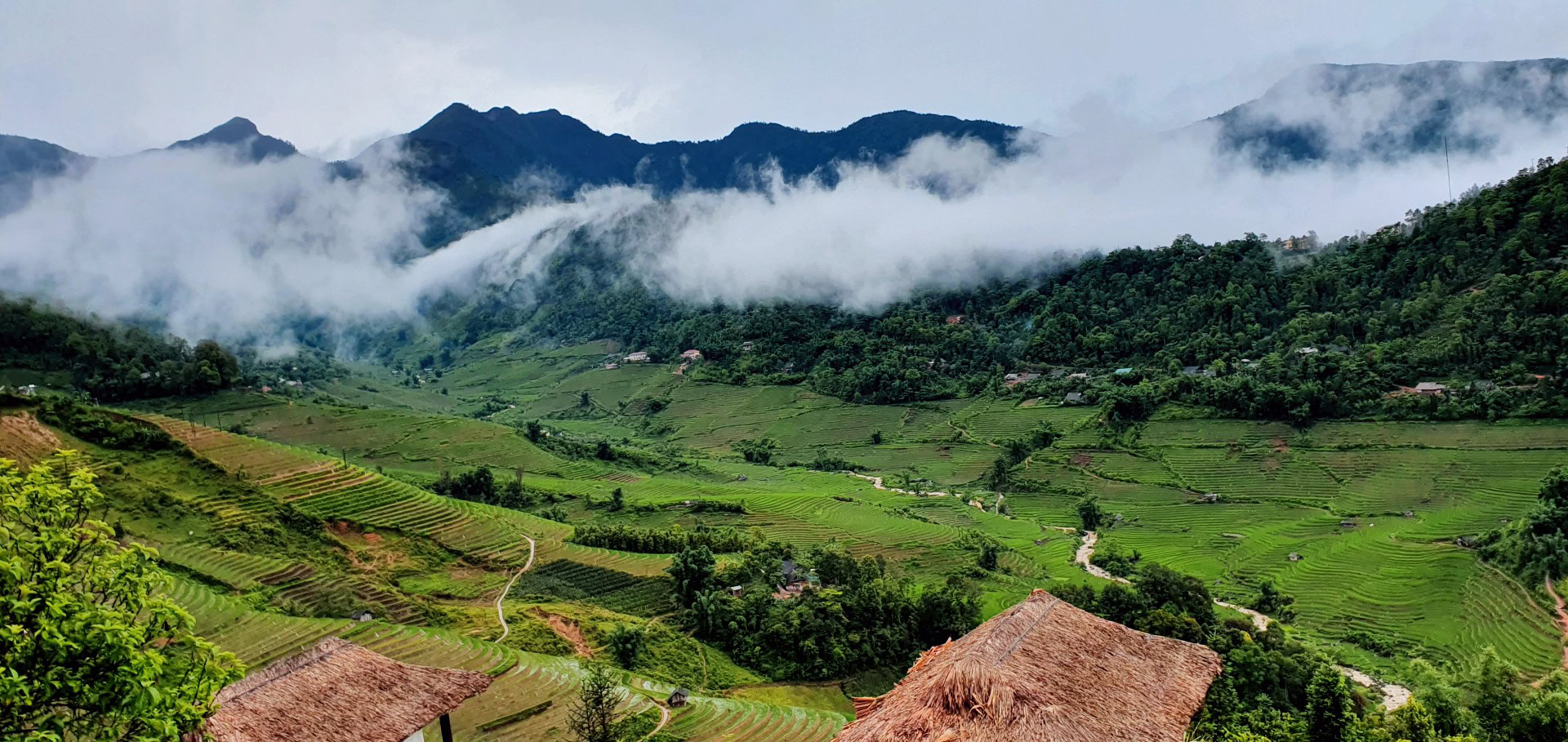 This is one of the peaks that trekking people in Vietnam and abroad often choose to conquer.
Peak 1700m, it takes about 6-8 hours in good weather to reach the top. You can set up a camp on the top to eat and rest overnight, the next day you can go down the mountain. 
Pho Doan Market
Pho Doan has been the name of the market since the French colonial period in Lung Niep commune, Ba Thuoc district, Thanh Hoa province. This is the place to trade goods and meet the people of Kinh, Muong and Thai ethnic groups in the communes around the region with people in Tan Lac and Lac Son districts from Hoa Binh province.
What makes the attraction for tourists when visiting the market is the culture of buying and selling goods with equal value. Sometimes, they do not trade in money, for example, a chicken can exchange for two dozen eggs with a bunch of vegetables that both sides feel comfortable and happy.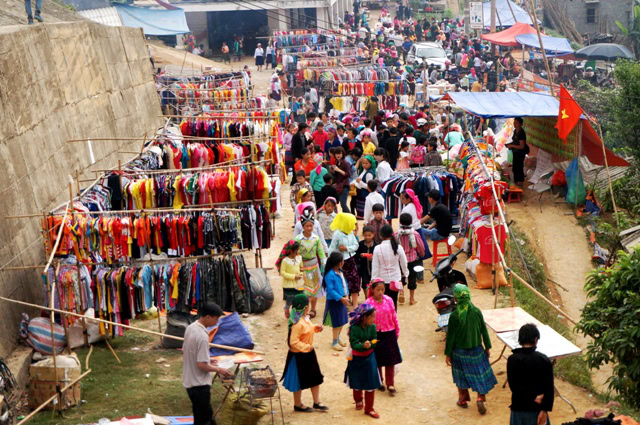 Travel Son-Ba-Muoi Villages
Son Ba Muoi is 3 highland villages of Lung Cao commune. This place is about 130 km northwest of the city center. It's like a miniature Sapa because of its mild climate all year round, the average temperature of the year is from 18 to 22 degrees C, sometimes snowy winter, summer night temperatures also drop very low.
Son – Ba – Muoi is also known as Cao Son area, located on the top of the Pha Hé and Pha Chien mountains, running parallel to the majestic Pu Luong – Cuc Phuong mountain circuit. Cao Son is located in the core area of ​​Pu Luong Nature Reserve and adjacent to Ngoc Son – Ngo Luong Nature Reserve of Hoa Binh.
In particular, Son – Ba – Muoi is quite isolated from the outside, so it still preserves many practices of the ancient Thai people. The stilt houses still retain the traditional imprints, showing the specific characteristics that have not been influenced by the modern architecture from the outside.
What to Eat in Pu Luong
Grilled fish
Eating in Pu Luong is quite simple yet typical, bringing the distinct characteristics of Thai cuisine with grilled dishes, herbal items, and spices with many mountain flavors. Most of the delicious food in Pu Luong will be enjoyed immediately at your homestay. Hosts will prepare all these dishes according to the number of your group members, the fish meat is presented on the tray of leaves. 
 Cơm Lam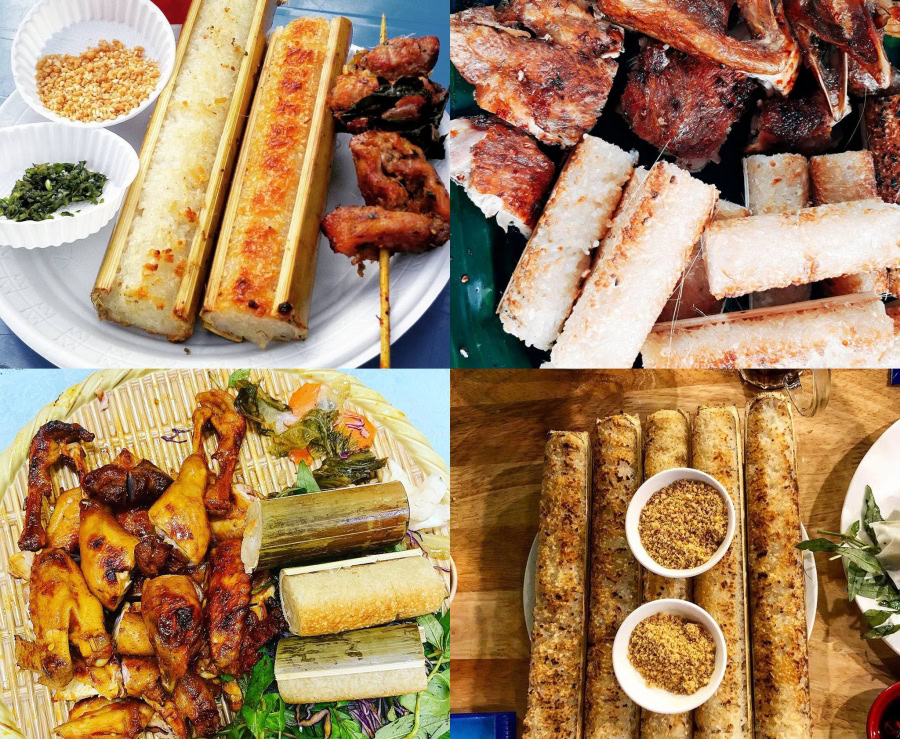 In addition, Lam rice is also a dish that you should not miss when traveling in Pu Luong. Lam rice is made from new rice, both fragrant and flexible and cooked in bamboo forest tube. Enjoying Com lam Pu Luong not only gives you the feel the aromatic taste of fresh rice, but also the sweetness of the forest water and the cool aroma of forest bamboo also; all makes a very special flavor for this place.
Cổ Lũng Grilled Duck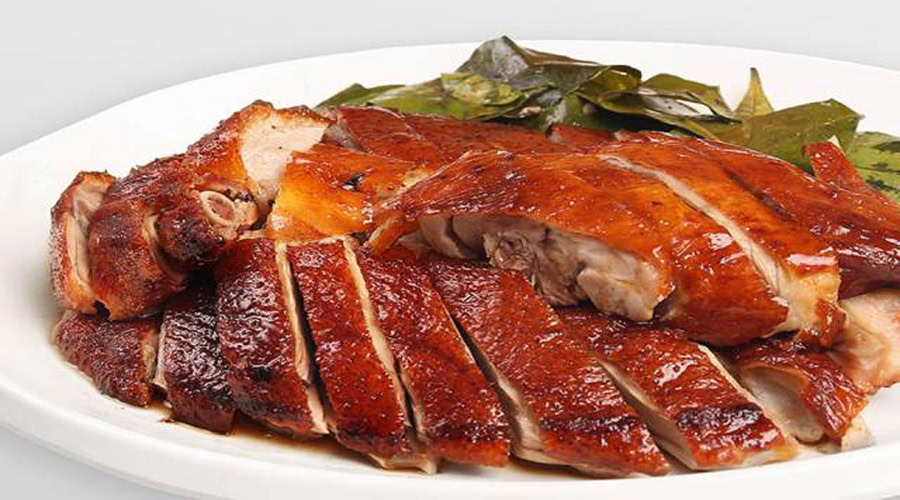 When visiting Pu Luong, especially Hieu Village, it is definitely impossible to ignore delicacies made from Co Lung ducks. This is a purebred duck breed, so it always keeps its delicious tastes. 
Ducks are processed into many different delicious dishes, but the best is the grilled duck. Ripe duck meat with brown skin, sweetmeat, and the most flavor is its own charming fragrance that visitors will never forget.
Some good homestays for you 
Coming Pu Luong, homestay is the best choice for your trip. You can choose to stay in a dorm room if you are in a large group of people, or simply, you go alone and want to save money. One more option is staying in 1 of 8 bungalows built right next to the edge of the terraces.
We give you some good homestays that you can take into consideration: 
Pu Luong TreeHouse

Pu Luong Retreat 

Ban Hieu Garden Lodge
In general, Pu Luong is a great place to travel by motorbike. We wrote this to introduce a new travel idea for Vietnam. Consider a new location off the beaten path, travel to Pu Luong.