Hanoi Motorbike shop
Tigit Hanoi Motorbike shop.
25/8 tôn thất thiệp, điện biên, ba đình, ha nội, Hanoi, Hanoi City

Tigit Motorbikes in Hanoi
Long distance travel motorbikes and per day rentals. Travel across Vietnam picking up in Hanoi and returning in either Danang or Ho Chi Minh.
Located next to the train station and a short distance from the Hanoi old quarter.
Hanoi is a competitive market with tour companies having operated for upwards of 15 years in the capital city. The arrival of Tigit in Hanoi went mostly unnoticed by the competition. In 2017 we setup and hid from view by staying away from the backpacker streets. Chipping away at the poorly organised traditional rental market of old and broken tour motorbikes.
Many of the Northern tour companies today are still failing to let a motorbike out on the roads without the assistance of a support mechanic (doesn't display much confidence in their motorbikes!). The traditional ideologies are outdated and expensive to consumers, thus only geared towards high end travellers.
Today, Tigit is now a dominating force in Hanoi, ranking at the top of Google on most rental related keywords. Already causing an upset by low balling long distance rental prices by utilising tight fleet management and stock control.
Tigit Hanoi is naturally growing and now beginning to offer guided motorbike tours powered by experienced free lance North Guides.
Competitive but old fashioned markets sums up the Hanoi motorbike industry. We are slowly modernising the situation and attempting to bring the prices down whilst keeping quality high!
With Hanoi related sales and bookings it is usually worth booking or contacting in advance. The bulk of the administration is still relayed through Ho Chi Minh which can cause delays in curve ball and difficult questions.
Vietnam is a place where English is a second language and we take transparency and consistency very seriously. Employees are trained to contact Ho Chi Minh if something is out of their comfort zone. All in the name of keeping quality and consistency high!
The Tigit team in Hanoi consists of:
Ti – Computer programmer who as a member of family got dragged into motorbikes.
Current motorbike: Honda 67
Favorite motorbike: Honda Airblade 2015
Dream motorbike: Triumph Street Scrambler 2017
Skills if any: Quiet but efficient. Nothing is happening but everything gets done.
Jenny –  Outgoing personality.
Current motorbike: No Motorbike!
Favorite motorbike: Honda Vision
Dream motorbike: Honda Vision in Black
Skills if any: Knows everything about everyone.
Miu –  How wonderful life is, now you are in the world.
Current motorbike: Honda Lead
Favorite motorbike: Honda Vision
Dream motorbike: Lightning LS-218
Skills if any: Friendly to everyone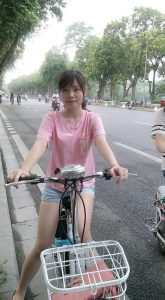 Long –  Just another Hanoi boy!
Current motorbike: Honda wave alpha
Favorite motorbike: Yamaha Exciter 150
Dream motorbike: Honda SH
Skills if any: Forgetful