Hanoi Motorbike shop
Tigit Motorbikes – Hanoi Vietnam Location
Need to pick up or drop off a motorbike in Hanoi? No problem. With help from Tigit's wide network of motorcycle centers in Vietnam we can help to organize what you need in a variety of country-wide locations.
25/8 tôn thất thiệp, điện biên, ba đình, ha nội, Hanoi, Hanoi City

Package and Pricing Options
Picking Up & Dropping Off In The Same Location
-Semi Automatics                                -Manuals 150cc
-$500 deposit on card                         -$1000 deposit on card
-$10 a day                                              -$20 a day
Picking Up & Dropping Off In Different Locations
-Semi Automatics                                 -Manuals 150cc
-$500 deposit on card                          -$1000 deposit on card
-$80 rent within 3 days                        -$110 rent within 3 days
-$10 a day after the first 3 days          -$20 a day after the first 3 days
For a full list of motorbike rental options, like picking up in Hanoi and dropping off in Danang or Ho Chi Minh see our motorbike description and details page.
What To Know
• We are located next to the train station and a short distance from the Hanoi old quarter
• Hanoi is a highly competitive market with tour companies being in operation for up to 15-years. In 2017 we set up and stayed away from the backpacker streets and the poorly organized companies rental market, who typically operate with old and broken tour motorbikes. Today, Tigit is now a dominating force in Hanoi, ranking at the top of Google on most rental related keywords. Already causing an upset by low balling long distance rental prices by utilizing tight fleet management and stock control
• Many of the Northern tour companies today are still failing to let a motorbike out on the roads without the assistance of a support mechanic (doesn't display much confidence in their motorbikes!). The traditional ideologies are outdated and expensive to consumers, thus only geared towards high-end travelers
• Tigit Hanoi is naturally growing and now beginning to offer guided motorbike tours powered by experienced free lance North Guides
• The Hanoi market is competitive but old fashioned. We are slowly modernizing the situation and attempting to bring the prices down whilst keeping quality high!
• It's more efficient to book your Hanoi rental in advance. As English is a second language the staff here still rely heavily on our Ho Chi Minh operations to keep consistency and transparency high. This high standard can cause delays for walk-in customers looking answers on the spot
To make an inquiry or a booking in Hanoi or any of our other locations please contact us today.
Looking for things to do around Hanoi on a motorbike?
• Routes and guides to Hanoi and the North of Vietnam
• Road trip Ninh Binh to Hanoi
The Tigit team in Hanoi consists of:
Ti – Computer programmer who as a member of family got dragged into motorbikes.
Current motorbike: Honda 67
Favorite motorbike: Honda Airblade 2015
Dream motorbike: Triumph Street Scrambler 2017
Skills if any: Quiet but efficient. Nothing is happening but everything gets done.
Jenny –  Outgoing personality.
Current motorbike: No Motorbike!
Favorite motorbike: Honda Vision
Dream motorbike: Honda Vision in Black
Skills if any: Knows everything about everyone.
Miu –  How wonderful life is, now you are in the world.
Current motorbike: Honda Lead
Favorite motorbike: Honda Vision
Dream motorbike: Lightning LS-218
Skills if any: Friendly to everyone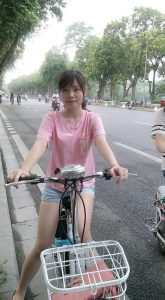 Long –  Just another Hanoi boy!
Current motorbike: Honda wave alpha
Favorite motorbike: Yamaha Exciter 150
Dream motorbike: Honda SH
Skills if any: Forgetful