What to Bring and Wear in Vietnam
How Much Stuff Can The Motorbikes Carry?
This is where you start planning your trip. First you figure out how much stuff your motorcycle can carry, then work backwards to see what you can really take.
Like vehicles, not all motorbikes were designed to carry the same load. It depends on the model. Even though you've seen the locals with the whole family on their 100cc bikes, we recommend a maximum 15kg of luggage for optimum performance & safety.  
All Tigit motorbikes are powerful enough to carry two people and a reasonable amount of luggage. However, when learning

how to travel in Vietnam

​

, you'll learn that overloading a motorbike will

​

cause it to wobble, making it less safe. This load will be amplified when riding mountain roads like those into

​

Buon Ma Thuot

​

,

where an overloaded bike will cause the safety and fun-factor to decline significantly.  
Gas consumption will also increase, and the cost difference between gas and the use of a train to transport your luggage are going to balance out roughly.
With the use of a rain poncho, and our train service to transport bags between HCM and Hanoi. The goal of getting your luggage down to 15kg should be possible.
For serious driving, reduce your luggage load down to a backpack just like you would back home on short trips.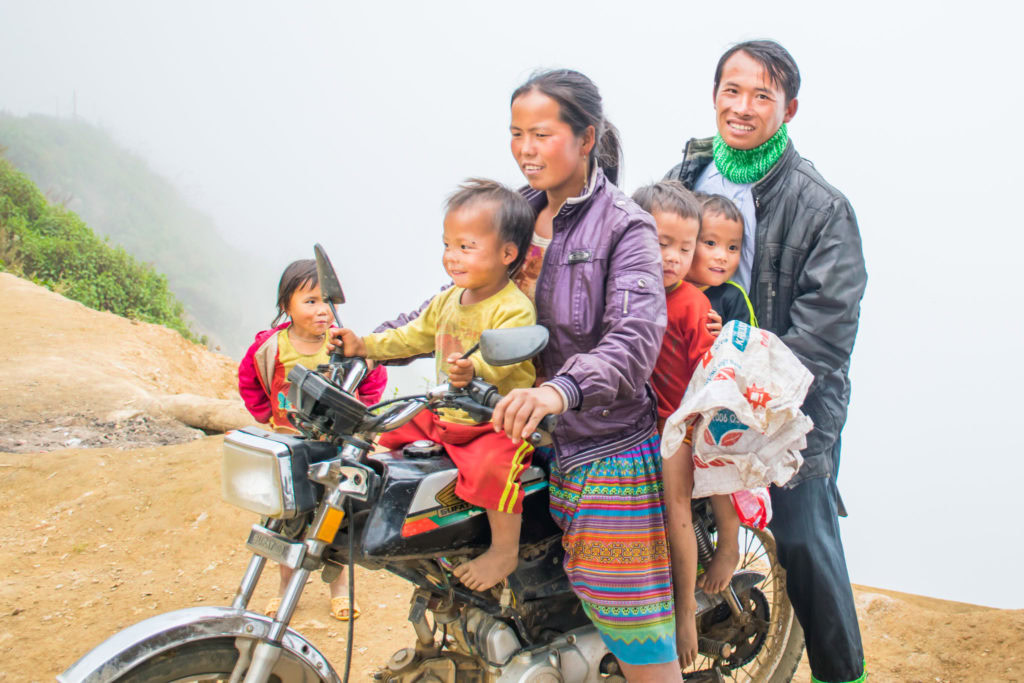 Ok, so it's possible for the entire family to fit on one bike. But you didn't grow up in Vietnam. This is not a skill you possess. Two people and 15kg max, that's what you should be aiming for
Packing Tips For Riding Vietnam
      Do's
Travel light

and dirty while utilizing Vietnamese washing rooms that are found in most hotels throughout Vietnam

Decide on your style of traveling in advance and cater your load to it. Lighter is better
Have one set of waterproof clothes that dry easily. Use this every day
Utilize Tigit for transporting bags from one office to another. It's easy
Treat packing like a weekend trip using washrooms along the way to clean up
Get decent, high-quality rain gear as you would use for hiking in the mountains
Try to fit everything in a small backpack as you would for a weekend trip at home
      Don'ts
Don't go off-roading with 30kg+ of luggage
Don't strap luggage to your bike then expect it to stay on while navigating the bumps of off-roading. No amount of rope will hold it in place
Don't use boxes. No matter how cool they look, they are not practical for small capacity motorbikes – Throw your gear away and travel dirty and light.
Don't expect to find a solution to carrying too much luggage. Throw it away or send it on the train. Trust us, this isn't our first road trip
Don't believe that you need everything you brought. Really, dress shoes?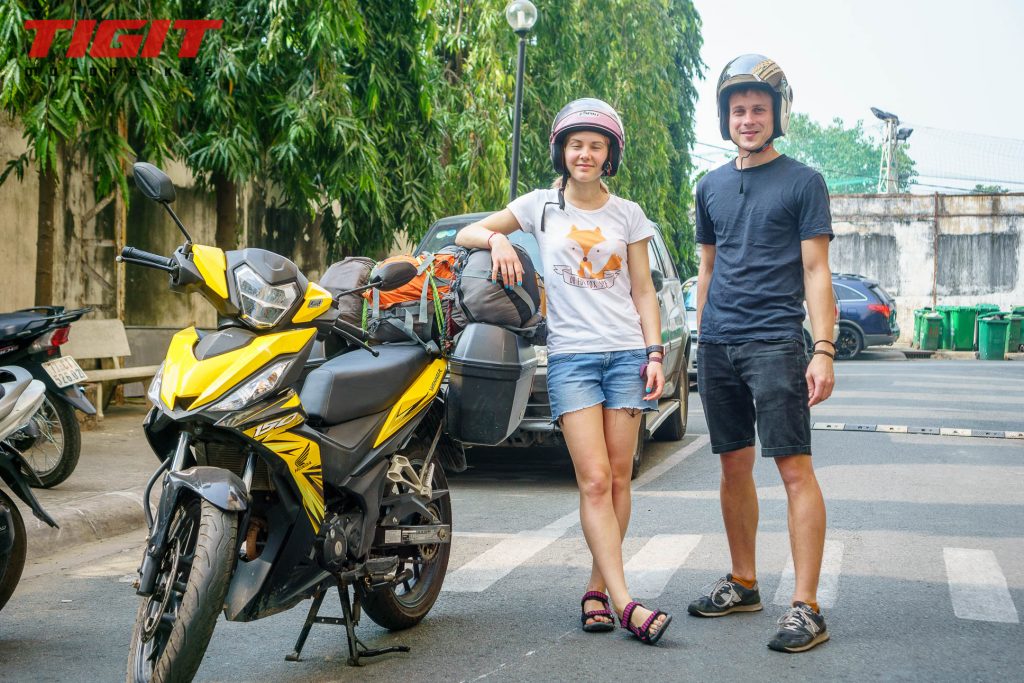 ​Typical ​riding gear Vietnam​ used by most backpackers. They look good. Hopefully, they kept the bike standing up!  
Packing for Your Trip the Right Way
The curse of a motorbike trip through Vietnam will not be losing your cellphone on a pub crawl, getting lost in Ho Chi Minh traffic, or riding with someone who stupidly bought a ​Honda Win​.
No, the curse of a motorbike trip through Vietnam will be packing the wrong gear or too much of it. Only to spend your trip fighting with an overloaded bike that wasn't designed to carry a 90L backpack, take home a road tattoo from wearing shorts off-roading, or be left freezing in the mountains because you thought the whole of Vietnam was tropical!
      What Backpackers Normally Wear
Most travelers will drive Vietnam in sandals, shorts, and a t-shirt. If you're riding 3-minutes from your hostel to the beach. Ok, this riding attire will suffice. Anything else and you should not consider bare skin as ample protection.
During your trips in Vietnam you'll find problems you were never aware existed. Problems that bikini bottoms or board shorts won't save you from. Like the guy driving his scooter and talking on his cell phone. The other hand holding a dangling cigarette that's going to drag across your leg when he passes you by. You don't think it can happen? Wait until you see how people drive in Vietnam, nothing you know about western driving will apply here.
On occasion, an experienced motorcycle rider will bring all the safety gear from home. Gore-Tex riding pants, kevlar jackets with armor, knee-high riding boots, you get the picture. This attire is the extreme for safety gear in Vietnam, just like a bikini is the extreme opposite. That heavy gear is going to be hot, sweaty, overkill. You'll find your riding here to be much more subdued than it is back home. Forget carrying all that gear around. Finding some middle ground on safety and protection is what we are looking for.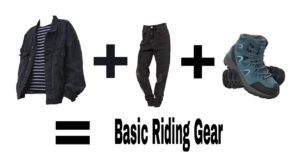 A sensible balance of being well covered with durable fabrics such as a sturdy jacket, jeans, and hiking boots is a good starting point for the journey.
If you plan to ride the whole of the country, you'll find that Vietnam is both hot and cold depending on if you are riding the North or South regions. To solve the problem of over or under packing for the needs of each particular region. Tigit Motorbikes has introduced a ​bag delivery service​ which can be used to transport cold-weather gear to meet you in Hanoi for the Northern territories. Consider all of your problems solved!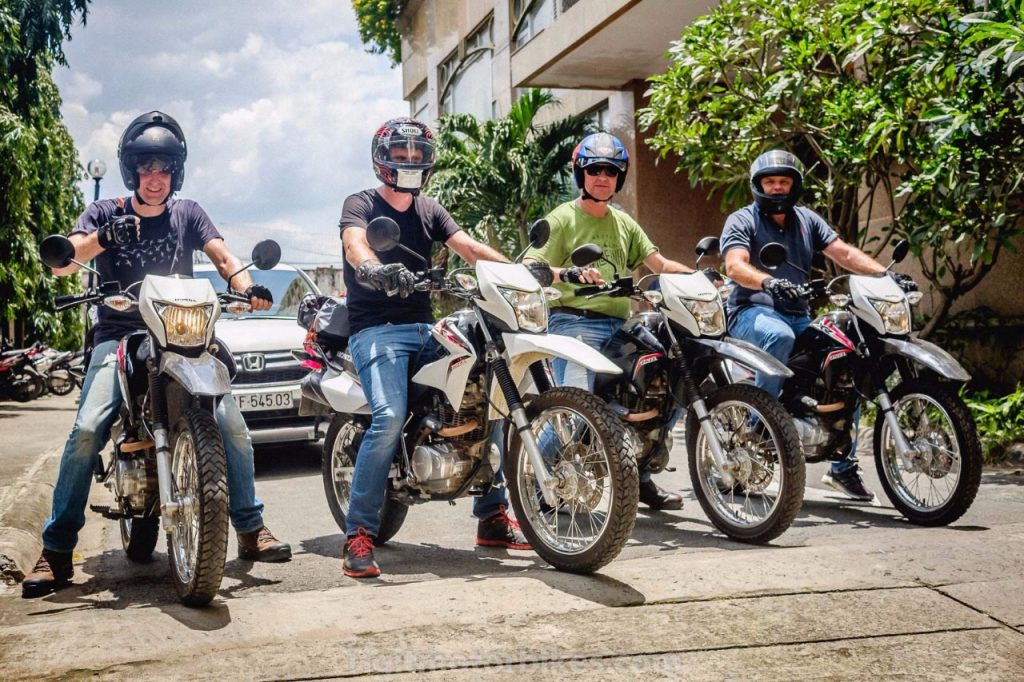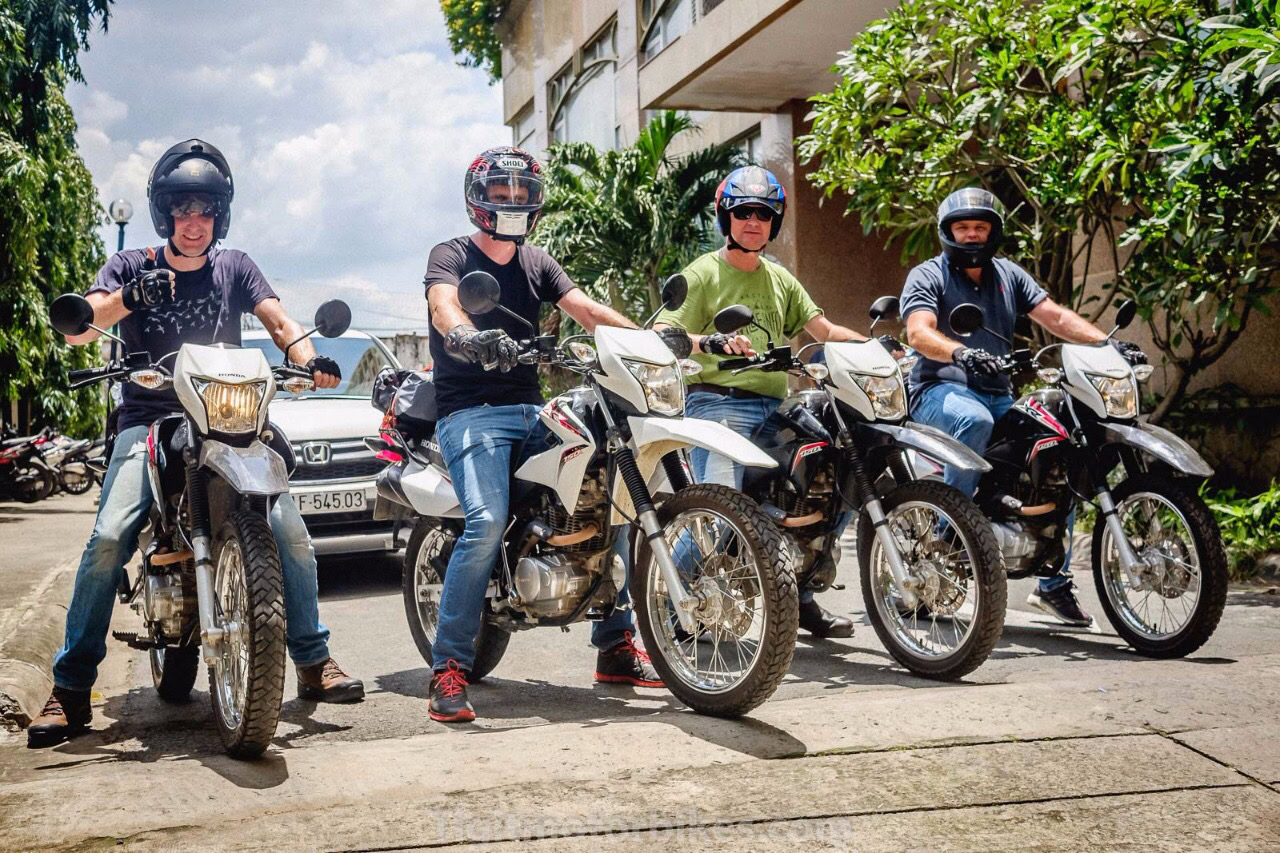 Here's a group of four riders from New Zealand on some good looking Honda 150s. These kiwis from their sparsely populated island are about to see more traffic than they have in their lives!
Safety Equipment for Vietnam Travel
For those who are wanting proper safety equipment but without having to lug it around with you. Tigit offers proper helmets, jackets, and protectors for rent. We can set you up with what you need, in your size, with quality gear. As gear is limited and locations are spread across Vietnam, please make a request with your booking and we will do our best to accommodate you.
      Helmets
While Vietnamese helmets appear solid enough for 60km/h roads speeds. They are not substantial enough for hitting roads at 100km/h. Most travelers on 150cc motorbikes are unlikely to commit to such speeds; however experienced drivers on a mission may find themselves creeping up to triple digits.
When you rent a motorcycle from us, Tigit provides second-hand helmets for free. If you would prefer a new one, they can be purchased from $25+ with premium helmets being over $200. If you have a helmet from home, we highly recommend you bring it.
      Helmet Styles
Vietnamese style helmets:

​

Cheap, open-face, and the most basic of helmet safety. These are good for keeping your face cool while riding around

​

Ho Chi Minh City

​

looking for street food. The quality is questionable at best. At high speeds they will catch the noisy wind, pulling on your face like a dog with his head out a car window. Less cool than it sounds.
Reasonable for under 60km/h driving a scooter.  
The $5 helmets you see with fake rating stickers for sale in the markets are an excellent example of this helmet.

Open face and ¾ helmets:

​

Around $25-$50, open, and slightly better protection than a street vendor helmet. These wrap around your head, allow a light breeze in your face and block the wind from your ears.  A ¾ helmet is the minimum you'll want for riding across Vietnam. With our most popular brands being Andes & GRS. If you plan to do a lot of off-road riding, you should step it up to a full face helmet.
Reasonable for over 60km/h, but don't expect western standards for $25.
The Bulldog line we offer is an excellent example of an open face helmet.
Full face and dual sport helmets:

​

From $60 and up. These are the best head coverage we offer to

​

motorbike Vietnam

​

. Closed-face visors, some with beaks, and others with optional lenses for optimum riding in various light conditions. These will keep wind and rain out of your face whether off-road or on. As well, some options can integrate music. Your best available choice for over 100km/h on long-distance trips.
The LS2 we offer is an excellent example of a full face helmet.
      Helmet Rentals
Despite being told you're "thick-skulled" most of your life, this won't help you in an accident where you will not have time to react and protect an uncovered head. First to hit the ground will probably be your hands or shoulders, then your head, followed up by your legs. For $2/day we will rent you a helmet that can help save your skull from the possibility of an unfortunate accident.
If you think your brain isn't worth $2/day, then rent it by the month. It's cheaper!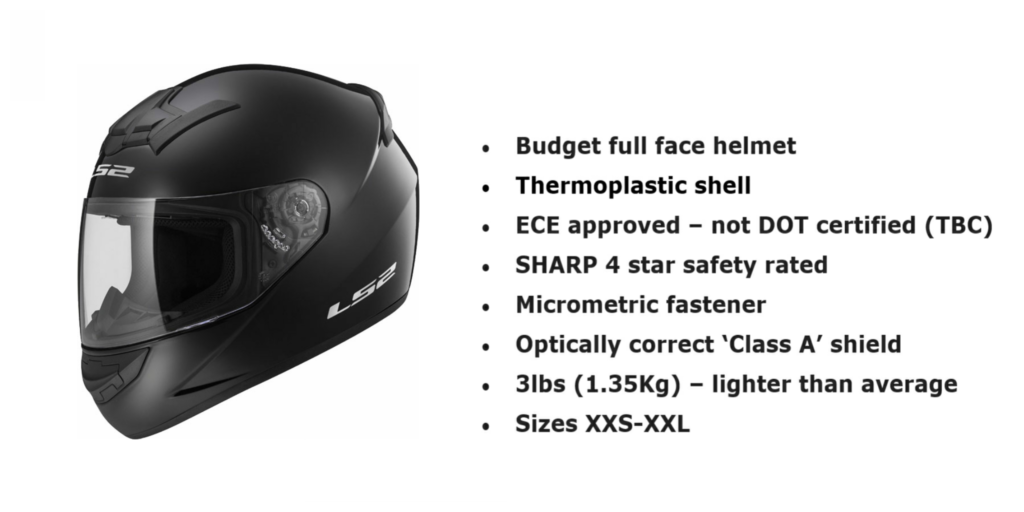 For a full look into our helmet sales options and to compare products. Check out the ​Tigit Helmet Store​.
      Jacket, Knee and Elbow Protectors
Just like your skull, your body will enjoy protection from the possibility of an unfortunate accident. If you plan to take on a lengthy road trip like the ​Central Highlands Route​. We can help get you set up with a protective vest and protection for your knees and elbows.  
Terrible local driving, poorly designed roads, animals coming from all directions and stopping to take pictures will bring most drivers down to 60km/h. These slow speed will make your safety gear uncomfortable and hot.
Decide in advance what your riding style is going to be. Safety gear is hot, and back home it is easy to move at speeds that allow for proper airflow. However, in Vietnam, unless you are full of confidence and motorbike skills, it can be challenging to travel at the same speeds as back home.
If you are on a mission to cover as much ground as possible, driving hard, then invest in rented safety gear. Tigit Motorbikes (upon request) has CE certified safety vests and knee pads.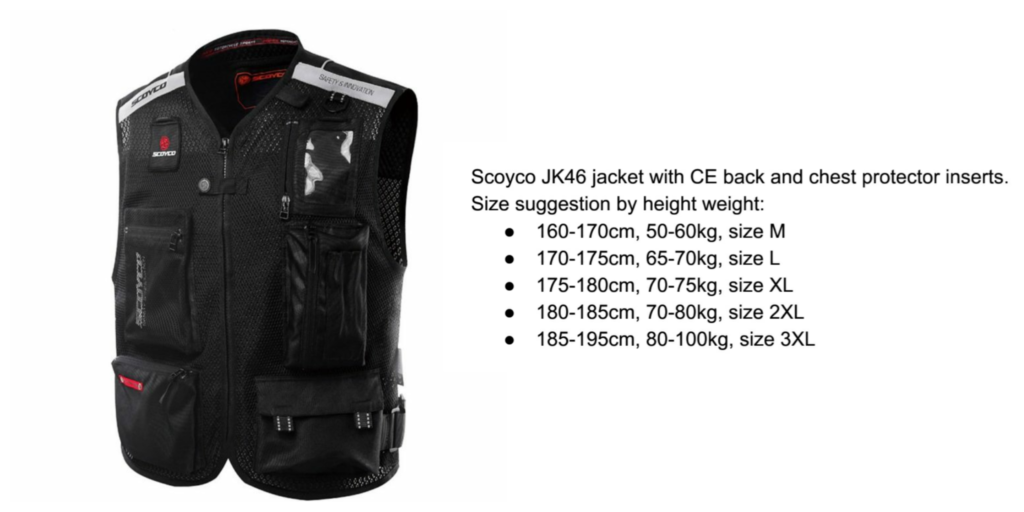 For just $3/day or $30/month. We can set you up with a durable knee and elbow protection package. It's cheaper than paying the deductible on your travel insurance.
For a look into our body protection gear, check out our ​Tigit body protection sales page​.  
Rain and sunshine, you'll get to experience all sides of the weather. If you're really lucky, you can experience them all in one day like this group on one of our ​motorbike tours Vietnam​! It's not impossible to plan for the weather, read on.
The Weather and How To Plan For It
      Packing Light
The weather is unpredictable in Vietnam. A traveler should have clothes to keep them cool, yet protected in the blazing hot sun that is common in the South. If you head North though, you'll need gear to deal with temperatures that can go down into negative numbers.
Packing for all possible outcomes for your trip will be too much to carry. Here's what we've found to solve that problem for anyone who doesn't have versatile high-quality gear.

Pack two bags of clothes. One bag for the warm regions between

​

Ho Chi Minh City

​

and Hanoi. Then a secondary bag for the colder North regions.

For riding in the North, send the cold weather bag on the train to our office in Hanoi. Then once you arrive, swop it for your cold gear bag in the Tigit Hanoi office. Not to worry, we will have all your gear waiting for you when you arrive.
If you do have quality gear designed for all conditions from home, bring it. This will eliminate the shipping and receiving problem as the right quality gear was designed to both breath and protect.
     Seasons
March and April are the best times to travel Vietnam. Across the country, the weather conditions are mostly stable.
The South is always hot. Think 30oC, riding your Honda XR150 to the beach in Vung Tau.

The North from November to February can be very cold. Picture 8oC Christmas day riding the

Mi Pi Leng Pass

.

​

From the South to  

​

central Vietnam

, the rainy season is July to October. Think

​

ponchos and cloudy views from the

​

Hi Van Pass

​

during school holidays.  

Mid Vietnam cyclone season runs from around September to December. Not a regular occurrence, but it happens. Picture two days waiting out a storm in your hostel in Vinh.
Despite thinking you should only plan your trip around the hot areas during the dry times of the year. Each season can offer some benefits, and if you plan to ride the length of the country, you are likely to run into a myriad of weather differences.
If for example, you plan to stop and see some waterfalls like the abundant selection on the ​Dalat waterfalls route​. You'll be even more pleased during the rainy season as the rain increases the beauty, while the waterfalls flood and the lush green landscapes become spectacular. The rain isn't all bad.
Big ponchos for big foreigners, get used to being considered big. If you're an M at home, you are an XXL in Vietnam 🙂
How To Deal With Rain
Look at what the locals do!
Raincoats from home are bulky and take up space in luggage. The answer to the problem is seen all around the streets of Vietnam. A good quality rain poncho can be picked up for around $5, and we sell them at Tigit Motorbikes.
     Poncho Pros & Cons
      Pros: 
Ponchos are lightweight & easy to store

They can be used to cover your bags on the rack of your bike

The poncho dries quickly and can be surprisingly warm in cold mountainous areas

They fit nicely under the ropes of the bag rack, or at the front of the motorbike

They're cheap, like $5 cheap
      Cons:
At speeds over 50km/h the poncho is going to flap in the wind and become annoying

It won't protect your legs from rain. For this, you'd require a full rain suit, probably brought with you

Low-quality ones can be bought for less than $1. Why is this a con? Because it is going to disintegrate as you ride your motorcycle.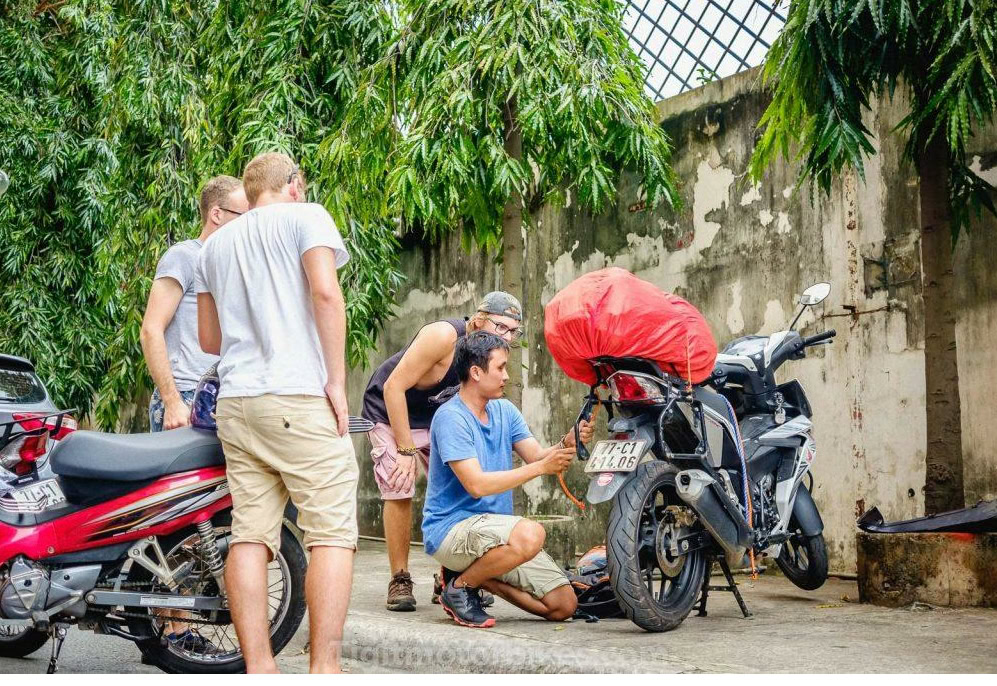 These boys are learning from a local master the technique of strapping your worldly belongings to a seat ⅓ the width of your bag. Once they're done riding ​Ho Chi Minh to Hanoi​, they'll be schooling other foreigners.  
Hotels and laundry service
Most hotels offer a laundry service. Usually, if laundry is given in the morning, it will be ready by the following day. Worst case scenario it is possible to air your clothes on the outside of your luggage when on the motorbike.
If you are packing pants for the club, pants for hiking, pants for riding, beach shorts, smart shorts, outfits that match, dress shoes, hiking boots, trainers, and on and on. Forget it. After two-weeks of lugging your closet around you'll be throwing out clothes. Pick out some essential beach and riding attire and go.
Be brave, set aside the price of two beers per week, and use the laundry services to get you across Vietnam in a hygienic fashion.
Little bike, big bikes, we've got whatever you want to get the job done. Choose your mission, then choose your machine and let us help you to have the trip of a lifetime.
Your Motorcycle Choice, What To Expect
Small: ​Smaller scooters like the Honda Blade 110cc will quickly transport you into riding like a local. They're light, comfortable, and will force you to live life at a lower speed. You aren't likely to ride more than 200-kilometers per day on a scooter.
      Expectations:
You can ride with a cheap Vietnamese style helmet

A rain poncho for $1 or $5 will probably be fine

Jeans and a jacket should be ample safety protection
Medium: ​Medium motorcycles like the Honda XR 150cc will give a choice to ride like a local or like your standard backpacker. These bikes are a bit faster, can carry more and should be treated with the full respect you'd offer any motorbike back in your home country. You can cover up to 300-kilometers in a full eight hour day on these bikes
      Expectations:
You should step up to a ¾ helmet with more protection for your pretty face

The $5 rain poncho will do, but at any real speed, it will flap in the wind. Consider bringing a rain suit

From city to city basic protection will do. If you plan to ride any mountains (you will) renting a body armor is a good choice
Large: ​Large motorcycles (for Vietnam) like the Honda CRF 250cc are the choice of experienced riders. XR 150cc can fall into this category too. These bikes can carry more luggage, handle nearly anything off-road, and are capable of fast (for Vietnam) speeds. The rider can expect to cover up to 400km per day.
      Expectations:
A proper full-face helmet is a must. For safety, comfort, and to keep the wind out of your helmet.

You'll need to bring proper rain gear. The poncho will not cover your needs here. If anything it will probably become more problematic than helpful

Bring light protective equipment from home or rent our body armor. You'll be happy you did.
The big difference from one bike to another will be what type of trip you are mentally preparing for, matching up with the kind of trip you are dressed for. If you plan to use a scooter to get you back and forth to the beach and around the city, pack light and dress light. If you are planning to ride ​The Dragon's Back​ or other adventure routes in Vietnam. Choose a bigger ​motorcycle rental​ and protect your body appropriately.
Being underdressed in "standard backpacker clothing" and freezing all day in the North, can be just as dangerous as lugging around 40kgs of gear, two-up on a scooter, doing mountain passes. The Vietnamese style backpacker wear is not appropriate for experienced drivers. If you're still unsure, ask us, we can help.
For a full list of the motorbikes we offer, and to compare what will work for you. Check out our complete list of motorcycle rentals​.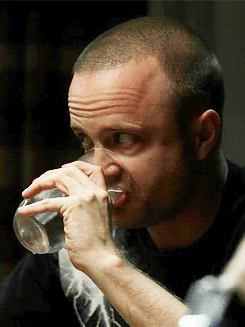 Here is an awkward moment with Jesse Pinkman from Breaking Bad to help explain why drinking water is so important.
Water & Staying Hydrated
A fat, round water bottle was never designed to be attached to a skinny, round frame of a motorbike. It doesn't hold, no matter how skilled your sailing knots are. You can stuff one or two bottles in your day pack, but they won't be easy to access.
When adventure riding with your ​motorbike rental​ the bottles become loose and fall off. If they are strapped to your seat, they will eventually become hot, unrefreshing water that tastes like melted plastic. How healthy could this be?  
After years of running the roads of Vietnam, we've found that without easy access to water while you're riding, it's nearly impossible to stay hydrated.
You'll slowly sweat, become fatigued, and likely end up with a headache. This water problem becomes compounded if you've enjoyed a few cocktails the night before.
Solution A:

​

If you are driving casually across the country you can stop and continually buy bottles of water, this will work in the short run and only if you are near civilization.  
Solution B:

​

The hydration pack. This pack has become our single most important tool when riding across Vietnam. Fill it with water, strap it on, and enjoy easy-drinking pleasure while riding your motorcycle. The convenience of a hydration pack will change the enjoyment of your riding along with reducing the number of water bottles you are disposing of across Vietnam. Good for you and good for the environment. Just $20, get one!
Summary
Only you can decide what you "need" to bring and what you can live without. We have years of experience with our own riding along with helping thousands of travelers navigate Vietnam. No two trips or people are alike, but we have found similarities that will help ensure you are having more fun and fewer problems on your Vietnam motorcycle adventure.
Things To Consider:
Decide on the holiday that you are going for and pack appropriately

Pack light. No one has ever complained about having a light load

Vietnam is slow, very slow. You'll be covering less ground than you think

If you are on an off-road mission or trying to cover as much ground as possible, then get the safety gear and throw away your luggage

Don't compare your ideas to those of typical backpackers. Motorbikes can move here with the right person wielding the beast

The locals have no idea how to drive. Defensive driving is your best driving tool

Under pack and use those washing services along the way. Your luggage space and traveling partner will appreciate it

Minimizing luggage improves the motorbike performance and is easier to load on and off the motorbike each day

Heavily loaded motorcycles will have reduced handling and increased braking distances

Vietnam is cheap for shopping, so if you are missing an item of clothing that should have been packed. This missed items can be picked up easily and cheaply nearly anywhere in the country

A traveler is likely to experience all weather conditions on one holiday. It is not possible to predict the weather

Have fun. Vietnam is a giant playground unlike any other on earth
Check out our ​related post on ​​motorbike trips in Vietnam ​to help decide where you want to go.