Reading Time:
8
minutes
An Expat's Guide To Son Tra & Monkey Mountain's Hidden Beaches
Not all beaches are created equal. Those of us who fell in love with Da Nang for its soft yellow sand know this better than most. But while we appreciate My An and My Khe for all their natural splendor, we could do without the couples in matching banana outfits asking for photos. So let's get into the weeds a bit, shall we? Let's ride past the bridges, and up into the mountains together.
Note before we begin that a recent change in local law prohibits bikes with automatic transmissions from passing the various checkpoints at key intersections up the Son Tra (Monkey) mountain. As a rule, you'll need a manual or semi-automatic bike to get up around these roads. The ability to downshift really does help to navigate well. That said, most automatic bikes can make the trip without issue, and the checkpoints come and go like rain. There's no telling how many, if any, will be set up on the day of your trip. Typically, the main east road (Hoàng Sa) up to the Lady Buddha statue is clear of police, and the deeper you go from there, the more likely you are to find someone checking up on you. Drive safe in any case, and happy adventuring!
Son Tra Beach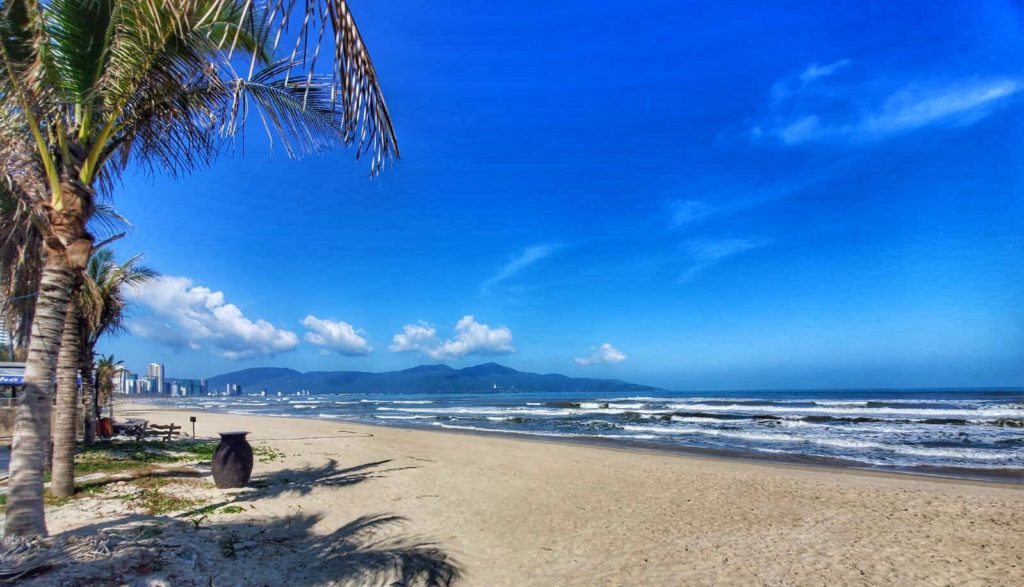 We don't even need to leave the city limits for our first stop. From your regular haunt in My An or My Khe, stick your feet in the water and look left. There's our Lady Buddha, right? Above her is Monkey Mountain, with Hai Van Pass in the far distance. But take a good look below. Between you and that big white statue are some 10 kilometers of beautiful beach curving east into a bend.
To get there you need only to drive north along the beach road. Even a five-minute motorbike ride will get you past the hotels and into this quiet stretch. Here the ocean-front houses are no bigger than a couple of stories, and you can stop anywhere you like along the way to take in the view.
"

There are no tourists here, and the locals won't try to sell you anything."
Further down at the bend where the beach road turns from north to east, you'll find a small armada of fishing boats.  Though, if you're lucky, a friendly smile and some good timing might earn you a spot helping to pull up a fishing net, or push one of their little round boats back onto the sand.
At the foot of the Lady Buddha
A story—one that sounds like ancient history, but happened as recently as 2010—goes that Nguyễn Chí Thanh, then mayor of Da Nang, set out on a vision quest. He was searching for a way to stop the typhoons breaking on his shores each rainy season. Lo and behold, the Lady Buddha appeared to the mayor, beseeching him to build a monument worthy of her grandeur, that she might stand as bulwark against the storms. Romantic, don't you think?
"

Nguyễn Chí Thanh, then mayor of Da Nang, set out on a vision quest…"
The mayor returned with his instructions from the great beyond, and today the thirty-story fruit of his quest can be seen from anywhere along Da Nang's main stretch of beach.  Lady Buddha's pristine white statue, and the Linh Ung pagoda beside her, are popular tourist attractions, being only a quick drive from the city to the base of Monkey Mountain.
What you might not know is that the shore below her feet is as sandy as the rest of the beach, and well secluded from the tour-busses high above. A short kilometer or two past the statue along Hoàng Sa road you'll find a row of teeny—and often completely empty—cafes. These are the signposts you're looking for. From these you can trek down the mountain on makeshift stairs, taking care to watch your step, to the beach below.
Big rocks break up the beach into natural sections, most of which have been claimed by individual restaurants, built out on wooden piers over the tide. This beach may not be a secret to all, but it's a local spot, and so you can expect to enjoy Da Nang's most delicious and authentic seafood, along with a drink or three, without paying the tourist tax.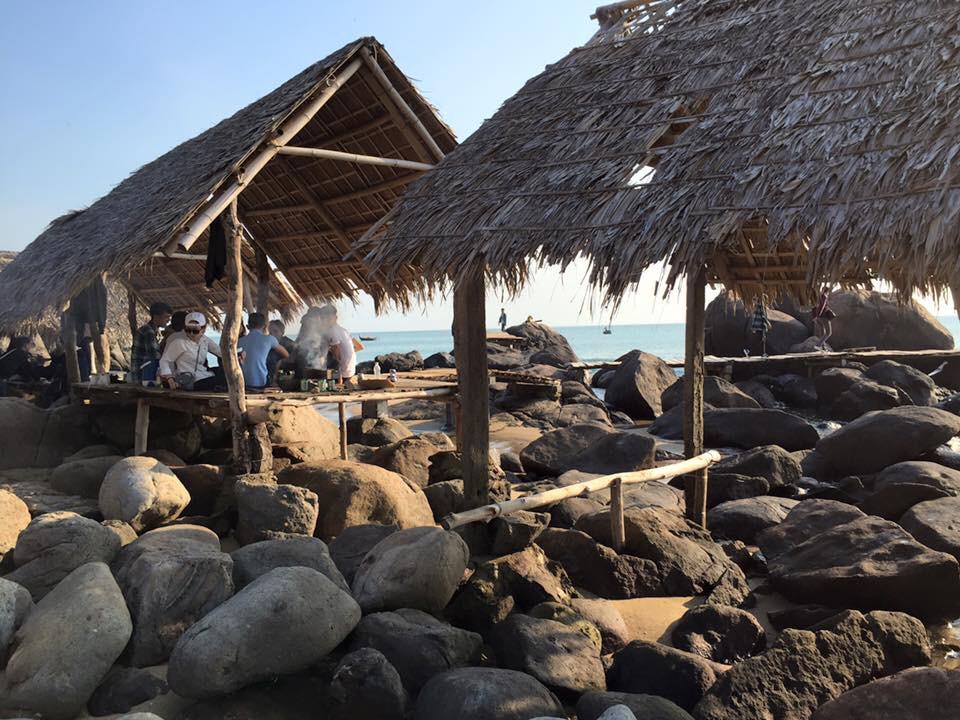 Personally, I find it's enough to trek down, find an empty spot on the sand between the piers, and swim out to the floating rafts to wave at fisherpersons passing by.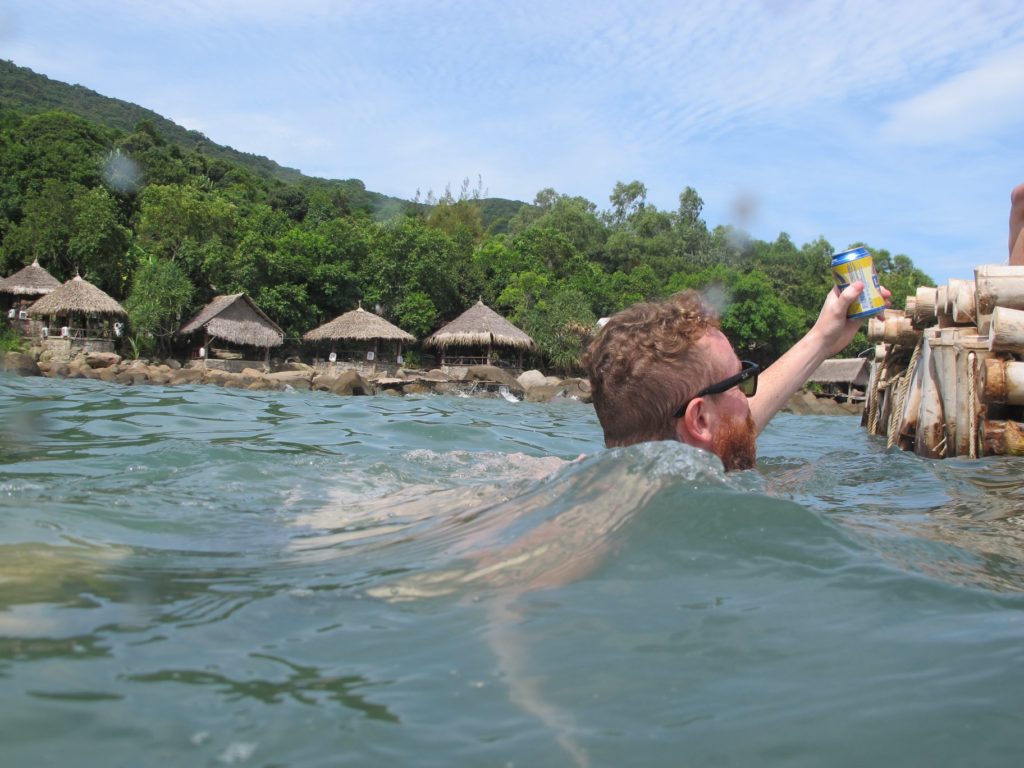 A monkey mountain hike
Further on past the cafe restaurants, the beach under Lady Buddha's feet becomes less rocky and even more private. Keep driving uphill along Hoàng Sa road and you'll come to an overlook. You may see a few motorbikes parked there, or else evidence of them.
A well-kept path, wide and not too steep, will lead you down to the water. There is sometimes a man in a military uniform here who will demand payment for the guaranteed safety of your bike up top. You may negotiate as you see fit, though 20k is often the asked for and paid price.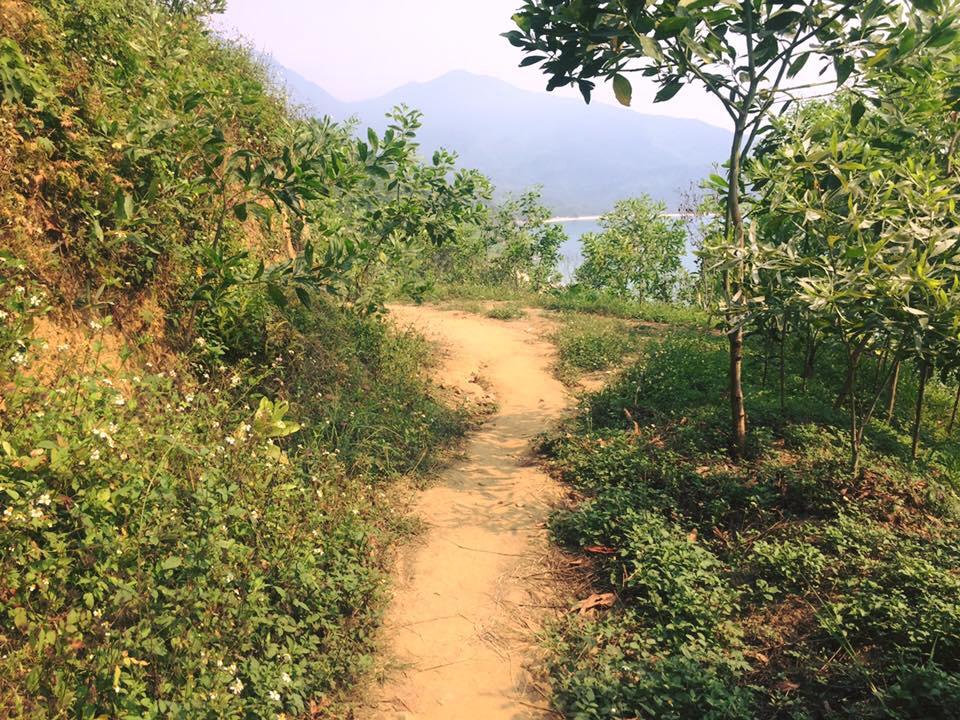 The beach itself is near the northmost point of the Son Tra peninsula, and so you'll have views of the South China sea uninterrupted at either end of your periphery. It's something else, I tell ya. The one downside is that the sand here is a lot coarser than what you may have gotten used to in Da Nang. It's not so rough as to spoil the view, and is just as well for swimming, but it may not be an ideal spot for laying out for a sunbath. You may find even that the friendliest place for your feet is the rocks.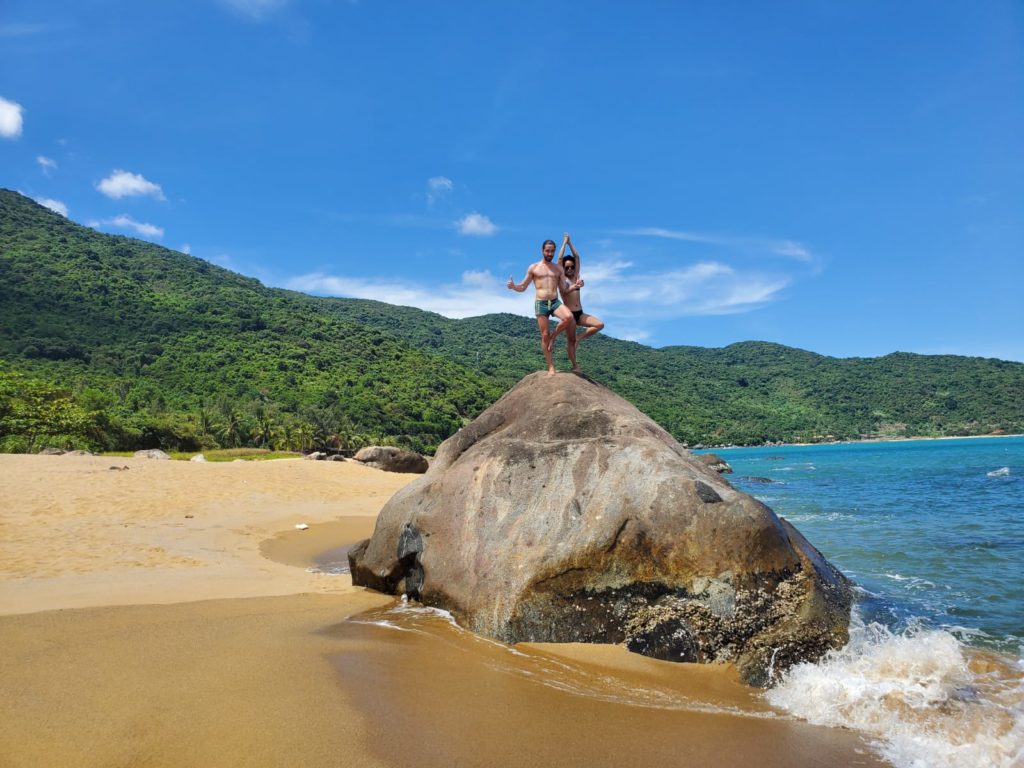 Bãi Cát Vàng
The local ex-pats call this "secret beach", or less elegantly, "the one with the zip-line". It is located on the west side of Monkey Mountain, looking out at Da Nang Bay. This beach is the worst-best-kept-secret in town, and first-hand experiences run the gamut from "most instagrammable beach day ever!" to "we got kicked out…"
This is owing to the extended family of locals who call Bãi Cát Vàng home. They don't so much advertise or ingratiate foreigners, as they do tolerate them—sometimes. Typical advice for an outing here (and for life in general) is to be respectful, reasonably quiet, and to clean up after yourself. Do those things, and your hosts will be as friendly and eager to have you on their super-fun zip line (!!!) as anywhere else in Da Nang.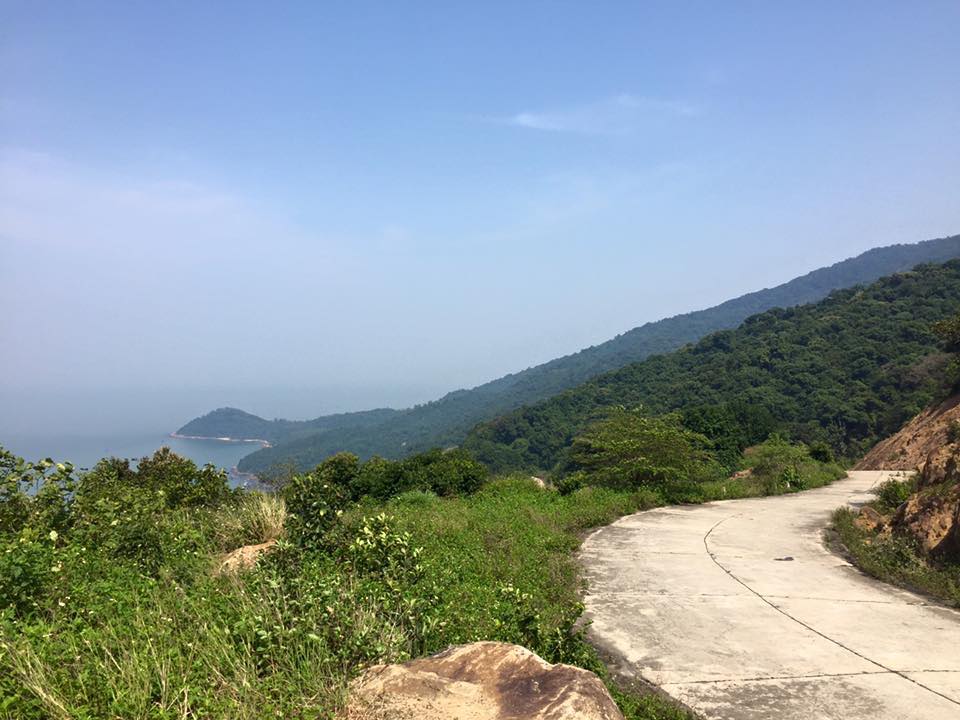 Find this fickle fantasy beach by following the west mountain road (Yêt Kiêu) around Monkey Mountain until you reach the north through road. Don't worry, google maps can get you here. Be sure to enable your offline maps, as once you finish the winding, pot-hole flecked north road, you'll need to park and hike down to the water on foot, where data reception is spotty.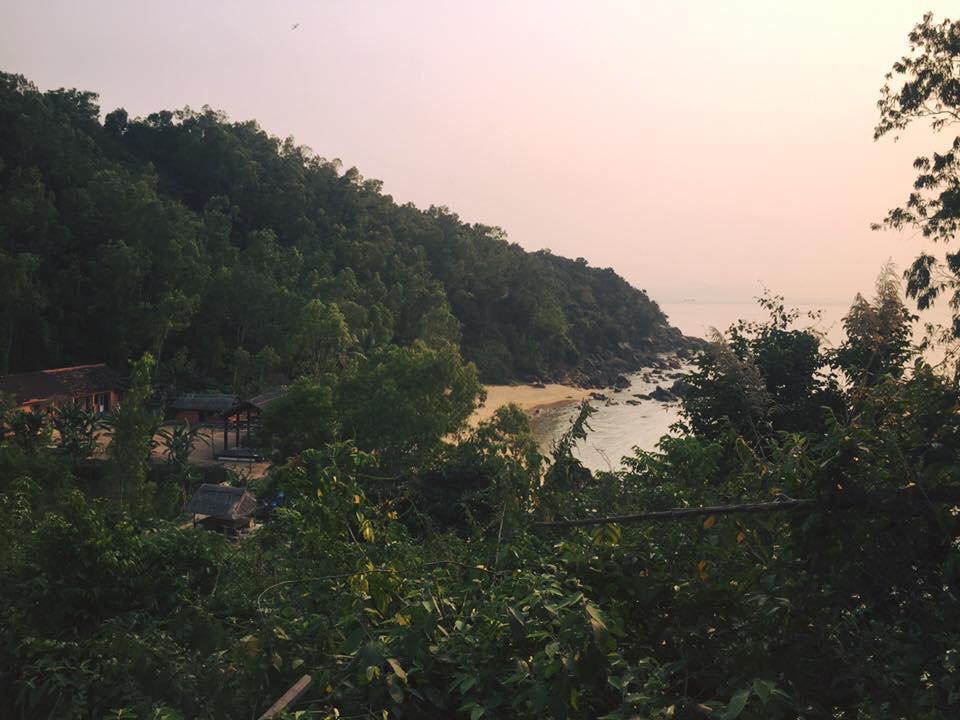 Once there you may need to negotiate your stay. Because of the gentle climb down, the locals will see you before you see them. They may be waiting for you on the shore in their beach chairs with a cooler full of Hudas and coconuts. They may ask for 20k dong a person. Or 100k, depending on whatever inscrutable system they use (which, I strongly suspect is based purely on a whim). Pay them. They'll be extremely accommodating once you've paid, and this beach is well worth the trip and the cheap cost of admission.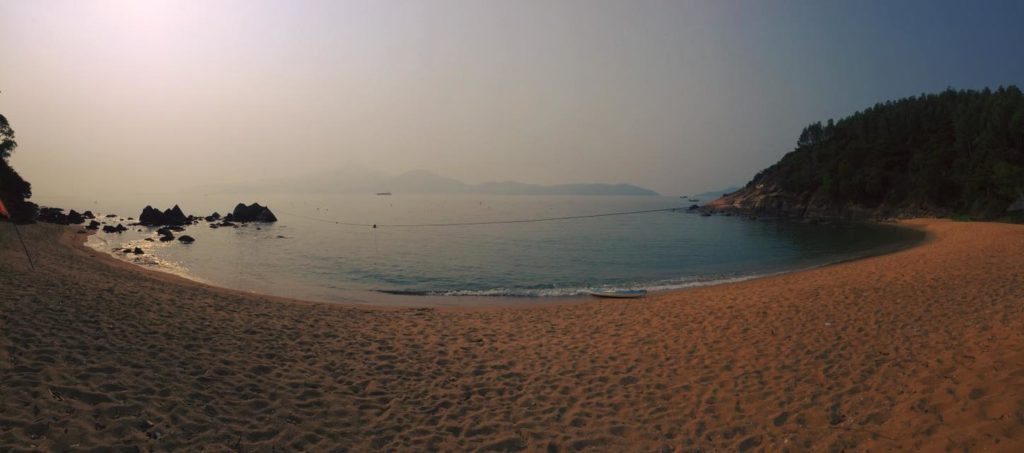 Bonus* Abandoned Resort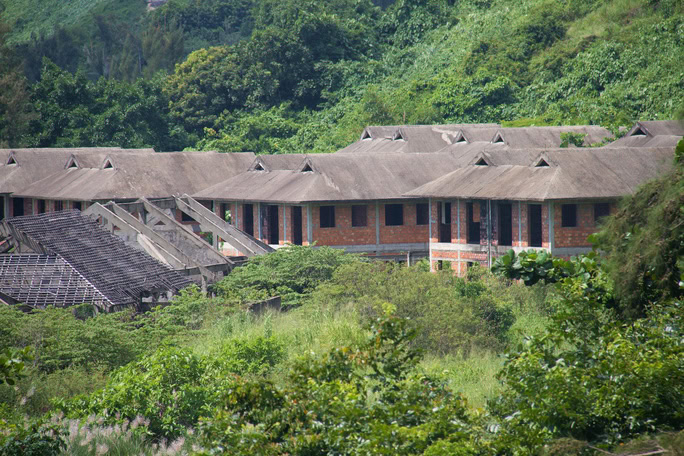 For a final stop on our adventure together, get your Scooby-Doo on at any of the abandoned resorts along Son Tra beach. These are not to be confused with "Son Tra Retreat", which is a perfectly lovely (and very much open and operational) resort along the same stretch.
From Son Tra Retreat, continue past the Lady Buddha on that now-familiar beach road. Around the bend and through the treeline you'll notice many apparently under-construction buildings. Closer inspection will reveal no working crews and little remaining equipment. You may find paths to them either overgrown or else non-existent. Only ghosts remain here, telling tales of criminally disorganized construction projects that could-have-been. If you get to the Intercontinental, you've gone too far for most of these, but never fear—the north road across the peninsula is also home to a few derelicts of its own.
"

Only ghosts remain here, telling tales of criminally disorganized construction projects that could-have-been."
Local expat legend tells of ancient pirate ghosts from before the American-Vietnamese war who still haunt these cursed grounds. By contrast, local Vietnamese reply with sentiments more along the lines of "what? No. Also, why are you hanging out in an abandoned construction site?"
Your preferred paradise
Which one of Son Tra peninsula's beaches is your favorite? Did you ever have to abandon your spot due to the sudden appearance of ornery monkeys? And ARE the abandoned resorts haunted by pirate ghosts? Let us know what you think in the comment section below.