Reading Time:
6
minutes
The best way out of Ho Chi Minh
Do not be afraid! Exiting Ho Chi Minh city is not as terrifying as it may seem or look. In recent years the main highways out of Ho Chi Minh have undergone huge construction projects and they are now in good condition!
The Vietnamese drive unbelievably slowly and road speeds rarely exceed 60km/h. The traffic may look chaotic, but once out on the roads everything will make sense and be manageable.
Navigate the best way out of Ho Chi Minh at a slow, steady and predictable pace and it will be found that the locals are happy to go around you!
The highways are mostly split into car lanes and motorbike lanes. These are clearly signposted and keep motorbikes away from the big trucks. There are sections where everything merges together but stay among the motorbikes and all will be fine.
Leaving Ho Chi Minh by motorbike early in the morning
Leaving Ho Chi Minh by motorbike early in the morning is not a good idea! The Vietnamese wake up early and rush hour begins at around 6am and lasts through to around 9am. Unless leaving at 4am (in the dark), then any attempts to leave early will run straight into rush hour!
In the early hours of dawn, there is no help around. This is a new journey on an unfamiliar motorbike and the last thing needed to begin the journey is an early morning issue with no help around.
The best time to exit Ho Chi Minh city by motorbike is between the hours of 10 am and 1 pm. The Vietnamese take a mid-day nap and as a culture will avoid the sun at all costs. It can be found that the mid-day blaring sun of Ho Chi Minh dramatically reduces traffic. This is the time to depart and be on the way out of the enormous Ho Chi Minh City.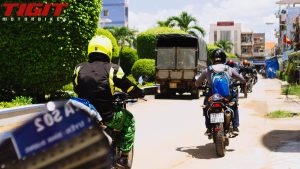 Drive inland out of Ho Chi Minh
The secret to leaving Ho Chi Minh by motorbike is to head inland towards Cat Tien National park. This sets up the drive on the Dong Nai river which is only around 2 hours from Central Ho Chi Minh. Once on the Dong Nai River, it is time to say good by to Ho Chi Minh traffic and hello to the Vietnamese countryside.
All other routes out of Ho Chi Minh take around 4 hours of Saigon city style traffic. The Dong Nai river is a pleasant drive to get the holiday started.
Cat Tien National park has a lovely resort on the edge of the jungle called the Green Bamboo Lodge (check here for best rates). Cold beers, comfortable beds and a great deck overlooking the Dong Nai river. This is likely to be one of the best places to stay that a traveler will experience in Vietnam! It is possible to spend a day in Cat Tien National park where there are various "off the tourist circuit activities" such as hiking, finding trees and bird watching cruises up the Dong Nai River.
From Cat Tien National park is a spectacular mountain drive to Dalat along the DT725. A newly built road that carves its way through farmland and mountain terrain. If leaving Cat Tien national park early enough it is possible to visit the Elephant Waterfall on the way into Dalat. A magnificent waterfall with an adventurous climb to the base!
Riding towards the coast is not the best way out of Ho Chi Minh
A motorbike drive to Phan Thiet / Mui Ne is approximately five hours of grueling highway driving. Once in Mui Ne there is a problem of Police Sand Dune traps.
Some travelers will choose to head to Vung Tau for a first day of driving. The drive to Vung Tau takes around 4 hours of highway driving. This highway has no true separation of motorbike and car lanes and is a fairly intimidating and nasty first day of driving! If you do decide to go to Vung Tau, Tigit recommends the Gecko Hostel (check here for best rates).
The drive from Vung Tau to Mui Ne is pleasant for new drivers in Vietnam, however, it is not the spectacular coast drive that is advertised on the internet. The coast becomes beautiful after Mui Ne, which means this first "coastal" drive from Vung Tau to Mui Ne is mostly back lane driving and not directly on the seafront. A good drive, but comparable to day 2 of Cat Tien to Dalat this "coastal" drive is nothing to talk about.
Optional extra's if going inland by motorbike
The DT761 inside Cat Tien National park is a gentle gravel track creating a nice loop which can be accessed by a ferry. The tunnels in the middle of Cat Tien are a rundown attraction which looks as if it was supposed to have made it onto the tourist circuit. It is a weird and ghostly experience of an attraction that is not expecting guests. Venturing into the old tunnels has spider webs and bats inside. Give the employees a scare and show the foreigner face for a baffled expression as to how they suddenly have visitors!
Keep in mind Cat Tien National park is remote and there is no help out there. Do not attempt without an adventure attitude.
Warning:
The cheeky people out there will notice the DT761 appears to cut around the edge of Dong Nai River on the inside of the national park, creating a convenient looking shortcut. However, this an incredibly difficult piece of off-road that is so difficult Tigit runs challenging dirt bike tours along this route. Do not attempt. We highly recommend avoiding this road unless extremely confident at off-road driving. Keep in mind there is minimal signal and not much help out there and a guided tour is highly recommended to get the best of the amazing Cat Tien National park and the challenges it has to offer!
Optional extra's if driving coastal by motorbike
The coast between Vung Tau and Mui Ne is nothing special. There is one exception to the rule which is Coco beach camp (check for best rates) which has located itself on a beautiful piece of beach. An amazing resort that Tigit highly recommends.
Coco beach camp has become a popular weekend party getaway for Vietnamese students. On weekends it may be advisable to avoid this place. During the week it is excellent and quiet.
After Coco Beachcamp head up the QL55B which is often referred to as a travelers "favorite road in Vietnam". A hidden gem that few people get to drive.
Tigit Motorbikes sells GPS bags which can be attached to any motorbike. We recommend having a smartphone with 3g and unlimited data, for information on how to set this up please read our article on how to navigate Vietnam by motorbike: https://www.tigitmotorbikes.com/how-to-navigate-vietnam-by-motorbike/
Navigating Vietnam without Google Maps or Maps.Me will be a battle as directions are poor and locals tend to enthusiastically point in random directions. This will significantly slow down the days drive.
Leaving Ho Chi Minh should not be a cause for concern
Driving from Tigit Motorbikes to Cat Tien national park can be done the most direct route. There is nothing wrong with the most direct route and it is not a difficult or scary drive. Put Tigit Motorbikes and Green Bamboo into Google Maps or Maps.Me and blindly follow the directions. Make sure that the applications are not sending you onto the CT01 (cars only).
Should you wish to add a little bit of bang and beauty to the first days drive, then follow our route for the best way out of ho chi minh by motorbike!