Reading Time:
10
minutes
Coffee originally made its way into Vietnam at the hands of French Missionaries in the 19th century. They were hoping to grow their beans and their religion, lucky for Vietnam one of those plans was worthwhile. Since the arrival of this single bean, Vietnam coffee production statistics say export is at 1.6-million metric tonnes (nearly 3.5-billion pounds) of coffee each year. Discovering this caffeine-based-world through a cup is amazing, but to uncover it on a motorbike is something you'll never forget. 

What's The Best Coffee In Vietnam?
The Central Highlands in Vietnam hold some of the most unique soil properties on the planet, basalt soil. The incredible soil is a byproduct of volcanic eruptions. When a volcano erupts, the flowing lava cools and begins to erode back into the earth quickly. Once a plant begins to grow in this eroded soil the lava releases its rich nutrients and continues to do so as the organic matter breaks down -an incredible circle of growth and decomposition. 
Buon Ma Thuot is the most recognized town for coffee production here and is often referred to as the country's "Coffee Capital".  If you wanted to buy Vietnamese coffee beans wholesale, this would be the place to do it. The region around Buon Ma Thuot holds 2-million hectares, or roughly 60% of the countries basalt soils turning out the greatest quantity of Robusta beans in Vietnam. Incredible!
Advantages of Growing Beans in Buon Ma Thuot
A growing altitude of 500-600 meters above sea level

Year-round cool climate in the mid 20's

#1 Robusta

coffee production in Vietnam

Global top-quality coffee 

As of 2005, the region is protected with Geographical Indication 
Vietnam Coffee Culture – Cau Dat 
Despite being part of the central highlands region, the beans from Buon Ma Thuot taste entirely different from beans from nearby Cau Dat, Nui Min, and Tram Hanh. The area used for coffee farming here are planted along the gentle slopes at an altitude of 1500-meters. This, along with similar basalt soils like that in Buon Ma Thuot make for the perfect combination to grow premium Arabica beans. As a result, the beans from this area are some of the best Arabica on the planet and make very proud farmers. In particular, Cau Dat coffee is considered as the "Queen" of all coffee types thanks to its charming fragrance.
Cau Dat Bean Benefits
An altitude of 1500-meters above sea level

A year-round climate that rarely exceeds 30oC

Basalt soil and high altitudes perfect for Arabica beans

Some of the top Arabica Coffee in the world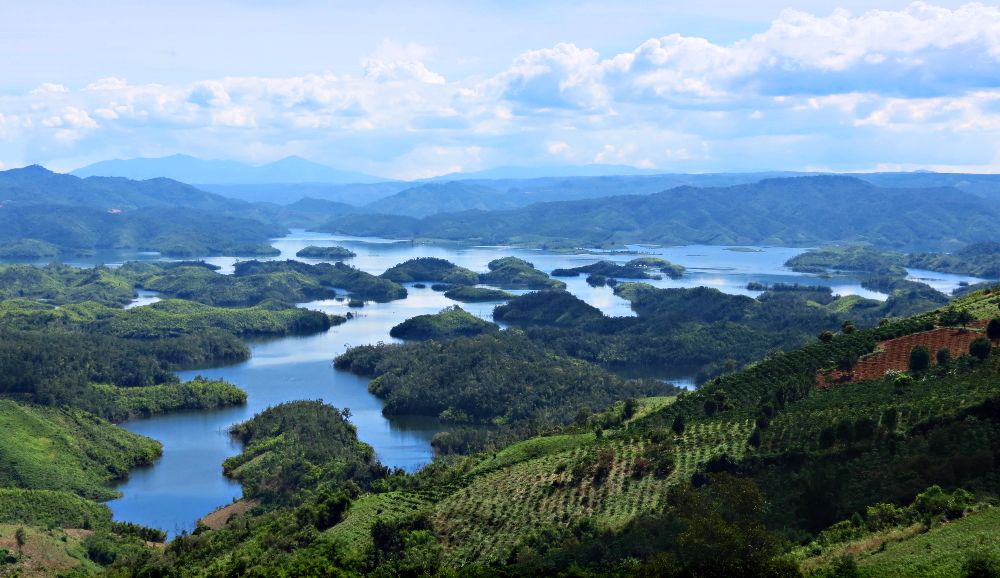 Coffee Routes On A Motorbike
For those of you on a caffeine-fueled motorbike marathon, you can set out and explore the various regions, villages, and cities best known for coffee in Vietnam. Each section should take about one day to both ride and explore, but who knows what a backpacker jacked up on caffeine with an XR150 can accomplish. Remember to sleep. 
Day 1: Da Nang to Kham Duc via QL14B and AH17 (120km)

Check out Cong Ca Phe in Da Nang, famous for their coconut coffee and condensed milk latte or try a

Vietnamese egg coffee.

 
Day 2: Kham Duc to Kon Tum via AH17 (172km)

Known for the bloody battle of Kham Duc that took place in May of 1968. Today this town doesn't see much action. Try Monaco Coffee for a cup of regional coffee. 
Day3: Kon Tum to Buon Ma Thuot  AH17 (225km)

In Kon Tum, ride over to the

Bishop's Mansion

and see the expansive gardens and on site museum of local tribespeople. 
Day 4: Buon Ma Thuot to Da Lat via QL27 (211km) 

The Ede minority people offer a unique

Vietnam coffee tasting tour

in their authentic Long House setting just outside of Buon Ma Thuot. 
Day 5: Da Lat to Dak Nong ( Ta Dung lake) via QL27 and QL28 (143km)

Me Linh Coffee Garden

is a beautiful place to experience regional beans. Or the

Weasel Coffee Farm

Dalat

is popular for over-priced, crap-flavoured coffee. 
Day 6: Dak Nong to Cat Tien via QL28 and DT725 (156km – One of the best drives)

Considered the "Halong Bay Of The Central Highlands" – Dak Nong is both beautiful and rich in coffee production. Dak Nong coffee gives a deep, sour flavor.
Day 7 : Cat Tien- HCM via QL20 and QL51 (162km)
Additional Locations.
Khe Sanh

is famous for both Arabica and Catimor coffee. The region isn't a large as the central highlands but contributes to the richness of the Vietnamese coffee diversity.

Gia Lai,

a 12,000ha district located 40 km south of Pleiku city, is known for Chu Se coffee. This specialty Gai Lai coffee is strong enough to make you feel like there's a fire inside of you! Try Thu Ha Coffee to light up your insides.
Can I Visit A Vietnam Coffee Plantation? – Plus Other Things To Do Near Buon Ma Thuot
The coffee regions main tourist base in Buon Ma Thuot has two seasons, dry and rainy. The dry season runs November-April and the rainy season from roughly May-October. The dry period lines up with the Vietnam coffee harvest season but, with temperature averages of 24oC year-round, there is no bad time to go. However, the best time go is December when the festivals begin and the areas Da Quy Wildflowers blossom into a bright yellow, bringing the area to life. 
Elephant Rock
Two rocks of elephant proportions rest in the forest near Yang Tao (Lak district), about 40 km from Buon Ma Thuot, named Elephant Father and Elephant Mother. From trunk to tail (hypothetically), they are roughly 200m long, 500m wide, and 30m high, weighing tens of thousands of tons. This massive size makes them the largest stand alone rocks in Vietnam and the couple's history here is full of local legend.  
You can hike to the peak of Elephant Rock in about fifteen minutes and take in the regional views, such as Yang Reh Lake and Chu Yang Sin Range – the roof of the Central Highlands.
Ecotourism of Kotam
Located 8kms from Buon Ma Thuot, Ecotourism of Kotam is a coffee destination center where Visitors can learn about the Central Highlands cultural diversity. In particular, the architectural works in the tourist area that are built with bamboo and a stilt house that displays the pictures, ethnic tools and historical significance of the indigenous Ede people from the area. Riding out here makes a great addition to discovering Vietnamese coffee on a motorbike. 
Daklak Vietnam Museum
Known as the Museum of Ethnic Culture in the Central Highlands. Daklak Museum is built near Bao Dai King Palace – a historical monument of Dak Lak. The museum has about 1,000 artifacts and images helping to explain the Vietnam coffee market, organized into three main display spaces (biodiversity and people's culture, ethnicity and history). Dak Lak Museum is one of the pioneering museums showcasing indigenous languages ​​in the display.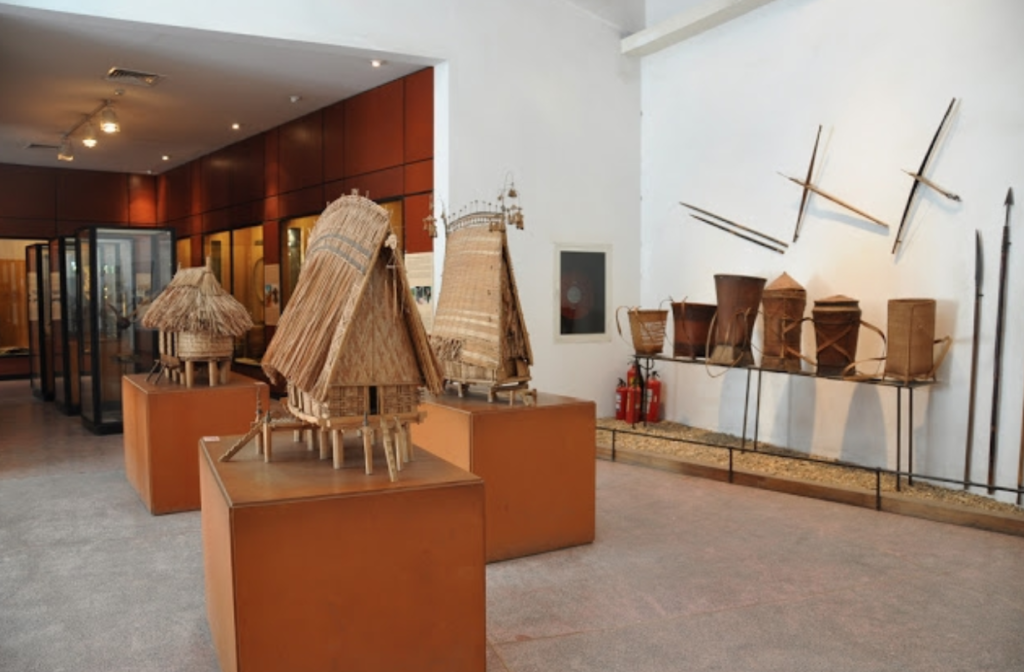 Eakao Lake
A beautiful setting at the base of the areas rolling mountain ranges surrounded by lush flora and mature forests. Eakao lake is located 12km southeast of Buon Ma Thuot city, in the territory of Ea Kao commune. Eakaos waters are a diverse ecosystem with many species of freshwater fish and shrimp. Come during the rainy season for the best views and go for a swim or sit and sip sugarcane juice from a local food vendor. 
Dray Nur and Dray Sap Waterfall 
Dray Nur and Dray Sap, known to locals as husband and wife, are a pair of falls on the Serepok River whose beauty has been attracting people for as long as the water has been flowing. Just 25kms from Buon Ma Thuot, despite the fact the two falls are so close together a suspension bridge connecting the two is broken and it's a further 25kms to reach Nur from Sap or vice versa. 
Thuy Tien Waterfall
Thuy Tien Waterfall waits for you in an unspoiled forest located roughly 70kms from Buon Ma Thuot near Tam Giang commune. This multi level waterfall is depicted by its unusual levels. One with a narrow, small slope you can walk down to, the next with a number of stones spread out so that you can bathe between them, and the final pours from the lake creating a frothy foam that settles while it rolls down the river. Just hiking into the falls over the exposed roots and across the steams in nature is a wonderful experience.
Yok Don National Park
60kms from Buon Ma Thuot, Yok Don National Park is best for light hiking and the chance to see a few wild animals. The park is 1000sq kms of protected forest where visitors can enjoy elephant riding, walking, mountain biking, and boating on the Serepok River. Monkeys are the main animal you'll see here as poaching of the land and the animals still takes place.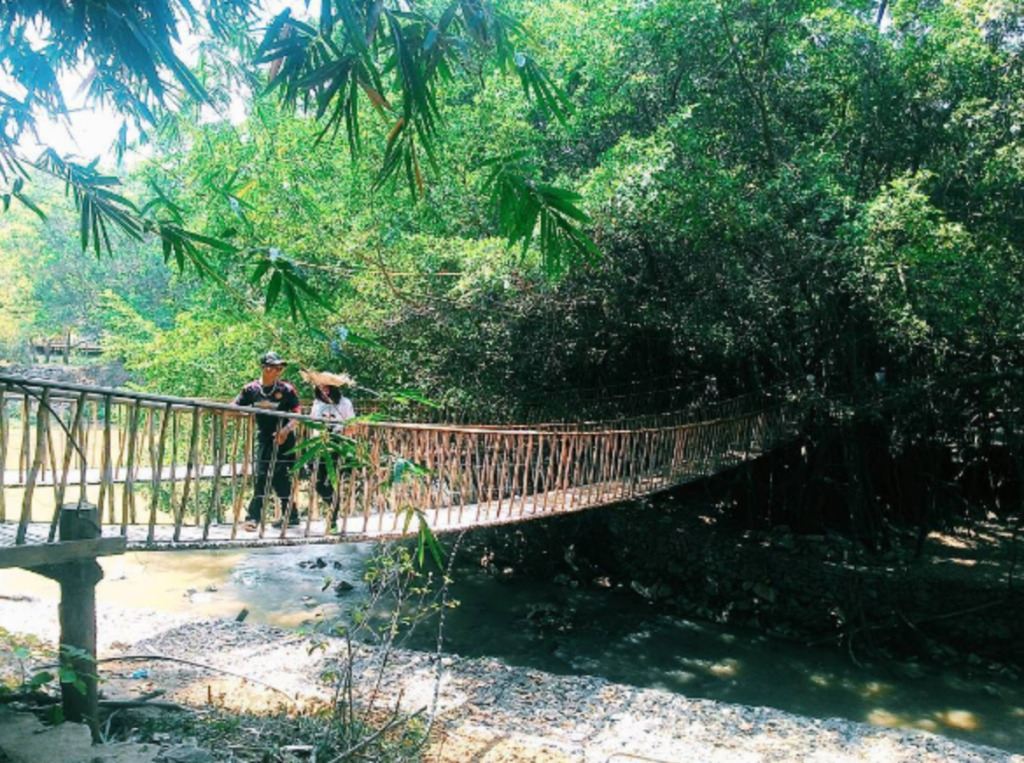 Chu Yang Sin National Park
Chu Yang Sin National Park is located 60 km east of Buon Ma Thuot city. The park has an extremely diverse and rich ecosystem with high endemism due to its mix of geographic plateaus. The scenery, carpeting forest, rapids, and waterfalls are perfect for the naturistic, outdoorsy types. The setting is the perfect place to go birding, canoeing, cycling, or just enjoy a quiet picnic in nature.
Vietnam Coffee Trung Nguyen Village
Home to lesser-known varieties of beans like Excelsa, Trung Nguyen Coffee Village also serves up Robusta and some of the best Vietnamese Arabica coffee from the roots of 30+ year old coffee plants. The village is set in a tranquil mountain setting accented with a small garden and wandering stream. There is also a small amusement park and area for live entertainment during events.
If you could enjoy the coffee anywhere around here, to do so along the stream in the gardens of this magical mountain city will evoke a sense of enjoyment not found with your average cup of joe.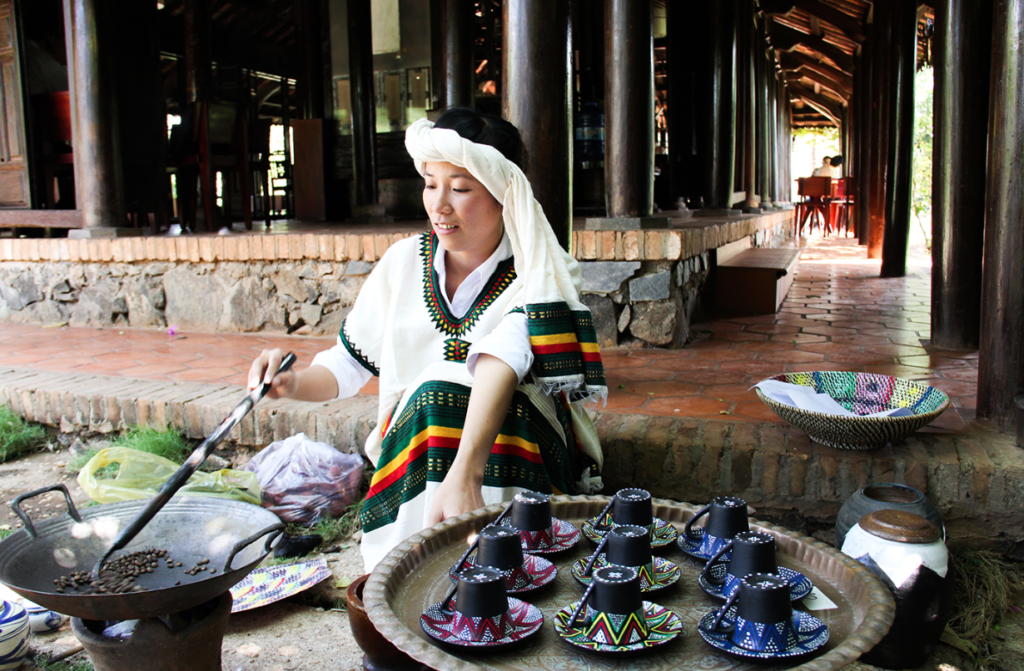 Ban Don- Don Village
Come to Don Village with an empty stomach and leave with a taste of culture and history. Don Village is most known for its centuries-old work with elephants, but for foodies, the area offers delicious dishes like "Com Lam" (grilled rice). 
Com Lam is considered the most typical dish of the mountain forest people. Prepared by filling a young, green bamboo chute with rice, fresh stream water, a bit of salt, and sometimes sesame, chicken or grilled pork then cooking it. 
This rice-to-go was originally prepared for long journeys by the locals. The fragrance and aroma from the bamboo and mountain water make for romantic flavors that will serenade your senses. This dish is often accompanied by a local wine drunk from a large pot shared through bamboo straws.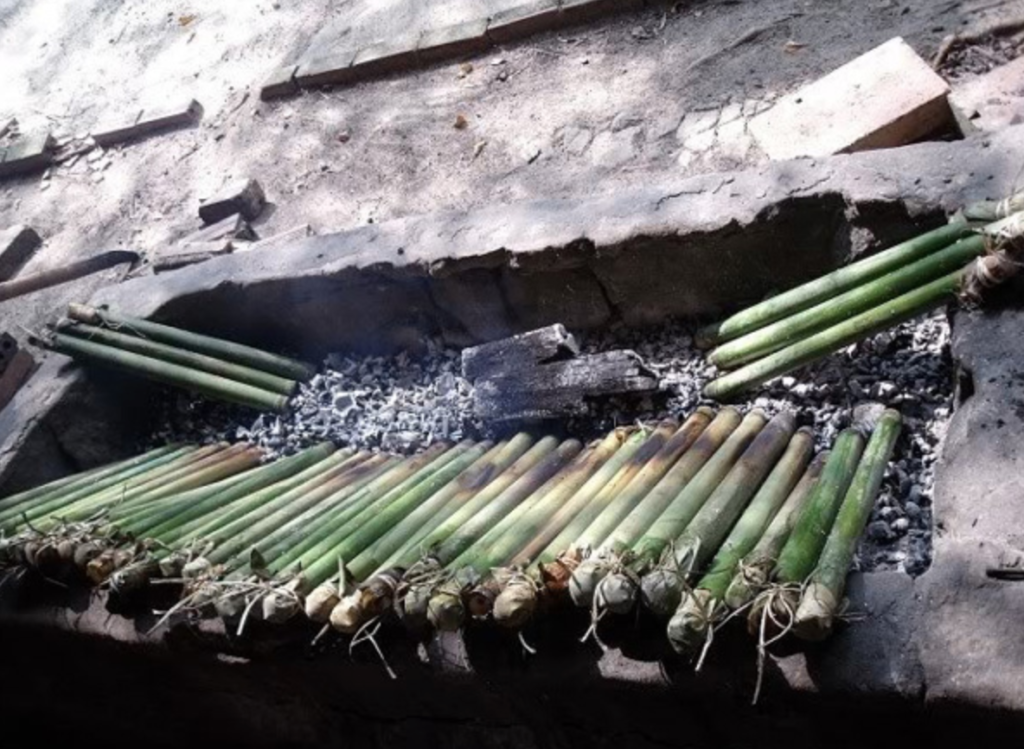 Lak Lake
About 56 km south of Buon Ma Thuot City, this is the largest freshwater lake in the Central Highlands and second in Vietnam (after Ba Be Lake).  Lak Lake is surrounded by untouched primeval forest,and this natural beauty goes hand in hand with the villages of the M'nong people living around the lake. The people and nature that have evolved together here will provide you with a very unique cultural experience. Come early to watch the sunrise, or stay late for the romantic sunsets. 
The World Coffee Museum
Located on the campus of a 45-hectare coffee project in Buon Ma Thuot City.
The World Coffee Museum is an ideal destination for coffee lovers from both inside the country and around the world. The museum showcases its exhibits and artifacts in an interactive setting that requires visitors to use all five of their senses for the full experience.   
With an aim to connect coffee history from around the world, you'll find over 10,000 objects related to coffee and Vietnam coffee culture from various periods throughout history. A number of these pieces are on loan from the Jens Burg Coffee Museum in Hamburg Germany.
Top View Ta Dung Homestay
Ta Dung is a protected area, about 45 km from Gia Nghia town or 165 kms from Buon Ma Thuot. The "Top View" is a lookout point/homestay where you can see the views over the clear green Ta Dung Lake.
The location doubles as a great base for visiting the Dong Nai 3 hydropower plant, Ta Dung boat station, Gia Nghia tea hill, Dak Mil town, Dray Sap & Dray Nur, Gia Long, Volcano cave of Chu Bluk, and Yok Don National Park.
The scenery is best during the rainy season from August to December when the lake fills up and the trees and islands become lush with color. 
For those of you looking for more, check out related post on the top things to do in Buon Ma Thuot.