Reading Time:
6
minutes
In this article we'll debunk the phenomena that is CC's and motorbike power, compare 110cc, 125cc, and 150cc engines, and shed some light on the importance of renting a genuine motorbike from a reputable company. Any motorcycle should be able to comfortably take you across Vietnam, but knowing what to look for and why can greatly influence the ease and enjoyment of your adventure holiday.
 Fact: A 110cc genuine Honda Blade can carry 2 people and luggage across Vietnam without skipping a beat.
The Difference In CC On A Motorcycle – The Cubic Centimetre Explained
CC is the abbreviated version for "Cubic Centimeters". In engines, it's used to measure the volume of the engine itself. What does 110cc mean? A 110cc engine will take up 110-cubic centimeters of volume where as a larger 1200cc engine will take up 1200-cubic centimeters of volume. 
The more cc's your engine has, the more air and fuel it can consume, and this typically translates to more power. Not all cc's are created equal though, and a 110cc motorbike isn't necessarily slow. As well a 150cc motorcycle isn't necessarily faster or more powerful than a 110cc.
For trips in Vietnam for example, the genuine Honda and Yamaha side by side are two different bikes. When comparing the exact same cc's on each bike, the Honda puts out approximately 25% more power than the Yamaha. This holds true for all of their mass-market models like the Honda Winner or Blade vs the Yamaha Exciter or Nouvo (are these the best examples?) Put the two bike brands side by side and the Honda wins the power and performance contest every time.
Genuine Motorbikes = More Power  –  Chinese Copies = More Problems
Now let's take that same Honda and put it next to a Chinese Honda knock off. It's not even a contest. The Chinese bike is a sheep in wolf's clothing. To match the power of the genuine 110cc, the Chinese bike would need to be a 200cc motorcycle on paper. A bit like cracking an ice cold beer at the end of a hot day only to find out its alcohol- free. #disappointment 
When comparing used bikes, the most important factor to consider is going to be the age and maintenance of the bike. If the bike has had a hard life with poor maintenance or even had its genuine parts replaced with cheap Chinese parts, then you're going to be riding a limp dog. Try and find two Yamaha Nouvo scooters with the same power, it'll never happen!
A simple and easy way to demonstrate this test within our garage is to try a second hand Honda Wave 110cc and compare it to one of our 110cc Honda Blades. The Wave will lack around 25% of its acceleration in comparison to the modern Honda Blade 110cc. If you were to rent one of these old bikes with no previous experience on a Wave, you'd be lead to believe that all Honda scooters are gutless garbage. 
Factors To Consider When Selecting A Motorbike In Vietnam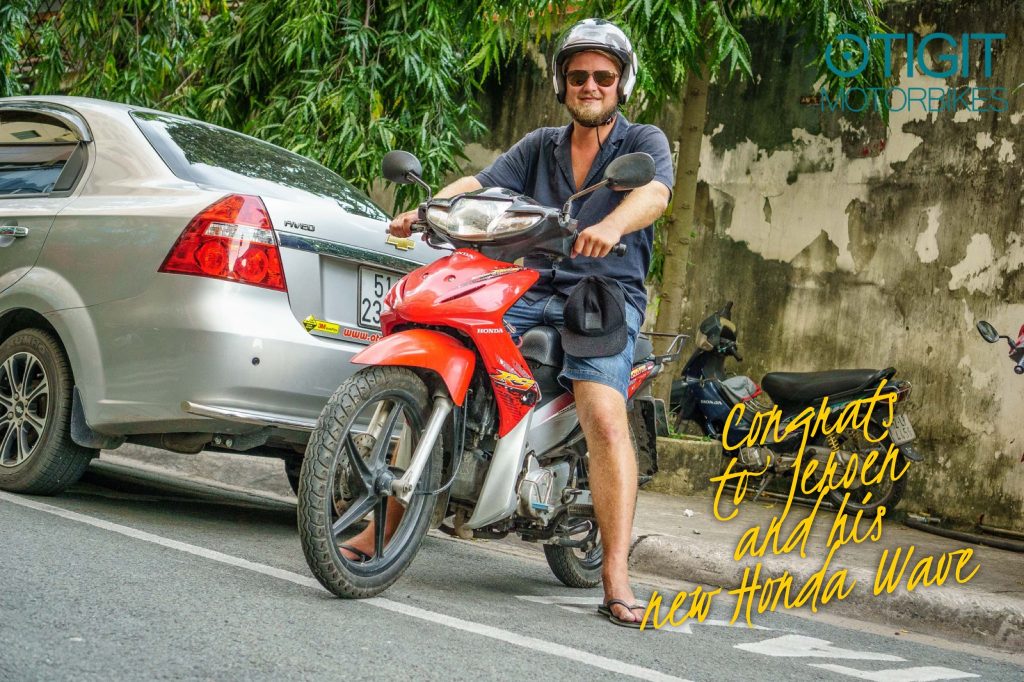 The Honda Wave, once you've spent some time in Vietnam you'll understand why even foreigners are trading cool looks and perceived power for what works hard and runs forever.
What Is The Best 125cc Motorbike To Buy? – The Chinese Honda Win Illusion
The Chinese Win is sloughed around the backpacker market in the 110cc to 135cc variety. A popular model is the 125cc as it appears to check all the boxes for backpackers traveling Vietnam by motorcycle – cheap, powerful enough, and easy to sell. If you're in the market for disappointment, you'll buy this bike. 
Over the long haul, you end up spending more on repairs than if you'd purchased a more reliable 125cc motorbike like a 110cc Honda Wave or 150cc Yamaha Exciter.  Once you put this 135cc of garbage next to a 110cc genuine Honda motorcycle, the 110cc genuine bike will win the power contest hands down. 
In reality, as long as the Win holds together (it won't) both bikes will successfully make it across Vietnam.
Which Is Better 125cc or 150cc?
It's better to understand the bike you are going to be riding and what it can or can't do, opposed to just looking at the cc's alone. The unscrupulous rental agency can promote a 125cc bike to outperform a 110cc bike, but what if the 110cc bike can do the job of a 150cc bike. Then why bother with the extra weight and fuel at all?
Often you'll find agencies that deceive travelers with the promotion of Honda 125cc motorbikes, that are often compared and confused with equivalent Thailand models. It's not your fault, you'd assume all things would be created equal, right?
 In Vietnam, the 125cc semi automatic is a luxury vehicle and the Honda Future 125cc is an expensive scooter! In thailand the 125cc is everywhere, making it a standard. In the land of smiles this means the prices are reasonable.

In Vietnam the 125cc "luxury" bike means you are paying a premium to ride this Thai base model. This premium is too high to have them as rental motorbikes, so shady motorbike rental companies will pick up the old Honda Future 125cc or the "X" model an entry level bike. Then try to persuade backpackers into renting the larger displacement 125cc Future, instead of the perceived inferior 110cc Wave. It's not worth the money. 
The reality is, that a proper 125cc Honda semi-automatic is over and above the average backpackers' motorbike rental budget. So how fast is a 125cc motorbike? A 110cc motorbike will max out around 85km/h, and 125cc and 150cc around 100km/h. For slow driving countries like Vietnam, the difference is of little importance.  This luxury bike along with any possible mishaps or crashes where the rider will end up replacing plastics is going to crush a budget and hamper travel plans. This makes knowing your bike more important than knowing your speed.
To keep the backpackers beer budget on track we've invented something called Tigits Damage Waiver. It takes the fear and concern of replacing plastics for possible crashes during your motorcycle adventure. You'll be able to ride hard all day, and sleep without concern at night. 
150cc Motorbikes – The Ceiling Of Vietnam's Power Class.
170cc is the maximum power class in Vietnam before heading into the world of specialist A2 licenses. This means that 150cc motorbikes have been manufactured with power in mind, and every cc is maximized for performance.
Models like the Yamaha Exciter, Honda Winner, and Suzuki Raider are designed around an important power to weight ratio that packs loads of punch & performance. We see experienced riders all the time who are stunned at how such a small machine can perform so well.
| | | | |
| --- | --- | --- | --- |
| Exciter | Winner | Raider | XR150 |
Foreigners are usually attracted to bikes with larger frames like the Honda XR, but these bikes are sluggish when compared to the smaller styled motorbikes in Vietnam the locals prefer to ride. As a result, imported motorbikes are not very popular on the streets of Vietnam. For the rider though, any 150cc motorcycle will have plenty of power to get you around Vietnam.        
Even the majority of the tour companies who operate out of Hanoi to service the Ha Giang Loops and mountainous northern regions of Vietnam have made the switch from 250cc bikes down to the Honda XR150 motorcycle. They know this region well and feel that the 150cc local's bike is still the way to go.         
Even if all the evidence in the world still isn't enough to convince you that two people can ride across the country on a powerful little scooter, you can get your hands on a Honda CRF250L or Honda CB500X and rip down the asphalt. You'll turn heads but definitely won't blend in. Either way, you'll have a good time and get from one end of Vietnam to the other without problems.