The Weather in Vietnam is volatile
This article is a bit of a rant, but I feel a personal rant adds more emphasis to this problematic situation of travellers taking motorbikes across Vietnam with the wrong attitude. Travellers often have the attitude and expectations of a sunny beach holiday. They fail to appreciate the difficulty and challenges that await them as they traverse Vietnam.
Vietnam is a tropical and mountainous country and is often hit by storms. It is not all sunshine and beaches. This sunny stereotype of Vietnam has been created through tourist bus routes sticking to the coast and utilising areas of the best weather and beaches. Mui Ne, Nha Trang, Hoi An, skipping the middle and going straight to Hanoi.
Up until recently the middle section from Hoi An to Hanoi was completely ignored by standard tourist routes. I imagine the volatile weather was a large player in this decision by early adopting travel companies.
The South and North have different seasons that do not link up to create a "perfect time to travel Vietnam". A motorbike holiday across Vietnam is likely to pass through all conditions, the rain, the sun, the extreme heat and also very cold temperatures.
It would be very lucky to travel across this country without running into some heavy rain storms and cold conditions. Travellers often come in shorts and T-shirts and are unprepared for the climates that are to come.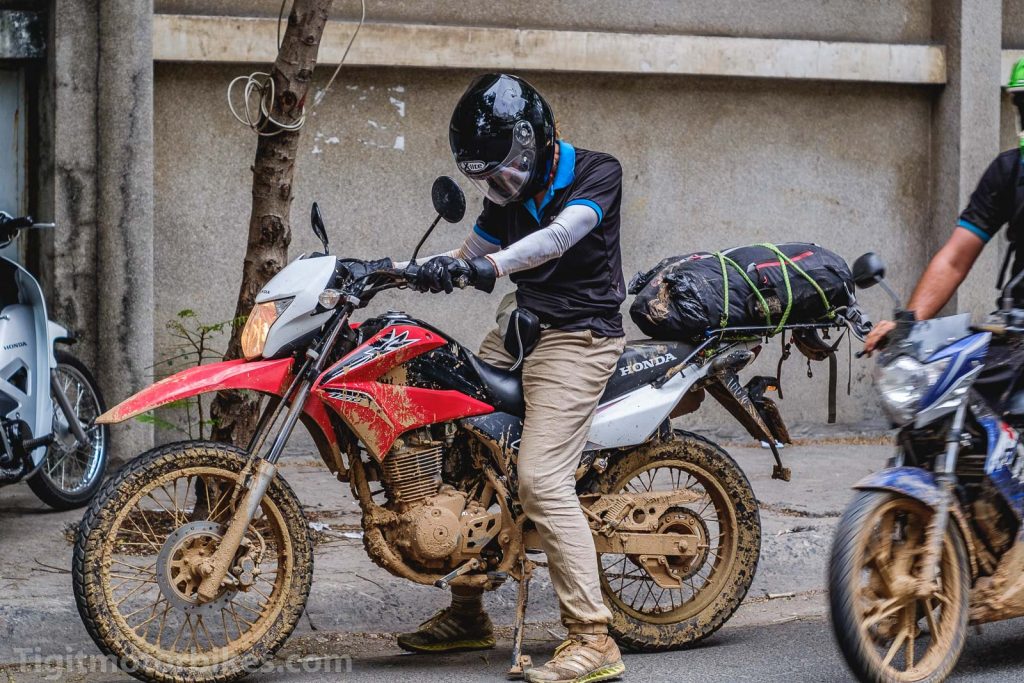 There is no wrong time to travel Vietnam
Tigit has an article "how to navigate Vietnam", where we summarise the conditions and when to travel.
In summary, for consistent hot conditions, a traveller should keep to the South of Vietnam; this includes anything below the Hoi An area. It is possible to run into heavy storms, but this is unlucky and short lived. The South is always hot and storms that do come through are quickly cleared up, with life resuming to normal in a flash. A storm is not going to delay a holiday by more than a day.
From Hoi An to Hanoi it is impossible to predict the weather, but the stormy season is from September to December. The storms that hit this area are far more severe and regular than in the South.
Cold conditions should be expected year round with the understanding of unpredictable and frequent rain.
Similar to the South, storms are quickly dealt with and normal life resumes rapidly. A major storm is unlikely to delay a holiday for more than two days, although the conditions may continue to be bleak and miserable.
The North above Hanoi is completely random and impossible to predict. Sun one day, to snow conditions the next. This stunningly beautiful environment has remained empty and off the tourist trail for a reason. This reason is the extremely volatile and random weather patterns that are not suitable for your beach holiday traveller.
As a general guideline, the best roads have the most volatile conditions.
The "less interesting roads", have the best weather conditions.
Pick your holiday, the Sun in the South with consistent hot temperatures VS  North with mountain roads and random weather.
Plan your clothing in accordance to the areas that you plan on travelling and utilise Tigits bag transport service for having the correct gear for the location. Using Tigit, a traveller does not need to transport all their gear by motorbike.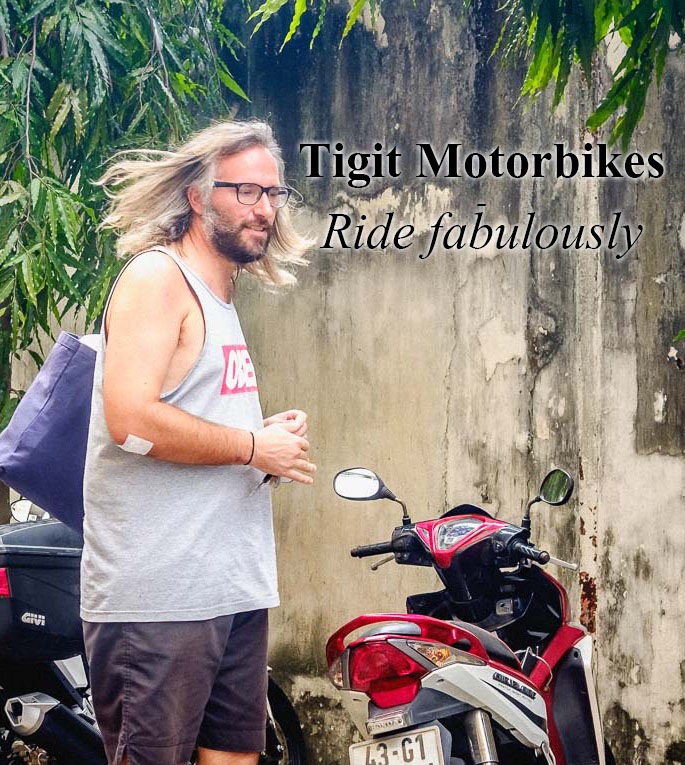 Take the news with a pinch of salt #FakeNews
It is a world wide phenomenon now, and it is no different in Vietnam. Weather is a great click bait way to get foreign interest in "extreme storms and massive loss of life".
It is true storms can do major damage here, but this is mostly due to poor infrastructure. A tourist is not going to get caught up in it and the government actively and sensibly evacuates foreigners from danger zones.
The news however, would have you believe entire sections of Vietnam are being evacuated with extreme risk of danger for all involved. The realities, are select areas of known danger zones usually where infrastructure is already known to be weak.
Stories and pictures continue to circulate backpacker Facebook groups for weeks after a storm. Business owners, specifically on the coast try to spread the word that the storm past weeks ago and the sun is shining and there are no concerns for safety. Unfortunately a storm that caused a one or two day inconvenience turns into weeks of ridiculous and exaggerated articles and posts. A loss of tourism through fake and exaggerated news is not what the local tourist industries need. Take the opportunity to travel this country knowing it will be a little less busy!
The click bait news is so extreme in Vietnam that we advise completely ignoring it. Plan as you go, knowing that a major storm is cleared up quickly, and then use sites such as accurate weather for the 24 hour forecasts.
Do not motorbike Vietnam without an adventure attitude
Motorbiking Vietnam really took off after the Top Gear Vietnam Special created a huge business of casual travellers entering into an adventure activity that takes preparation, skill and an adventurous spirit. Alongside this, is the obvious disclaimer of the risks involved with motorbiking, and in this case, motorbiking in a foreign country where the driving style is very different to the west. Read comic sketch about Vietnam in driving or safety tips from the local Tigit Link.
As with any adventure activity, the risks and challenges ahead need to be taken seriously before either buying a motorbike or depositing on a motorbike from abroad.
Understand that the weather is not predictable and that weather fluctuations are not just cause for refunds. I would consider it common sense, and this should not need disclaiming, but travellers in Vietnam often believe a change in conditions deserves a refund. Last time I checked, Ski holidays do not get refunded from a lack of snow. Diving holidays don't get refunded when the water is unclear and skydiving holidays do not get refunded when weather conditions are sub par.
This is commonplace and general knowledge when booking extreme activities, to understand the risks involved with unpredictable climates. On the positive side, no weather conditions in Vietnam can justify cancelling a motorbike holiday. A prepared adventure seeker will happily truck on through any conditions that Vietnam can throw at them!
When the rain falls the rivers and waterfalls flow. The lush green creates spectacular landscapes of beauty that can not be witnessed in the blazing sun. There is no right or wrong time to travel this stunning country, and every condition has its merits!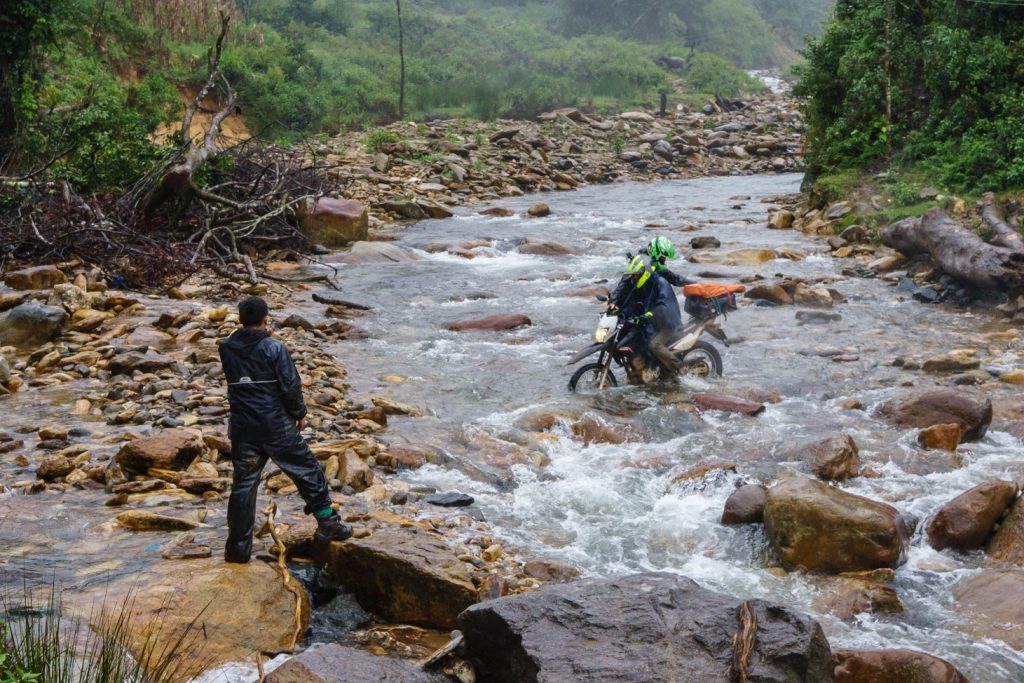 Bring riding gear from home
Vietnam may have cheap shopping markets full of "North Face Gear", but this is cheap because it is fake. Fake products do not work and is one of the most difficult concepts to come to terms with when living in Vietnam.
Experienced expats know to buy nothing locally and we all continue to shop online from home and ship over here. The high taxes are worth the price once the lesson has been learned how pointless fake gear is.
Read our article about what to bring and wear.
Once on the road, it can be difficult to appropriately clothe yourself leaving you wondering why your brand new $10 jacket is not keeping you warm. A few days of this and your mind begins to want to hit the bail out button, brought about by inappropriate clothing and no solution to fix the situation.
TigitMotorbikes has a clothing shop where we sell some gear, but we also struggle to stock appropriate gear for travellers….. so prepare clothing carefully for all conditions.