Enquire about this Model
Ask a Question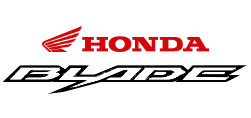 Transmission semi-auto
Gears 4 gears
Engine Size 110 cc
Top Speed 90 kph
Cruise Speed 60 kph
Tank Size 3.7 litres
OUR STOCK
( 18-August-2017 )
ON-ROAD
HCM
HANOI
DANANG
75
16
5
6
Stock displayed here does not anticipate pre-bookings. The motorbikes in the garage may not be available.
Contracts
Price to buy
$1000
or
$500
With passport. Collect passport and deposit when returning the motorbike.
35 day Buyback price
$750
Honda Blade
Most common motorbike in Vietnam!
The Honda semi-automatic is the most common motorbike type in Vietnam. Cheap to buy, cheap to maintain and cheap to run with excellent gas efficiency. Drive up the mountains into remote terrain and Honda semi-automatics will be seen everywhere. Indestructible machines that can handle anything thrown at them.
No breakdown guarantee!
Tigit's warranty against breakdowns combined with only one oil change in the journey means the Honda Blade should work out similar or on many occasions cheaper than trying to buy and sell a cheap backpacker motorbike!
These are real Honda motorcycles, not Chinese copies that are found in the backpacker area. Make sure to understand the difference of Chinese Vs Real Honda.
Plenty of power!
The Blade has enough power to carry two people and luggage across Vietnam without skipping a beat. Tigit does offer more exciting motorbikes, but there is actually no need to get anything bigger or more powerful than these reliable and affordable machines.
Easy to drive!
Learning the basics of simple gear changes can be taught within 5 minutes. Please watch this video for more information on how to drive a semi-automatic.
Disclaimer
Videos are filmed with a wide angle go-pro. Footage appears faster and in closer proximity than in real life.
If viewers believe the driving on display is unacceptable, please do contact us as we are considering/reviewing this marketing technique.
57 responses to "Honda Blade"