Reading Time:
9
minutes
Motorbike License in Vietnam
The facts and grey areas about an international drivers permit.
Tigit accepts travelers with no license on 150cc and below motorbikes.
To rent a 250cc + motorbike travelers need a valid motorbike licence + international drivers permit.
It is illegal to drive in Vietnam without a license, however, everyone does.
Tigit does not provide lessons and we don't want to rent to new drivers.
This is still a grey area and no information on this page can be taken literally as factual advice – this is a guideline of the rules that we understand to be true about the International drivers license for renting in Vietnam.
Please feel free to contact us and provide any other sources, advice or information.
Vietnam motorcycle rental. Can I rent without a valid IDP?
    Every day all over Vietnam, locals, and travelers alike are riding around without any license of any kind. Keep in mind, this is not the western world, and it is not as much of a big deal as it would be if you were caught doing so in your home country. In Vietnam the rules are flexible "guidelines", and if you do not get caught breaking them, then no one is the wiser. The police mostly don't care and providing you do not break a serious law. Any possible infractions can usually be solved with coffee money. Tigit Jon has an article for tips and tricks for driving in Vietnam.
Things change however when you end up needing the assistance of your insurance company from home. Here, you would be responsible for whatever contract obligations they asked of you. Most likely that you have a valid license and valid IDP to make a claim. Insurance companies operate in the western world, and for this, you need to have your papers in order.
For protection against damages to Tigit bikes we offer a  damage excess protection, an upgrade package that removes you, the customer, from all damages to a motorcycle rental. A convenient way to help relieve any pressure you might feel about potential damage to your motorcycle rental.
However there is no insurance in Vietnam, for yourself or 3rd parties. All insurance must be selected from home, check carefully that insurance providers cover you in Vietnam.
Takeaways:
Not everyone has a driving license in Vietnam, but it will make life easier and safer if you do.

Accidents can usually be resolved on the spot with police negotiations.

Your at home insurance will be void without a proper driving permit. Calculate this risk carefully into your travel plans.

Tigit offers a damage waiver to remove you from paying for potential motorcycle damage.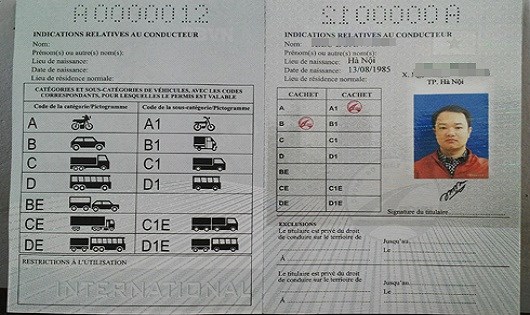 What is an IDP / International driver's permit?
    An IDP/IDL, or international drivers permit/international drivers license are the same thing. This legal document issued by your home country aids in explaining what your permit means to any nice police officers you may meet along the way. In short, countries that agree to accept your home countries drivers permit as valid will need to have that information directly translated into the local language. An IDP usually allows your permit to be valid abroad for a short time. Typically less than 90-days. This is meant to make it easier, rather than needing a new license for each country. The IDP is a written translation of typically ten languages. Think of it as a little translator for your drivers' permit.
IDP Stats:
The IDP is provided in the form of an A6 size notebook, which looks similar to a passport.  

The IDP

only

applies to vehicles that you are legally able to drive back home.

A car permit combined with an IDP is not sufficient to drive legally in Vietnam. A traveler must have a full motorbike license, coupled with the IDP to be driving lawfully in Vietnam.
Where do I get an IDP?
    Getting an international driving permit is quite simple. In the UK you can simply visit the RAC motoring services page. Fill out the online form, then submit the required documents along with a £8 fee. For Australians, you can visit their RAC page, though the cost may be higher. For all other countries, merely google international drivers permit along with your applicable country. Usually, they are issued quite fast but don't leave it to the last minute.
IDP's can not be obtained once in Vietnam or on the road.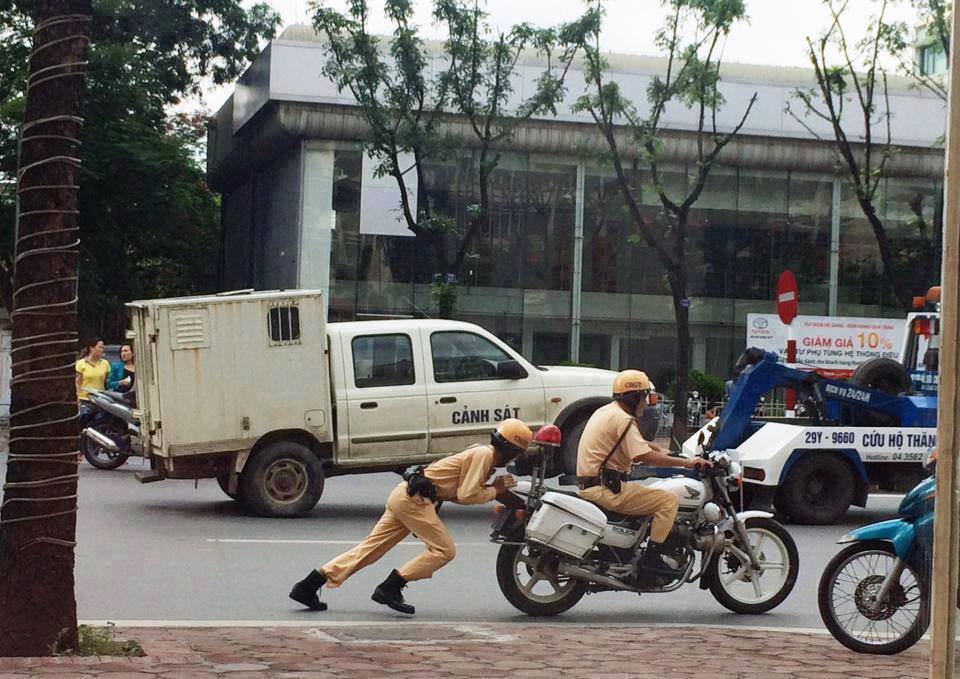 Can't I just bribe the police, why do I need an IDP?
In short, yes. For nearly all minor infractions it is possible to pay the police.
Serious issues though is where the IDP comes in handy!   
For the police, presenting legal documentation will aid in keeping you out of trouble. From the perspective of your insurance company, you will not be covered if you are doing something illegal. Like driving a motorcycle in Vietnam without a proper permit. If you were to get into an accident that requires an insurance payout, you would want to have all your documents in order.
Insurance to motorbike in Vietnam
    As a foreigner who is traveling through Vietnam, you will not be able to purchase insurance locally that you can actually use. Local sellers or other rental agencies might offer to sell you a 3rd party yellow insurance paper. For you, this does nothing. To have the yellow insurance is merely a guideline in Vietnam and you should not rely on it for anything.
    Before departing on your vacation, you will want to check with your local insurance agency about providing insurance for motorcycle rental within Vietnam. They will give you precise information on what they offer and how it might cover you in the event of a significant accident in Vietnam.
Confusion over 1968 convention and 1949
Through all our best efforts we couldn't solve this 1968 and 1949 puzzle. However we believe that technically speaking both Americans and Australians are not permitted to drive legally in Vietnam, even with the international drivers permit. Within Vietnam, the police will not know, to them an international drivers permit is an international drivers permit.
From an insurance stand point, we know from experience the company "1 Cover" (email log below) will cover Australians on motorbikes in Vietnam. Further to this, we have had experience of them successfully paying out to our clients.
For Americans, we have no first hand experience with insurance companies.
Our recommendation
1. Get an international drivers permit. This makes you fine by Vietnam's police standards.
2. Phone up a home insurance company and record the conversion. Explain the story in detail.
3. If they agree to cover, then great.
Email with Australian insurance provider 1cover

I can confirm that we cover our travellers to ride a motorbike as standard, providing that they have the appropriate UK license and they are wearing the appropriate safety gear.

What happens in a serious crash in Vietnam
      In the case of a serious crash where either the traveler or a local is injured. People from the area or village quickly surround the scene of the crash out of curiosity. The police will then promptly show up and act as an on the spot investigator and judge. After their small investigation, they will decide who pays who what amounts.
      The police will then confiscate the motorbikes from both parties and use them as ransom to force an agreement between those who were involved in the crash. It is here that you will usually find the police quite helpful. They typically aid in a reasonable negotiation between foreigners and Vietnamese.
      We recommend following police advice in regards to the cash needed to make the situation go away. Holding on to your morals of who caused the crash will not help you here. This is Vietnam, and this is the way things are done. Once all parties agree to walkway quietly, the police will then release the motorbikes. A little coffee money for minor problems is an efficient way to make any problem magically disappear.
For Tigit's  help and assistance it is important clients explain the full story accurately. It is common for travelers to "bend the truth" and this often contributes to digging big holes for all parties involved.
      It is easiest for travelers to fix the situation themselves. Police like to deal with the driver of the vehicle directly and attempts to pawn the situation onto someone else can delay in motorbike retrieval.
Once again, if you are driving by the book and have an international drivers permit and valid licence then this will help when accidents occur. 
How to drive through Vietnam safely
    In your home country, you might own a motorcycle. One with a displacement of 500cc or higher. The bike probably goes very fast, and you may even operate it at the regular at home speed limit, somewhere between 50 – 100kmph. Your motorcycle is perhaps equipped with working brakes, lights, proper tyres, and doesn't carry more than one passenger. At home, you and everyone around you are very adept to operating at higher speeds using quality automobiles.
    In Vietnam, it is more likely that a motorcycle is under 150cc and entirely void of safety features like brakes and lights. The motorcycles are probably carrying more weight than they should. Three passengers and a chicken is not an uncommon sight. As well, it is common for drivers to talk on a cell phone with one hand and smoke a cigarette with the other. For this and many other reasons, traffic moves very slow, and the locals are not used to high-speeds and fast movements. In Vietnam, you'll want to drive slow and steady like the locals.
      Note, that if you do plan to drive faster than the locals' anything could happen at any time. The Vietnamese were not trained in how to operate a motor vehicle safely. At any given moment they might turn without indicating it, decide to go no matter what color a traffic light is. Or not stop no matter how big the stop sign is. Driving is meant to be done at a leisurely pace. for more tips read driving safely in Vietnam, the more you can prepare yourself for this new driving world.
Takeaways:
Be prepared for anything at any time while driving in Vietnam.

Vietnamese bikes are often void of safety features that would be the norm in your country.

Drive at a leisurely pace like the locals.

Read up on tips for driving safely in Vietnam.
Where you should go from here
    It's best always to be aware of what the rules are in the country you are traveling too. Then be mindful of how those apply alongside the rules from your home country. Then be prepared to disregard all of them if a situation could be easily fixed with a bit of negotiation. When you are planning to drive a motorcycle through Vietnam, you can never be too prepared, and a little knowledge about the local customs goes a long way.
    We've helped a lot of people safely and comfortably enjoy a memorable trip without any hassles at all. If you have any questions, there is an excellent chance we have already answered them. Please look at our FAQ page to see if it can help provide a solution to your problem. Then if you have any further questions or are ready to book, please feel free to get in contact with us.
We look forward to helping you experience the real Vietnam, the way the locals do.
Tigit's Final thoughts
      Hours of digging in both Vietnamese and English has failed to reveal any factual evidence on this topic. The police have a list of internationally accepted countries within the police stations. This list differs from the official Vietnamese government websites, which differs from various news sources.
      The situation is a such a mind blowing mess that no official in Vietnam, be it a government official or a policeman, has any idea what they are doing.
      To avoid paying fines, have a motorbike licence + international drivers permit. The police (and the rest of the world), do not know which countries are accepted or not accepted so in our experience they assume any international drivers permit is valid.
     To be insured, obtain insurance from home and carefully check with the relevant insurance company that they cover you in Vietnam.
      There is no 3rd party liability insurance for foreigners, we have not found a solution to this yet. Stay tuned!