Reading Time:
11
minutes
The Midlands Route Vietnam – Nha Trang to Danang / Hoi An
Nha Trang to Hoi An is a two day drive up the coast and is it a very busy highway with plenty of resorts for all budgets. So it isn't a bad choice for someone in a rush.
The better option, however, is to venture inland which is very remote. This can be done in two days, but I think it is a three-day drive for most people. I coin this the "lonely range route" and it is described below. I have also added in an option to do some coast and some inland driving (which has become the most popular option for Tigit customers).
If heading from South to North most clients will drive from Nha Trang to Quy Nhon, enjoying the beautiful coastal pass between the two cities.
Quy Nhon is a city off the tourist map, known for its amazing food. Seafood is famous in this area. After Quy Nhon, head inland to Mang Den of Kon Tum.
Mang Den is wonderful and popular among Vietnamese tourists. From there, head on up to Hoi An.
This section connecting Nha Trang and Quy Nhon can be seen in purple on the Tigit map, the rest is in green.
The three options in mid level detail
The Coast and Highway
Is it recommended – no
The highway will get you through this leg quickly. The QL1A and side roads near the QL1A  are in good condition, but it is littered with big trucks, police and Vietnamese people jumping all over the road. A dangerous option with little reward apart from covering ground quickly.
Pros
Quickest route

Get to see Quy Nhon which is a lovely authentic Vietnamese city

Nice Beach resorts on route

Get to see the Deo Ca pass (similar to Hai Van)
Cons
Dangerous

Boring

Busy
Cambodia / Laos Border "The coffee trail"
Is it recommended – Medium
The coffee trail with a well planned itinerary will see the cultural enthusiast spoiled with unknown off the tourist trail tours. Tigit needs to do more research into this section still. A still developing route for tourists that has many potential perks to offer. From a driving perspective, it shows off traditional Vietnam, but at its core, it is a busy and boring highway.
Pros
Lots of unknown coffee related tours and farms

Experience authentic Vietnam without going too remote

A natural entrance to Kon Tum, a favourite destination of many travelers
Cons
At its core, this is still a busy highway

There are no breathtaking views
Straight down the middle – "The Lonely Ranger"
Is it recommended – YES
Unknown, uncharted and nearly never driven by foreigners or locals (in 2023 a lot of Tigit customers follow this now). New perfect highway that cuts through the Vietnamese countryside. I would coin this "the HCM road number two". It has the perfection of the famous Khe Sanh to Phong Nha Ho Chi Minh road, but unfortunately without the stunning views. 
The lack of views doesn't mean it is not worth driving. It has its own charm of extreme remoteness and uncharted territory. This section is like the HCM road 10 years ago, before it became famous.
Pros
Amazing fast paced road in great condition, in sections has not a sole to be found

Experience authentic Vietnam where few foreigners have gone

A farming hub of Vietnam, see what life is really like here

Miles and miles of forest with only you, your motorbike and a road
Cons
In relation to other famous roads, this section still lacks the raw jaw dropping beauty

It is remote, and there is no help out there if something goes wrong

No cell service for large amounts of time

When considering the trade off of "no help" VS the reward of "is it worth doing?" it could be a close call for many. This goes off the map beyond most people's comfort zone. 
What is the best route and is it worth doing?
Straight down the middle, coined by Jon as "The Lonely Ranger" is worth doing providing you are an adventure thrill seeker. It adds a new dimension to the Ho Chi Minh to Hanoi holiday that has otherwise mostly been lost. That is to disappear off the map to witness true and authentic rural Vietnamese life.
The now incredibly famous Ho Chi Minh road from Hoi An — > Khe Sanh — > Phong Nha used to be the motorcyclists opportunity to disappear off the map. However, it is now relatively developed and to some degree "busy".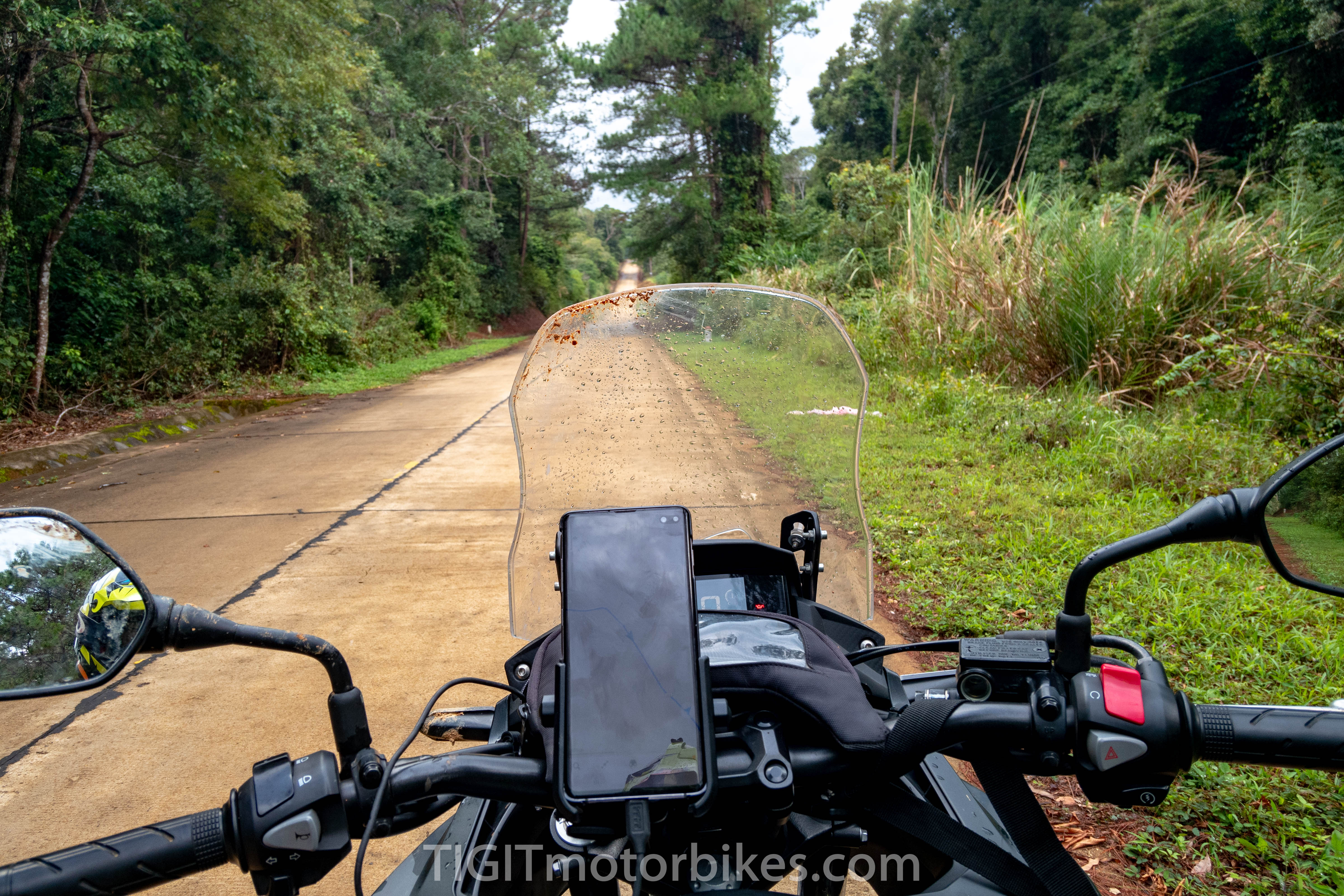 An article like this won't suddenly make this route famous. The reality is, this route is so far off the map that most travelers will not be comfortable doing it. Especially those on the Honda Win.
Finding a mechanic out there is not easy!
There are still people on this route. Busy farming villages break up the otherwise empty highway. These busy villages are plentiful and are both irritatingly busy but also inspiring from a people-watching perspective.
Imagine remote farming villages that are transporting their payloads by the occasional truck on this deserted highway.
Bicycles, kids, babies, dogs, chickens, people, water buffalo or any other imaginable item can and will be found loitering in the middle of this mostly empty and fast paced road.
Options within options, my findings
Previous experience on both the coffee trail and the coast has told me that these two options are not routes that I would be proud to recommend to serious motorcycle clients of Tigit Motorbikes. I already knew "The Middle" was the answer, but within the middle there are a load more choices and loops that no one has charted.
The "correct way" it turns out, is literally straight up the middle. The middle of the middle.
Nha Trang to Ayun Pa
Leaving Nha Trang it is possible to keep to the coast which allows for only a brief use of the busy QL1A highway before turning off onto the QL26 or Dt5 (choice is yours). The Ql26 is empty enough and in great condition, so in my opinion just ploughing up this is a fine choice.
From the Ql26 turn off onto "Đông Trường Sơn" that goes through the EA So nature reserve. A wonderful empty stretch of road that has a nice back drop of mountains.
Exit onto a brief stint on the Ql29 before hitting "Trường Sơn Đông".
I recall the Truong Son Dong to be an interesting experience as the road is well paved and open. Allowing for easy 90+km/h speeds on a motorbike like the Honda CB 500x. However it was a road full of life. It wasn't just a road for vehicles, but a road for Mother's meetings, Children playing games and random other farming activities that occur on the road that is a central vein to the area.
Both North and South of Ayun Pa, I would say 1 hour North and 1 hour South (2 hours combined) are busy with "Vietnamese life" with a less than average conditioned road with far too many people jumping all over it. It might be at this point, that you wonder if going off into the midlands was the correct choice, but just bear with it.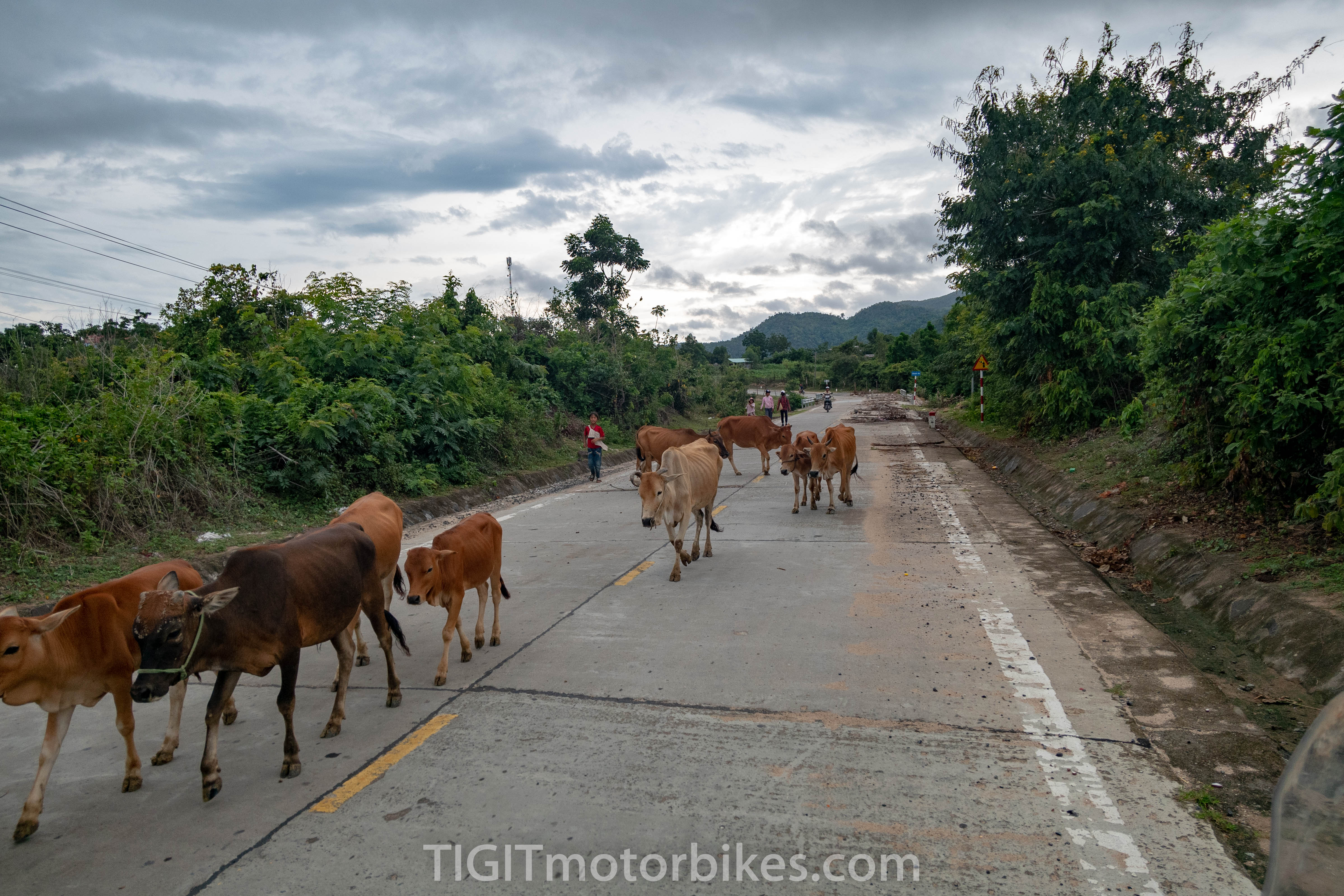 Ayun Pa to Mang Den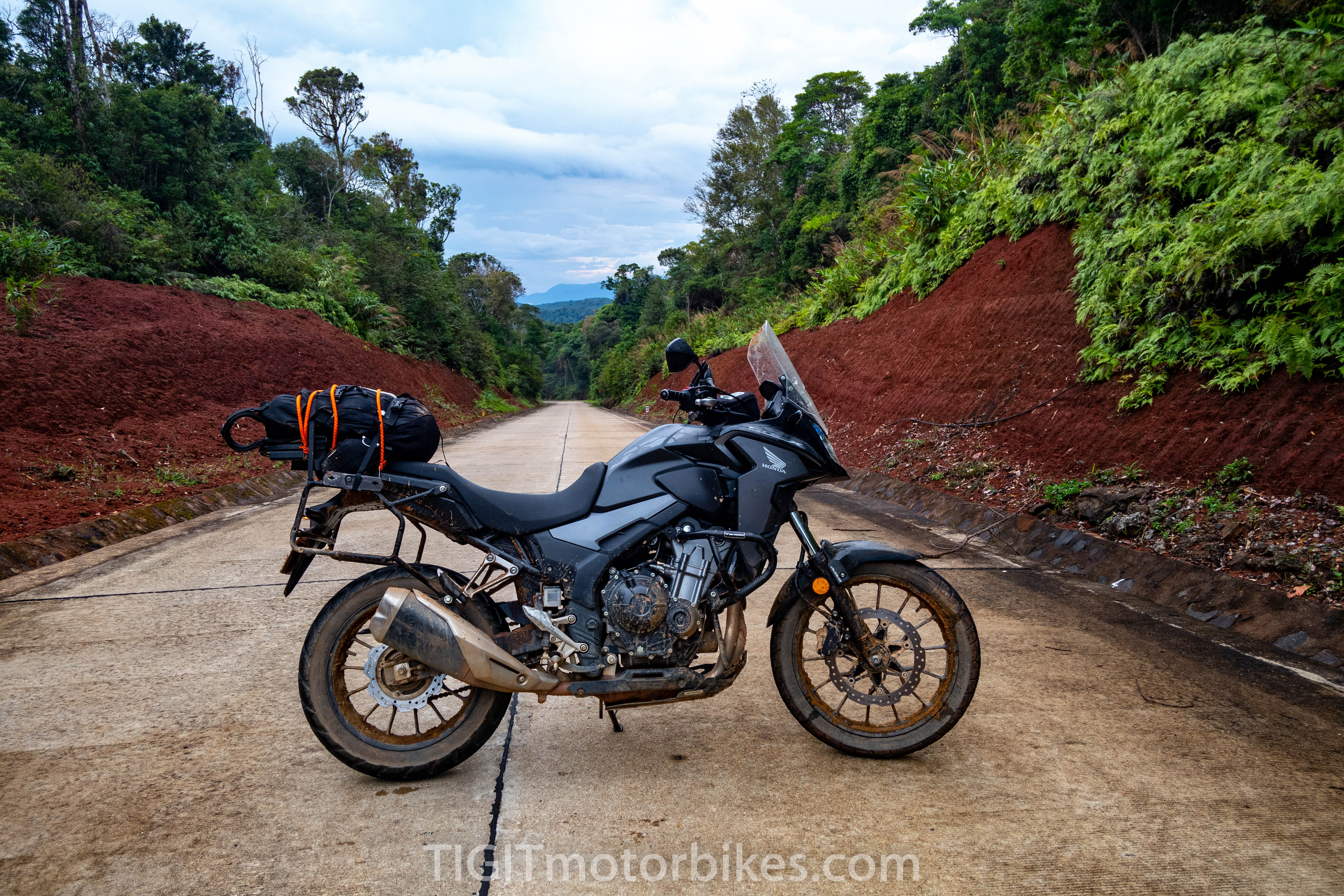 The DT662 which connects to the DT699 is where the magic happens. A perfect road with nothing on it. No vehicles, no people, no animals. Nothing. On the DT699 is an old airport runway, which is fairly obvious when on it. A lot of fun to drive. Continue onto the DT699B which is a good several hour stretch through the Kon Chu Rang Nature Reserve where you are likely to be the only person for miles around.
The DT699 becomes a thing of the past and looks like only for serious offroading. I wasn't prepared to tackle it on the Honda CB 500x. Either Way you are unlikely to accidentally wander onto it, I mention it for people looking at the map which appears to have the two neutral options through the national park. To clarify, one of them isn't an option.
Mang Den is the only place that has hotels. Continuing North will result in no Hotels. A few hours West is Kon Tum and a few hours East is the coast, basically you are all alone out here. Mang Den needs to be the stopping point, venturing a little bit further could well lead to hotel-less disaster. Mang Den is actually a nice little place and it seems to be used within the Vietnamese tour industry, plenty of city folk on big tour buses taking selfies with the stunning natural beauty of the area.
Mang Den to Hoi An / Danang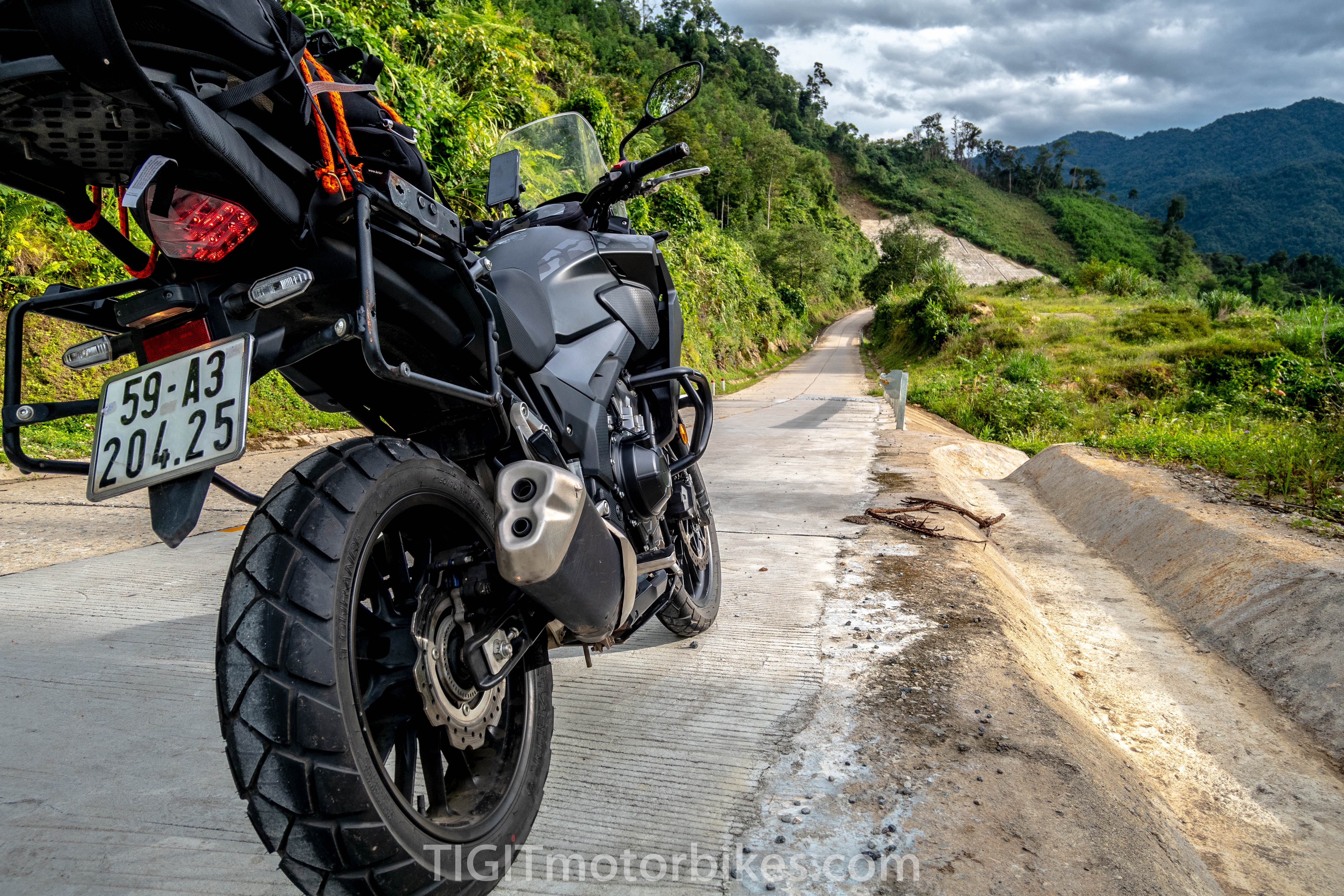 Take the Ql24 East of Mang Den and at the crossroad of the Ql24 and Dt669 turn North onto the un-named road Truong Son Dong. This is another master piece of a road. It does have some life on it, but no mobile signal pretty much for its entirety.  On GoogleMaps it appears to end at the DT630. However it continues on North. Download and follow my GPS data. Easy enough, and mostly complete at the time of writing this with minor roadworks still going on.
It connects up with the DT616 for a short time, before heading off into no mans land on another road that is not yet on GoogleMaps. From the DT616 it cuts through no mans land to the QL14E and is probably the best road on this leg and one of the best roads in all of Vietnam.
The other roads are good, but this is on another level. Perfectly paved and prepped for what I imagine is going to be a primary highway for heavy traffic to access the big city of Danang. To date, no one knows about it, including locals. It is empty perfection. The road quality is so good that you might get away with taking a Formula One car down it.
What's more is that it cuts out heavy traffic on route to get to Hoi An and Danang. With most of the traffic cunningly cut out through solid Google Earthing, now continue up the QL14E to the final destination of Hoi An or Danang.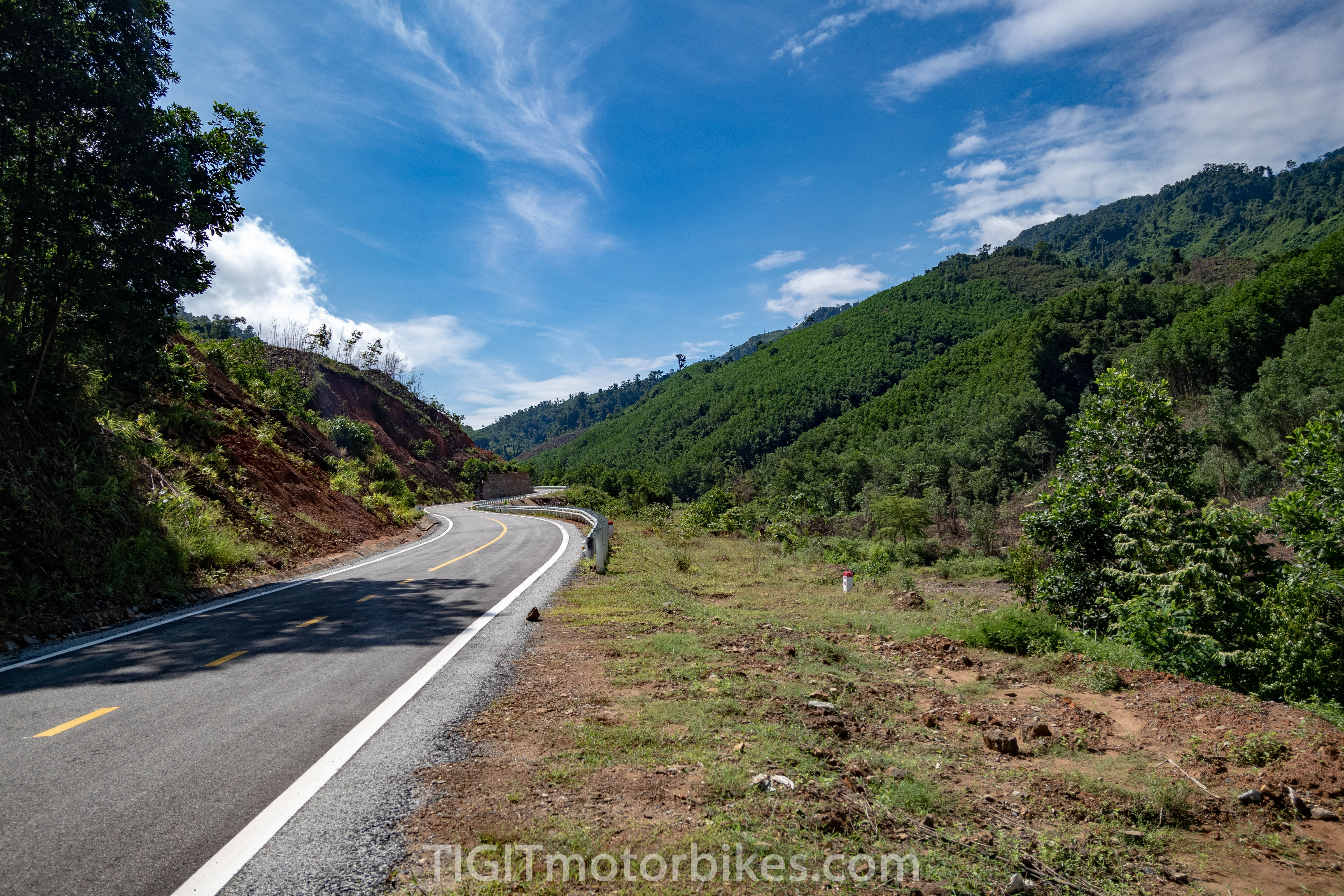 The Ngoc Linh Nature Reserve loop
People coming up from the Coffee trail will be going through Kon Tum. Others on the Lonely Ranger route may also want to visit Kon Tum which is a popular/favourite destination of many motorbike travelers. 
The DT 672 North of Kon Tum is one of those Vietnamese roads that I find frustrating to drive. Although it is nice to be out in the countryside, these single car lane roads are bumpy with potholes and are fairly badly maintained. 
Furthermore they do have the occasional heavy good vehicles lurking around the corners. You are not expecting them, and they are not expecting you. There isn't a huge amount of room to play with to escape them.  It winds around, left, right, left, right, left, right, pothole, left, right, big truck, left, right, gravel, pothole, dog, left, right.
Alot of work and concentration goes into driving these sorts of roads with little reward in terms of views or inspiration. Nothing bad, but also nothing good.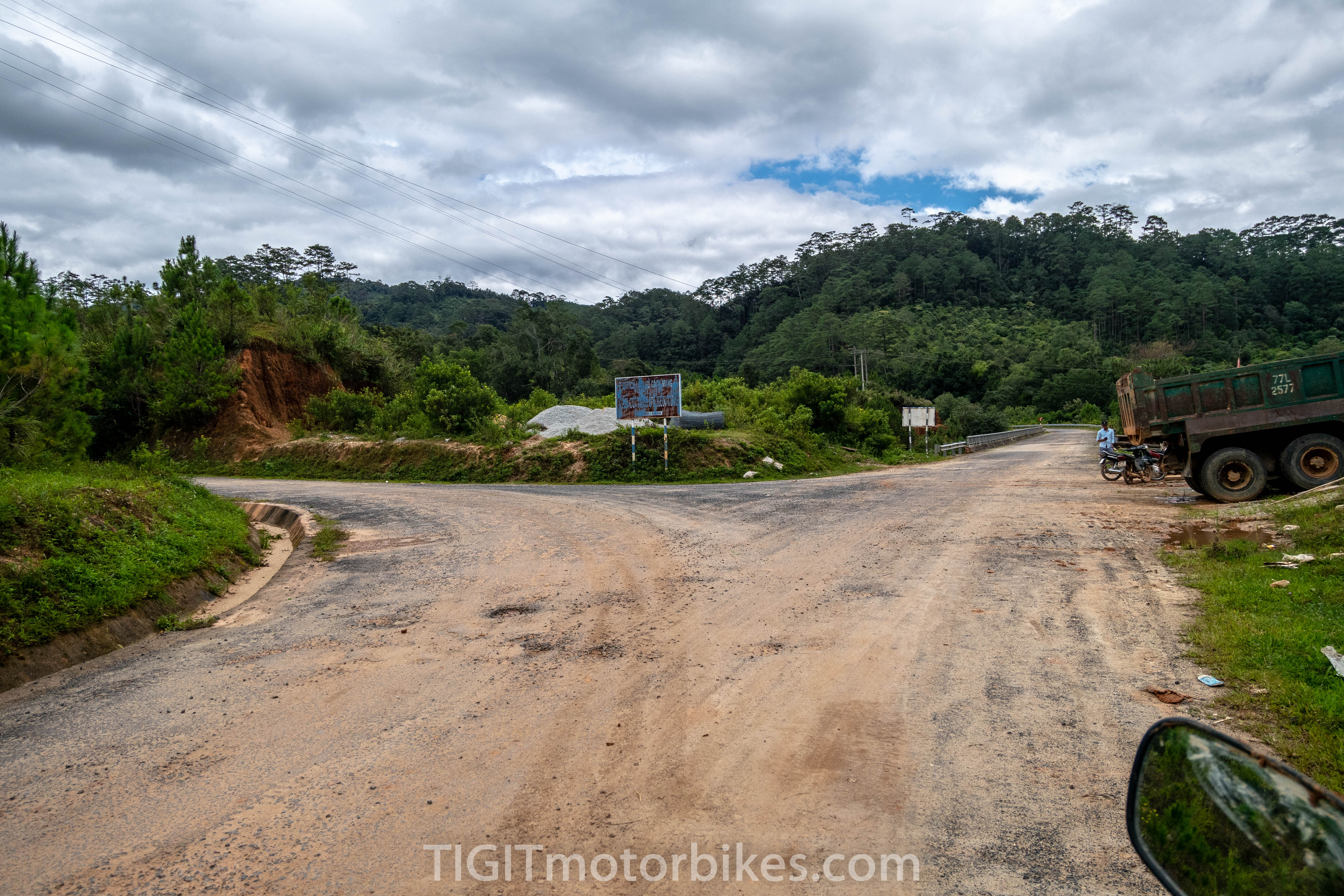 My frustration put my continuation of the DT616 to a halt and I turned off to wander through the Réserve naturelle de Ngoc Linh instead. I never completed the DT616 but I did make a start to tackling this road from both sides. It was an average at best road and I didn't feel completing it was a good use of my time. 
The DT673 is another HCM Road style pavement. Sort of square concrete blocks pieced together to form a road. Usually in Vietnam when this style of road appears then something great is about to happen. This road however, starts off nicely, there is a nice build up of anticipation as it heads off deep into the National Park that has one of Vietnam's tallest mountains. A mountain no one knows about or has heard of. Unfortunately, the road has an anti Climax and never truly gets going.  It just casually stays the same despite the extreme remoteness of the situation. Look at the map, it really is the middle of nowhere.
A pleasant ride for sure, and a great way to cut across to the actual Ho Chi Minh road from the Coffee trail or Lonely Ranger, but for those using Danang or Hoi An as a base, then straight up the middle of Vietnam is still best.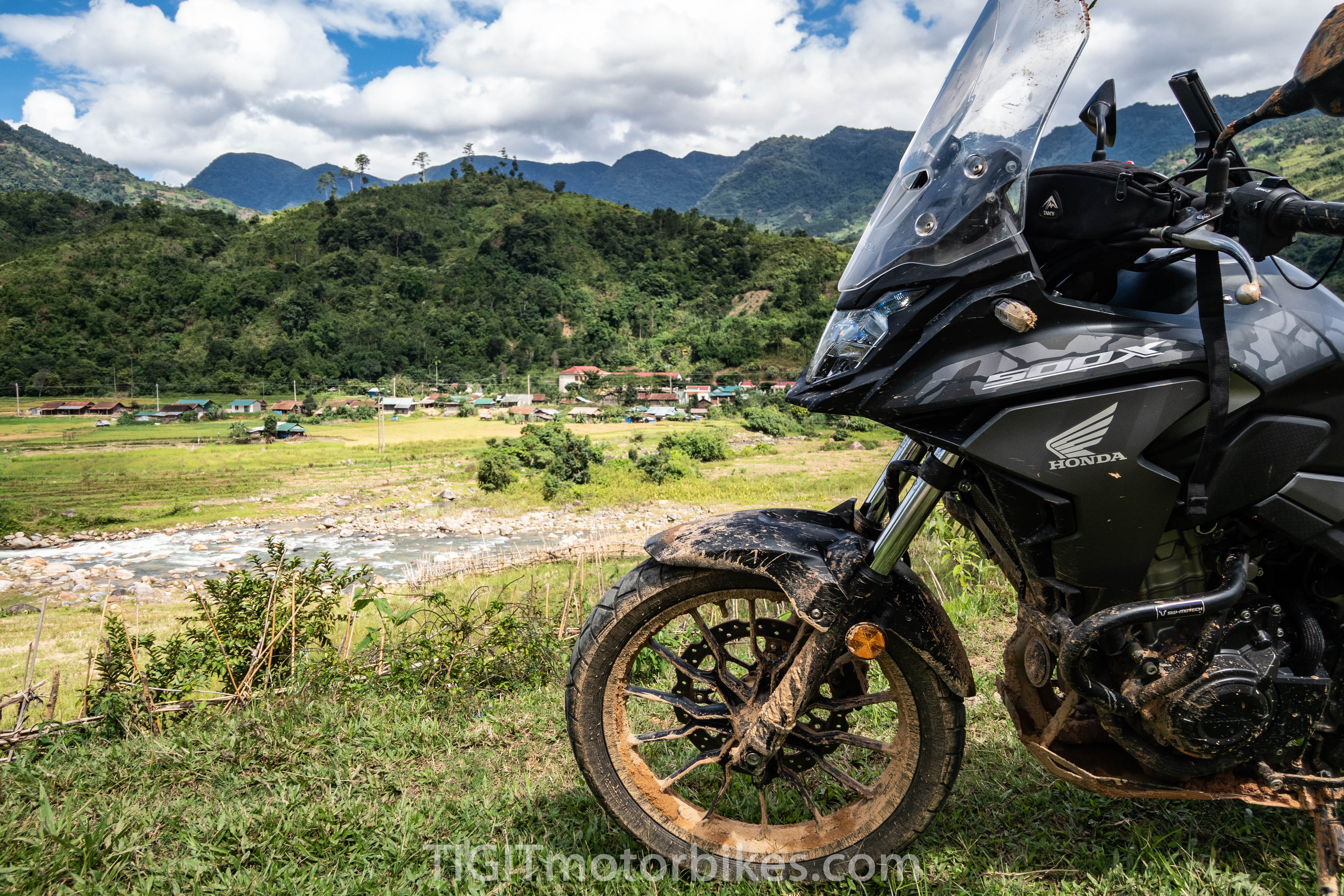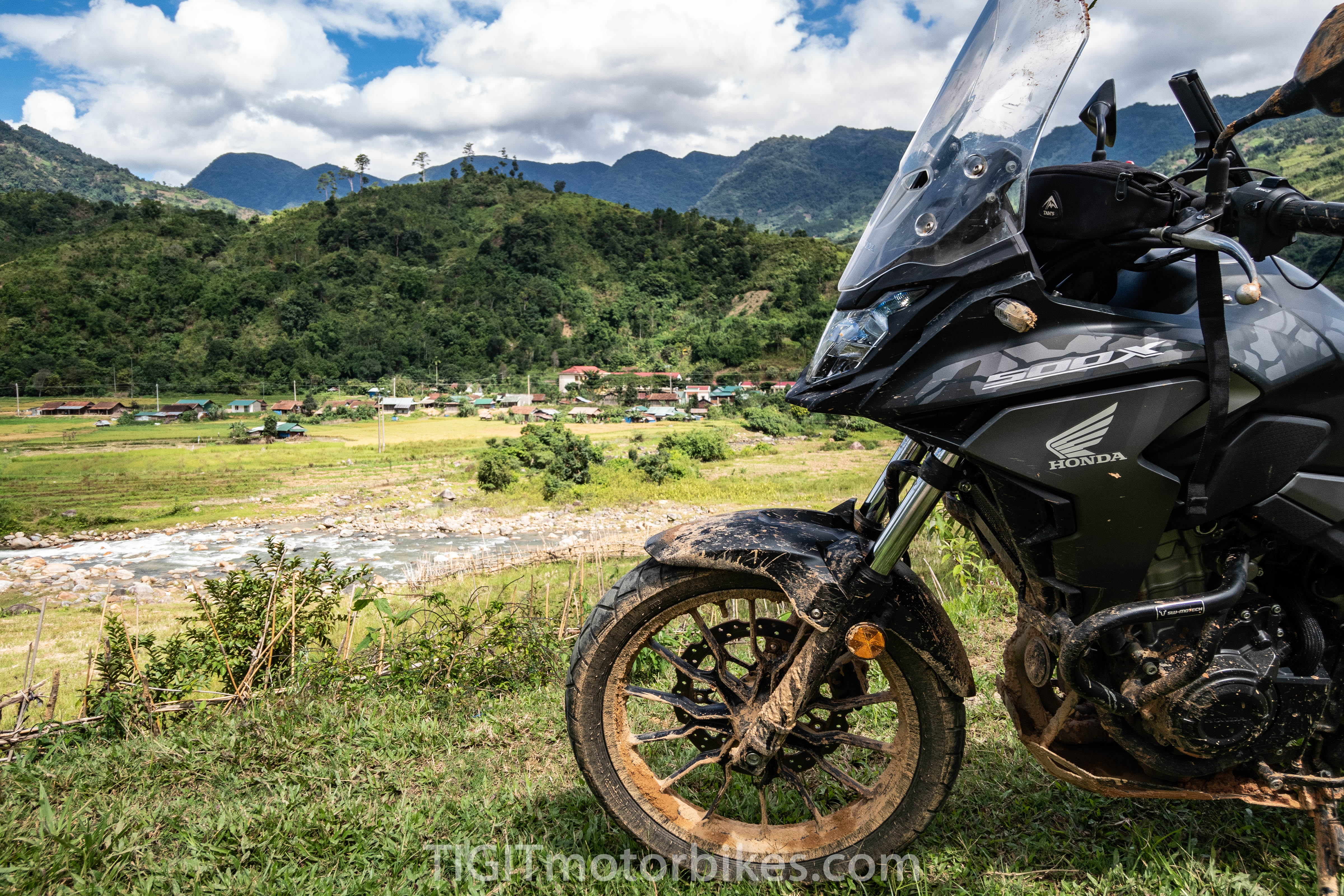 The meandering extra route
My main concern with documenting "The Lonely Ranger" or "the best way from Nha Trang to Hoi An" (which is the middle of the middle) is that it is incredibly remote. In terms of no people, no mobile signal and enormous extended periods of time where there is no one around to help.
This "meandering extra" route stays in mobile cell service for most of it and is lined full of little villages that are ready to help a stranded foreigner. It most definitely is the long way around, unfortunately without any major notable reward for the extra effort. 
A good or a bad thing, you decide, is a small off road section of around 20km. Again lined with little villages so if there is a problem where you need help, then you will be the highlight of the locals day.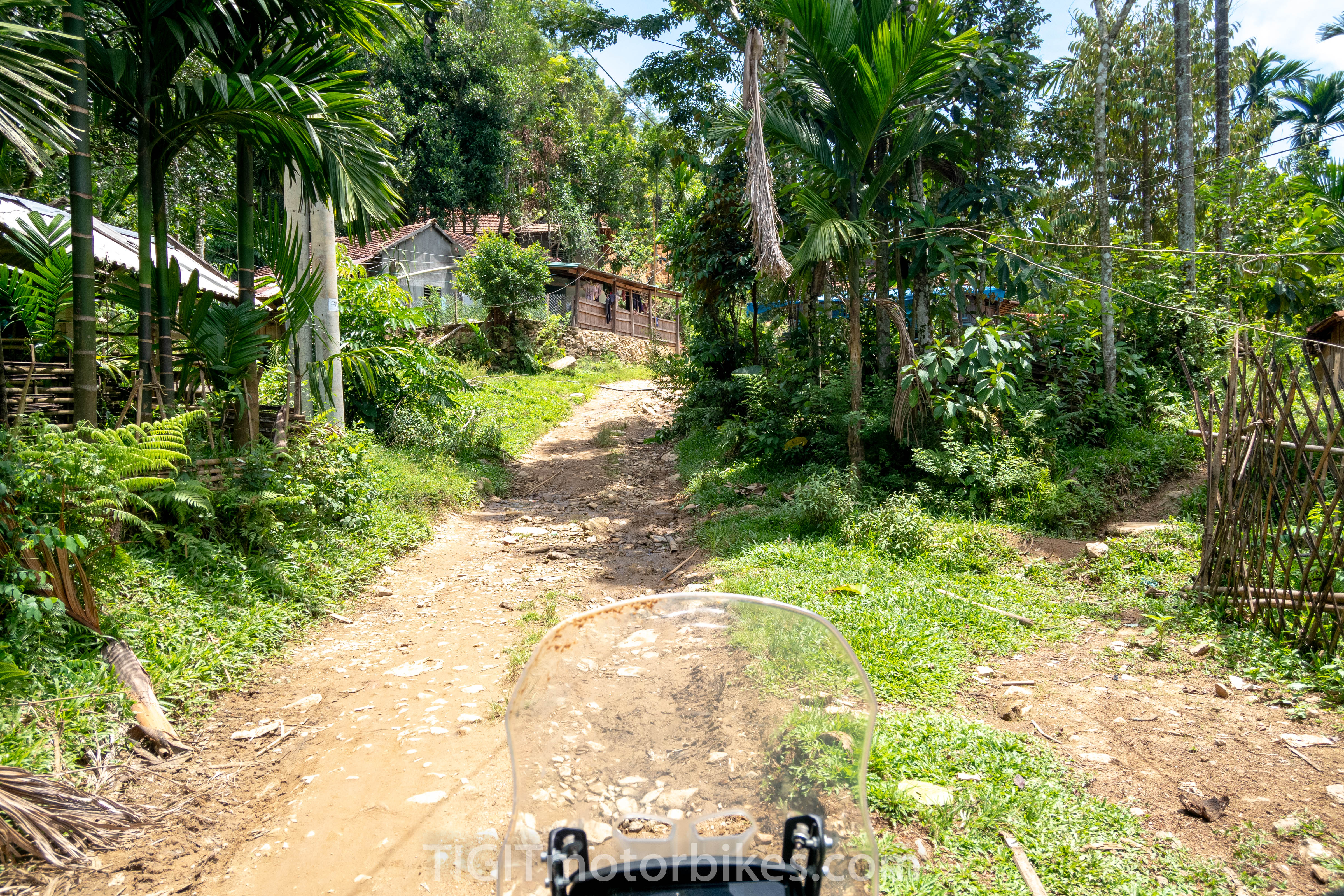 When dealing with remote regions and observing the locals behavior toward you. It goes something like this.
A local that shows no interest in tourists, has seen too many tourists.

A local that waves, has seen some tourists and is enjoying interacting from a distance.

A local that blankly stares at the tourist, is a local that has never seen a white person.
It takes time to understand, and at times it can be perceived as rude and confusing as to why the locals stare at you like you are from Mars. I want water you mime and mimic, something that shouldn't be too hard to figure out even with the language barrier. Only to be met with a blank face of astonishment. The truth is, they are terrified of you. They have no idea how to handle or interpret the situation. 
This frustrating but marvelous option 3, is what you will experience on the meandering extra. 
To throw one more bonus out there, the QL24 that brings the meandering small roads back to the main road, is the best mountain view that this entire leg has to offer. Some mighty fine views to be had. However compared to what Vietnam has to offer in other areas such as on the Ho Chi Minh road and "The North", then this road hasn't really started. Nonetheless a pleasant drive with some pleasant views.