Reading Time:
19
minutes
Ho Chi Minh Trail by Motorbike – Kon Tum to Pho Chau – 905 kilometers
           This route from Kon Tum to Pho Chau, winds its way through the spiny mountains of the long central highlands up into northern Vietnam via the Ho Chi Minh highway.
     For this section, we will pick up from the previous Ho Chi Minh City to Kon Tum section and continue North up into the town of Pho Chau through central Vietnam. Eventually working our way into the final stage of Pho Chau towards Hanoi. 
Important Note ***Be sure not to confuse the Ho Chi Minh Road with the Ho Chi Minh Trail. The Ho Chi Minh trail was a network of thousands of different routes that are mostly located in Laos, the most bombed part of the world. The majority of the Ho Chi Minh trails of today aren't found on regular google maps, and should only be explored by the most hardcore of riders. We named this article based on the common usage by visitors but we think it's important to mention the difference.***
Ask Jon Tigit about the ramshackle HCM trail in person if you think you're up for the challenge.
Mobile Map of HCM Highway Highlights

Kon Tum to Kham Duc – 175kms
    Making your way on the QL14E route from Kon Tum, you'll eventually find yourself near the town of Dak To. Make a left at the in Dak To at the intersection with the QL14, then continue on the QL14 road towards Kham Duc. To make it easier we will mark on our Ho Chi Minh Trail map the memorial park you can use as a reference that sits near this intersection. Continue on that road for exactly 20kms. 
   Once in Ngoc Hoi make a right turn in the center of town and continue on the QL14. The turn is located just before the park in Ngoc Hoi we have listed on our map. Keep those in mind, and you should ride problem free.
Dak To Activities:
     Looking for some not-so-touristy attractions in the area? The Phoenix airstrip and Charlie Hill are just those. Here in November of 1967, the ongoing battles between Vietnam and the U.S continued. The sounding area fell victim to some of the wars horrific chemical effects. Agent Orange was highly used here by U.S. forces to kill off vegetation and help flush out the Vietnamese enemy.
   The ongoing effects of the Agent Orange have marred the locals with health problems, and it's visibly noticeable on the land and vegetation that is scant at best.
   The airstrip is known locally as, Dak To Base Camp, and can be found just on the edge of the QL14 in Dak To. Search for the " Airport Phoenix Dak To Vietnam" in Google Maps, or reference our Ho Chi Minh Trail map to find it.
   All you're going to see here now are the local farmers drying crops. Take your bike for a rip down the strip, there are only a couple of airstrip motorcycling options in the country.
     Once you've navigated the mix of straight roads and quick turns on this section, you'll eventually end up in Kham Duc. The town has plenty of accommodation options, and if you want to narrow down a few, search " Kham Duc Homestay " in Google maps to give you a list of options. Around the towns central park area is plenty of food and drink options to refuel you for the road ahead.  
The Road to Kham Duc
Watch for two important turns you need to make. One in Dak To and one in Ngoc Hoi, both noted on our map.
Ride down the abandoned Phoenix airstrip on your motorbike in Dak To.
Spend a night in Kham Duc if you're running out of daylight. Food will be easy to find near the central park
This lively bunch of bikers are enjoying the scenery on some classic Vietnam style motorcycles. They might not get far on these questionable bikes, but they'll sure look good hanging out at a backstreet mechanics shop. 
Kham Duc to Prao – 110kms
     Sticking to the QL14 from Kham Duc to Prao, you'll be treated to a Vietnam by motorbike day through twisting switchbacks that wind around the Dak Mi River. This whole area is accented by the greenery that surrounds you. At points, you are looking down on from one mountain top to another. 
     Prao itself is a rural village at the crossroads of the Ho Chi Minh highway heading further north and the urban excitement of Da Nang that calls from the seaside just 80kms to the east of it. If you can't take much more natural beauty, rural isolation, and smiley minority groups. Make a sharp right onto the QL14G and prepare yourself for the beaches, party spots, and mountain top resorts in Da Nang. Much like ordering one more round at last call, I suggest you not be tempted.
    Despite that excellent sales pitch I just provided, Prao isn't going to contend with hanging out at the beach resorts. Instead, you might swing by the Trung Tam Van Hoa in the town's center, Its a pleasantly aged wooden building with impractically large pottery out front.
  The house and pottery backdrop makes for some cool photos, and you could tell people it's a larger than life urn that holds Uncle Ho's ashes inside. Just don't share that story around a wifi connection or your facts will quickly fall apart.  After a night or quick stop in humble Prao, stock up on fuel and snacks and press on for A Luoi.
Prao, a Humble Overview
The drive into Prao is exceptionally stunning, so stop and take some photos along the way.
Visit the wooden Trung Tam Van Hoa building and its giant urn-looking pottery in the garden. Who knows maybe Uncle Ho's inside.
You could opt to change course and drive to Da Nang. However, the HCM Route is a fantastic drive that's well worth seeing through until the end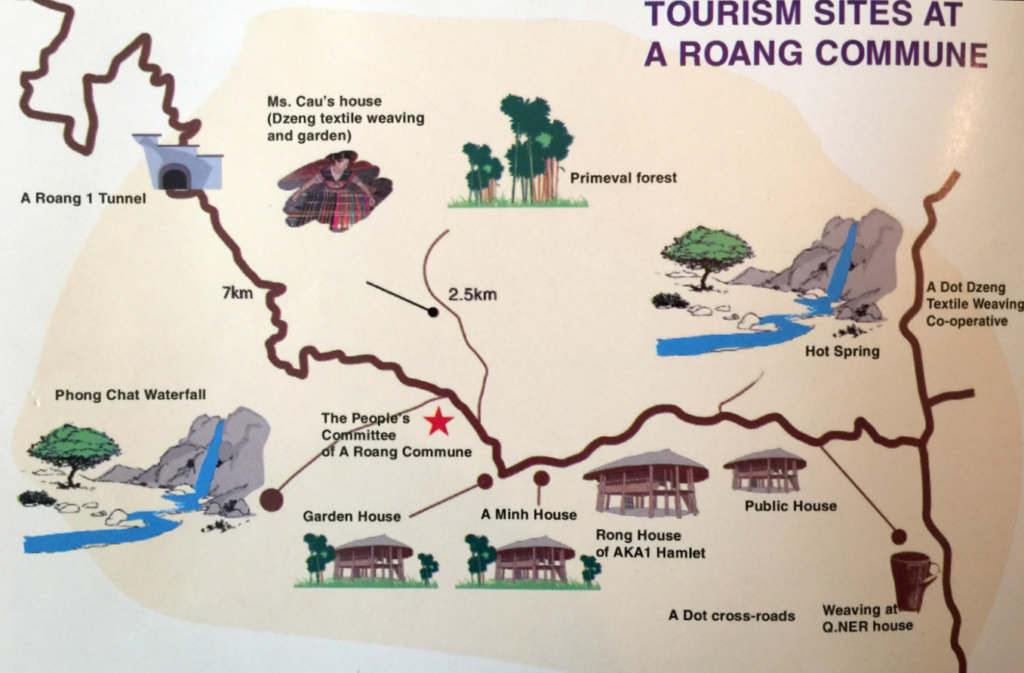 Photo: Cindy Fan – The layout of the Roang Commune. If you can't figure out where to go, ask anyone. The place is pretty small.
Prao – A Roang Commune – A Luoi – Khe Sanh 210kms
     This next section runs from Prao to A Luoi, an impressive stretch of forest and mountains that climb up over one peak after another while dipping into small valleys and continuing to pass the photoshop-looking landscapes. It's more like the Ho Chi Minh Trail of today.
  The views over the vibrant forest, cloud-kissing mountain tops and occasional man-made structures on this road are likely to stretch your 106km drive into hours of scenic route photo stops.
As you meander towards A Luoi, you aren't likely to have more than a handful of vehicles pass you, an almost apocalyptic sense of isolation on almost perfect roads.
    About 30-kilometers before you reach A Luoi you have the option for turning off onto the QL14 highway going East to the small A Roang Commune. Located in A Roang are the Phong Chat Waterfalls as well as river fed hot springs. The hot springs come highly recommended by the locals, and you'll see in the above photo where they are located in reference to the town. Ask any local if you can't find your way.
    If you find that a day at the falls and relaxing in the hot spring fed cement pools have worn you out, there is a homestay in the community. Huong Danh Homestay can be found on google maps and comes with solid reviews.
 A Roang Commune Overview
Visit the hot springs. There are small cement pools here that are fed by the natural hot springs.
If you plan to spend the night, check out Huong Danh Homestay. The place comes with very positive reviews.
Ask the locals where to go in town. It's a small area, everyone around should know where to send you.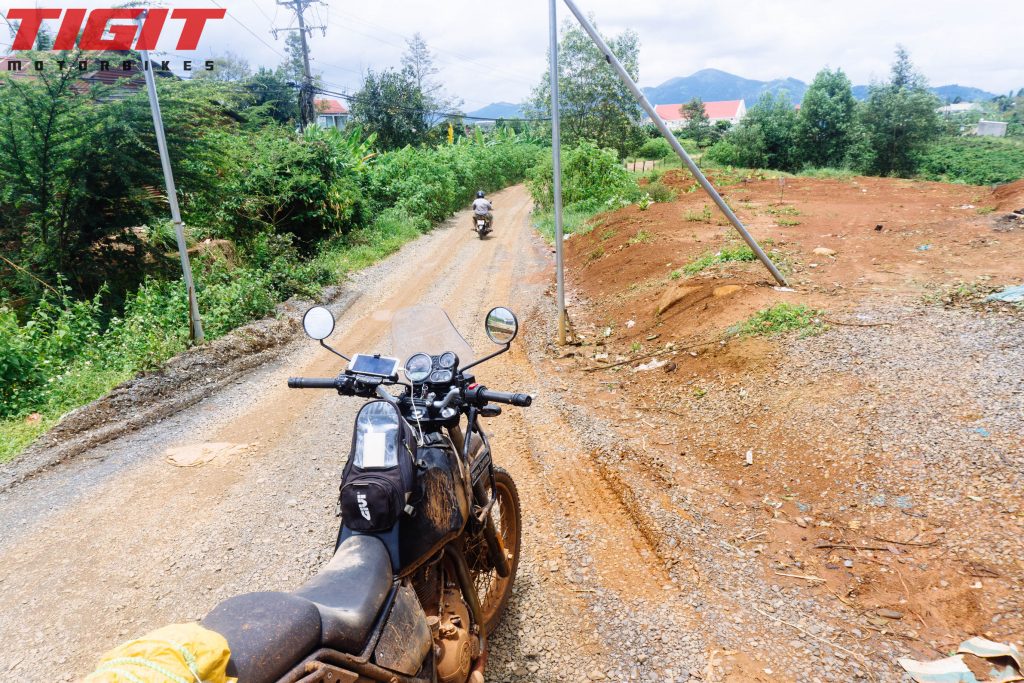 Anyone looking to do a little off-roading will find that they and the motorcycle will need a little bath afterward. This little adventure is well-suited for the Honda CRF250L, a bike built for Vietnam.
Attractions:
Hamburger Hill- In A Luoi the most well-known stop on this part of your Vietnam culture trip is the Hamburger Hill battle site and museum. This site was made famous by the Hollywood movie by the same name, Hamburger Hill, that recounts Operation Apache Snow. The infamous battle that occurred over eleven days in May 1969.  
   The catch to taking this tour is that you'd need to organize the DMZ, trekking and village excursion in advance with companies out of Hue or further north in Dong Ha. You could try asking at the local tourist office, but it's not likely they will be of much help on this one.
  Ethnic House- You can also visit a house that's designed to replicate one of the ethnic minority houses of the area. At the replica house, there are some maps of the area, and they are typically stocked with English booklets and information on a nearby waterfall and other things to do.
    The house/information center is located just off the QL14/HCM Highway right across from the post office. You'll see a driveway that heads up towards the mountains to follow, and the post office is located on our map. There are also a few places to stay in town if you choose to spend the night here as opposed to sleeping in earlier A Roang.
A Luoi Overview
Visit Hamburger hill, but you'll need to organize a tour out of Hue or Dong Ha in advance to visit it.
Drop by the ethnic minority house/tourist office across from the post office for maps and directions.
The town has plenty of places to sleep, eat and refuel.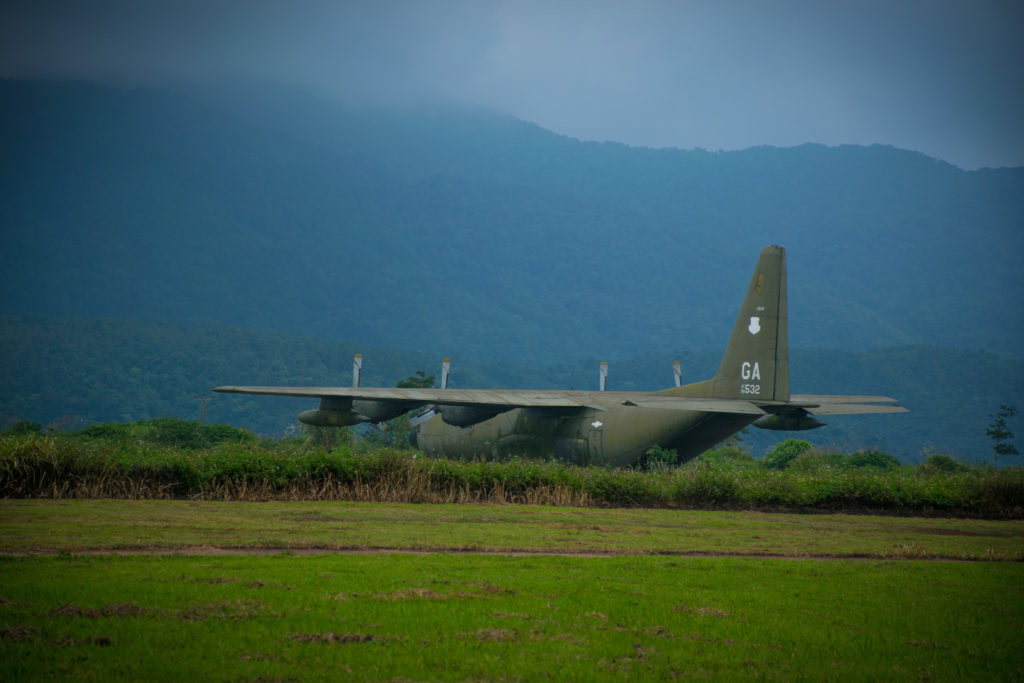 A retired military plane forever rests in the fields outside of Khe Sanh. Come and explore, as you aren't likely to get this close to a military plane anytime soon.
A Luoi to Khe Sanh 100kms
     A little over 100kms further up the road on your adventure between North and South Vietnam by motorbike will bring you into the city of Khe Sanh. Just before the city, you are welcomed by the rushing Da Krong river, that pours emerald-colored water through the valley in past Khe Sanh. The site of what looks like entirely untouched water might be enough to get you gushing a little too.
Attractions: 
   Combat Base: The other visual attraction in Khe Sanh that isn't nearly as beautiful as the river, but interesting enough to add to your backpacking Vietnam to do list, is the Khe Sanh Combat Base.
    The Combat Base was once home to the United States Marine Corps Outpost that first saw action in January 1966. After this, the site became home to a number of battles, including the 1968 Battle of Khe Sanh. Nowadays the base sees more photo ops than Marine Ops, and you can tour around and visit the small museum. If you've never had your photo taken with a military helicopter, bomber plane or wondered what bunker life was like, you can do it all here!
    Coffee: The Arabica variety that is usually found in regions like South America and grown in slightly higher altitudes can be found in Vietnam around Khe Sanh. The Arabica bean from this region has garnered national and international attention, and the Vietnamese have chosen Khe Sanh as the area to produce their highly sought after varieties of Arabica coffee.
    With exports reaching over $25-million, the little bean has become a big business for local producers and business out of Ho Chi Minh City. As a result, you can find locally sourced, premium cups of world-class coffee right here in Khe Sanh. If you see the locals lined up for a cup of local goodness, get in line! Otherwise check out a local coffee house like, Khe Sanh Coffee.  
     There are sleeping, eating, and drinking options aplenty in and around Khe Sanh. Either check your usual sources or take a drive down the main Le Duan/QL9 road the goes through the city and you'll find some options.
Khe Sanh overview
Take a helicopter selfie at the Khe Sanh Combat Base. The only action this place sees now is from wandering tourists and pushy touts.
Stop by the Da Krong river bridge and marvel at what water used to look like before it became a dumping ground the world over.
Try the coffee, if you see the same beans brewing back in your home country they'll probably cost you 5x the price!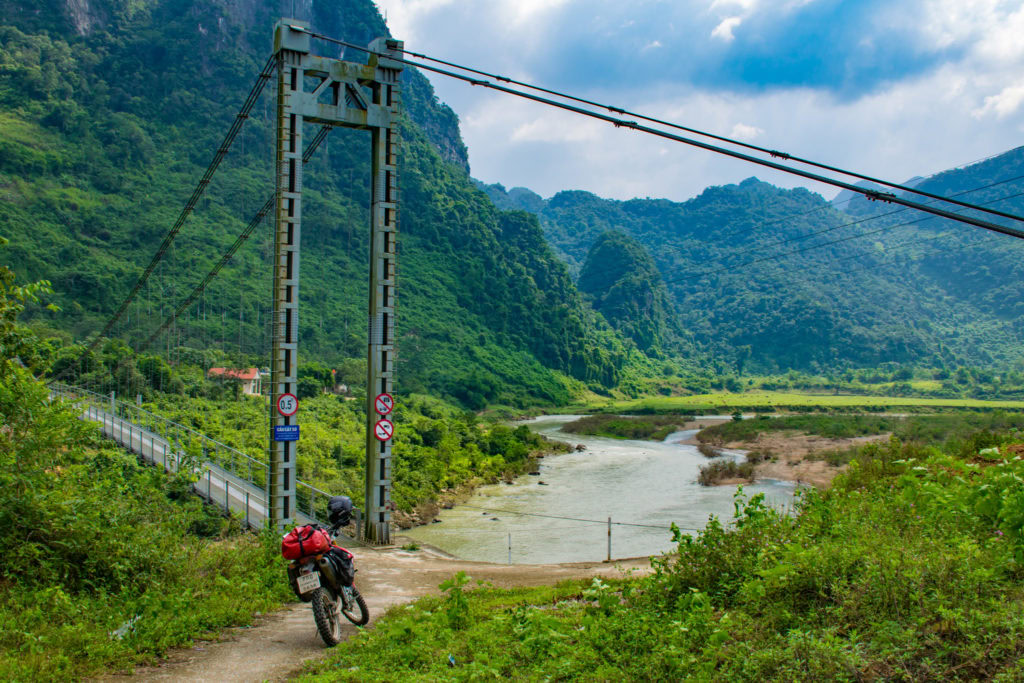 One of many foot/motorcycle bridges that you'll find crisscrossing rivers up and down the Ho Chi Minh Highway. Beautiful.
Khe Sanh – Long Son – Phong Nha 230km
   Khe Sanh
    This lengthy stretch of the HCM highway known on Google maps as the QL15 or Ho Chi Minh Tay road has fewer users than a Myspace account. The distances between fuel, food, and fun are long, and you are best to fill up on all of them when you have the chance.
   The rewards to exploring these roads on your favorite adv bike are the jungle scenery, wandering rivers, waterfalls, and utter remoteness you'll feel as you pass near Laos border.
    Start by making your way out of Khe Sanh on the Ho Chi Minh Tay road heading North. Your first fueling and food options along this route start off deceptively close to where you began under 30kms earlier. Here in Huong Phung, you should fill up with fuel, and if you're interested, there are a couple of cafes and places to get food.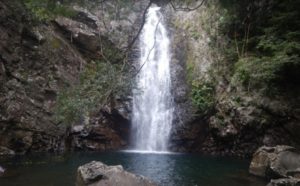 Image: Nghia Ha   –   A set of untouched waterfalls inside the Bac Huong Hoa Nature Reserve. Worth the adventure if you're up for it.
   From here continue on the way for roughly 40-kilometers more, and you'll pass by the Bac Huong Hoa Nature Reserve. A few online photos and some questionable Google translations led me to believe that the reserve is 25,000ha in size and home to hundreds of plant and tree varieties. The wildlife is a mix of 42 species of mammals, 117 species of birds, and some reptiles.
  If you're really keen on being one of the first to document some nature exploration for the motorcycling backpacker, please let us know if you can tour or hike the reserve. Google reviews show photos of an entrance and guards, so it appears like it could be possible.
    The next fuel stop is in Tang Ky, roughly 90kms from Huong Phung. Just before arriving in this little village there will be a turn for the DT10 road, don't turn there, but if you need a noodle fix, there is a small noodle shop where you can stop. Otherwise, there are a couple of food stops in town. On the sleeping side of things, you're not likely to find much here, fuel up, and keep on riding on the QL15.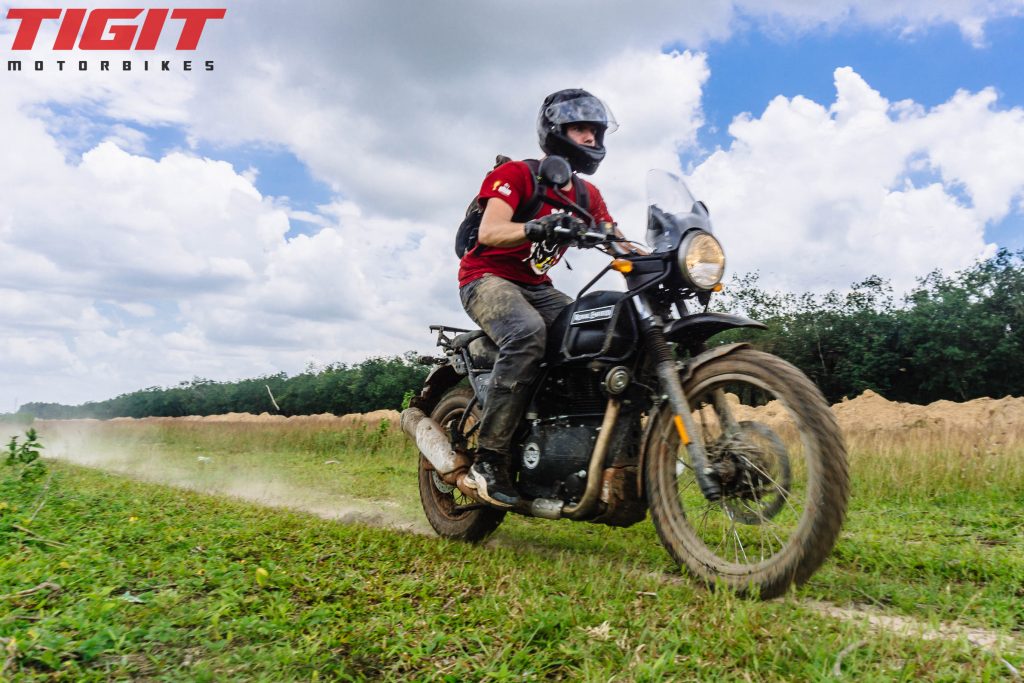 The Ho Chi Minh Highways is fun, but finding those off-road tracks along the way might be the excitement you're looking for.
   Long Son
   As you ride along, you'll start to get swimmingly close to the Long Dai River. If you're up for it, pick a sweet spot and soak your feet or go for a dip. There is even a little viewpoint you can stop at for some winding river and lush jungle photos just 12-kilometers from Tang Ky.
      Now it's only 16-kilometers on this independent motorcycle trip to your next fuel stop in Long Son. Here your options for food could probably be counted on one hand, and your options for sleeping can be counted on one finger.
    The lovely/only hotel option between Khe Sanh and Phong Nha is the Duc Ton motel in Long Son. 
   The chances are good that they won't be booked out, but unless you're packing a tent, this is it for sleeping on this particular route. If you're looking to have a little chat, sing for your supper, or talk to one of the only people in town who could give you any information on the area in English. There is one eatery in town identifying itself as  "Restaurant and Karaoke."
     More than one review notes that the lady there speaks great English and is very friendly! This might be the towns closest option for both food and tourist information. Get it while you can!
Khe Sanh to Long Son Overview
Stop along the way and get your feet wet in the Long Dai river, there's also a viewpoint we've noted along the way.
Long Son has the only sleeping option on this drive, the Duc Ton mo.
Likely the only English speaking restaurant anywhere close by, is the "Restaurant and Karaoke" in Long Son
     From Long Son to Phong Nha is roughly 100kms, again make sure you've got a full tank and ample daylight before setting off. If you don't want to overnight here in Long Son, you'll need to start your day as early in the morning as possible to make it the 230kms or so.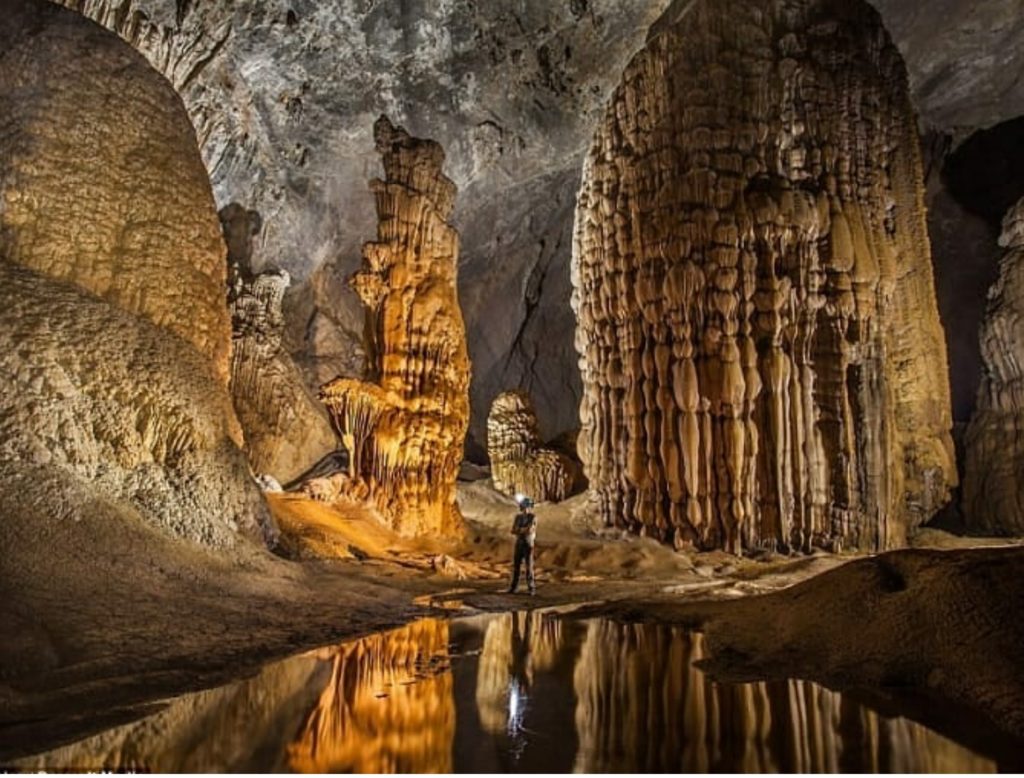 Photo: @laurentius_yudi_mulyadi  –  The awesome views from inside the spectacular Hang Son Doong Cave. You'll feel lost in a land before time down here.
Phong Nha
         After riding down what feels like a desolate trail for days, the scenery is about to change. This section of adventure between Saigon to Hanoi passes through the stunning Ke Bang National Park. The menu of exploration options around here reads off like a top-shelf liquor menu at the Four Seasons.
     The parks 885sq kms of jungle are home to the oldest karst limestone mountains in Asia, dating back somewhere around 400-million years, give or take a few birthdays. Coveted by the mountains are unimaginable underground rivers and caves big enough to arrange boat tours into.
      If age and beauty weren't sufficient enough to put the area on the map, a 2009 discovery in this immaculate UNESCO park uncovered what is the largest cave on the planet. The Hang Son Doong or Son Doong cave is about 150-meters wide, 200-meters high, about 9-kilometers deep.
    To get yourself on a five-day caving excursion into the caves you'll just need to arrange the top-shelf cover charge of $3000!
    If the $3K is too much, you can either come back once they've built the planned cable-car. Or, you can arrange a trip to several nearby caves that don't come with the, one arm and one leg price tag.
    Phong Nha, for example, can be accessed from the town of Phong Nha via a nifty Dragon boat ride. Up the road, Dark Cave (Hang Toi) is more of the adventure option that includes kayaking, a muddy trek, zip lining, and a little swim in the bone-chilling waters.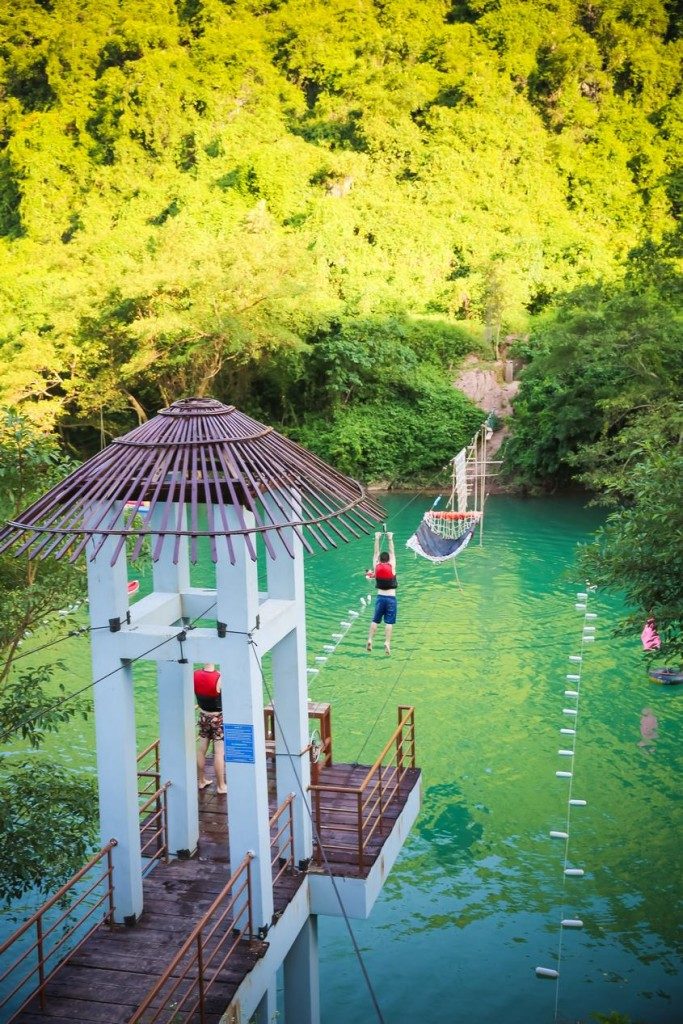 Photo: phongnhatourism.com.vn   –    A look at one of the adventure activities at Dark Cave. Test your zip line skills to see how long you can stay dry for.
Self Guided Tour of the Phong Nha – Ke Bang National Park 55kms
    Take yourself on a self-guided Vietnam motorbike rental tour of the Phong Nha-Ke Bang National Park. If you're two-up, it will be a bit like our Back Of The Bike Tours. For the journey you don't require a guide and it's totally free, you just pay for any of the activities you might want to stop and do along the way.
  The route is marked out on our Ho Chi Minh Trail map, but overall it's easy to figure out. Start from the National Park entrance then head out on the DT20 road as though you are heading towards Laos. It's about 7kms from the park entrance to your first stop, the Botanical Gardens.
    The gardens offer up a couple of hike options that can include fabulous flora and a waterfall. The trails are well marked, and you can get information at the sign-in station when you arrive.
      Next, head further down the DT20 about 9kms, and it will turn into the DT562 just after the intersection with the HCM highway. This stop will be to the Eight Ladies Cave and memorial, known locally as Hang Tam Co.
     You can't go in the cave, the stop here is more about the temple and memorial that pays tribute to a group of eight ladies who became trapped during a bombing on the area on November 14, 1972. Rescue efforts failed, and all eight women trapped inside died. You'll need to wear respectful attire including shirt and pants, or shorts long enough to cover your knees.
    Paradise cave is next on the park loop. An impressive 31km long, and up to 72-meters high and 150-meters wide. Paradise cave is roughly 11kms from the eight ladies stop.
     Turn back towards the HCM road then turn left and make your next left on the unnamed road out to the cave, it won't be hard to find. The parking area is a little over a kilometer from the actual cave, and if you're not up for the walk, you can get a ride to the entrance.
    The beauty here are the spectacular stalactites and stalagmites are said to be some of the most stunning of all the caves. It'll be fun to ask how many of your friends googled the words "stalactites and stalagmites" on your post.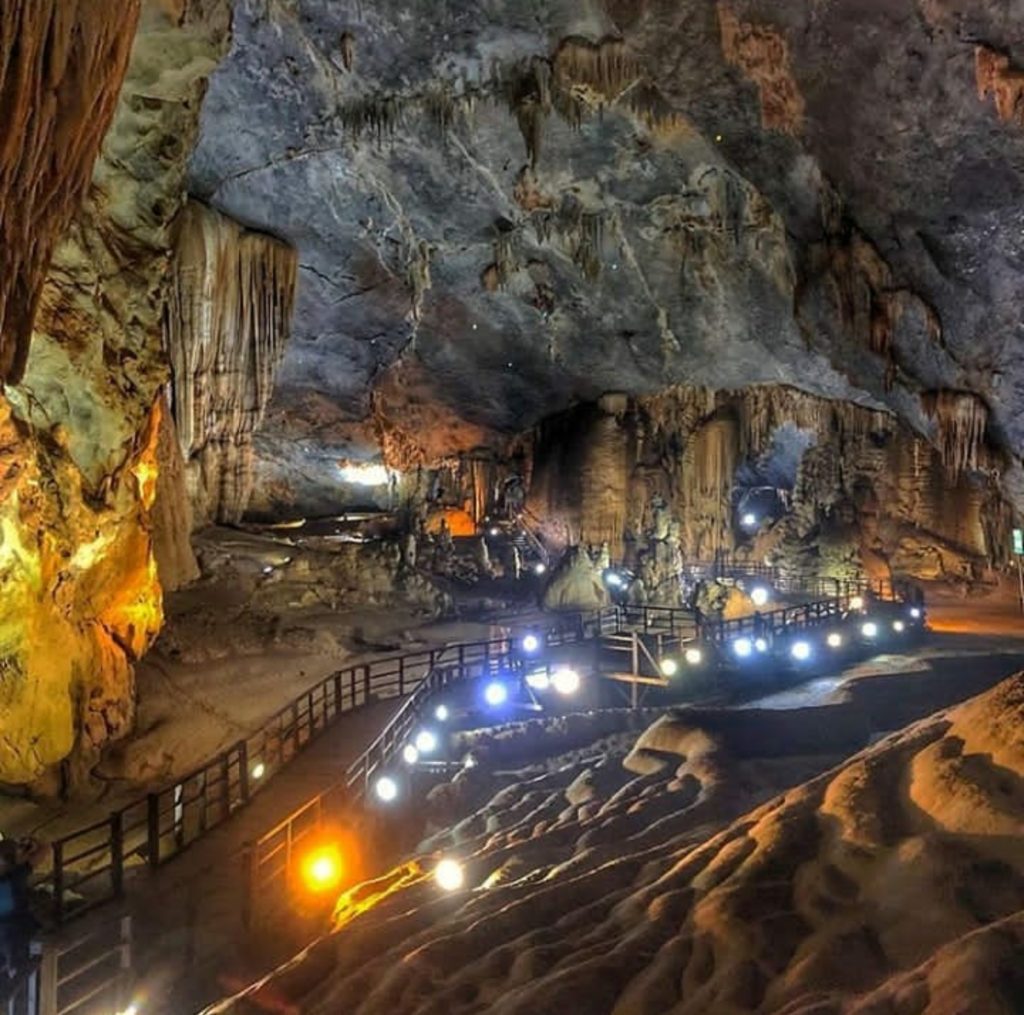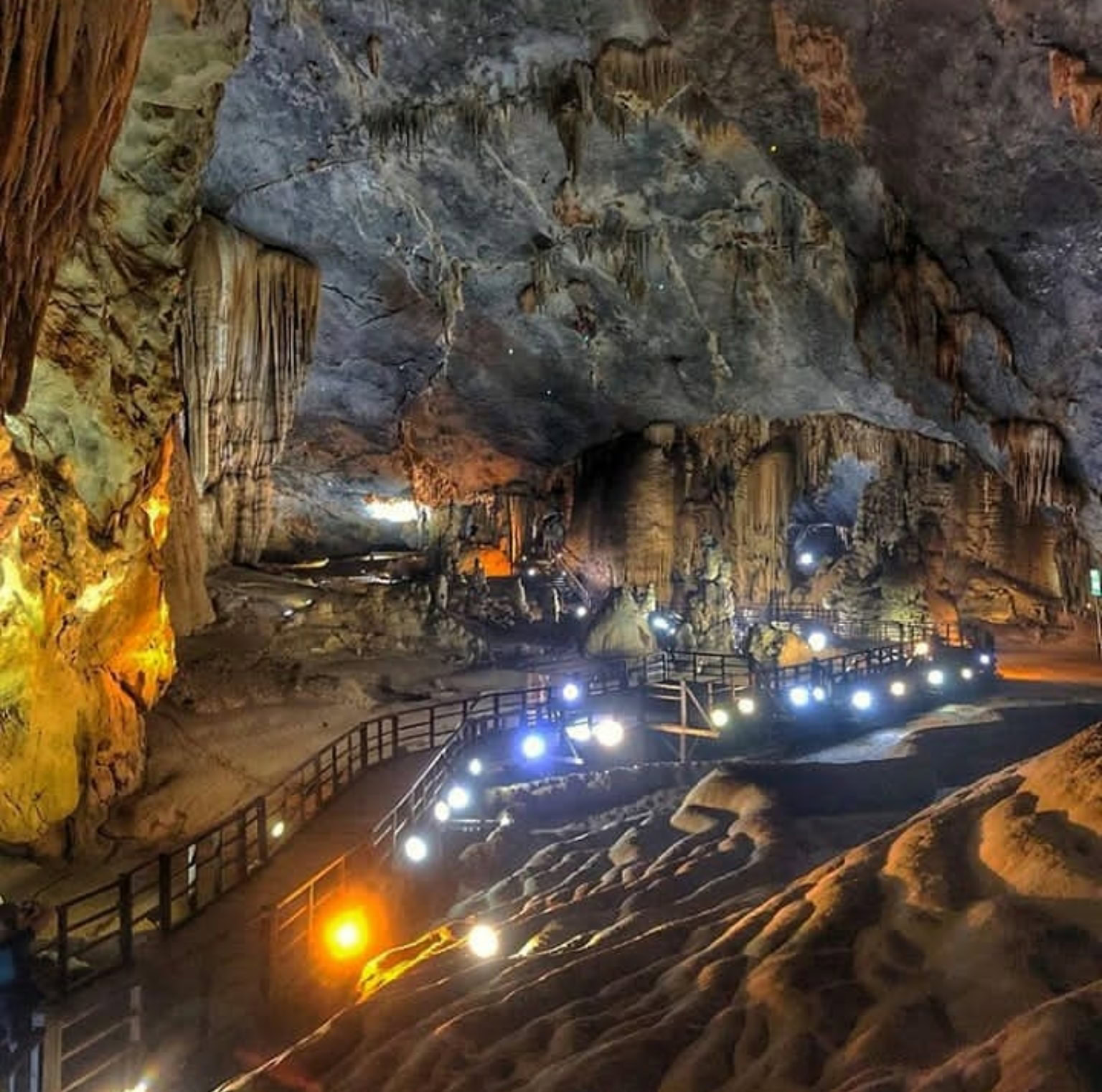 Image: @_17.05c   – Wow Paradise Cave! Just look at the inside of this hidden treasure. Like a time capsule that has been waiting to be explored for millions of years.
Activities:
  Nuoc Mooc Spring Eco Trail- After the optional stop at Paradise Cave, head back towards the HCM highway and follow it to the Nuoc Mooc Spring Eco Trail, roughly 5kms start to finish. This purpose-built park was designed to help aid with the extraction of Dong from the pockets of a large number of tourists that now frequent the area. If you like busy tourist stops, this is for you!
    Here you can kayak, explore the forest, walk the rope bridge, swim in the unnaturally vibrant turquoise waters that flow from the waterfall, and enjoy a deliciously overpriced lunch. All in, it's a good time. Just don't expect to run around in pure freedom and cannonball your heart out.  
    Dark Cave- Once you're done with the rope bridge, you can venture off into Dark Cave. Just under 3kms staying on the same route up the HCM highway will take you to fun without sun and one of those amazing things to do in Vietnam.
   Hang Toi as it's known in Vietnamese, Dark Cave got its name as there are no artificial lights inside the cave. You'll need to strap a torch to your head to see further than the end of your nose. To access the cave, you'll be hanging from the longest zip-line in Vietnam.
    A zippy 400-meter double line will take you screaming from daylight to darkness and eventually drop you off to negotiate a muddy track through the cave. The eventual end to this hike is met by a chocolate pudding dense mud pit.
Image: phongnhatourisium.com   –    A bamboo bridge inside the Nuoc Mooc Spring Eco Trail. Fun, but hold on. 
    Once you've stained your favorite Saigon Beer shirt beyond recognition, you can rinse off in the river and kayak out, play in the water obstacle course, or have a go at the flying fox. At the end of the day, you'll either be ready for a celebratory beer or a celebratory nap! 
    Back To Phong Nha- To get back for a rest, an ATM, or a beer, just head back out on the HCM highway 10kms or so until it reaches the turn for the QL16. Follow the QL16 another 10kms back to Phong Nha. Here in Phong Nha places have cheesy tourist names like Easy Tiger Hostel Jungle Bar and Magic Fingers Massage. Check out this related post if you like crazy places to sleep.  The whole loop should run you around 55kms and depending on activities, could take a few hours or a full day.
Self Guided Tour Overview
Start from the park entrance and then make your way to the Botanical Gardens
Stop at the Eight Ladies Cave and Memorial and pay your respects
Paradise cave is next on the park loop. 31km long, and up to 72-meters high and 150-meters wide. Paradise cave is roughly 11kms from the eight ladies stop
For purpose-built family fun, check out Nuoc Mooc Springs Eco Trail just 5kms from the Eight Ladies
3kms from Nuoc Mooc Springs is Dark Cave. The adventure thrillers answer to caving excitement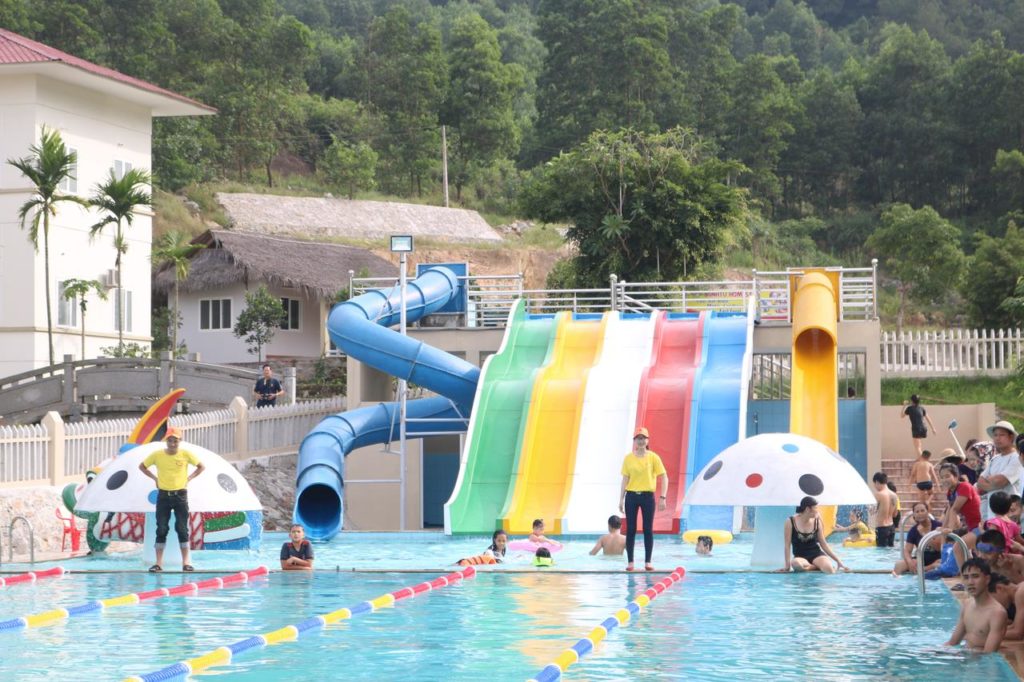 Photo: Hai Thuong Eco Resort  –   It looks like all the fun here is reserved for the kids, but the sight of a couple of travelers ripping down the slides will be fun for everyone to watch!
Phong Nha – Huong Khe – Pho Chau 185kmm
     Leaving behind the zip-lines and caving adventures of Phong Nha, your next possible stop for services is going to be the town of Huong Khe. Make your way out of Phong Nha on the QL16 until it quickly joins back up with the QL15/HCM Highway. It's roughly 125kms to Huong Khe, so fuel up.
   This section of highway is going to have all the pretty scenery as the roads you've been riding, but traffic is going to become more noticeable as vehicles and transport trucks utilize this road too.
     The drive will turn from trees to concrete and eventually take you into the sprawling town of Huong Khe. Huong Khe will have all your basic sleeping, eating and drinking needs covered, as well as mechanics for issues like a flat tire.
    To make your search simple, head for the Ho Uy Ban lake in the center of the town. It has food and accommodation surrounding it and is easy to access. Will mark it on the map at a little Banh Mi sub shop near the water. From the sub shop, follow the road around it to find everything else.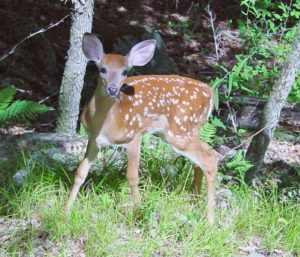 Image: deer-pictures.com   –  A smaller version of the Giant Muntjac.
Now, why would anyone want to go and hunt this cute little guy?
  Activities:
   Vu Quang National Park- If you don't do the night in Huong Khe, head towards Pho Chau past the Vu Quang National Park on the HCM highway. The 550sq km park is comprised of dense, remote forest that is often unexplored. The isolation of this area lead to some newly found species like the Saola and Giant Muntjac, a type of deer. These were only discovered in the '90s, and other species are still being discovered as of late.
     You're not likely to make your way into the park, but that might help the wildlife as its also difficult for hunters and poachers to access.
     Once in Pho Chau a little over 50kms later, you'll be greeted with all amenities again. One well-reviewed hotel is the Ly Ha hotel. For something to do, you can take a quick drive to see the views at the Tuong dai Hai Thuong Lan Ong monument. The monument is of a famous Vietnamese Doctor.
  Hai Thuong Eco Resort- If the weather is good, there is also an overpriced hotel just outside of town that has a pool. The Hai Thuong Eco Resort will let you pay a small fee to use the pool if you're not staying at the hotel. The hotel is home to a five-lane set of waterslides, a great place to race locals to the bottom. In addition to these short waterslides, they also have a couple of small tube-style slides. Don't expect an all-encompassing theme park, but it should be cheap fun for the day.
Huong Kha and Pho Chau Overview
In Huong Kha look for Ho Uy Ban Lake in the center of town. Around here are some sleeping and eating options
Pho Chau Ly Ha Hotel comes well reviewed for a nights stay
A quick drive to the monument of a Doctor outside Pho Chau will give a pleasant view of the area
For a day of family-style water fun, check out the Hai Thuong Eco Resort. Here you can pay to play for the day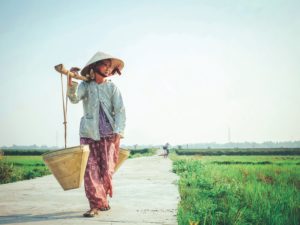 This section from Kon Tum to Pho Chau is a vast stretch of the Ho Chi Minh Highway that reaches over 900-kilometers. The drive will take you from complete isolation, into bustling cities, and across some of the most beautiful sections of Vietnam.
    For some of the trip you'll need to be prepared with proper riding gear and long distances between fuel and food, but you'll also be rewarded with options to see highly unexplored areas, as well as visit some of the most sought after caves on the planet.
The route from Ho Chi Minh City in the South to Hanoi in the North or running Hanoi to Ho Chi Minh by motorbike is extensive, to say the least. To make it easier to navigate, we've broken it down into three geographical sections;
South-    HCM to Kon Tum Guide.
Central- Kon Tum to Pho Chau Guide.
North-   Pho Chau to Hanoi Guide.
Part three winds its way through to less-discovered northern Vietnam via the Ho Chi Minh highway. Another exciting chapter