Honda Winner 150cc
Long distance travel and Day rentals
HCM Hanoi
$350 for 1 month
$1000
$1000 PreAuth Credit card deposit
$250 rent within 10 days
Extra​ ​months​ ​:​ ​$150 ​a ​month
Unlimited ​ ​KM
Free breakdown coverage
Free 2nd hand helmet, rack, bungees
Long Distance Travel Contract
HCM or Hanoi Danang
$150 RENT WITHIN 5 DAYS
$1000
$1000 PreAuth Credit card deposit
$150 ​​rent​ ​within ​5 ​days
Extra Days​ ​:​ ​$20 ​a ​day
Unlimited ​ ​KM
Free breakdown coverage
Free 2nd hand helmet, rack, bungees
Long Distance Travel Contract
Day ​ ​Rental ​ ​Start​ ​and Finish ​ ​same ​ ​city.
$20 a day
$1000
$1000 PreAuth Credit card deposit
$20 a day
Minimum 2 days
Unlimited ​ ​KM
Free breakdown coverage
Free 2nd hand helmet, rack, bungees
Per day short term rental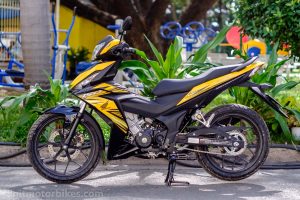 To enquire about this motorbike please contact us. We are working on a checkout system. We reply within 24 hours, so check spam if nothing arrives.
High quality all rounder!
Advertised by Honda as an adventure scooter. In terms of build quality, this is easily the best all rounder 150cc manual motorbike in Vietnam.
A Winner driver will find themselves cruising at high speeds without even realizing it. Great suspension and rock solid balance makes this motorbike feel like it is gliding through the wind!
Being a Honda – this is the only manual motorbike we can provide a guarantee of a hassle free holiday with minimum maintenance or breakdown inconveniences.
Givi boxes
Tigit equips the Honda Winner with Givi boxes to fit the role of an adventure scooter.
Disclaimer
Videos are filmed with a wide angle go-pro. Footage appears faster and in closer proximity than in real life.
If viewers believe the driving on display is unacceptable, please do contact us as we are considering/reviewing this marketing technique.