Honda XR/CRF 150cc
Monthly Rent Price
150 USD per month
Deposit: $1000 on card
Sale Price
$3000 new or $1700 at around 50,000km
Contracts
---
Warranty 6 months
Tigit provides a 6 month warranty where any maintenance is paid for by Tigit. Customers can return the motorbike for any reason within the first 6 months for the purchase value less a normal monthly rental.
The best dual sport motorbike in Vietnam?
Good for all terrain!
The Honda XR 150cc is the perfect choice for an expat in Vietnam who wants a motorbike to do weekend trips.
Fitting into the A1 license and avoiding the enormous taxes of 250cc + motorbikes. A great combination of size, power and touring flexibility.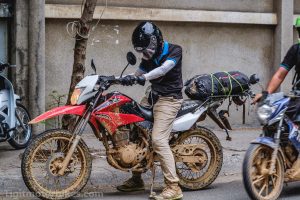 Comfortable
The Honda XR is an incredibly comfortable motorbike. Soft and bouncy suspension with a large seat. The stability this motorbike has is phenomenal, making it perfect for long distance cruising.
Around the city it displays physical presence due to its overall size. Locals look at the motorbike in bewilderment and are sure to get out of your way and give you some much deserved space.
The second hand motorbike market
It is noticeable that most "big bikes" on the local markets are $1000-2000 regardless of the age or power (cc).
This is due to the all important problem of big motorbikes being imported and not serviceable at the official dealers. A comical market of lies, Chinese components and smashed up motorbikes exists in a generic category of $1000-2000 "big motorbikes".
Perfectly maintained by Tigit
The Tigit Honda XR is 2015 or newer and still used within our rental business. These are not motorbikes at the end of the life-cycle. We simply advertise here under the assumption an expat might want a slightly cheaper than new Honda XR.
Our Honda XR's have been perfectly maintained and parts carefully tested over years of experience to give us maximum value within our rental fleet. We know which parts to buy and which parts to avoid!
The XR's listed here are ready for another long distance journey of no breakdowns under the reputation of our high Trip Advisor review ratings.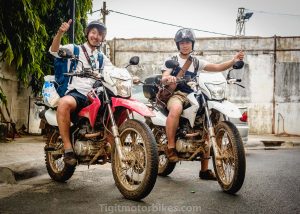 Save on depreciation
A new Honda XR is roughly a $3000 motorbike. Once second hand it falls into the unknown category of $1000-2000 "big motorbikes". Buying one second hand from a reputable source helps save on the potential depreciation when the time comes to sell.
Reduced depreciation from buying second hand and a 6 month warranty from a reputable source should make our Honda XR's a safe and attractive option for expats wanting a big motorbike.