Enquire about this Model
Ask a Question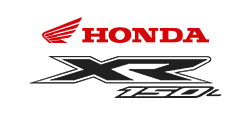 Transmission manual
Gears 5 gears
Engine Size 150 cc
Top Speed 110 kph
Cruise Speed 70 kph
Tank Size 12 litres
OUR STOCK
( 27-July-2017 )
ON-ROAD
HCM
HANOI
DANANG
16
4
2
0
Stock displayed here does not anticipate pre-bookings. The motorbikes in the garage may not be available.
Contracts
Price to buy
$3000
or
$500
With passport. Collect passport and deposit when returning the motorbike.
35 day Buyback price
$2550
Honda XR 150
The most comfortable ride Tigit has to offer!
The Honda XR 150cc is designed to be both on the road and off the road!
The largest, most comfy way to travel Vietnam by motorcycle.
Dual sport motorbikes are enormous vehicles for Vietnam and heads will be turned everywhere!
Vietnam is mostly tarmac roads, but an adventure seeker can find themselves deep in the mud!
Read more about the Honda XR150 and why it is the best bike for exploring Vietnam!
The best option for two people!
The frame size alone makes the XR the most practical motorbike for two people and luggage. The XR also has the benefit of soft and bouncy suspension designed for off-road riding. Pillion riders will be grateful to any driver that chooses the Honda XR!
The unfortunate truths!
Dual sport motorbikes come with a large "luxury goods tax" which makes them expensive. This is why they are not seen anywhere on the streets!
There are also no parts available to fix the Honda XR, which means a breakdown can cause huge problems to a traveler. Tigit's XR contract does have a clause for replacement motorbikes, but customers choosing the XR must be understanding of how rare and difficult to maintain these imported motorbikes are. A spirit of being a true motorbike enthusiast is needed, instead of a backpacker on a casual motorbike holiday.
Disclaimer
Videos are filmed with a wide angle go-pro. Footage appears faster and in closer proximity than in real life.
If viewers believe the driving on display is unacceptable, please do contact us as we are considering/reviewing this marketing technique.
38 responses to "Honda XR 150"