Suzuki Raider 150cc
Long distance travel and Day rentals
HCM Hanoi
$350 for 1 month
$1000
$1000 PreAuth Credit card deposit
$250 rent within 10 days
Extra​ ​months​ ​:​ ​$150 ​a ​month
Unlimited ​ ​KM
Free breakdown coverage
Free 2nd hand helmet, rack, bungees
Long Distance Travel Contract
HCM or Hanoi Danang
$150 RENT WITHIN 5 DAYS
$1000 Deposit
$1000 PreAuth Credit card deposit
$150 rent within ​5​ ​days
Extra​ ​Days​ ​:​ ​$20 a day
Unlimited ​ ​KM
Free breakdown coverage
Free 2nd hand helmet, rack, bungees
Long Distance Travel Contract
Day ​ ​Rental ​ ​Start​ ​and Finish ​ ​same ​ ​city.
$20 a day
$1000
$1000 PreAuth Credit card deposit
$20 a day
Minimum 2 days
Unlimited ​ ​KM
Free breakdown coverage
Free 2nd hand helmet, rack, bungees
Per day short term rental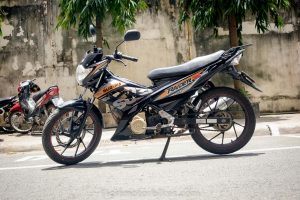 To enquire about this motorbike please contact us. We are working on a checkout system. We reply within 24 hours, so check spam if nothing arrives.
The Racing Go-kart of Vietnam!
The Suzuki Raider 150cc comes from a racing pedigree of small circuit race motorbikes.
A small frame with 6 gears and a top speed of about 110km/hour makes this motorbike the funnest ride that money can buy. Spend days on end twisting and turning through the mountain roads on a motorbike that can be compared to a high performance go-kart.
Pimp my Ride!
Suzuki (in general) has a cult following of racing enthusiasts in Vietnam but the Raider 150cc has become a popular motorbike among young guys who need a bit of flare to show off to their girlfriends! Pimp my ride is the name of the game and there is no end to the customization's, bodywork styling and upgraded performance kits for these exciting race bikes.
The unfortunate truths
Very small frame which means anyone considering this motorbike must be ready for a fairly uncomfortable ride.
Larger people would be better off with the Yamaha Exciter, Honda XR or Honda Winner!
For some….comfort is a sacrifice worth taking for bling, character and unimaginable enjoyment that can be found throwing the Suzuki Raider aggressively into the twists and turns found all through the small mountain roads.
Disclaimer
Videos are filmed with a wide angle go-pro. Footage appears faster and in closer proximity than in real life.
If viewers believe the driving on display is unacceptable, please do contact us as we are considering/reviewing this marketing technique.