Suzuki DRZ 400
Long distance travel and Day rentals
HCM Hanoi
$850 For 1 month
$1000
$1000 PreAuth Credit card deposit
$850 for 1 month
Extra​ ​months​ ​:​ ​$700 ​a ​month
Unlimited ​ ​KM
Free breakdown coverage
Free 2nd hand helmet, rack, bungees
Long Distance Travel Contract
HCM or Hanoi Danang
$400 RENT WITHIN 10 DAYS
$1000 Deposit
$1000 PreAuth Credit card deposit
$400 rent within 10 days
Extra Days : $40 a day
Unlimited KM
Free breakdown coverage

Free 2nd hand helmet, rack, bungees
Long Distance Travel Contract
Day ​ ​Rental ​ ​Start​ ​and Finish ​ ​any ​ ​city.
$40 a day
$1000
$1000 PreAuth Credit card deposit
$40 a day
Minimum 2 days
Unlimited ​ ​KM
Free breakdown coverage

Free 2nd hand helmet, rack, bungees
Per day short term rental
To enquire about this motorbike please contact us. We are working on a checkout system. We reply within 24 hours, so check spam if nothing arrives.
Suzuki Dual Sport that is a huge amount of fun
The Suzuki DRZ falls into two markets, one is the Australian outback where its reliability and relative comfort has seen it used deep into the wilderness. A "lightweight" option in comparison to the huge "ADV" motorbikes. The DRZ is excellent for tackling extremely harsh terrain over distances.

The second market is the American SuperMotard market. The DRZ is cheap, accessible and seriously sexy. This is the bike that will be seen flying down the highway on one wheel driven by a spotty teenager.
Basically, the DRZ can do anything and has a huge fanbase globally.
Tigits Suzuki DRZ 400 setup
A bike not sold in Vietnam, but picked up by Tigit Jon and used as his own personal motorbike for many years. Tigits one and only Suzuki DRZ has pimp'd out yellow graphics and a stock exhaust that has been de-restricted. It packs a punch that will intimidate normal riders but satisfy the experienced.
As with any personal motorbike, the parts used are of the best quality. $250 knight design footpegs, motion pro cables all around and a super light clutch that took years of fiddling to get right.
The DRZ is originally an SM (road DRZ), but the forks have been replaced with (S) offroad.
Choose your wheels!
For the road, select the SM wheels. Great looks and amazing handling.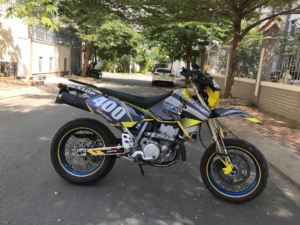 For offroad, select the S wheels which come with aggressive dual sport tires.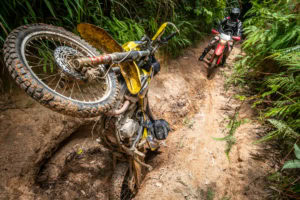 At 2005, the motorbike is a long way from being new
The entire Tigit fleet (apart from this bike) was bought new under Tigit and maintained to the highest quality standards.
The Suzuki DRZ was bought second hand by Jon and is significantly older than any other motorbike within the Tigit fleet. A super bike but shows signs of age.
The DRZ for example, does not have back indicators because the mounts are a thing of the past and we can't get them to stay on.
Apart from that, a reliable and monstrous machine that will bring a huge amount of joy to the right rider.