The North Enduro offroad
All-Inclusive tour
Tigit Guides
Summary
Tigit Jon's youtube channel fairly obviously shows off where his passion is when it comes to motorbikes. Enduro and hard offroad riding.
In his free time, Jon grabs a staff member from Tigit and hits the dirt tracks of Vietnam.
Tigit is not relying on the income from offroad tours and it is just the passion behind the company. We know motorbikes get destroyed, and we know real offroad tires only last a short amount of time but we don't care. We just want to get clients out there riding the very best that Vietnam has to offer.
So unlike other tour companies, the offroad tours we do, really are offroad tours. We are not trying to save money by tricking the client into a little bit of dirt for marketing material. We will send you straight into the toughest terrain that you can handle.

Tour Highlights
Routes for all difficult levels

The best hotels we can find with soft mattresses
Proper MX gear including Forma Boots and Ls2 elbow and knee pads
Bikes that are properly equipped for Enduro riding
Who this tour is for
There are offroad tours that are road tours with a tad of gravel, mostly used to get the money shot Instagram pictures.
Then there are offroads tours by a company like Tigit, where guides spend free time researching the remotest and most difficult to ride roads in the country.
If you want a real offroad tour, then you are in the right place.
Tour Itinerary
Any route
Tigit can cater to 1 day tours all the was up to 12 day tours.
Tour Prices
Prices are in United States Dollars
This is an all-inclusive tour, including damage waiver
The standard bike for the tour is the Honda CRF 150
Minimum 2 people, for 1 person please see rent a guide
| | |
| --- | --- |
| Price per person per day CRF 150 | 175usd  |
| Price per person per day CRF 250 | 200usd |
| Price per person per day Husq 310 / WR 450 | 212usd |
| Price per person per day KTM EXC 350 | 225usd |
Tour Info
Includes
Forma MX Boots
Ls2 Knee pads and Elbow Pads
Ls2 Rapid Fullface Helmet
English Speaking Guide
All meals, water and soft drinks on tour
Free Damage Waiver (don't worry about crashing)
Petrol
Tour Guide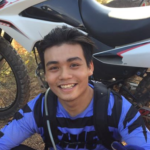 Tigit Guides
Tigit guides are local enduro enthusiasts. English is average at best. Passion lies in driving and motorbikes. A tour is a way to escape the Tigit office and be out there on the roads. Be assured they are enjoying the trip just as much as you are.
Tigit guides are selected based on their motorbike skills, we hope, that they have enough skills to get both themselves and you out of the mud!