One Day ADV Heaven
All-Inclusive tour
Tigit Guides
Summary
A tour designed for large capacity ADV motorbikes. Casual offroad mixed in with amazing new highway that is occurring in developing urban terrain. The route uses farmland tracks to hop between villages and towns. Using an ADV motorcycle to its full potential and eating up the light gravel tracks that are running parallel to nearby roads.
Before you know it, the tour is several hours from Saigon in beautiful countryside scenery. This route shines through by managing to keep an 80% offroad to 20% road balance in terrain that is perfectly suited for casual ADV driving.  When Tigit Jon stumbled upon this route, he immediately coined it ADV heaven!
Tour Highlights
Experience roads that are perfectly suited to an ADV motorbike

See the rural Vietnam by getting off the road and onto backlanes

Open driving that covers a huge quantity of ground on mixed terrain

Constant flicking between road and offroad keeping the driver on their toes
Marvel at amazing farmland that is fighting for space with rapid urban development
Who this tour is for
For those that want to get off the tarmac roads from the comfort of an ADV motorbike. Whether you own an ADV motorcycle or wish to rent from Tigit, this is a great starting platform for developing your own exciting routes from Saigon toward the coast. ADV motorcycling is actually a hard thing to get right in Vietnam, either finding yourself on the tarmac or stuck in thick clay and narrow tracks.
This open style farmland driving is perfect for covering great distances, whilst avoiding the busy and boring roads.
Tour Itinerary
Day
ADV Heaven
Difficulty: Easy – Medium
The purpose of this tour is to demonstrate what ADV motorcycles are designed for. We don't want to get stuck in difficult mud and narrow roads. We want to keep moving at a pace that allows us to cover large KM without being firmly planted on the tarmac.
8:00am:
 Meet at Tigit Motorbikes

 Preparation of your motorcycle gear & motorbike
During The Day: 
A short ferry ride to escape the city. 

Sandy tracks that run parallel to the QL 51 highway toward Vung Tau

Glorious brand new empty highway

Slightly more technical terrain that may push some drivers, but for a controlled amount of time

Rubber plantations all the way back to Saigon
6pm: 
Arrive back at TigitMotorbikes 

Drop off your motorbike and let us take care of the dirty work

A full day of terrain that is showing off the battle of farming and urban development
Tour Prices
Prices are in USD
This is an all-inclusive tour
The standard bike for the tour is the Honda CB 500x or Royal Himalayan 400
All inclusive
| | |
| --- | --- |
| 1 pax (minimum) | $150 / person with Tigit Motorbike |
| 1 pax (minimum) | $100 / person on your own motorbike |
Tour Info
Includes
Honda CB 500 x or Royal Enfield Himalayan 400
Helmet, Knee pads, Elbow Pads
English Speaking Guide
All meals, water and soft drinks on tour
Free Damage Waiver (don't worry about crashing)
Petrol
Tour Guide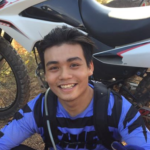 Tigit Guides
Tigit guides are local enduro enthusiasts. English is average at best. Passion lies in driving and motorbikes. A tour is a way to escape the Tigit office and be out there on the roads. Be assured they are enjoying the trip just as much as you are.
Tigit guides are selected based on their motorbike skills, we hope, that they have enough skills to get both themselves and you out of the mud!