Cat Tien Off-Road Motorbike Adventure 2D/1N
All-Inclusive
from $97.50 per rider per day
nation 7 - motorcycle adventures
Summary
One of the best experiences to come from this Off-Road tour is the feeling of being in remote Vietnam. When riding in a place that doesn't have a mobile signal, but does have warning signs of wild elephants, it's a safe bet that not many foreigners have been there before.
Tour Highlights
The unpredictable roads!
The majority of the ride is just south of Cat Tien National Park in an area where 'Maps' applications aren't much help. It's a maze of dirt roads and small tracks that only appear as faint lines on a phone, if they appear at all.
The tropical climate of Vietnam can drastically change the condition of these pathways without warning. Trucks and heavy machinery operating in the area also affect the roads. Their wheels create huge trenches which become enormous swimming pools of water and mud after a heavy rain.
If the roads are blocked due to flooding the Locals will build small bridges from bamboo to get over the water. In other places where the roads are blocked, they'll make side tracks to get through. It's these narrow muddy tracks that make the tour completely unpredictable, especially when the tracks themselves also become impassable.
It's the local's off-road tour!
For the Locals it's an off-road tour everyday, and they ride the muddy roads on their little scooters with the greatest of ease. Often you'll be put to shame as they stare down at the silly foreigner on the big dirt-bike while they ride by. Your pride will face the ultimate test though when an old woman on a scooter overtakes you with barely a speck of dirt on her. Meanwhile, you're busy trying to drag the bike and yourself out of a puddle of mud not knowing if you should laugh or cry. It's something you need to see with your own eyes to believe.
Escape is never too far away
The ride is adapted on the day to suit the weather conditions and your riding style. We want you to get the most out of the ride before exhaustion takes over. In an area as unpredictable as this is, that can be difficult sometimes.  That's why it's good to know that an escape back to sealed roads is never too far away. The winding dirt tracks are soon swapped for winding roads, and the day always wraps up nicely.
Riverside accommodation
The accommodation chosen for this tour is an amazing place on the banks of the Dong Nai river. The balcony of your room overhangs the fast flowing river with the Cat Tien National Park as a backdrop only metres away. Best of all are the tasty local meals on offer, and the ice cold beer!
Who this tour is for
This adventure ride can be adapted to suit any rider with a keen sense of adventure. It is not a tour suited to the casual tourist wanting to see the countryside at a leisurely pace though.  The guide's knowledge of the area allows for the tour to be adapted to suit your riding style and the weather conditions on the day. It is an adventure that has been built to provide you with a big challenge, in a small amount of time.
For riders both new to off-roading, and experienced, this ride will leave you wanting to see how much more Vietnam has to offer.
Tour Itinerary
Cat Tien Off-Road Adventure
8 am: Meeting time at nation 7 – motorcycle adventures to prepare for the day ahead.
Our first stop is at a cafe in Bien Hoa just as we exit Ho Chi Minh City leaving the traffic behind. There we can relax while drinking a cà phê sữa đá (Vietnamese style drip filtered iced coffee), or a sinh tố (fruit smoothie) before checking our gear and hitting the road again.
Before long we catch the first ferry of the day and ride a few open country roads as we head towards the southern border of Cat Tien National Park. Another ferry takes over to the first off-road section of the day. A 45 km track that winds itself through the jungle in Ma Da. After we exit the jungle we stop for lunch and to stock up on water before going off-road in Cat Tien, and off the map.
The remainder of the day is flexible and dictated to by the weather, group riding style and size, and the unpredictable roads along the way. There are many different routes to choose from to ensure you get the most out of the day.
5 pm: We reach our accommodation on the banks of the Dong Nai River  where a hot shower and a cold beer await our arrival. The staff at the lodge will prepare a small banquet for us using fresh ingredients gathered from the local area.
Note: Please let us know of any special dietary requirements at the time of booking the tour
The Long Way Home
7:30 am: Breakfast and riding prep.
The ride heads north out of town and goes over a footbridge into farmland along a narrow sealed pathway, passing through a village along the way.  It is a great start to the day and gives people a chance to appreciate the beauty of the countryside as we pass by rice fields being worked by the locals.
We then turn off a main road, cross another footbridge, and ride an off-road section over a nearby hill that provides some spectacular views of the area. Doubling back, the route begins to wind its way through back tracks behind Cat Tien before we stop for lunch at one of many restaurants on the edge of town. A fresh bowl of noodles (Pho) or chicken and rice (Com Ga) will see us through for the rest of the day.
The ride then passes by a vast area of rice fields before getting back onto some country roads, and then a small section of highway to get to the ferry. A ferry that is only big enough for one bike and rider at a time. Our last section of off-road riding for the tour is through a rubber plantation as we get closer to the Cat Lai ferry, and enter Ho Chi Minh City again.
4:30 pm: We arrive at Tigit Motorbikes
Note: This is an adventure tour and arrival times often change without warning. We will do our best to get you back to HCMC on time. 
Tour Map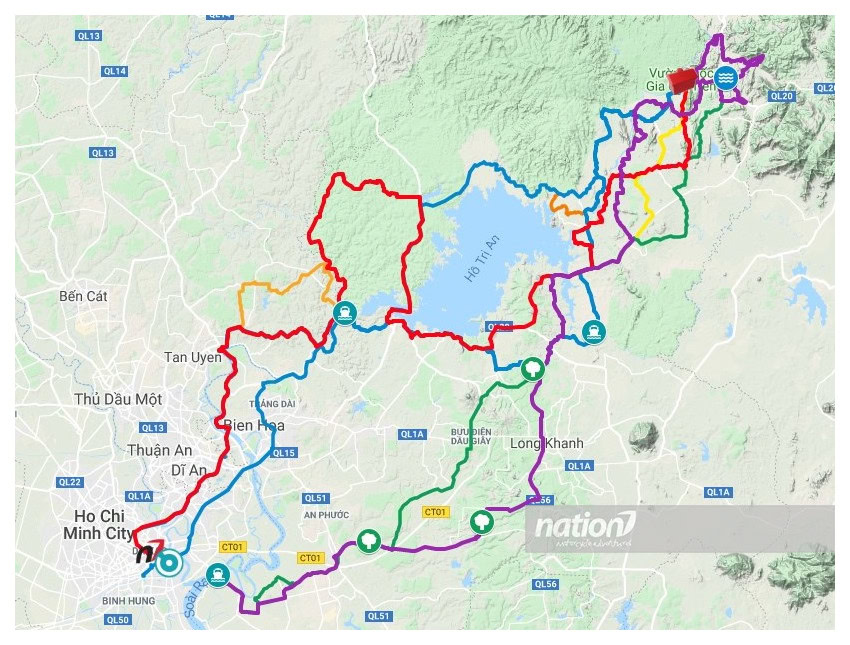 Tour Prices
Prices are in USD
This is an all-inclusive 2 day tour
The default bike for the tour is the Honda XR 150
All inclusive
| | |
| --- | --- |
| Riders | Price per rider |
| 1 | Enquiry only |
| 2 | 275 |
| 3 | 255 |
| 4 | 225 |
| 5+ | 195 |
Tour Info
Includes
English Speaking Guide
All Accommodation
All Meals & Drinks
All Fares & Fees
Honda XR150 & Fuel
HJC IS-33 Helmet
Armored Riding Jacket
Hydration Backpack
Wet Weather Gear
Dry Bag for Luggage
Excludes
Alcohol
Police Fines
Vehicle Damage
Health Insurance
Liability Insurance
Tour Guide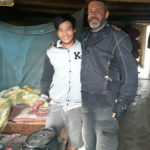 nation 7 - motorcycle adventures
is an Australian tour company with years of experience in the motorbike tour industry.
Tarrin first rode across Vietnam from Hanoi to Saigon in 2006. He then returned each following year to explore the country further before migrating to Vietnam in 2011. He has toured solo around Australia, through Laos, Thailand, Cambodia, and through parts of Malaysia, Indonesia, India, and Japan.
His passion for motorcycles, adventure riding, and a love of Vietnam led him to establish nation 7 – motorcycle adventures in 2016. His years of experience riding throughout Vietnam, coupled with the local knowledge of his team, has provided nation 7 with an abundant resource of mapped roads, tracks, and trails to be able to build an adventure suited to any riders style.