1 Day Cruising Can Gio – Monkey Island & Mangrove Forest
Do you need a little help riding in Vietnam traffic on a scooter like the Honda Blade or a motorbike like the XR150L? Are you looking to brush up on your motorbike skills before heading out on a big Vietnam adventure? Maybe you just want to get to grips with the currency, local culture and a bit of food ordering practice.
This tour takes you on a daytrip to see the beautiful and authentic Vietnamese scenery outside the main city and enjoy the flourishing mangrove jungle & the monkeys that live in it. We'll also stop to visit the seafood market, relax at the beach, and get used to life on a motorbike in Vietnam. We've got a full day of excitement planned to get you on top of your motorcycle game along with plenty of sites to see. 
Price
Duration
Tour guide
Attractions

Mangrove Park

Monkey Island

Two Different Ferries

Seafood Market

Motorbike

Honda XR150 Dualsport
Honda Blade Semi-auto

Road Type
Distance
Monkey Island/Mangrove Forest Tour Highlights
Experience the beautiful and authentic Vietnamese scenery outside of the main city

Brush up on your riding skills in a controlled environment

An enjoyable day of easy riding

See the flourishing mangrove jungle and interact with the monkeys, crocodiles, and hike to commando's camp

Visit an authentic Vietnamese seafood market

Lunch & water included

Relax at the beach

A refreshing dip at a resort swimming pool

Photo opportunities of the days excitement

A full day of fun!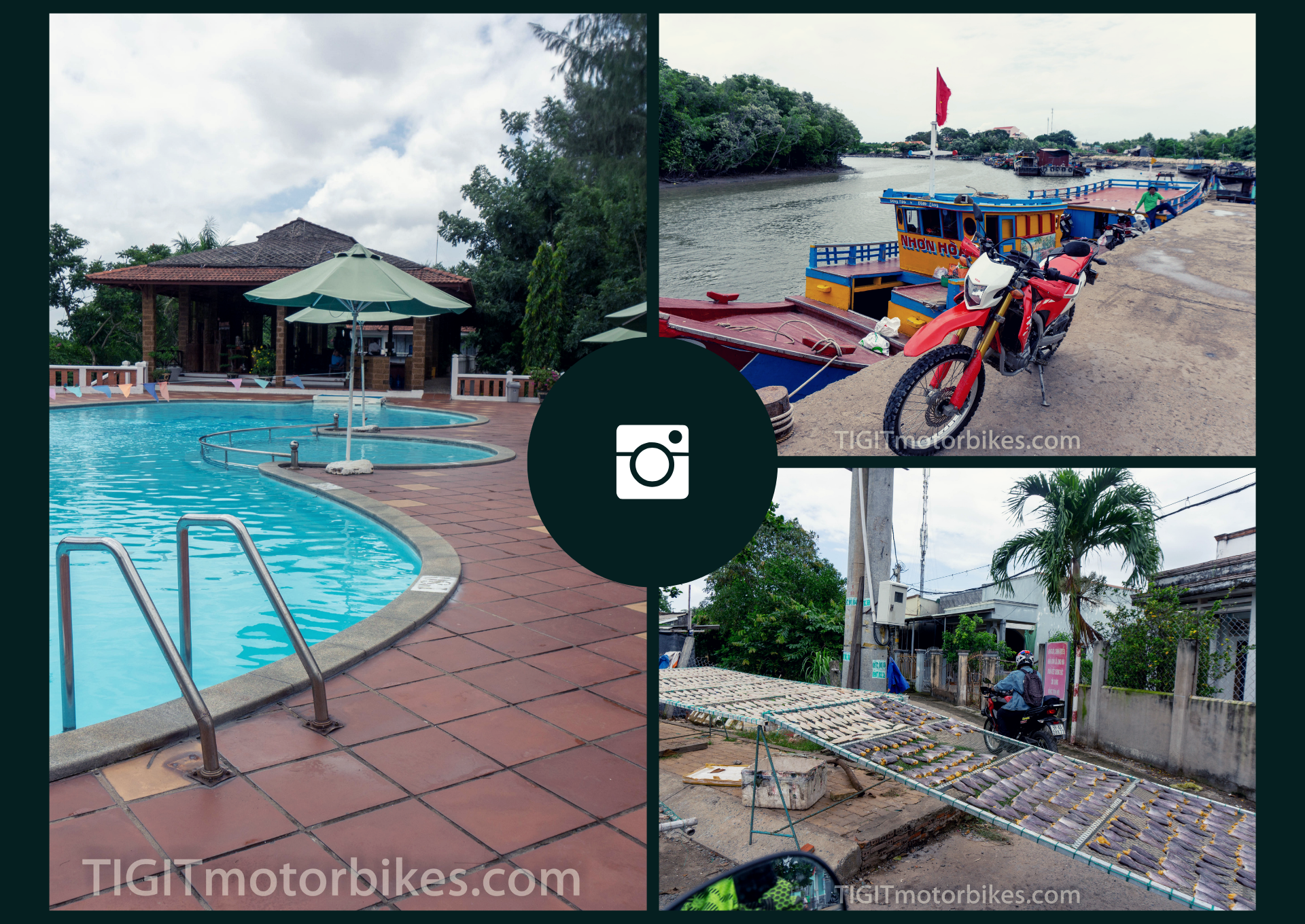 Who Is This Tour For?
Anyone new to the world of motorbike riding and wants to expand their skills with the safety and the experience of a local guide.

Those of you headed out on a big adventure for a few weeks & wants some insider culture tips before off.

Those just wanting a chilled out escape from the big city.
The day is designed to be leisurely and exciting, we know that traffic in Vietnam can take a bit of getting used to and that sometimes all of the sights and sounds of the big city can be a lot to take on for a first time rider and visitor to Vietnam. Here we can guide you to some of the most interesting spots just outside HCMC and help you build your confidence for more adventurous trips, and to just settle into life in Vietnam. Don't worry about taking a spill either, this tour includes our Tigit damage waiver. 
What We Expect From You
For this little adventure we expect you to show up with a positive attitude, and look forward to an easy going tour at a leisurely pace. This is your chance to ask a local English speaking tour guide anything about Vietnam. There are no stupid questions and he is prepared to tackle any question from Vietnamese history to culture and language.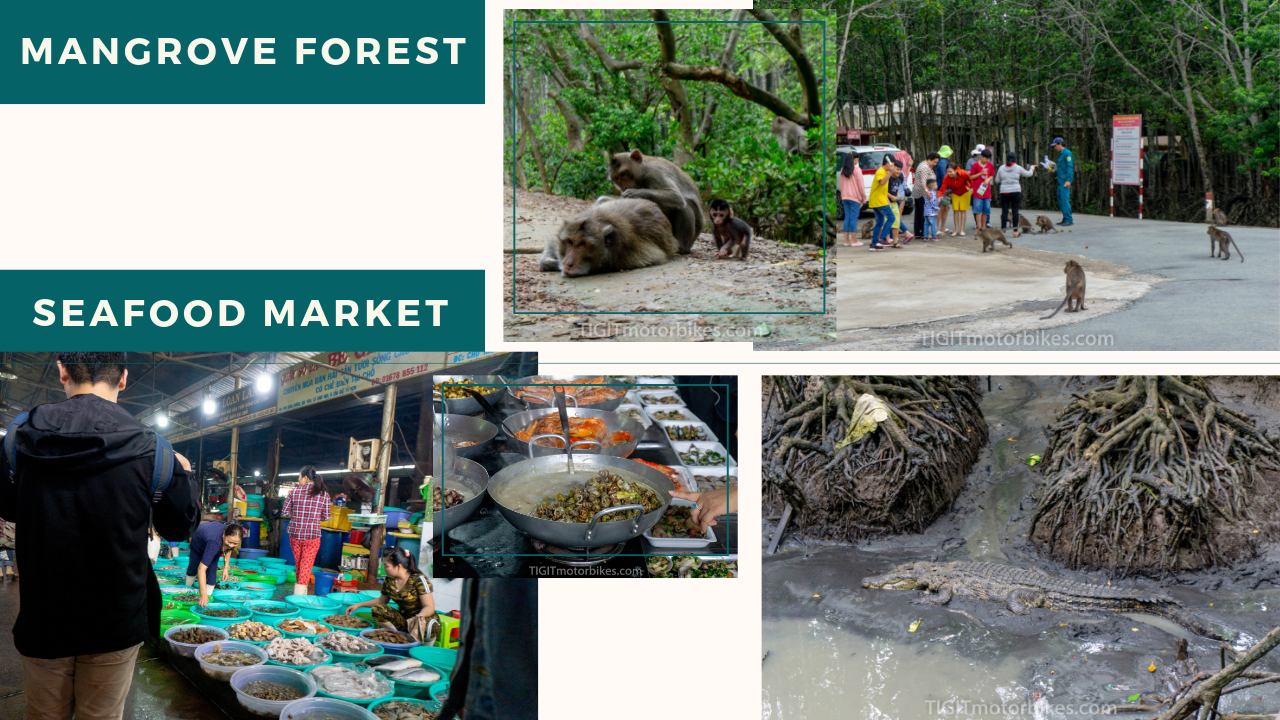 Monkey Island/Mangrove Forest Tour  – What It Looks Like
We set off from Tigits main office just outside the city center in the morning then make our way out towards Monkey Island crossing some of Saigons' incredible bridges, enjoying the relaxing scenery, and the open road in the middle of the mangrove jungle. Along the way, we'll see oyster farming, birdnest houses used for farming the main ingredient of the infamous soup of the same name, and water coconut. Then we stop for a couple of hours to explore the island, feed the monkeys & crocodiles, and hike to Commando Camp. Does this sound like the plan?
Next, we hop on the bikes and head over to an authentic Vietnamese seafood market. This stop makes for some interesting photo opportunities & a chance to try things like snail & squid. After, we take a short ride to Phuong Nam Resort, Can Gio for a bit of time to eat, relax on the beach, lounge in the pool chairs, and take a swim. They have Wifi here if you can't wait to upload some of the days' adventures!
During the day we will cross the river systems that surround Saigon. We'll get a chance to ride on some of the incredible bridges around the city and experience the ferry service that fills in the gaps where bridges haven't yet.
From here we ride back enjoying the sites and sounds outside of Saigon before ending back at Tigit's main offices at the end of the day. It's a full day of fun and we usually return between 5-6pm.
Tour Itinerary
8:00am
Meet at Tigit Motorbikes 

Preparation of your motorcycle gear and motorbike

Average riding speed of 30km/h (normal Vietnam city speeds)
During The Day
(1.5hrs) Ride 50km south of Saigon to Monkey Island in Rung Sac, Can Gio. Light traffic, crossing a number of the incredible bridges that surround Saigon & some interesting ferry rides.

(2hrs) Explore Monkey Island: Monkey/Crocodile feeding, trek to Commando Camp, optional speedboat ride for a fee

(45mins) Visit the Seafood Market and try some local seafood

(2hrs) Phuong Nam Resort Can Gio: Lunch, beach chairs, pools, relax and wifi 

Plenty of photo opportunities  
5-6pm
(1.5hrs) Ride 50kms back to Tigit HCM

Drop off motorbikes and let us take care of the dirty work

A full day of adventure while you build your skills, learn the culture & country, and see the sites!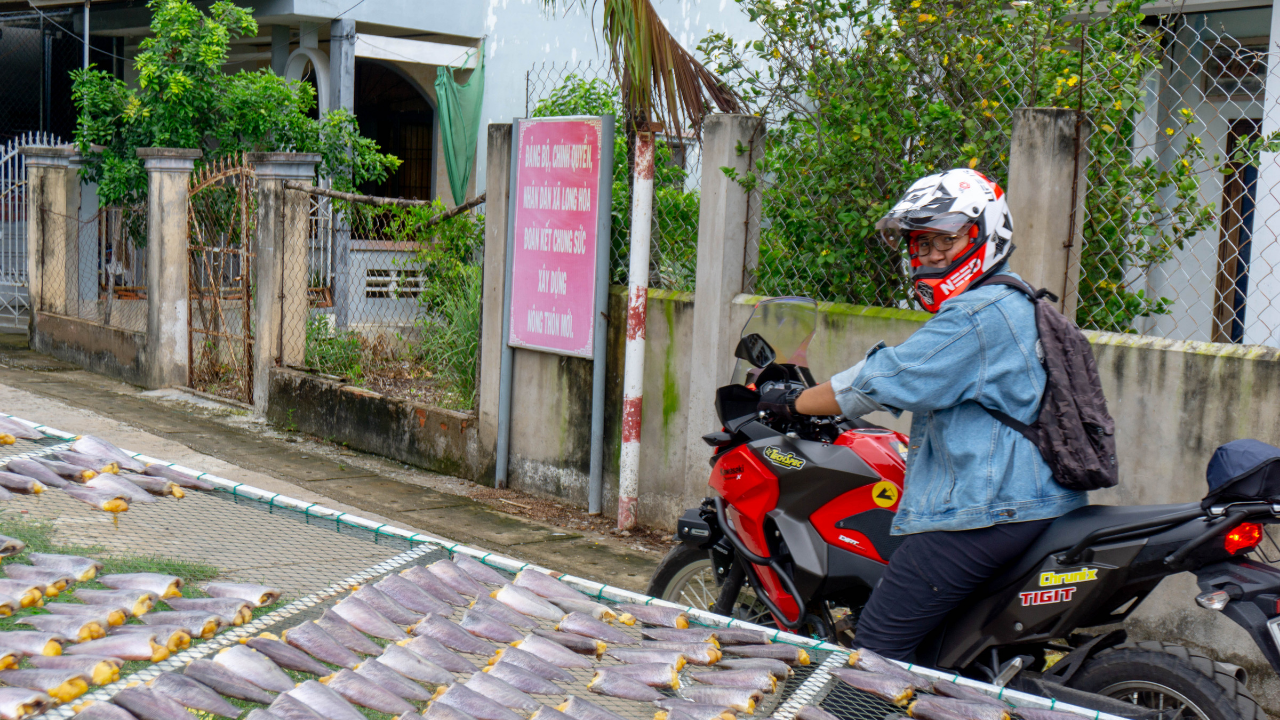 Monkey Island/Mangrove Forest Tour Pros & Cons
Pros: 
Gently ease into the local driving in a controlled way. Even experienced riders will see the benefits of understanding the roads before setting off on their own. 

Enjoy some top sites around Saigon with the excitement of a motorbike.

Great Value: Tour, guide, learning, lunch, hiking, motorbike, safety gear, resort access, & more.
Cons:
Not for adventure junkies looking for off roading. Check our

Escape Saigon

tour for that.

This is only a taste of Vietnam, but should get you going comfortably in the right direction. For the full experience, rent a motorbike to Hanoi. 
Only offered in Saigon. If you're looking for other city motorbike tour options, check out our full tour routes.
Tour Price
Tour price is $85 per person.
Tour Information
What's included

Motorbike and petrol and damage waiver
English Speaking Guide
Lunch, water and soft drinks on tour

Not included

Personal expenses
Personal health insurance
Tips and gratuity
Seafood market shopping
Boat ride at the Monkey Island
Booking Tour