Reading Time:
11
minutes
Everyone's looking for their own style of Vietnam motorcycling adventure. How you choose to take on that experience will dictate the adventure you have and the memories you take away with it. Will look at fully guided vs. self-guided motorcycle tours to help you decide what the best adventure is for you.
An eclectic bunch of travelers all out for some fun on a fully guided tour. More than just the landscapes, the people you meet will leave a lasting impression too.
Fully Guided Tours Explained
    Much like the title would suggest, a fully guided motorcycle tour is one with a guide/host who takes care of the organization, and excitement for you. As the guest, you just need to show up when and where the tour begins, with what the guide suggest bringing along with you to help maximize your experience (jacket, souvenir money, old clothes, smart clothes, etc.). Then, you're off to the races!
Day Tours: For a taste of the countryside, as an escape from the city, or for a bit of practice on two-wheels. A guided motorcycle day tour is an excellent way to ease your way into riding a motorcycle in Vietnam. The right guide can help you break the ice on your first big date with Vietnam, swipe right for a good time! An Escape Saigon one day tour is an excellent example of the fun and insight of Vietnam that can be gained around Saigon in one day.
What To Expect:
An experienced guide who knows the area & can make you feel comfortable navigating the roads.
Tips and tricks on dealing with and negotiating big city traffic, like that around Saigon and Hanoi.
A safe look into the roads and countryside around Vietnam.
A look into the culture from a locals point of view.
Motorbike, fuel, lunch & drinks are typically included.
A good experience for all levels of riders.
Rather than trying to fumble your way through where to go and what to see that might land you on an amazing market boat like this one. Get the guide to sort it out and have you feeling comfortable getting your questions answered.
Short, Multi-Day Tours: Adventurers short on time and those looking for more than just a one day taste of Vietnam should look into a short multi-day tour. Where a day tour gets your glands salivating, a short tour will allow you to sink your teeth into Vietnam. Here you still get the benefits of a guide to take you to places unseen by many travelers, plus you'll also have time to meet the locals and stay with them to experience their culture. A fantastic way to make you feel at home in Vietnam, a Mekong Motorcycle Adventure is an excellent example of this style of trip & a great way to explore the incredible Mekong Delta.
    What To Expect:
An experience that can't be duplicated by anyone exploring all on their own.
A look into Vietnamese culture and family life from inside a locals home.
Roads, routes, and scenery discovered, then explained by a guide who can answer questions from their experiences of the area.
Guides who know how to deal with tourists and their ongoing needs.
Options to explore sought after areas like the

Mekong Delta

, Cat Tien National Park, & around Saigon.
The comfort of knowing this trip has been researched and designed for your benefit and the time you have to experience it.
Motorbike, fuel, lunch, drinks & some riding gear are typically included.
Either beginner or experienced rider tours depending on what excursion you choose.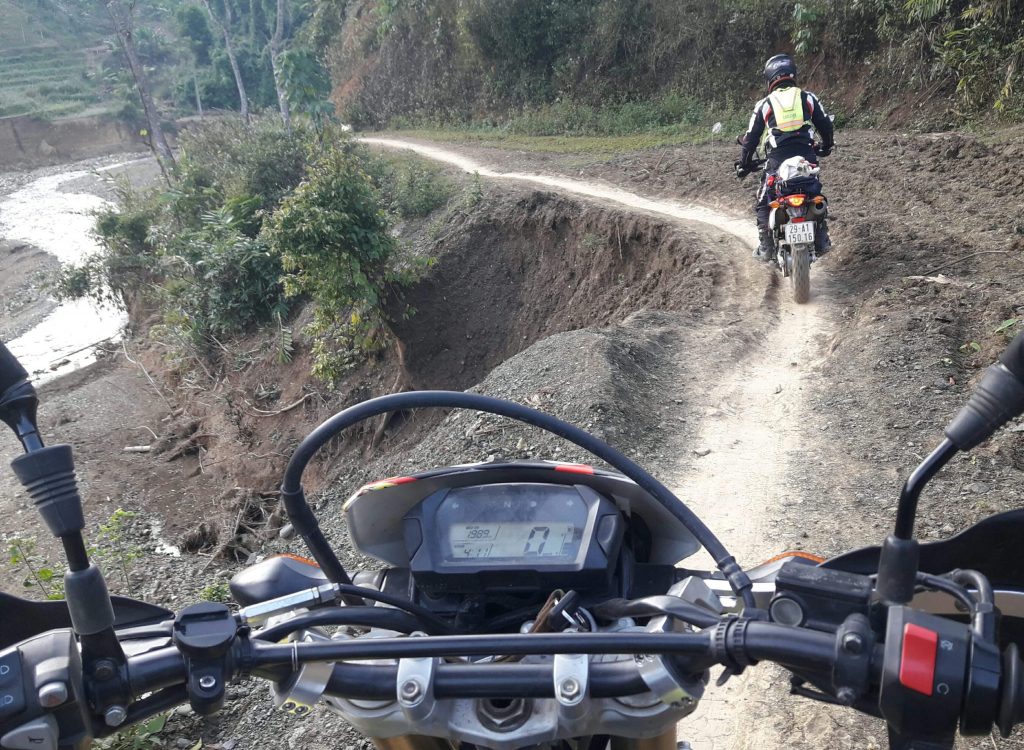 Would you know how to find this crazy single track on your own, or be willing to see where it goes without a guide? Maybe, but maybe you wouldn't even know where to start looking. Is adventure calling your name?
Extended Multi-Day Tours: If you've got the time, the money, and the right adventurous attitude. Treat yourself to a longer multi-day tour. These could range anywhere from 3-10+ days, and ride through an extensive range of landscapes and experiences. If the other tours were a taste and bite of Vietnam, an extended tour would let you enjoy the buffet of this country until your so full you'll need to be rolled onto the plane to get you home.
    A 4-10 day North Vietnam tour is an excellent example of these extensive motorbike tours in Vietnam.
    What To Expect:
Sufficient time to explore the regions while you build your riding confidence in this new land.

To transform from a beginner to intermediate, intermediate to advanced, or well-honed advanced rider by the trips end.

To interact with the locals on a personal level with your guide.

A taste of regional cuisine that could range from local Pho right to duck embryo (hot vit lon).

River crossings, mountain passes, deserted roads, muddy tracks, smooth tarmac, and everything that Vietnam roads have to offer.

Exploring sought after areas like the Ke Bang National Park, Khe Sanh army base,

Hai Van Pass

, Central Highlands, Hanoi & The North, and more.

Motorbike, fuel, lunch, drinks & some riding gear are typically included.

Tours for beginners up to advanced riders. Look into each option depending on how comfortable a rider you are.
Back Of The Bike Tours Explained
    An option to take the level of a personalized tour up a level, a Back Of The Bike style tour puts you safely in the hands of an experienced tour guide while you sit back and take in the experience. Imagine leaving behind the chaos of navigating the busy streets, asking questions about anything that comes up, discovering local spots hidden to outsiders, and taking pictures of all the action without missing things that whizz by.
Just like it sounds, a Back Of The Bike style tour puts you on the seat behind the guide, and the adventure unfolds before you.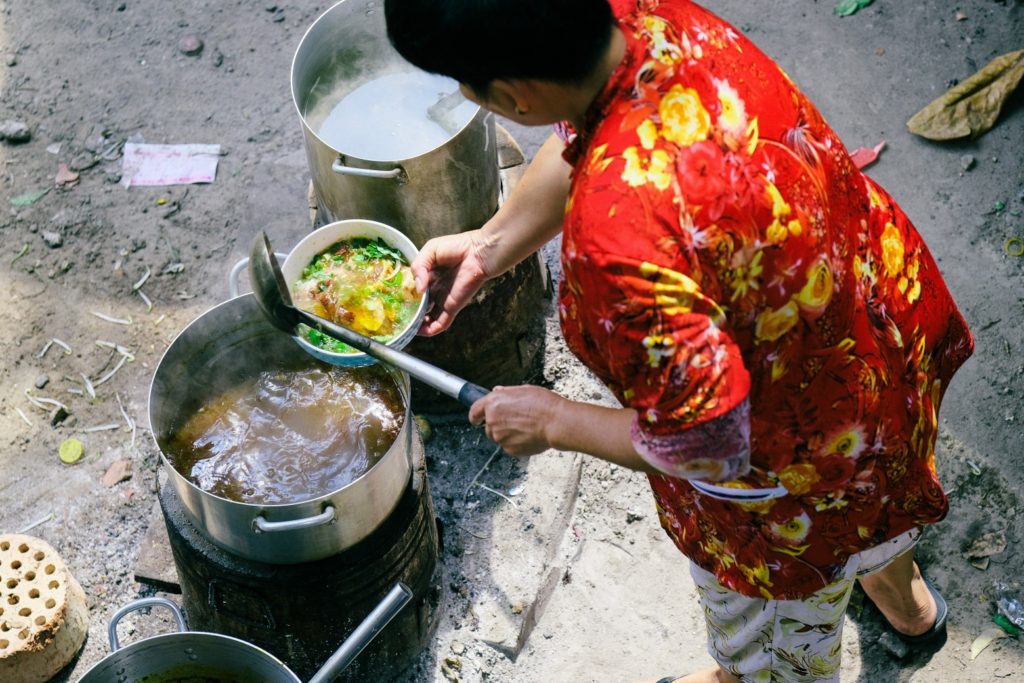 You'll walk right by these intriguing culinary wonders on the side of the road again and again. What one is the best, what's in the pot, how do you eat it? Hop on a foody tour and eat up the food facts.
   

Foody Tours
Consider yourself a foody? Want to discover some of the best street food in Ho Chi Minh? Find yourself often wondering what the locals are eating but don't know how to ask? A foody tour in Vietnam can quickly transport you from wondering what's going on to experiencing it!
    Often run by locals, you'll find that these types of tours aren't sterile like a group walking, or bus style of tour. You'll instantly be treated more like a local while you're safely taken through the streets & into the local markets and restaurants.
    What To Expect:
To learn where your guide likes to eat & places you may want to avoid.

The ability to ask questions about anything and everything as it comes up.

To be able to enjoy the local beers and cocktails while someone else handles the driving.

The attention of the guide & their relationship with the establishments you visit.

An organized event free of waiting & catered for tourists with a local flavor.

Often tours are lead as a group with personal drivers and a group guide.

Tastes of regional, national, and unusual dishes. If you want to push the limits to items like snail, dog, embryo, etc. Make a request with the guide, they'll enjoy watching you squirm.

Prices are often in line with quality. To make an experience memorable, pick a mid-range or premium tour.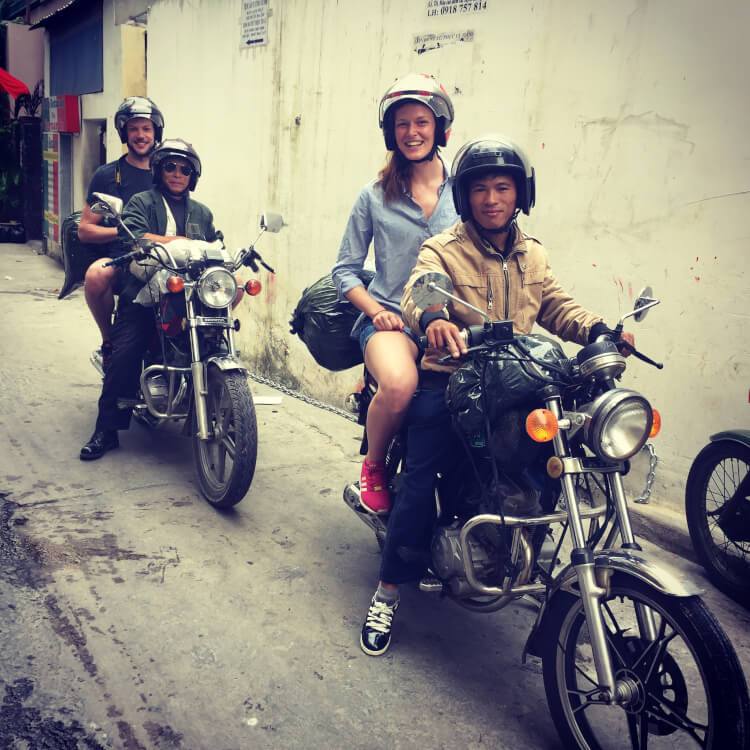 Hop on, hold on, and brace yourself for excitement. These guys grew up with people on the backs of their motorbikes, and having only one passenger is probably a nice treat for them! Check out an Easy Rider Tour for some comedic and memorable moments.
Easy Rider Tours
Not to be confused with the magazine of the same name, Easy Rider Tours offer up a dedicated driver for long distance trips and a way to explore specific scenic routes, areas, and landmarks with a local who knows the area and the language. Often an Easy Rider will have great street English and a personality to double as part entertainment and part tour guide making it that much more enjoyable.
    An Easy Rider will usually have several locations to choose from you can explore. However, as tours are often one-on-one, you can more easily make requests to add on anything specific you might want to see along the way. If for example, you were exploring one of the popular Easy Rider cities like Da Lat in central Vietnam, you could request to stop at some of the specific Top Da Lat Attractions.
    What To Expect:
Day-long tours to top destinations like the

Hai Van Pass

, discovering the

Ho Chi Minh road

, getting to know Da Lat & Hoi An, as well as other popular routes.

Stops at local restaurants with a guide to interpret what the dishes are.

A look into Vietnamese life from the eyes of a local, both current and historical.

A safe, responsible driver with a lifetime of experience navigating Vietnam.

Guides with comprehendible levels of English. They often have humorous personalities.

The ability to discover routes on a deeper level. Imagine all the questions you have during self-exploration, but now having them answered!

Suitable for solo or duo travelers looking for more.
He looks excited, she looks excited buy concerned. On a self-guided motorbike tour you can expect the unexpected. As long as your confident in your riding partner or flexible enough on your own. The sky's the limit!
Self Guided Motorbike Tours
    The standard traveler who rents their own motorbike and sets off to explore this vast country is usually the type who enjoys doing things at their own pace. If freedom is your main driving force then self-guiding might be for you, but maybe you're missing some aspects of the country you never considered. Let's take the above, guided options, and compare them to trying the same things on your own.
    One Day Tours: With just one day to explore on a motorbike, you'll need to look good and hard at what can really be accomplished in only one day as a newbie to the country. If your list is short, you might be ok. Anyone looking to maximize time will need to weigh the pros and cons carefully.
Pros – Day Tours Self Guided VS Guided
Start and finish when you want.
If you discover a road that's more interesting than another, feel free to spend the whole day on it.
A one-day

motorbike rental costs from $10/day!

Where a one day tour might start at $85+

Left unaided, you'll get the chance to practice talking to and interacting with some locals.
Cons – Day Tours Self Guided VS Guided
You might spend the day trying to exit then enter heavy traffic metropolises like

Ho Chi Minh City

, not a fun sounding tour.

With only one day, you'll never be able to learn from the country what a guide can fast track teaching you in the same amount of time.

A couple wrong turns could eat up your afternoon & leave you lost or let down.
The stunning Dray Sap waterfalls near Buon Ma Thuot. If you decide you want to spend the whole day here just taking it all in. That's no problem if you find yourself on a self-guided tour. As part of a group, you might be cut short or just want to skip it altogether.
Multi-Day Tours: As your schedule lengthens, you'll have more opportunity to decide if a multi-day tour with a guide or going at it solo can have more overall benefits to you. More time is always better, it just depends on how well you use it.
Pros – Multi-Day Self Guided VS Guided
With no one to save you from asking questions and understanding customs, you'll be forced to experience the people directly. This can enrich your personal experience greatly.
Costs.

Motorbike rental

, fuel, food, accommodation could be done for under $50/day. With a guide, usually $150+
Anyone wanting to seek out a specific landmark or location to them will find it easier than being restricted to an organized tour that might not be headed that way.

Experienced riders may find that riding with beginners can become taxing.
Cons – Multi-Day Self Guided VS Guided
You'll rarely get the same access and attention with the locals in a homestay or local event without knowing the language.

You'll never know what you missed by going at it alone. A local guide always knows little tips and tricks that take years to discover.

Safety is always a factor when you're traveling. Getting lost, having an accident, or venturing into the unknown could end negatively if you're left to travel it alone.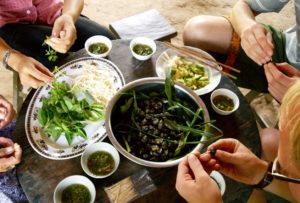 Sitting down to a nice bowl of snails. If you do plan to find your way around on a foody tour on your own, make sure you know what you're looking for.
Dog  = Thịt Chó, Frog  = Ếch, Eel = Lươn,

Duck Fetus = Hột Vịt Lộn, Snail = Ốc,

Pig Brain = Óc Heo
Foody Tours: It'll be tough to sell the idea that a self-guided foody tour is better on your own then with a local guide. Unless you've really done some research about where you want to go and what you want to eat, a self-guided foody tour is basically just taking yourself for dinner.
Pros – Foody Tour Self Guided VS Guided
You'll get to practice your Vietnamese menu reading and asking skills!
Of course it's cheaper, dinner for one usually is!
Cons – Foody Tour Self Guided VS Guided
Not being a local means you won't know where the locals really eat, no matter what TripAdvisor says.
No history lessons on why your dish became so popular in this region, or the personal stories about a guide who probably grew up eating it as a kid.
Guides will often surprise you with delights you might not know existed. It's their job to impress, alone you'll never know the other side of the story.
You'll lose the opportunity to try

dishes that might seem taboo

or at least ask about them and why the locals might enjoy them. Think snails or dog meat.
Easy Rider Tours: Ok, so it's impossible to do an easy rider tour solo. Maybe you could sit on the back seat and reach up to the handlebars to drive while talking to yourself. If it were possible, the pros would be your freakishly talented skills & split personalities. The cons; how lame you'd look trying to explain to people that you're trying to save money on a guided tour by talking to yourself!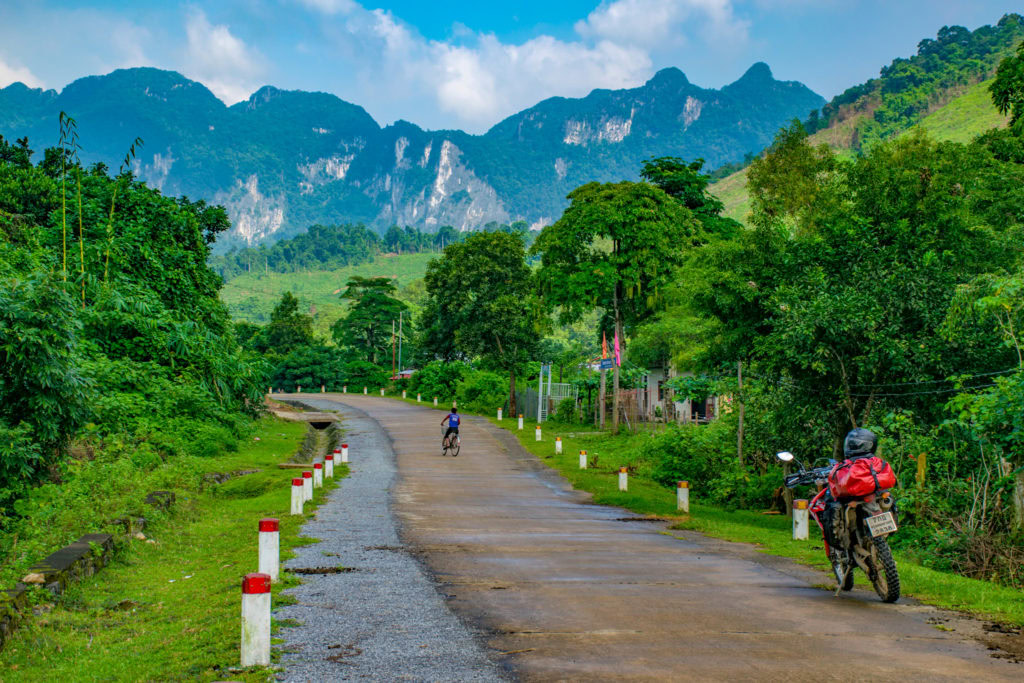 Views like this one on the Ho Chi Minh Road are endless throughout Vietnam. Whether you plan to rent a motorbike to seek them out or hire a guide to take you there, the views are equally as impressive. What could be more fun than to see them from the seat of a motorbike.
TOUR
TIME
COSTS
WHO'S IT GOOD FOR?
Guided Day Tour
1 Day
$85+
Everyone
Guided Short Mulit-Day
2-3 Days
$150+
Beginner
Guided Extended Multi-Day
3+ Days
$150+
Intermediate & Advanced
Foody
An Evening
$20+
Everyone
Easy Rider
1-3 Days
$200+
Beginner
Self One Day
1 Day
$10+ Bike Rental
$5-$15 Food/Drink
$10+ Accommodation
Everyone
Self Multi-Day
2+ Days
$10+ Bike Rental
$5-$15 Food/Drink
$10+ Accommodation
Everyone
Summary
    Self-guided tours are suitable for some people, and guided tours are right for others. At the very least, experiencing a guided tour will give you a perspective on what it's like to motorbike Vietnam through the eyes of a local. Just imagine someone from Vietnam coming to the town or city that you grew up in for 48-hours. Do you think they would leave with a better understanding of the area if you took them around for those two days, or if they tried to figure it out on their own?
    If you do opt for any style of guided tour remember to pack some essentials like; your camera for those incredible photo opportunities, tip money for anyone who might go out of the way for you, an open mind to really take in the full experience and unexpected personal and cultural moments. Then, most importantly, an adventurous attitude, as things aren't always going to go to plan. I can assure you, the adventure of the road is better to be experienced smiling while mud splashes across your face rather than frowning because the back seat was a bit bumpy. It's Vietnam, it'll blow your mind and take your breath away – hold on!