Reading Time:
7
minutes
From scrumptious local noodles to gourmet buffets at top-rated hotels, Da Nang, a city of both mountains and beaches, has something for everyone. 
History of Da Nang 
Often described as Vietnam's most liveable city, Da Nang was once a sleepy trading port. Located in the centre of the country and close to Hong Kong, the city was strategically important but was outflanked by its close neighbour, Hoi An, as a trade hub.
The French mounted a successful invasion in 1858 and, after the fall of Saigon, they began a brutal occupation of the entire country that sowed the seeds for Independence and the Vietnam War of the 20th Century, known as the American War locally. At the tip of what was once South Vietnam, Da Nang was often the first point-of-call for American troops heading north to Hue or the demilitarized zone near Dong Ha. The airport was once one of the busiest in the country.
Da Nang today is a prosperous beach city of around 1 million people. With an array of mountains, waterfalls and UNESCO world heritage sites on its doorstep and smaller and cleaner then Hanoi or Saigon, it's quickly becoming an attractive option for young Vietnamese entrepreneurs looking to set up their own business and make a name for themselves. The lack of traffic compared to other big Vietnamese cities also makes it the perfect city to ride around. 
Looking for the definitive Son Tra Motorbike Route? Let Tigit Jon Be Your Guide!
Best Tea in Da Nang
Everybody knows where to get good ca phe sua da in Da Nang but what if you drink tea? Here's why Da Nang is a great city for tea lovers as well.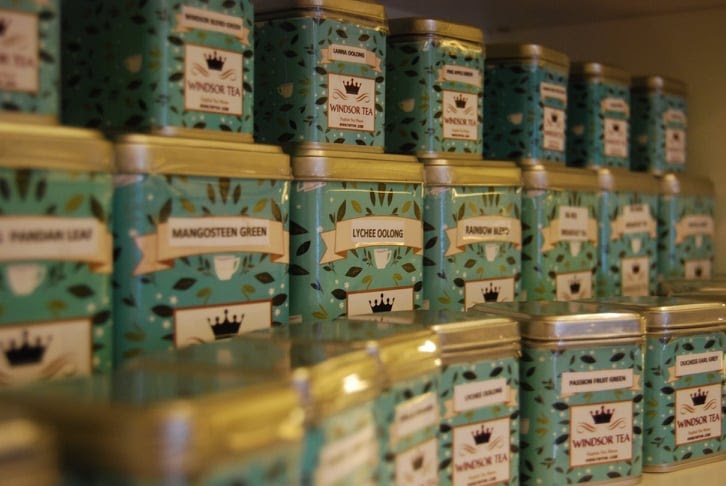 The Windsor Tea House 
If you are looking for a high-tea experience then you can't go wrong with The Windsor Tea House. So named because the owner – Jan – is from Windsor.
Stepping inside this tea house in An Thoung you will feel instantly at home. There is cute British memorabilia everywhere and pictures of the famous Windsor Castle. You can even cosy up by the fireplace. But, hang on, this is Da Nang, where temperatures can reach nearly 40 degrees in the summer and 30 in the springtime! In fact, the fireplace is an LCD screen but you'd have to stand really close to realise. 
As for the tea itself, Jan is an expert who has sourced a great collection of tea leaves from all over Asia. From traditional black and oolong teas to new takes on classics like the Duchess Earl Grey, there is something for everyone. Be sure to take in some of the aromas of each blend on the tea shelf before you make your choice. 
And you cannot leave without trying the homemade scones complete with cream and blueberry jam, served  – along with the tea – in the finest China.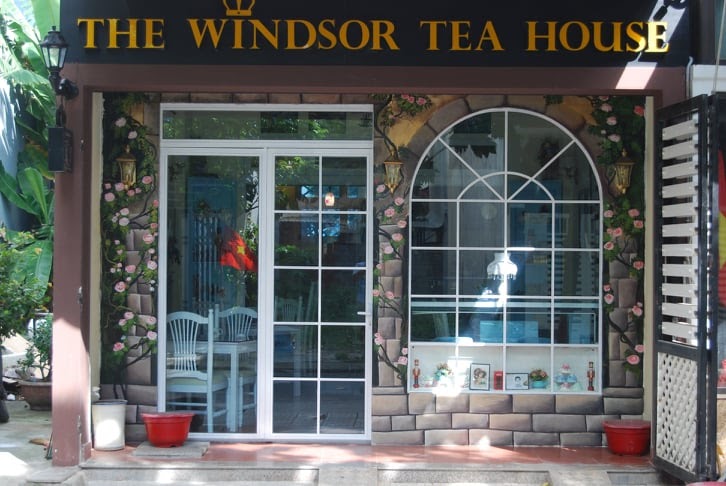 Brit Tea
Another tea house, this time near the Dragon Bridge, Brit Tea is three stories high and is filled to the brim with British memorabilia. There are miniature figurines of Big Ben everywhere, red busses and, of course, pictures of Her Majesty The Queen. 
Going to the bathroom is also an interesting experience. Like walking through the wardrobe to enter Narnia, you must first step through a giant red phone box peeking out from a wall. Inside you will find not a phone but a secret passageway to the toilet. 
Being such a big place you will always find a quiet spot in which to do some reading or to enjoy a quiet drunk with friends.
For the tea itself, you can find a wide-ranging selection of Twinings tea – hard to come by in Da Nang – as well as a selection of milk teas. The staff are Vietnamese so if you ask for milk be sure to clarify that you want fresh milk (sữa tươi) – or you may end up with condensed milk in your tea. China is available if you ask for it. 
Milk Tea
A speciality in Asia is milk tea and you will find loads of great, mind-blowing milk tea everywhere you go in Da Nang. 
You can get some great milk tea at the more expensive chains. House of Cha is a particularly good one. You will find lots of comfortable chairs and air conditioning, making it a great place to work or to meet with friends. Be sure to try the Jasmine Green Milk Tea with some pearls as a topping. 
If you really want to try something different be sure to go for the Cream Cheese Tea! It has a unique and frankly bizarre taste. You might not love it but it's certainly an experience you should try none-the-less.  
It's also worth checking out some more local places as well like Gold Milk Tea, a favourite spot. Squeeze down low into the tiny chairs you see lining the streets of Tra Sua houses and get your milk tea fix cheaper than you will at a chain. Have a conversation with a local and make some new friends.  
Fine Dining in Da Nang
Le Comptoir 
Le Comptoir means 'the counter' which might seem like an odd name for a high-end French restaurant, but, as chef Olivier Corticchiato explains, it reflects the intimate dining experience he has tried to create in Da Nang. Walking into his small restaurant is like arriving in his own kitchen.
As a result, space can often be limited. Solo diners or two guests dining together are often seated at the counter so that bigger parties can sit at the tables. Guests sometimes complain about this but, says, Olivier, '95% of the time by the end of the meal they will say 'thanks for choosing the counter for us' because at the counter you can see your food being prepared or your drinks being prepared…' you get a level of interaction with the chef that you will otherwise miss out upon.
Tucked away a few streets behind the beach this is a place to enjoy a leisurely evening with friends. Nestle in with drinks in the outside foyer before gently making your way into the kitchen for some black cod or duck confit and soak up the atmosphere with a glass of wine expertly paired by Olivier's wife, Myriam.  
Carol Pham's Masterchef Noodles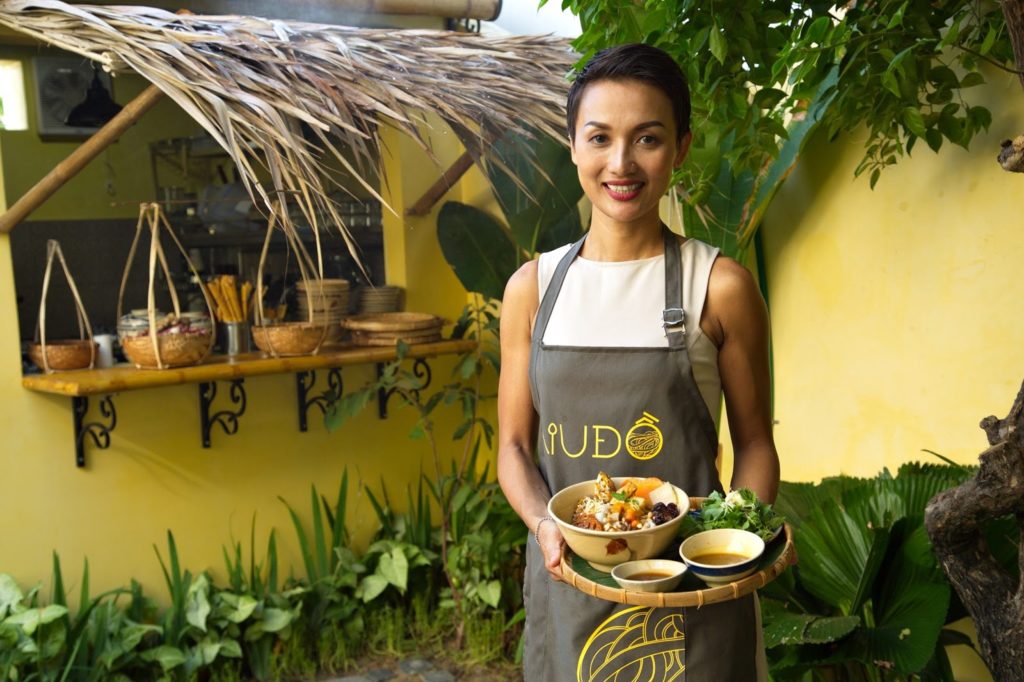 If you're wondering about what to eat in Da Nang then you can't go wrong by trying one of Central Vietnam's best-loved dishes: the Mi Quang (noodles from the province of Quang Nam). After travelling around Asia to experience new flavours, Carol Pham, a runner up on MasterChef Vietnam, has reinvented this classic.
Her love of the Mi Quang stems from her childhood, growing up in Dien Ban, halfway between Da Nang and Hoi An: she had both the country and the city experience and that's reflected in her food.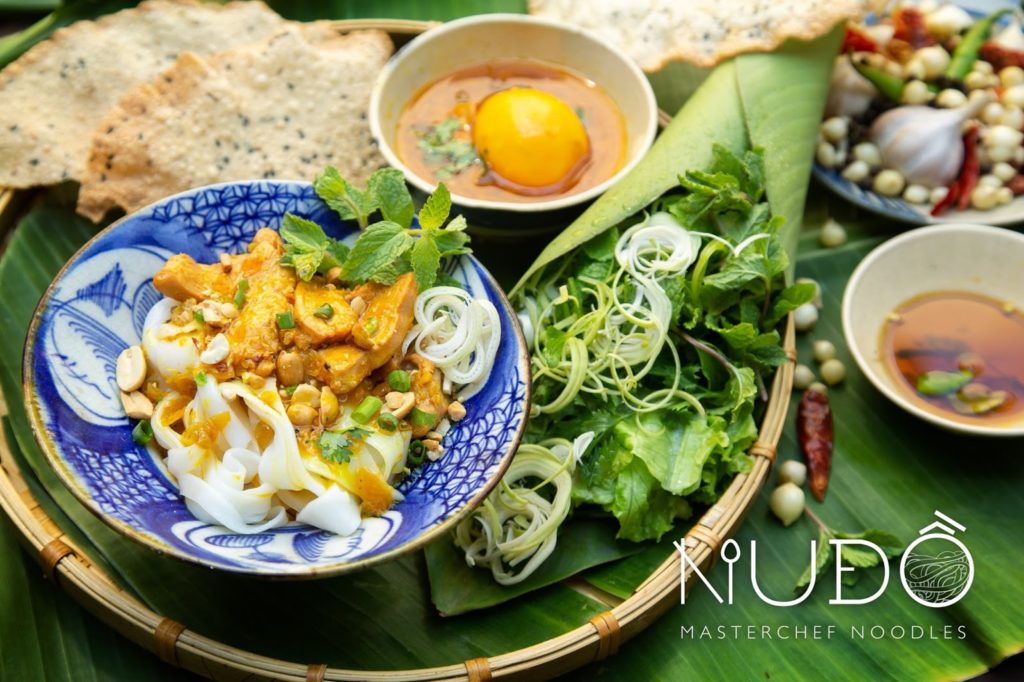 Carol's restaurant is located in a large front yard with her own home at the back, similar to those found in Hoi An. The walls are painted yellow like Hoi An's old town and if you head to her place for lunch you are sure to see her adorable kids zooming around, just as hungry for noodles as her customers.
Golden Dragon Dim Sum Buffet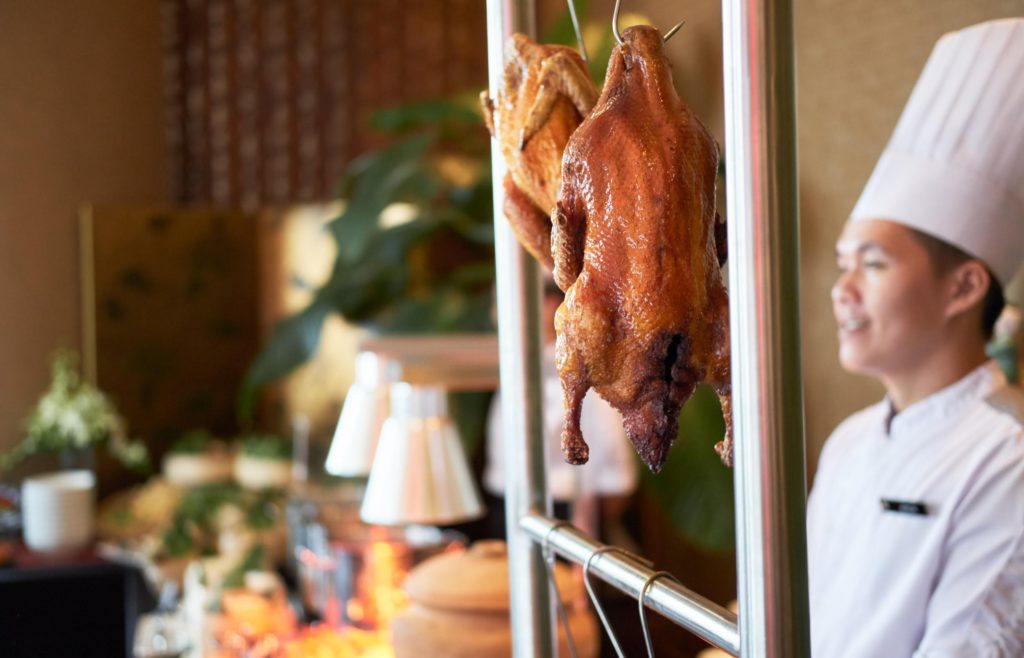 If you're looking for an unforgettable dining experience at one of Da Nang's many top hotels then the Dim Sum Buffet at the Golden Dragon Restaurant in the Grand Mecure is probably the best value for money. With a local voucher (check Klook) you can dine, all you can eat, every Sunday for đ410,000. This might sound expensive but when you consider that you can spend upwards of đ3 million on brunch alone at the spectacular Intercontinental overlooking the Son Tra Peninsula, it is quite reasonable.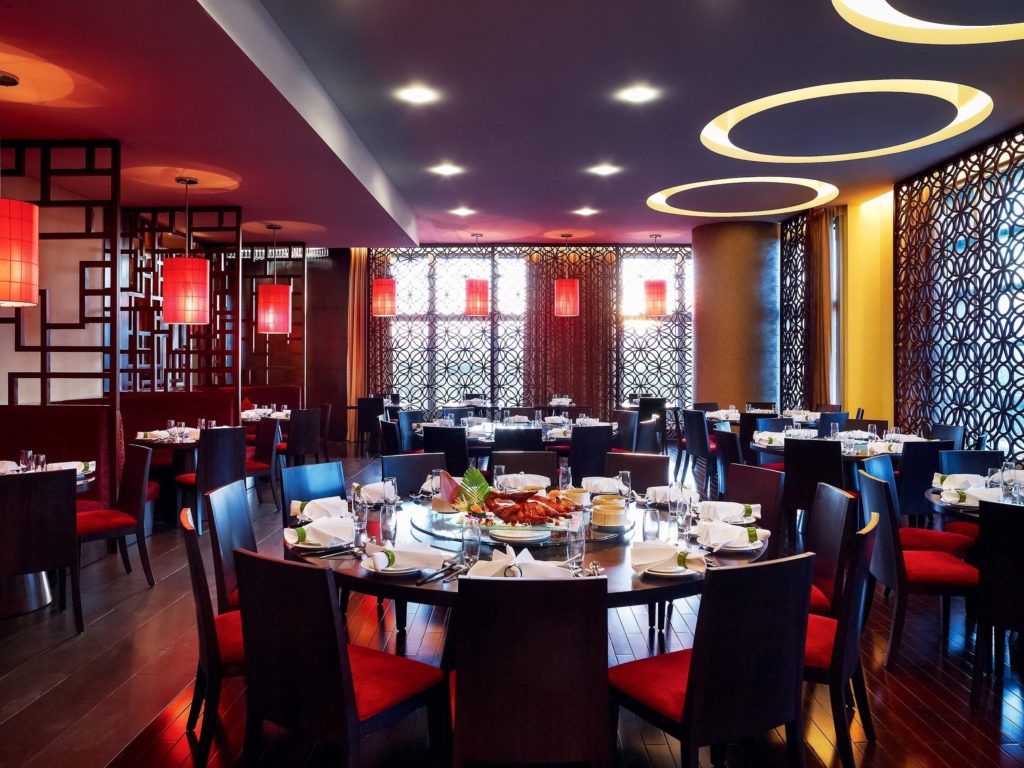 A variety of fresh Dim Sum is cooked to your specification and while you wait you can help yourself to a buffet of traditional Chinese Food from Yellow Noodles to Barbeque Pork and Sour Soup. Dine in the evening to enjoy the views from the window overlooking the Trần Thị Lý Bridge.
Street Food Da Nang
Eating at great restaurants in Da Nang today is an amazing experience but there is also a great street food scene here that is not to be missed.
 A specialty in central Vietnam is Com Ga (chicken rice). Served with a bowl of crispy rice, optional veggies, and soup containing a broth of the bones, com ga comes in two varieties, shredded or the whole chicken (roti) also known as Com Ga Hoi An Style and Com Ga Da Nang Style. Being in Da Nang, you might want to try the latter which usually costs a little more than $1. There are numerous spots around the Dragon Bridge to consider.
Another type of noodle to try, alongside the Mi Quang, is Bun Cha Ca. This a rice noodle dish cooked with fish and a fried fish cake. It's particularly popular in seaside cities. The backstreets of My An are great for trying this. You will spot loads of upmarket sea-food restaurants along the seafront. Ignore these and head inward to find those backstreet vendors.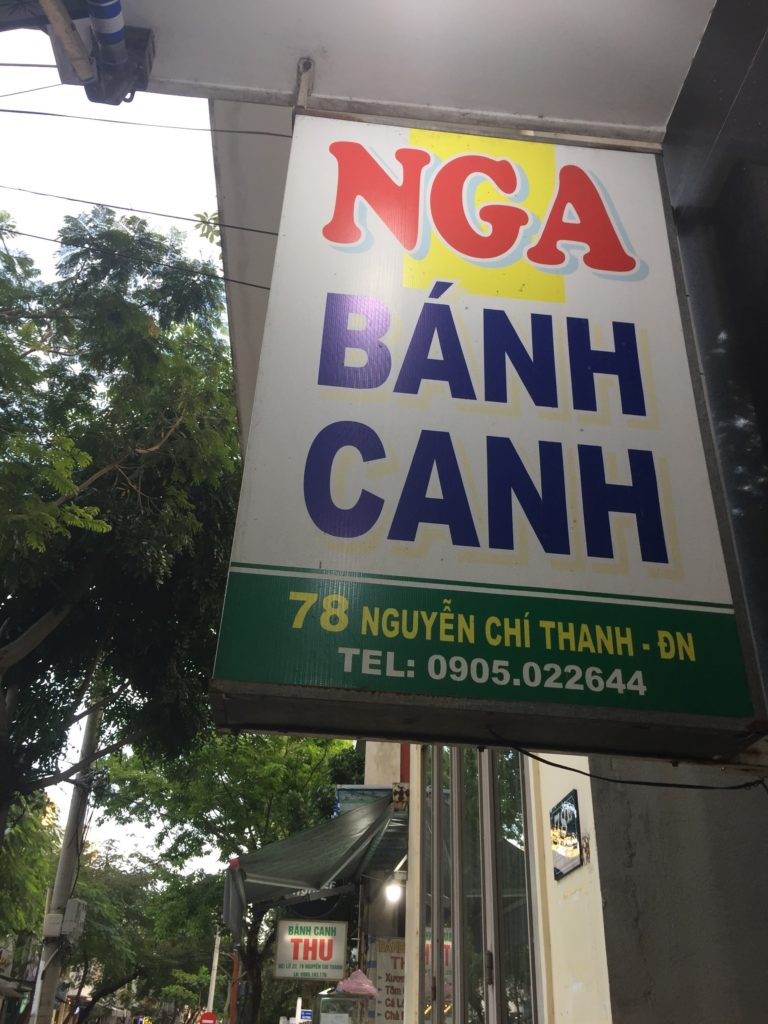 Finally, don't leave Da Nang without tucking into some tasty Banh Canh (bread soup), particularly if you are travelling Vietnam in the colder winter months. The noodles are thicker than the yellow noodles of the Mi Quang or the rice noodles of the Bun Cha Ca and are comparable to Japanese Udon style noodles.  There are loads of vendors around the Le Hong Phong area of town, close to the Dragon Bridge. Go for a wander and see what you find.