Reading Time:
16
minutes
Motorbiking The Central Highlands 
        For those of you who dream through the adventurous eyes of legendary explores like Ronald Amundsen, who lead the first of a team to reach the South Pole. Or historical figures like Captain James Cook, who was the first European to record contact with Australia and the Hawaiian Islands. You are likely looking to venture off into the less explored areas of Vietnam. For your exploration appetite, Vietnam can offer up an array of roads and trails into some breathtaking regions that are sure to satisfy your lust for life.
Central Highlands Motorbike Map
Motorcycle Tours in the Central Highlands of Vietnam
        This guide will give you an overview of some route options to get you motorbiking from the South region of Vietnam, via the less traveled Truong Son Dong Road. Will quickly get you from bustling Ho Chi Minh city and directly into some impressive scenery and authentic culture. Ho Chi Minh is naturally a great starting point, and here you can acquire a sturdy motorbike that's ideal for this drive, like the well suited Honda XR150L.  
         This journey will leave from Ho Chi Minh, then make its way towards the adventurous area of Dalat, wind through some of the exciting sections of the central Vietnam highlands, then finish around the Da Nang/Hoi An area. Naturally, you could do the route in reverse or pick it up from various points along the way. However, this route overview will give you a good idea of what to expect traveling the Truong Son Dong road from south to north. This route is a great start to your Vietnam road trip itinerary. Before you leave you'll want to consider that this route will pass through hot and humid jungles as well as the chilly mountainous region. You should be well aware of what to bring and wear for a variety of weather conditions as you are likely to encounter them all along the way.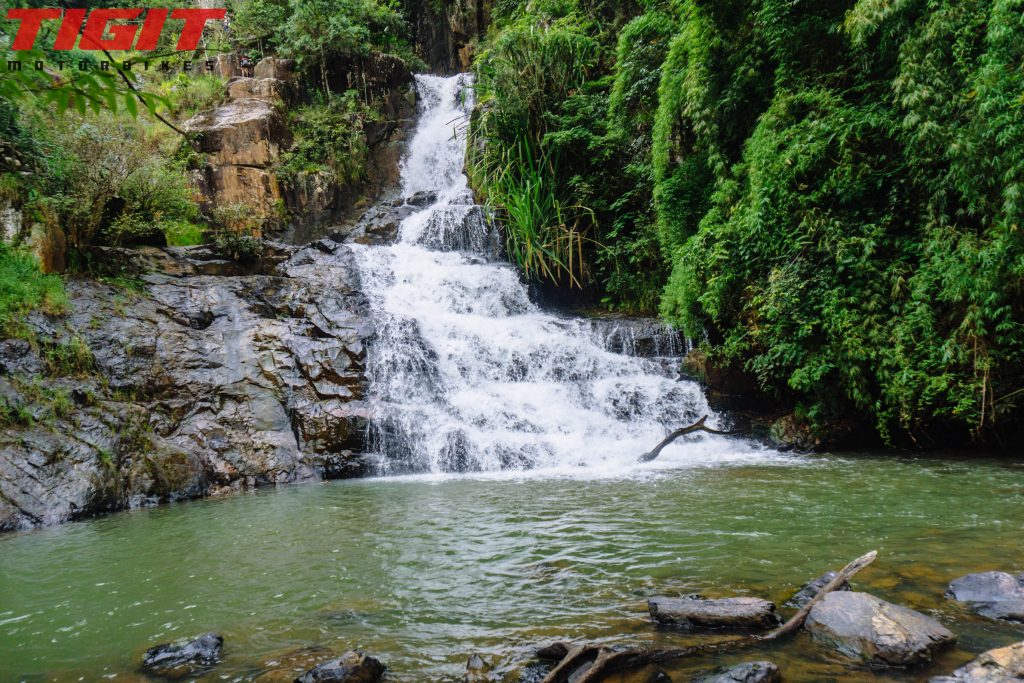 Dalat Vietnam – The Adventure Seekers City
          Dalat is a stunning city, with full days of historical sights to explore and a number of thrilling adventure activities. Though the city does feel a bit like an out of place chapter in a romance novel. Despite its location in the South of Vietnam, this city appears to be plucked from the South of France. Aside from admiring the cities French architecture, one of the highlights is a visit to Bao Dai's summer palace. One of three of former emperor Bao Dai's palaces, the summer palace is the most impressive to visit.
       The area around Dalat also boasts an impressive range of adventure activities. On any given day you could go canyoning, hiking, or enjoy a day seeking out one of the many waterfalls in the area. We put together a complete list of waterfalls around Dalat that is sure to keep your day flowing with watery fun. Of all of the falls around, the must-see set are the Elephant waterfalls, be sure not to miss them. A great way to spend a day is by exploring the various waterfalls, enjoying the adventure motorcycle ride there, and getting a little wet once you arrive.
Things to do around Dalat
Visit the alluring Bao Dai's summer palace

Get wet and work up a sweat canyoning and hiking

Go waterfall exploring to a few of the many falls in the area

Check out the artistic Crazy House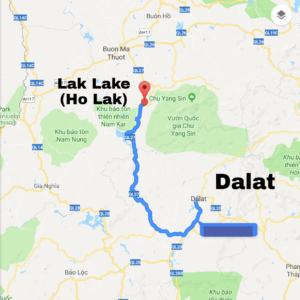 Dalat to Lak Lake – The Caffeinated Scenic Route
           Whether you're a sophisticated coffee connoisseur, a full on coffee junkie, or just starting to sip your way into the world of black gold, you'll find this area is an excellent place to get to know Vietnamese coffee. The drive out of Dalat is one of the best motorcycle routes in Asia for coffee and home to some of the greatest beans in the world. As the planet's second largest exporter of coffee beans, there is a lot of choices in the country. For those of you looking to enjoy a tour where you can sample the beans, as well as get to know more about the history and production, you have some excellent options.
         There are a few choices in the eco-friendly sector like La Viet Café. La Viet Café has made a name for themselves in the region as their quality beans have been sought after by coffee behemoth Starbucks. Another great stop is the K'ho coffee farm, an eco-friendly coffee producer that helps to support the K'ho indigenous people of the area. K'ho is striving to get their beans, like the highly prized Pacamara variety, recognized on a global level too. The third eco-friendly options on the list is the Son Pacamara farm. This small-scale independent farm is as well known for its enthusiastic owner, Mr. Son, as it is for its beans. The place is said to welcome travelers like family, and a visit to their Facebook page will show you a listing of five-star reviews and a quote from their business that should sum up the place nicely. "We don't harvest coffee, we harvest joy and happiness."
Eco-friendly coffee stops on the way out of Dalat
La Viet café. A large-scale producer whose landed their beans in the Starbucks line
K'ho coffee farm. A producer with a focus on supporting the K'ho indigenous people with their premium product
Son Pacamara farm. A small-scale producer whose warm smile will match the warm cup of coffee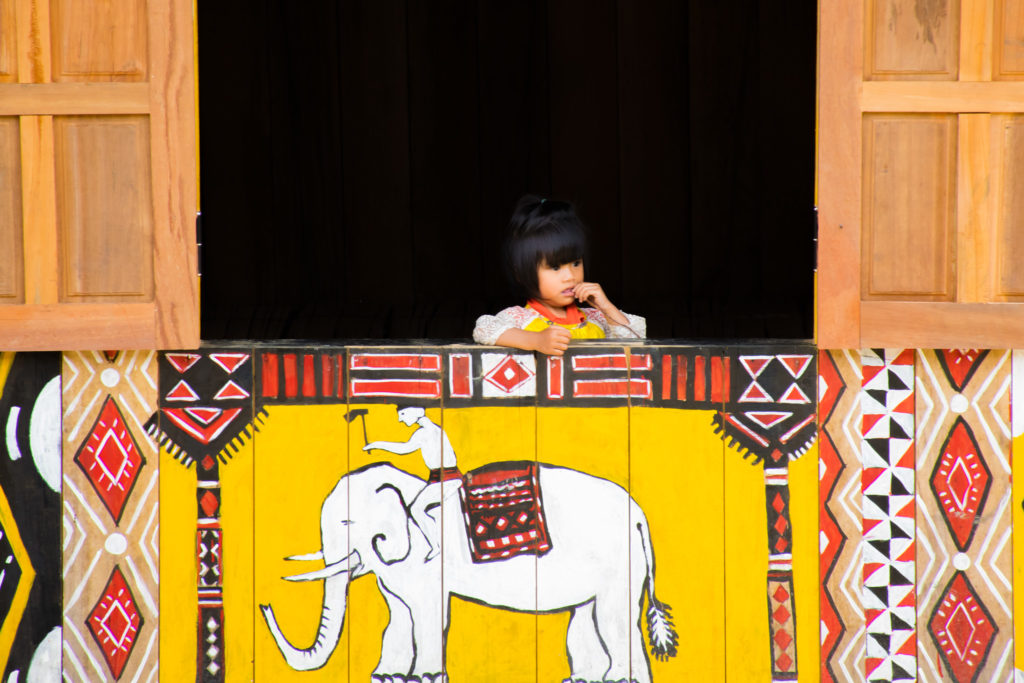 Lak Lake. An excellent stop to support the villagers
         Continuing on the drive from Dalat to Lak Lake, a total distance of roughly 160kms, you'll be greeted by endless views of banana & coffee plantations, and if you get lucky with the seasons, the smell of blooming coffee flowers. The road joining these two points is smooth asphalt, and you aren't likely to run into much more than a few other vehicles or motorbikes along the way. Eventually, you'll come to the tranquil lake-side village of Lien Son that rests beside the moderately touristic stop of Lak Lake (Ho Lak).                                                          
              Lak Lake is the largest freshwater lake in the central highlands region, and the Mnong people that live in the area depend on it greatly. You can regularly see the locals out on the water in their traditional dugout canoe's substance fishing or collecting some of the aquatic life to eat. If you want to enjoy a tour on the water, it seems this option is only accessible via a middleman. You'll need to book through an agency or through one of the hotels. The person booking for you will likely speak English, but that also means you're going to be paying more than you would if you could book directly. Expect to pay around 250,000vnd for a tour in a dugout canoe, or around 400,000vnd for a boat with a motor.
         If you're looking to get in some authentic fishing with the locals, trips can be arranged where the fishermen will take you out and will even help you cook what you caught after. I'm sure this experience will result in some calamity and memorable photos for your adventure. Expect to pay around 200,000vnd for this fishing experience, and you can arrange the trip through the Duc Mai Coffee tour agency.
        Then, if you're looking to sink your soul deeper into the local culture, the tiny settlement of Buon Jun is a great place to visit. Here you can enjoy traditional music and gong shows, not the type of gong-show you turned into after a night of beers in Ho Chi Minh city, but an actual music performance that includes musical gongs. The area was even recognized by UNESCO in 2005 for its cultural significance concerning gong culture. Really, where else are you going to experience "gong culture"!
        As part of your culture trip Vietnam, you can ask around in Buon Jun to spend a night with the locals in their homes. A night with the locals would be considered a homestay or they might refer to it as a Nha Nghi. Unlike the questionable Nha Nghi's in the cities, these ones are a great way to experience the culture and see how the villagers live. This basic accommodation will cost around 100,000vnd and is sure to be remembered. If a night with the locals isn't the experience you're looking for quite yet, there are a variety of other options and price ranges here. Closer to Buon Jun is Van Long motel, starting around 250,000vnd. In Lien Son there is the basic Moi Truong Hotel, starting around 200,000vnd. Or if your budget is bigger than most riders, there is always the Lak Resort. A more upscale stop with rooms that range from about 300,000 – 750,000vnd.
Lak Lake things to do
Take a dugout or motorized boat tour of the lake

Go fishing with the locals, then let them show you how to cook your catch

Arrange a "Gong Show" traditional music performance

Hike Elephant Rock. You'll need to ask the locals about where to find this spot
The ride to M'Drak, with optional airstrip drive
       To get to M'Drak, you'll come to the literal fork in the road about 20-minutes after Lak Lake. At the fork you'll have the option to take a right turn to the DT12 road, this will eventually lead to the QL26 road where you can make a left up towards M'Drak. This road is in various states of decay, and if you are experiencing any rain issues or if you don't have a full day to tour the area, you're better off taking the other route listed below. If weather is right and time permits, you'll be treated to some adventure riding and excellent landscape views on this drive.
      The other scenic route riding option is complete with smooth asphalt roads, beautiful scenery, and easy driving. For this drive, you'll take a left on the QL27 road, follow it up to the QL26, then follow that up to M'Drak.  Just after your turn onto the QL26, there is an option to stop at the Kotam eco-resort. Search "Area community ecotourism Kotam" to find its exact location on Google maps. Staying here is probably out of your price range, instead, stop for a swim in the pools, view the botanical gardens or do some fishing in their lake, it looks like a great stop. We don't have any direct experience here, but the photos and reviews on Google and their Kotam Facebook page are great. That and the entrance is only 20,000vnd. So check it out and let us know if we should promote it, or demote it!
       Once in M'Drak, you can take an alternate 1-hour (round trip) detour for a photo of your moto on what appears to be an abandoned airstrip. The road out here is smooth, then suddenly opens up like a four-lane super-highway before it comes to a sudden end at a track that will either be dirt or mud depending on the season. You're not going to make it far on the muddy track. Turn around, open up the throttle and enjoy the freedom of it all! This now roadway isn't one of your typical QL roads in Vietnam, and was probably used for planes during war times. Today you are about as likely to see a plane as any other traffic on the road. If you enter the following coordinates into the search bar of Google maps: 12.68270,108.72402 it'll take you right to the spot.
      The airstrip is going to be the extent of the sights to visit around here, but after a couple of full travel days and some airstrip photos, you'll probably be ready for a bowl of Pho and a place to sleep anyway. Accommodation is M'Drak is pretty standard, a few guest houses and Nha Nghi's to look after you. In Google maps you can search "Nha Nghi M'Drak" and you'll see 5 or 6 of these sleeping options with reviews that are all centrally located.
Lak Lake to M'Drak overview
Plan for a 130km drive. 20-minutes outside of Lak Lake turn right on DT12 in good weather for an adventure drive that will take longer but will be more exciting. Turn left onto QL27 for smooth highways, easy riding, and faster speeds

For a swanky swim and botanical gardens, stop by Kotam eco resort

To open up the throttle like you're about to take flight, make a detour to see the airstrip. 12.68270,108.72402 in Google maps search bar or Maps.me will get you there
Ea So Nature Reserve on the Truong Son Dong Road
       The next section of the central Vietnam highlands route passes through some impressive scenery and green food crops. The drive is sure to have you long forgetting the city traffic you left behind, and reveling in the vibrant sites of cashew and mango plantations. We aren't currently running group tours through here, but will be happy to hear how you enjoyed your self-guided tour. Both sides of this road are beautifully decorated in subtropical greenery, though it is because they cut a strip right through the Ea So Nature Reserve to make the route happen. The drive from your airstrip stop outside of M'Drak to the central highlands town of Ayun Pa is roughly 120kms of good to freshly completed roads. Here you are more likely to see stray farm animals roaming across the road from nearby villages as you are to see another motorbike driving on it. Overall, an open road with no traffic and beautiful backdrops.
       When leaving from M'Drak, you can take the turn onto the QL19C then follow it to the town of Ea Lai. In Ea Lai, just after the gas station on the left side of the road marked on Google maps, will be another fork in the road. Turn left here, and this will take you on the Truong Son Dong road through the Ea So Nature Reserve. Along this drive, you'll see locals in the villages going about their daily lives. Otherwise, there isn't any major stopping points or activities in or around the reserve. If you are really looking for something to do, you could venture towards the village of Buon Pa to see the lake or find something to eat. Otherwise press on towards Ayun Pa.
      Near the end of the nature reserve, the Truong Son Dong road will come to the QL29, take a right here and follow that for a short distance until you find an unnamed road going left just after the high school marked on Google maps. The turn should be located right around 12.98520,108.78138 , and follow this until it meets back up with the QL25. This road will take you on a great drive through Vietnams authentic villages that feel like there trapped in time. If you miss the turn, no worries, just continue on the QL29 road until you meet the QL19C road. Here, take a left and follow it to the QL25 road. The QL25 road leads up into Ayun Pa.
       You'll likely spend the night in Ayun Pa, and if you do, you should check out a little off the path restaurant just outside of town. Quan 48 or Muoi 48 restaurant as it might be known, is located behind a house and comes well reviewed by the locals. If you get close and can't quite find the place ask someone nearby and they should be able to direct you the rest of the way. You can enter "48 Ngo Quyen Ayun Pa" into Google maps, and it will take you right there. For places to sleep you can check out Ngoc Thien, it has simple rooms starting around 200,000vnd. Or use the classic trick of entering " Nha Nghi Ayun Pa" into Google maps and check out the options.
M'Drak to Ayun Pa overview
The roughly 120km drive of good open roads that cross farmland and the lush Ea So Nature Reserve

Shortly after the reserve watch for the turn at 12.98520,108.78138 if you want to drive through the small villages and rice fields that appear lost in time

In Ayun Pa, look for an authentic Vietnamese dinner with the locals at Quan 48 restaurant. Enter "48 Ngo Quyen Ayun" into Google maps to make finding it easier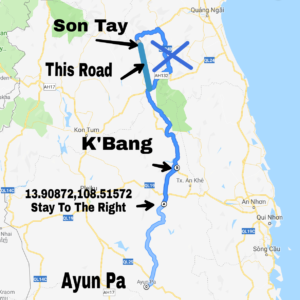 Ayun Pa to Son Tay
From yawning jungle roads to dramatic cliff-face passes
       Working towards the final stretches of this route will take you from Ayun Pa to Son Tay, crossing through the vibrant jungle, dusty towns, over steep mountain passes, and have you tippy-toeing around cliff faces to get you near the roads end. You aren't likely to complete this route without some dramatic stories to tell and a number of eye-popping photos. There are a number of locations in Vietnam called Son Tay, this particular town is located at 14.98578,108.33460. For this device you'll be happy you got a decent motorbike rental in Vietnam for this drive. Brace yourself, this road will test you on several fronts.
     Leaving from Ayun Pa take the DT622 road until it comes to a junction around 13.90872,108.51572. At this junction, the DT622 road will veer left, stay to the right on the Truong Son Dong road until it meets back up with the main QL19 road. Cross over the QL19 road and continue on the Truong Son Dong until you eventually meet up with the town of K'Bang. The whole drive will have you switching from jungle to forest, to varieties of crops that include eucalyptus and cassava. The entire time passing by the little villages mostly made up of Vietnams minority people that scratch out a living here. They have likely been living off the land and forests since people first lived here. In the future, time will tell if this simple rural life lives on or bigger players move in to start cashing in on the farmable landscape.
        This whole road is a relatively easy drive that meanders through the region on quiet roads that provide you the opportunity to enjoy the beauty of the area. If you find that you need to make up time or want to turn back, you can ditch the route via the QL19 road back towards the coast. However, the real adventure ride is still to come.
      K'Bang isn't the explosively exciting town that it sounds like when you say it's name. Though you may need to overnight here before you can make it to Son Tay another 120kms or so up the road. Accommodation of all sorts, and varieties of Vietnamese food will be easy to find here as the city has a population of over 50,000 people. A far cry from the sleepy villages you spent the day riding past.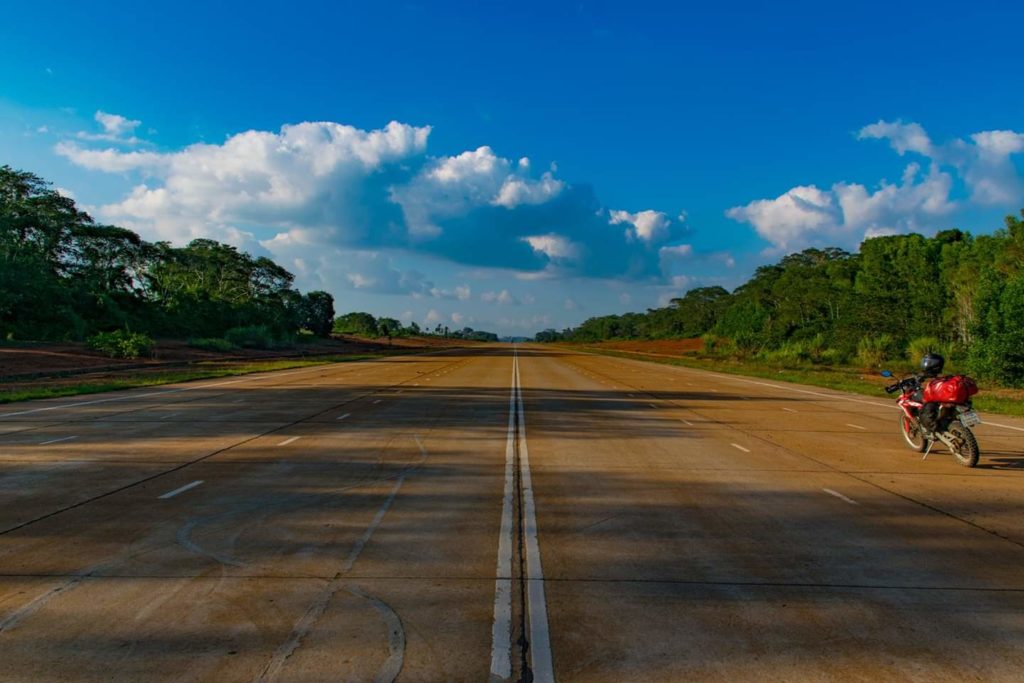 To Son Tay Part 2 – The Dramatic Cliff Passes
      As you head out of K'Bang, you quickly find yourself alone on vast stretches of new jungle roads. The DT669 road, despite its lack of traffic again resembles a landing strip like the one outside of M'Drak. The road turns to a massive six-lane super-highway. Either the area is expecting substantial growth in coming years, the government is strategically developing landing strips throughout central Vietnam, or someone is making the area more accessible for UFOs to land. I'm secretly hoping for the later.
     Fill up with fuel before you leave town, the highway might be prepared for heavy traffic, but the villages along the way are not. This road is the exciting drive you dreamt of when you set off several days ago. Here you'll find smooth, fast roads that pass wandering streams through the hillsides. You'll get to test all angles of your riding skills, up, over, and around the vast countryside. Then, if you hang in there, your skills are about to get tested even more!
   Once the Truong Son Dong road meets up with the crossroads of the QL24 road, press on towards Son Tay. On this stretch of road, you'll feel utterly remote, like you are on a paved road to nowhere. Match this desolate feeling with the dramatic jungle scenery, and you're likely to lose track of time and space. It's an excellent location for more amazing photo opportunities around Vietnam. Along this route you'll be happy you packed the right riding gear for Vietnam, as you'll need to navigate a high mountain pass that during the rain might be a wash in landslides or mud. If it's been raining obsessively for some time, you may need to turn right or left on the QL24 road you passed earlier to avoid it all. Either way, you should investigate for yourself. The area boasts some of the highest peaks in this region, and the view is incredible. Take your time, ride carefully and enjoy the fresh mountain air, flowing waterfalls, and dense jungle surroundings.
Tips for the mountain cliff pass
Take your time, drive slow, and enjoy the scenery
Dress accordingly. You are passing amongst the highest peaks in the region, the climate will be noticeably cooler
If you find the pass is washed out with a landslide or too much for you, turn back and take the QL24 road down to the coast or up towards the Ho Chi Minh trail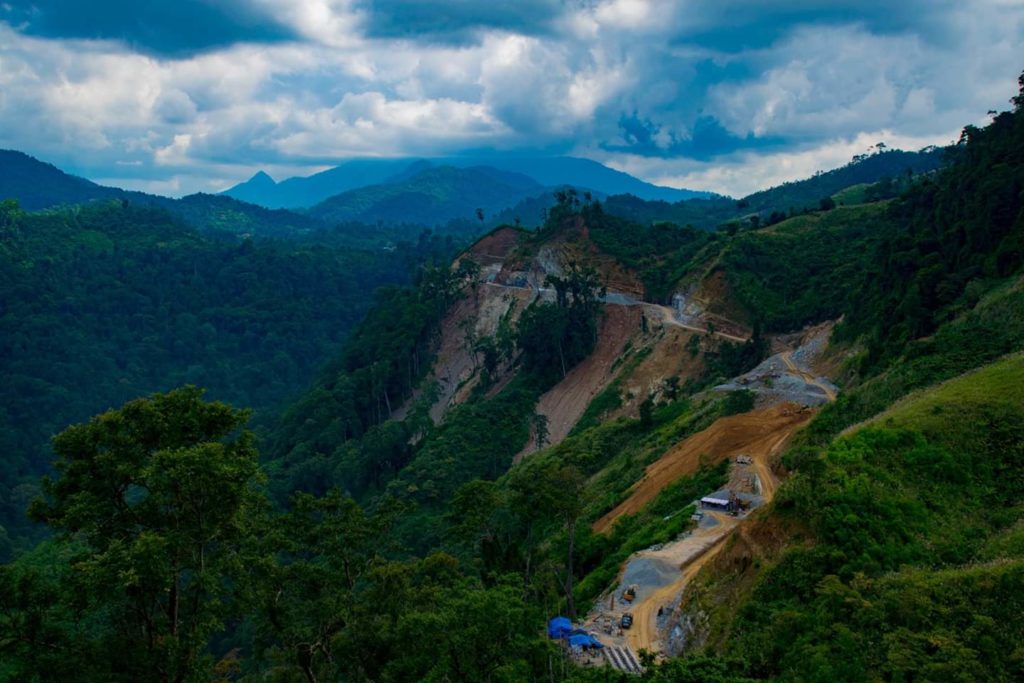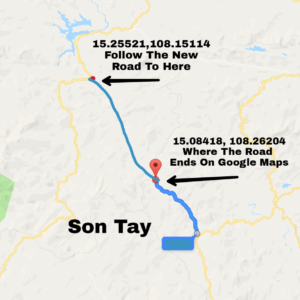 Son Tay to the DT616
The untouched motorbike tour through Vietnam.
        After a full day of excitement, you'll find yourself in Son Tay. A seemingly isolated little town in the central highlands, that feels like another planet compared to your favorite coastal beach resort. To avoid confusion with other Son Tay's in Vietnam, this one is located at 14.98578,108.33460. Once you finished the days ride you might need some chocolate to calm your nerves or a beer to celebrate your success! After you've consumed either or both of these rewards, organize yourself into a homestay for the night, eat a hearty meal and get ready to ride some exciting new roads out of here the next day.
     Road builders have been busily chipping away at a route from Son Tay to the DT616 road, an extension of the Truong Son Dong. At the time of writing the last 30-kilometers of this road were drivable dirt/gravel, but not entirely complete. Start off at around 14.99358,108.33404 and make your way to where Google maps show the road ending at 15.08418, 108.26204. Here you can continue on the newly built road with the intention of finishing around 15.25521,108.15114. Consider yourself a modern-day explorer!
      This route isn't for your inexperienced Honda Win rider, but if you did the rest of this drive, you could easily make it through the last section of this route. Remember to get fuel and pack some snacks before you set off. The ride isn't terribly long, but you aren't going to find much in the way of fuel for you or your bike on this road. All you'll see for civilization is probably some road workers curious about how you ended up here and where you came from.
        Things to note for this last section of recently tamed road
Fuel up your bike and yourself before taking off
Use the GPS coordinates provided and follow the road. If you need to, ask the road workers for directions
The road is better suited for quality bikes and experienced riders. If you did the K'Bang to Son Tay road, you'd have no issues with this road
A great story is better to tell than to listen too!
Home free. Back to the roads more traveled 
       Once you meet back up with the DT616 road, you'll be back in chartered territory. From here you can easily head back towards the coast and make your way to Hoi An and Da Nang to swap stories with other riders about your less-traveled route through the Central Highlands region. To get to Hoi An just follow the DT616 road towards the coast until you meet up with the QL1A main highway and up into Hoi An. The city is a great place to reconnect with the world and other travelers, as well as enjoy some of Hoi An's sites like the infamous Dragon Bridge.
     Your journey along the Truong Son Dong road has incredible scenery and can compete with any ride through Vietnam. Passing coffee planation's, sugarcane crops, mango farms, then brushing by small villages of minority groups that make their living off the land. The whole time navigating wild mountain passes and blazing new trails through the mountains. The entire route is no day trip, and will likely take 5-8 days. Once complete, it will leave you underwhelmed by long flat roads and have you begging for more seemingly untouched landscapes. If you are looking to continue the adventure up into Hanoi and the North, we've got a guide for that too. To kick-start your Vietnam adventures, the Truong Son Dong road is a thrilling must!