Reading Time:
10
minutes
Value for money is incredible in Vietnam, it's obvious when your dollars instantly turn into millions of Dong and daily budgets are below $50. The problem is, travelers forget that no matter where you are in the world you get what you pay for. Cheap scooter rentals with free delivery are the perfect recipe for disaster for both renter and rental company. We'll explain the problems and provide the solutions for scooter delivery Vietnam.
Why Rent A Scooter In Vietnam In The First Place?
Vietnam's a culture-rich country with diverse landscapes where you can ride through the lush jungle, explore tribal villages, relax ocean-side on the beach, and enjoy delicious regional food. To get to the best of these locations you can either take the bus or find local transport via taxi. When you are looking for ultimate freedom of schedule and adventure, a scooter or motorbike is the only way to go.
Benefits To Scooter Hire
Freedom

Easy to operate

Fun!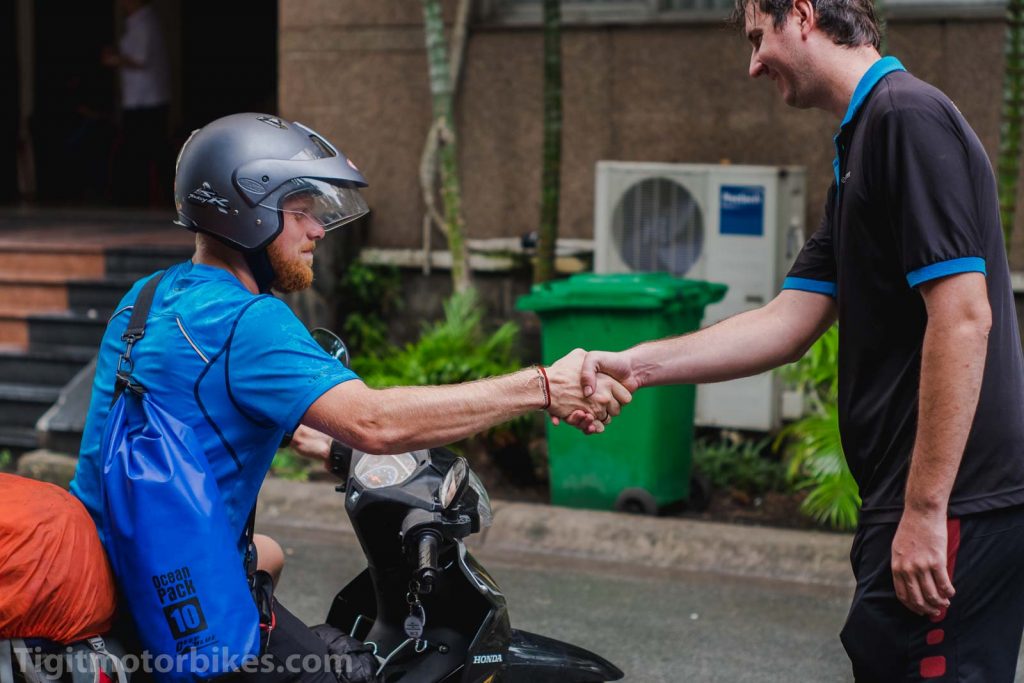 Scooter Rental Delivery – The Problem
You! 
No, really you're the problem. That might be hard to take, but it's true. Tourists think the locals in Vietnam are desperate for their money and will do anything to get it. It's true, the rental market can be crowded at the bottom and here you will find $5 "deals" with free motorcycle transport, but you'll see why this ends up being a lose-lose situation.
Can you get a scooter delivered in Vietnam? Yes, companies like Getbike, Phu Scooters, Saigon Scooter Rental and Top Notch do free motorbike delivery. The problem with that is there is no money in it. You'll end up with low-end, inadequate scooters, where reliability and safety are not the top priority.
 Without the funds to maintain a fleet of aging motorcycles, these operators are unable to keep up with maintenance or invest in new bikes. To gain more clients they'll drop prices and "raise service", like scooter rental delivery. Now the operator is taking up time to deliver, losing money on the rental, and trying to meet western expectations without funding. Can you sense the disappointment building on both sides in this scenario?
The free delivery scenario goes something like this:
You find a deal online that advertises $5

scooter collection and delivery

.

Your western mind says that everything should meet a minimum and high quality standard, no matter the price.

You arrive to pick up a delivered scooter only to find the brakes don't work and the helmet doesn't fit.

The dealer is already at a loss by sending out two people and two bikes to meet you.

You either unhappily take the bike or force them to take it back. No matter what, you're leaving a bad review and aren't happy. No one wins here.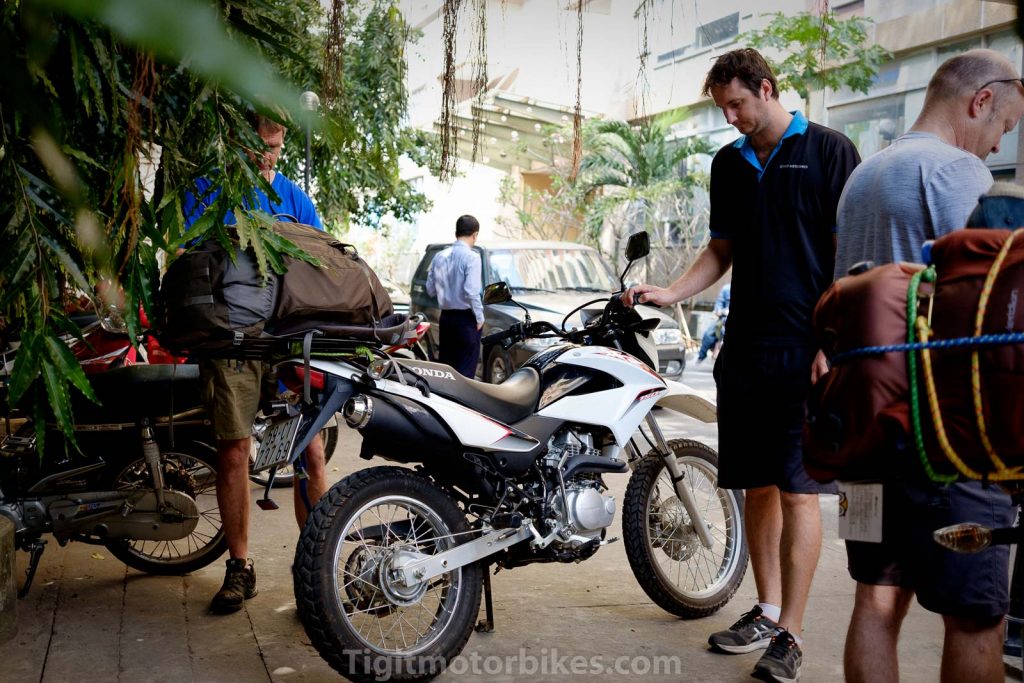 Tigit Jon, still posing for photos, but still not delivering!
What To Expect When Renting A Scooter In Vietnam
The process of scooter rental is similar to renting a car in the west. When you hire a car in your own country your trading the details of your credit card as a backup source for your personal character. You wreck the car, your credit card cleans up your mess. In Vietnam however, there is no possibility of legal action if a client destroys a motorcycle. The legal situations are in favor of the renter, a difficult spot for the rental company.
You expect excellent service from the rental company. If they provide you with an inadequate car, or in this case scooter, they will note the existing damages so you're not liable, fix the issue or provide a replacement. 
The rental company is handing over a machine potentially worth thousands of dollars. It's not uncommon for renters to provide fake passports, fake driver licenses or prepaid credit card details that hold little value. This could provide disastrous if the bike is damaged or goes missing. 
The southeast Asian motorbike rental market is seen as dishonest and full of scams. Tigit Motorbikes wants the client to witness our offices, meet our employees and establish that Tigit is not a backstreet scam of an operation.
With this meeting, Tigit gives a briefing on how to deal with scooters in Vietnam. Dealing with the police, avoiding theft and how to properly operate the vehicle.
What To Expect From A Quality Rental Company
A thorough checklist of the condition of the bike done with you.

The option to pick a helmet you feel comfortable in.

Back up options or the ability to remedy an issue if something is wrong with your bike 

An explanation about riding in Vietnam

, traffic and the police.

An explanation of how the motorcycle works.

The chance to read and sign papers after understanding the rental terms.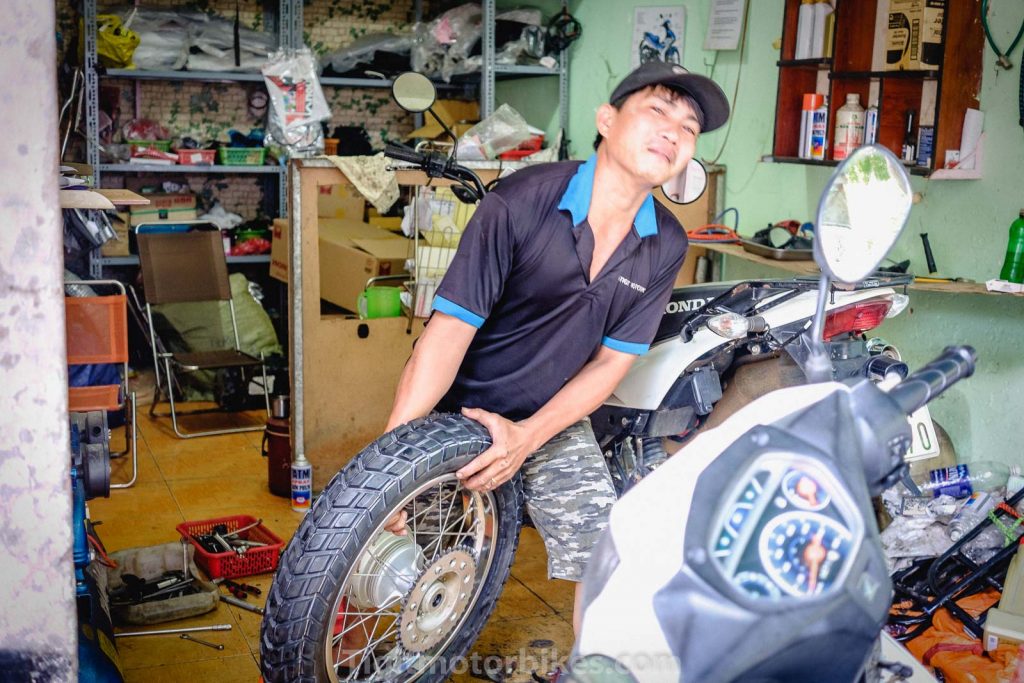 Most issues are an easy fix right here at the mechanic shop.
No need to waste your day riding around trying to solve a problem you weren't aware of.
Why You Shouldn't Get A Scooter Delivered
If it isn't obvious by now the potential for things to go wrong is incredibly high. In your mind, you just want to show up in Vietnam and enjoy your holiday. Why risk being annoyed or having time delays with scooter collection that doesn't always line up.
You're stuck with the bike they bring.

You don't always know who you're dealing with.

Helmet might not fit you?

If one thing is wrong it may take the whole day to fix it

You may want to hire or buy additional gear

There isn't time to get your Vietnam questions answered.

Your arrival flight may be delayed. Why would they wait an hour for you?

Your luggage might not fit on the scooter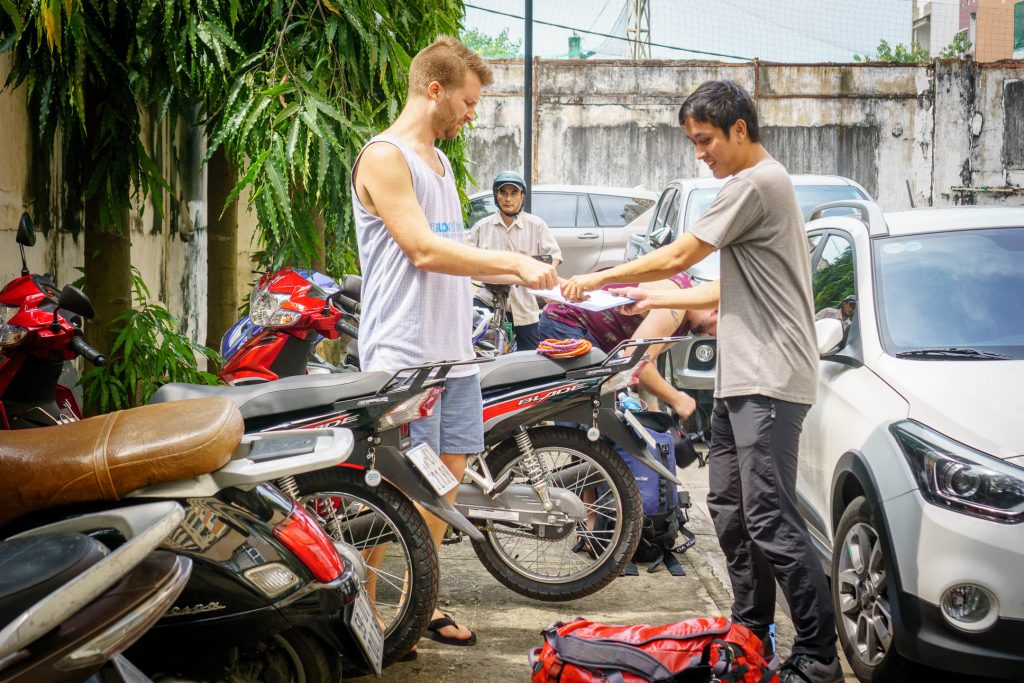 Motorcycle Rental Scams
Scams are out there and tend to get into the public eye of low end backpacker Facebook groups. However, these "scams" are usually the traveler creating a mess for themselves and digging holes which leads to lasting problems for companies offering scooter rental Vietnam.
The Problem:
 A traveler has no regard for a scooter or didn't have it explained to them how to safely look after the motorcycle and it ends up getting stolen. The traveler then goes to online forums looking for support about what the estimated value of the scooter is worth to rebuttal the rental companies' claims. 
Debbie Drama: " Dearest black hole of opinionated Facebook users seeking attention; I had my cheap rental scooter stolen and the rental company says it's worth $1500. It was a Honda XR" 
Clueless FaceBook user: "Yeah rental companies are always trying to rip you off. I saw a Honda Blade for sale in a hostel once for $200. They probably stole it themselves."
Tigit Motorcycles: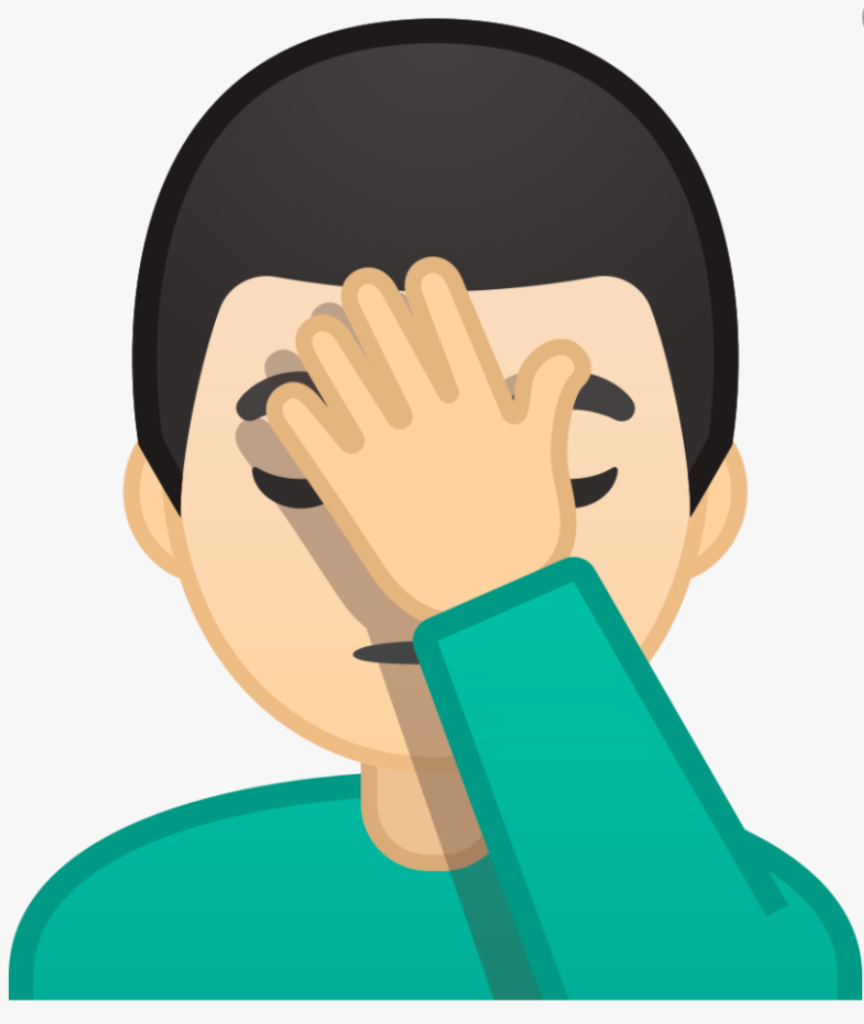 What Debbie Drama forgot to consider is the age, condition, and maintenance of the scooter. Debbie also didn't consider that the amount of effort required to pull this scam off is entirely not worth the time for a rental company. 
The Solution:
If Debbie had rented from a reputable company she'd know where to park the motorcycle to keep it safe. Debbie would also take some pride in her quality scooter because the company explained the value and terms of rental to her. Don't wind up like a Debbie Drama.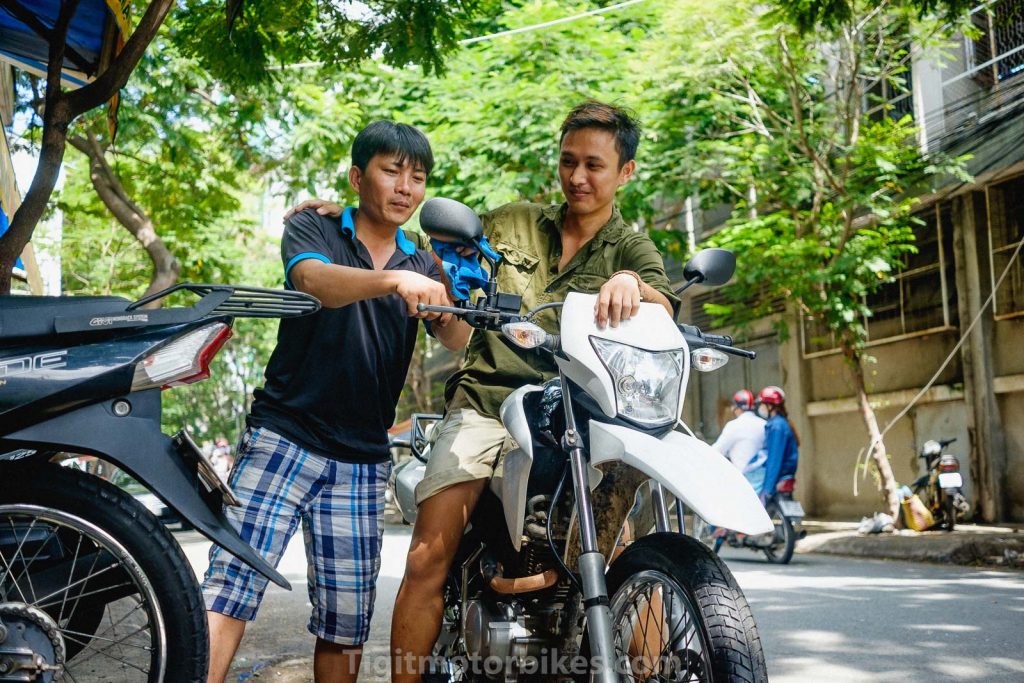 Educated Staff & Clear Communication
At Tigit we want the renter to know exactly what they are renting, the full details of the rental terms and feel comfortable to ask any questions they want about the bike and the country. Miscommunication can lead to problems and accusations that no one wants to deal with.
Educated and fluent English employees do not come free. Qualified English speakers do not want a job as a glorified scooter rental delivery driver. You'll see this problem on restaurant reviews where delivery drivers are untrained and expected to meet western standards. When the expectation isn't met, the restaurant gets bad reviews.
 Who's really at fault here? The delivery guy with low pay who wasn't trained, the traveler with western expectations in Asia or the restaurant who's caught between local wages and foreign standards. 
Problem
Solution

-You're in a country & don't know the language

-You want high standards but low prices

-You don't know much about Vietnam, it's your first time here

– You chose the lowest price over the best people for the job

– Find local help or deal with English speakers

– Pay a price that reflects the quality, it's universal

–Read our English blog outlining everything you need to know for traveling Vietnam

-Talk to Tigit, we have qualified staff passionate about bikes and Vietnam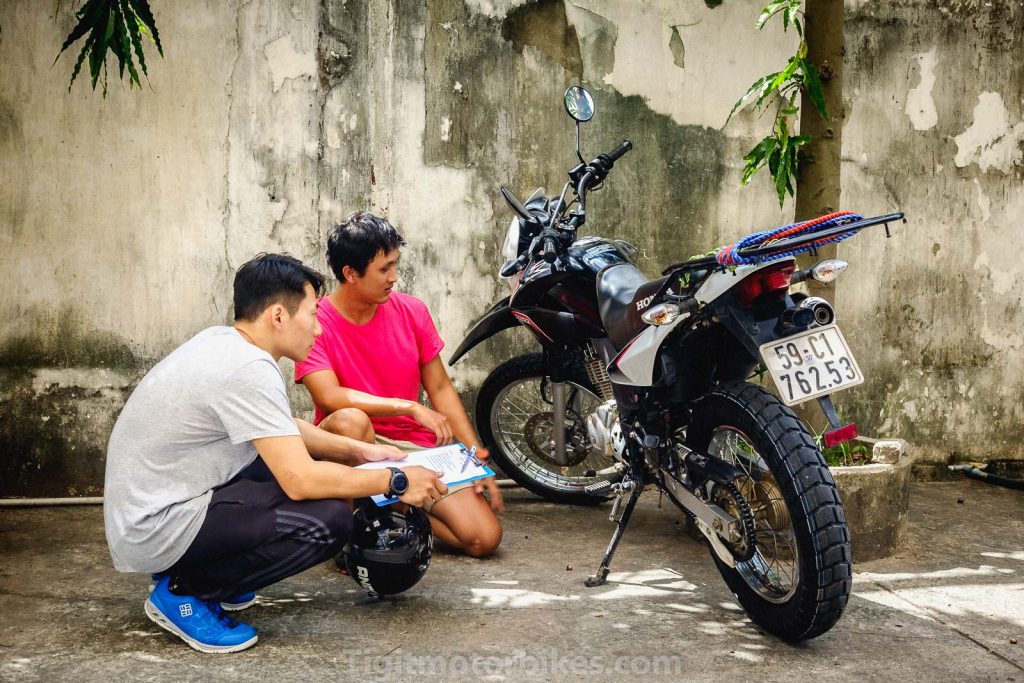 Google Maps – Good But Not Flawless
Google Maps is great in Vietnam, but it still struggles with pinpointing exact addresses. Travelers are often late for appointments because they are on carefree holidays, get lost, or generally have no concern for companies they are dealing with.
To help with the logistics of using Google Maps and Maps.me, read our complete guide on navigating Vietnam.  If you can't organize yourself to arrive on time for an appointment, then we can't help you. We value our time, your time and the time of our staff. You'll see this reflected when you arrive on time to an appointment and get the undivided attention of our attentive employees.
Problem
Solution

-Relying on Google Maps for exact locations.

-Scheduling delivery around plane arrivals and traffic.

– Navigating a city you're unfamiliar with.

-Get directions plus details in English & download offline.

-Tigit HCMC is open 9am-5pm Mon-Sat. Plenty of time to meet us.

– Give yourself plenty of time.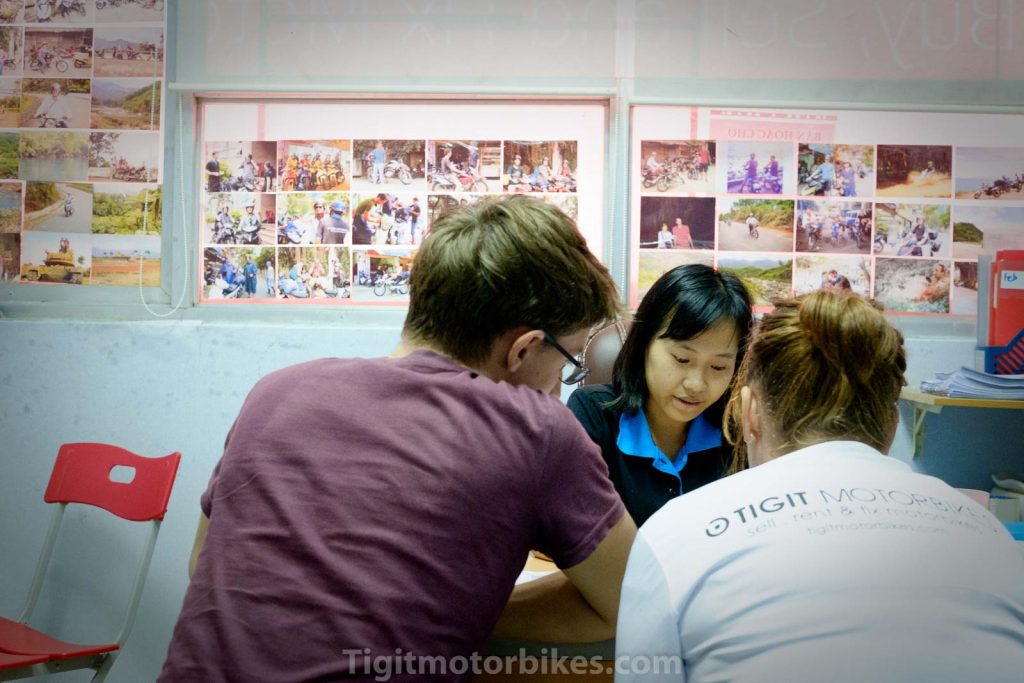 Scooter Collection And Delivery vs Vietnam Taxis Prices
Plentiful and convenient, the easiest way to get a taxi in cities around Vietnam is with the Grab Taxi App. If you're familiar with Uber, this is basically the same thing. Application-based, with clear pricing and no need to know even a hint of the local language.  The perceived problem is, why is it is Grab charging me $0.50 when scooter delivery has a $5 surcharge?
In reality, the scooter company should be charging you about $15 to arrange a delivery that requires two staff and two scooters. It doesn't make financial sense to do it for less. If you really value your time come directly to a rental office and deal with the entire hiring process there.
Arrive when it's convenient for you and take your time to understand the whole process. It should take about 30-45 minutes start to finish to arrange all the details of your scooter rental Vietnam. This includes choosing a helmet and understanding the bike. During scooter delivery, you get 5-minutes of someone's time. Ask yourself why?
If you're planning a long-term trip or want to upgrade your overall motorcycle protection you can purchase most items locally. Check out Vietnams best online motorcycle store Churnix.com. They've got western-standard gear like Snell-certified helmets, Enduro boots, Fly Racing gloves, protection vests and more. 
Problem
Solution

-Taxi is $0.50, scooter delivery fee is $5.

–Motorcycle transport comes at a loss to the dealer.

-You don't want to waste time going to the rental company.

-The $4.50 difference will equal better

professional service

and better bikes. 

-For the company, the solution is to save money elsewhere, expect low-quality bikes.

-Fixing an issue will end up taking more time than getting it right the first time.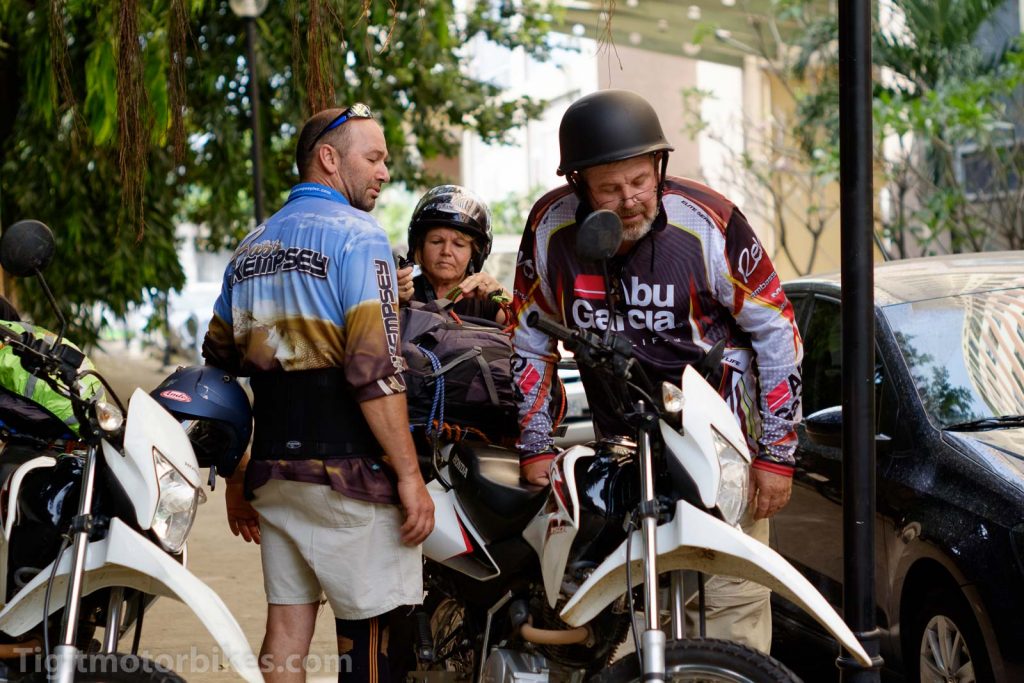 $5 Of Fuel In A $5 Rental?
At Tigit we charge $10 minimum for a day rental with a minimum of 3 days. There are other companies that do a $5 a day scooter deal. Shockingly, they pick up bad reviews for bikes that weren't full of fuel! The fuel cost was $5 and the rental was $5. You do the math. 
We choose to rent quality motorbikes at fair prices and don't fall into discount and negotiation games. This allows us to offer great service and keeps us out of the race to the bottom. Typically this system helps ween out bad clients, but not always. We still get people that ride around until they run out of fuel, then expect a free rescue or push to the fuel station. Fuel rescues are so common we now charge for them and that is clearly explained in our contracts!
You Can Expect From Tigit
Bikes with full tanks of fuel

Fair and non-negotiable pricing

Quality scooters

Help when needed

A well-reviewed track record of excellent customers service

Tigit Jon back for another classic photo opportunity.
Never one to miss a day of work or the chance to be part of your holiday photos!
Happy Clients = Happy Holidays
Within the Tigit offices if a customer is not satisfied with the scooter we can change the vehicle quickly and hassle free. There is also a mechanic shop close to make minor alterations.
With a scooter collection and delivery service if the client feels the scooter is unacceptable it creates a sandwich situation where the rental company is not willing to send out another scooter, and the client is not happy with the current scooter. These are not favorable circumstances to begin a rental term.
Hired scooters are rarely in the same condition as hired cars. You might take your motorbike through the mud or on one of our off road tours around Vietnam. The bikes are in exceptional mechanical condition but may show signs of use on the body and plastics. 
Our aim is to provide the best possible product at the best possible price. To the uneducated rider, a scooter is a scooter, but there are obvious quality differences. A good example of this is the popular rental bike the Yamaha Nouvo. The Nouvo is a hunk of scrap metal on two wheels with a street value of $200.
We opt to use a quality scooter like the Honda Airblade. Reliable, comfortable and proven. With a street value of 5x the Nouvo, around $1000. Understandably most people don't know the difference between what they are renting, but we'll happily explain it to you.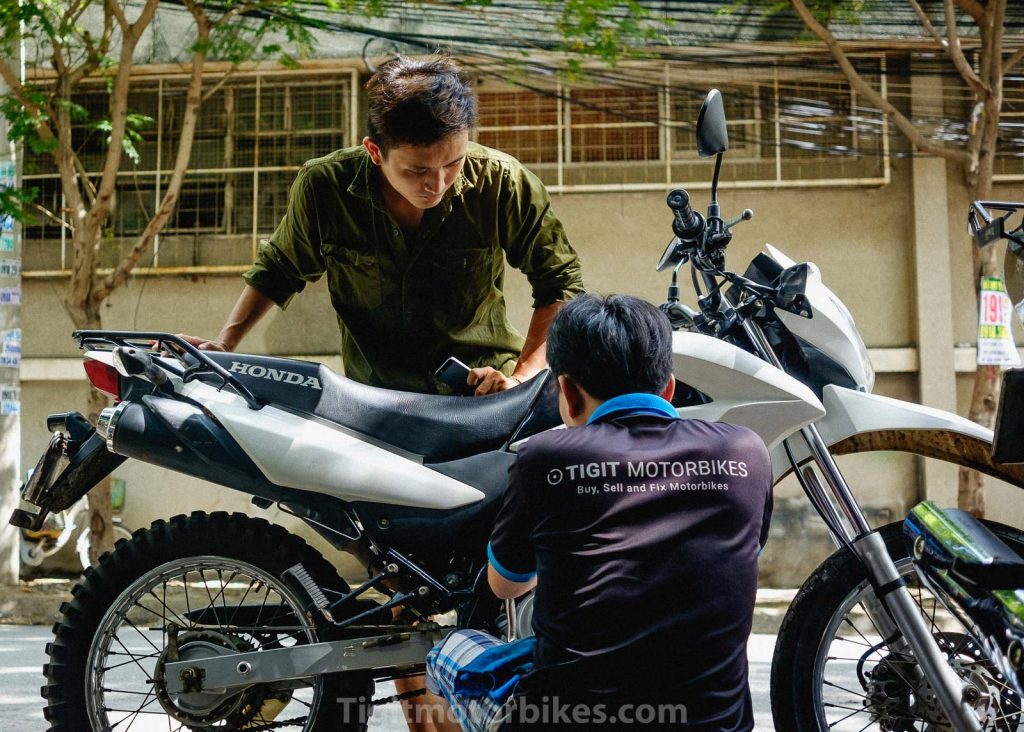 Rent And Drive A Scooter Vietnam Conclusion
We've helped plenty of long term adventures, short term travelers and ex-pats living in Vietnam have a safe and memorable experience around the country. We even gained a Certificate Of Excellence by doing so. Our experience allows us to know what works and what doesn't. Come, explore, have fun and let others know about this incredible part of the world. But don't request a scooter delivery!