Rent in Vietnam Ho Chi Minh, Danang and Hanoi
There are many reasons to rent a motorbike in Vietnam. This article is designed to help you see the many ways our customers have chosen to rent from Tigit and how it might be helfpful for you during your stay in Vietnam.
To ease the process, we have offices in Ho Chi Minh, Danang and Hanoi. This translates to a location in the South of Vietnam, Middle of Vietnam and the North of Vietnam.
Travelers can pickup a motorbike in one office and return  it in a different office. To rent a motorbike from Tigit, just view the motorbike rental models that we have available.
Popular rental models
For Pick and return in different cities, Tigit Motorbikes utilizes set packages starting at a minimum of 10 days.
This includes free second hand helmets and modern motorbikes under breakdown warranty. Unlike other companies, Tigit does not have hidden extra charges such as "transport" of the motorbike back to a different location.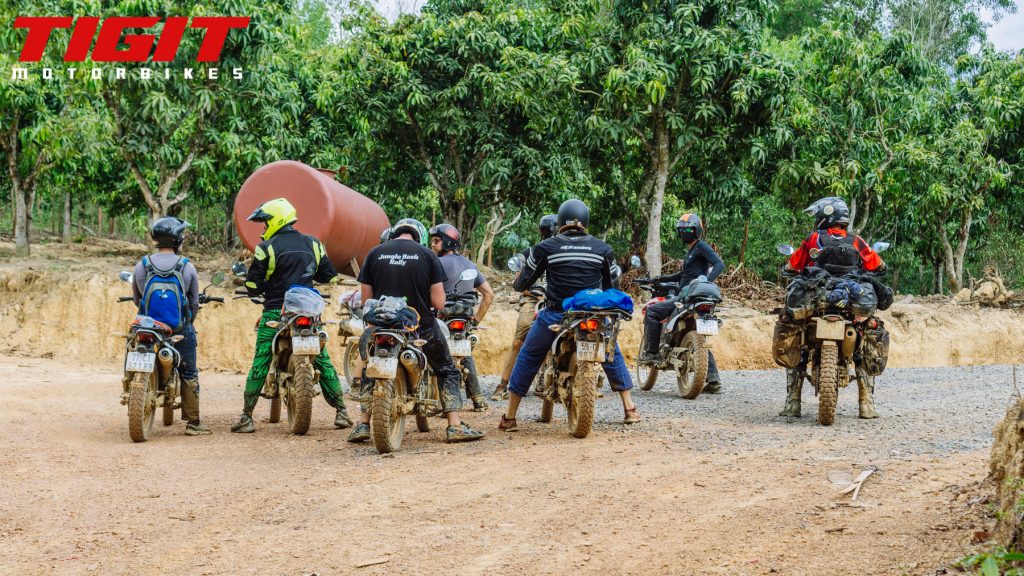 For long distances across Vietnam
Follow the Top Gear Vietnam special and drive a motorbike from Ho Chi Minh to Hanoi or Hanoi to Ho Chi Minh. Vietnam is a spectacular and beautiful country. Road speeds are slow and the idea is to casually drive along admiring the countryside whilst drinking coffee on route. Tigit Motorbikes operates the largest rental fleet in Vietnam and our primary focus is this phenomenal long distance adventure across Vietnam. Tigit Motorbikes has phone support and countrywide contacts for helping in times of crisis. We are also the only company to have a halfway drop off point in Danang without a hidden "bail out" fee.
Perhaps you planned on the whole journey, but having reached half way you feel that the box of driving Vietnam has been ticked. With Tigit this is no problem and it is possible to return directly to our Danang location.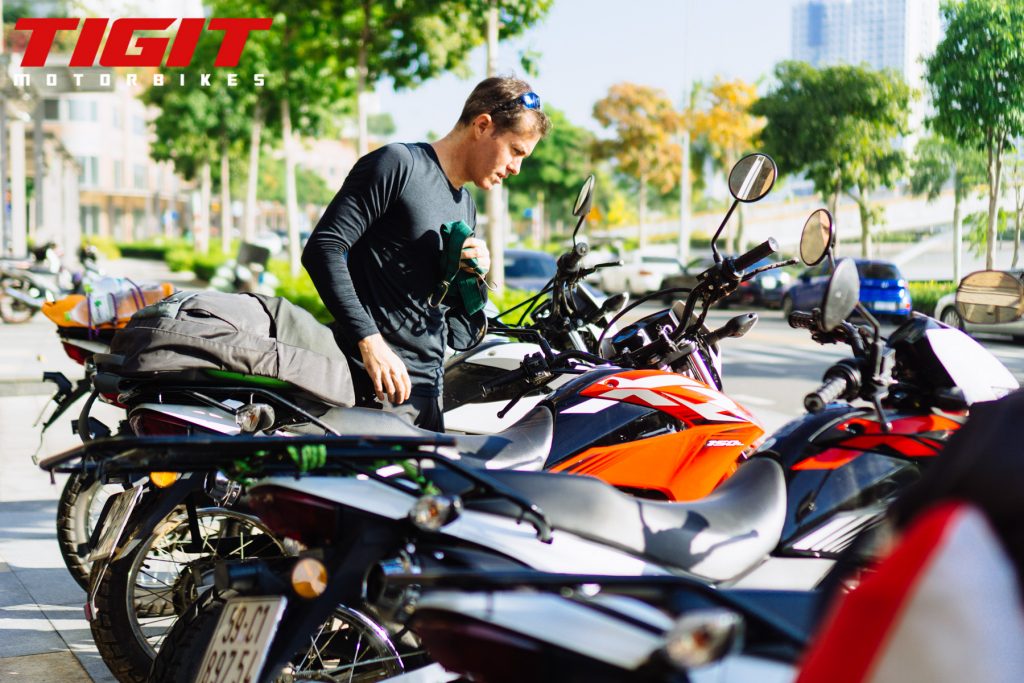 For day rentals
Rent a motorbike starting and finishing in the same city for low prices. Tigit scooters are $10 a day and our manual motorbikes are $20 a day. Tigit has routes for day trips to allow you to experience Vietnam to its full potential.
There are excellent loops that can be done in both the South of Vietnam and the North of Vietnam. A week is optimal but there are still options for 3 day loops.
The process to pickup and return a motorbike is quick and easy. Clear and transparent contracts with credit card deposits. It is possible to pickup a motorbike with just 15 minutes of time.
With day rentals time is important and there is no point spending this limited holiday time broken down on the side of the road. To reach your destination it is worth renting from a reputable source where the motorbike is unlikely to go wrong!
Tigit remains to be the name of high end and reliable motorbikes in Vietnam. Tigit is replicating the traditional car rental service back home and we aim to provide a quick and efficient service for motorbiking Vietnam.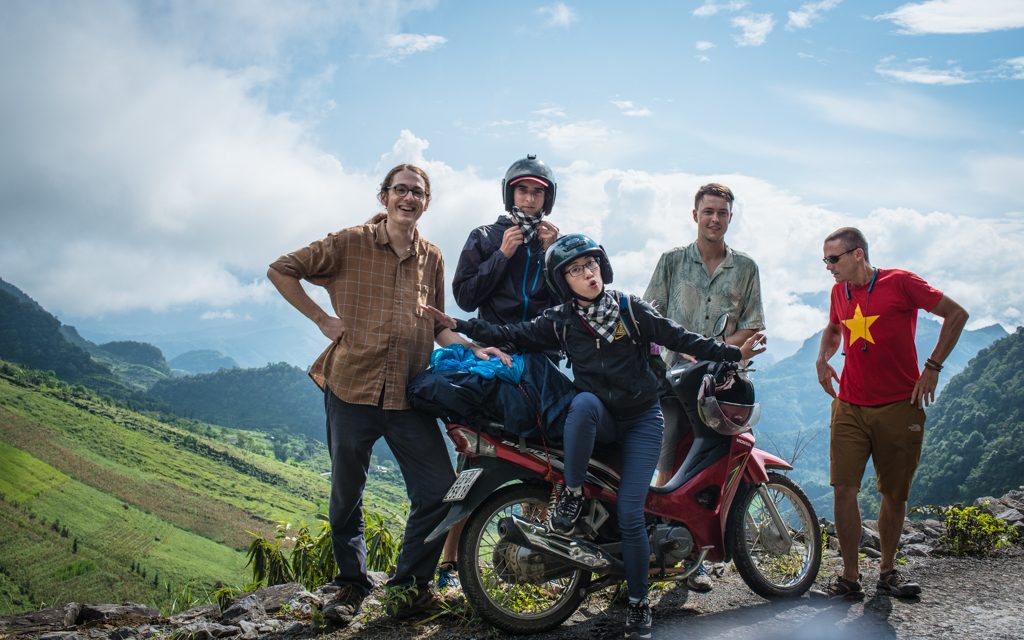 For Living and working in the city as an expat
For living and working in Ho Chi Minh, Hanoi or Danang Tigit motorbikes has long-term contracts for rental motorbikes. The Honda Blade 110cc at 1 million dong a month to the Honda Airblade automatic at 1.5 million a month.
We offer free servicing and breakdown rescue service throughout Ho Chi Minh city. All of our rental motorbikes are for sale, so if you find the scooter of your dreams then it can easily be purchased.
Buying a motorbike in Vietnam is a complicated process and unfortunately, it is easy to get scammed. Tigit has an article explaining things to look out for when purchasing a motorbike. For first time arrivals, it is often safer to rent until the country becomes a more familiar place.
Tigit motorbikes utilize credit card pre-authorization holds so expats can hang on to their passports. Tigit takes payments online and our motorbikes only need servicing every 3,000km. Visits to our motorbike rental office is rare!
Renting with a guide
Travelling Vietnam is easy due to friendly locals and slow road speeds. However, the roads are chaotic and can look intimidating. Tigit Motorbikes offers guided one day motorbike tours to take motorcyclists out the city. Rather than dreading the first days drive, use this one day tour to exit the big city on back roads.
To get the maximum out of Vietnam in a small amount of time a fully guided motorbike tour is a good idea. Following main routes on Google maps is possible, but to really experience Vietnam a motorbike tour guide is required.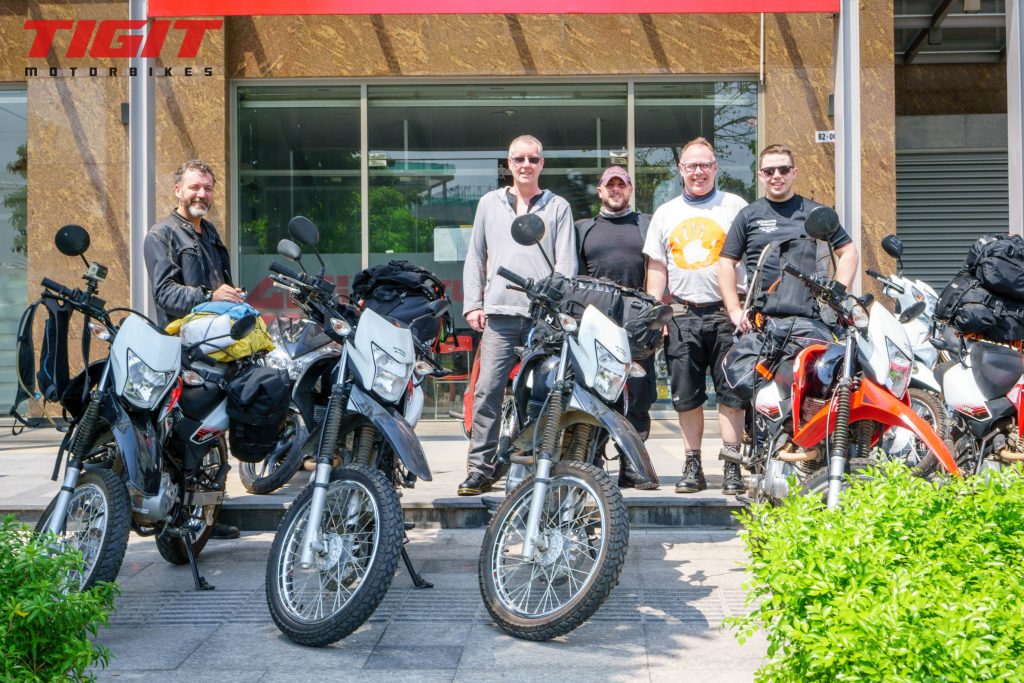 New riders should start in quiet locations
None of the Tigit Motorbike locations are in busy area. We purposely locate away from the backpacker streets and in quiet zones of the big three Cities Hanoi, Ho Chi Minh and Danang.
Our Ho Chi Minh rental office is located on the way outside the city, in a new luxury area called Sarimi. First impressions would have you believe a miniature Singapore, the area is beautiful and very quiet for test driving and practicing on motorbikes.
Our Hanoi rental office is located near to Hanoi train station. The backpacker streets in Hanoi are busy, to the point there is not even parking space for motorbikes! Tigit Motorbikes Hanoi is buried away down a quiet side street in its own private compound. Tigit office finds a small glimpse of space in the busy city of Hanoi!
Our Danang rental office is located around 10 minutes from the airport. A quiet road with nearly no other buildings on it. We are complimented on how easy and conveniently located this location is. A perfect setup for quick motorbike rental pick ups and drop offs.
Why rent with Tigit Motorbikes?
Tigit Motorbikes is operating the largest fleet of genuine motorbikes in the country with over 350 motorbikes on the road at any given time. Tigit has clear and transparent contracts that explains every minor detail needed to rent a motorcycle in Vietnam.
Honda reliability is famous around the world and it should be noted that Tigit nearly exclusively uses Honda. We do not sacrifice quality under any circumstance. The aim is to provide a reliable and consistent motorbike rental experience to travelers around the world..
We operate a fleet of the a select few models that we believe to be the best performing motorbikes in the country.
Tigit Motorbikes has social media throughout the internet and it is possible to track us down on Google Reviews, Facebook, Trip Advisor, Reddit and local Facebook community groups.
It does not take much research to find that Tigit is the most reliable motorbike rental country in Vietnam.
If you have further questions about our rental motorbike service in Vietnam then please feel free to send us a message. We reply within 24 hours!