Reading Time:
14
minutes
Shoeless locals & fearless expats.
The muddy adventure through the Cat Tien National Park.
     After being caught by security attempting a back road into the national park, we now needed to re-route our original plans. The new options weren't glamourous. Option1, we continue on and might end up sinking the bikes into a muddy river, washed away along with our motorcycle dreams. Option 2, we set camp for the night and hope for drier, easy roads in the morning. Option 3, tuck our tails between our legs and turn back for HCMC defeated. No one wanted to entertain option 3.
The Team
It's September, the slow season for motorbike rental in Vietnam. Our storage is full of Honda XR150's begging to be let out to play. Equally as anxious is our crew, who are about to become off-road motorcycle junkies. No one here likes hanging around an office waiting for things to pick up.
Our team of misfits is a crossbreed from the world of motorcycling Vietnam. 
From Tigit Motorcycles we have:
Link, the common sense rider who thinks he knows what we're up to.

Quoc, poor kid has no idea what he's getting himself into. 

Myself, Tigit Jon. If I had a fault it would be not knowing when to quit.
From The Extra Mile Motorcycle Adventures:
Renzo, who's about to get a crash course in extreme mud adventures.
From Vietnam's Taxi App, Grab:
 Taxi John. His biggest problem – he trusts us.
The Plan
A weekend with the lads to capitalize on some heavy rains we'd recently had. We were going to set the XR's free from their clean storage space and sink them into the mud for the day.
The Problem
The wives and girlfriends were having a hard time understanding why we would want to go out and "play" in the exact conditions most of the people around here try to avoid. 
Wife to Tigit Jon: "I don't understand why you foreigners come here and enjoy our crap muddy roads. As a child, these ruined my school clothes and we were too poor to fix them. Now you come here and play on them?"
Clearly, the wives and girlfriends didn't understand us!
The Solution
We kissed the ladies who opted out of the day's adventures goodbye and set off from Tigit's main office in Ho Chi Minh City for the muddy Cat Tien park about 150kms North.
Cat Tien National Park By Motorbike
Locals generally view motorbikes as a practical means of transportation, almost never would they take their machines out to off-road motorbike in the mud for a day. For locals like Link, Quoc, and Renzo, this was their first real off-roading in Vietnam experience.
Link and Quoc quickly embraced this newfound motorcycle fun as they learned how capable the Honda XR150cc was as an off-road motorbike compared to the cheap Chinese scooters they'd ridden most of their lives. I've sunk many XR's in swimming pool sized mud holes, swam them across rivers, and then ridden them out the other side. I was fully aware of their capability and now these boys were looking impressed.
Tigit Jon accidentally stumbled upon a minefield of mud when out and about one day. He wanted to try this route with some friends and now we were back to test our experienced rider skills. It was amazing and everyone was enjoying these new roads and manageable muddy tracks. We'll almost everyone. Quoc and Renzo did come toppling off their bikes while we tackled some hill climbs. Seems like the Honda XR's were handling the roads better than the boys were handling the XR's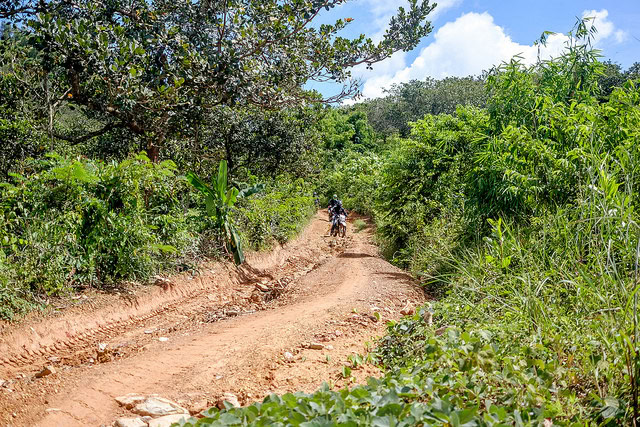 When Is The Best Time To Visit Vietnam?
September is part of the rainy monsoon season for the South of the country. If you like the sounds of a muddy adventure come then, otherwise, research the weather in Vietnam and pick a time that suits you better.  
At this time of year, the Vietnam weather turns the clay roads like those that cross through Cat Tien National Park turns into a slick, muddy mess with the rains. Once the mud sticks to your tires, you'll think you're riding on ice. I knew that this current patch of road was going to look like dry tarmac compared to the muddy roads that lie ahead.
Spending a lot of time with motorbiking locals has its perks and we'd learned of a secret entrance in the North of Cat Tien. Entering here means you can ride from the very top to the bottom of the park, as opposed to entering via the main entrance around the parks mid-point. 
As we rode up this way Link suddenly stopped. He realized that his GoPro had fallen off somewhere. Based on my previous experience with losing things in Vietnam I wasn't convinced we should waste much time looking for it. 
One night riding home in HCM about 11 pm the strap on my helmet broke and it flew off my head. At the same moment I saw someone jump a road barrier and head towards the helmet. By the time I turned around and headed back the helmet and the barrier jumper had disappeared into the alleyways of the night. It had been no more than 30-seconds from the snap to the snatch.
With this previous experience in mind, we decided the GoPro would be given no more than a five-minute rescue attempt. If it wasn't found within five minutes of backtracking, it would be considered lost forever.
Three minutes down the road we made two discoveries:
The GoPro. There it was stuck waiting for us in the mud.

That this GoPro was a Chinese copy. The GoPro sticker on the camera had come off and Link realized he'd bought a fake. The task of determining copies from genuine products in Vietnam is a never ending problem. It happens with everything from Chinese Go Pros to

Chinese Honda's

. 
The task of determining copies from genuine products in Vietnam is a never ending problem. It happens with everything from Chinese Go Pros to Chinese Honda's.
Cat Tien National Park Travel – Ignorance Is Bliss 
As we approached the secret entrance into the northern part of the park I was starting to remember that this might be a no-go area. However, in life, I find it easier to ask for forgiveness than beg for permission – ignorance is bliss. I was glad I never mentioned this possible predicament to the others. Instead, I lead the group forward with blind confidence through the gates and passed some posted signs written in Vietnamese.
My plan worked, almost. Renzo and I had ridden on like we knew what we were doing. Quoc, on the other hand, knew exactly what the signs said in Vietnamese and he, Link, and Taxi John had stopped to obey the rules. When they stopped the guard then came out and slammed the gate shut. This split our group in two. The rule followers on the outside and the ignorance is bliss duo on the inside. I'll need to make a note and explain my forgiveness over permission theory to the others for next time. Maybe they can pose as second-generation English speaking Vietnamese who are just in the country for a holiday. 
The dirty word for it is bribery, I prefer the local expression "Coffee Money".
We attempted to give the guards some "coffee money" in exchange for turning a blind eye and letting us pass through the gates. This guard was holding an iPhone, a luxury item in Vietnam. He likely had more money than we did, and money for coffee didn't look like a problem for him. Who knew who else wanted to pass these gates and what they were willing to pay. It looked like maybe he was receiving more than what a group of muddy adventure riders out for a day of fun were willing to pay.
The only gate we were allowed to pass was going back through the one we'd just crossed. We had to exit the park here and we ended up riding back an hour to catch a ferry crossing into a part of Cat Tien that is still open to motorbikes. A little disappointed to be missing out on blazing new trails, we knew that the area we were headed still had some amazing off-road motorbike routes. 
We'd ridden this way before as part of a Cat Tien 2-day off road tour from HCM. This section offered beautiful meandering roads through local houses and plantations, amazing scenery and the option to take the bikes across the river on the local ferry. It was still going to be an action-packed day, we just needed to find where the dirt had turned to mud that was hidden deep in the park.  
Vietnam Off Road. Routes And Maps By Motorbike
Skulls and crossbones on a map usually indicate a road you might want to avoid. For the upcoming section, I had marked some potential hazards on the route where the road might not be passable. Google earth is an amazing and we use it to motorcycle Vietnam off road all the time!. This didn't mean we'd avoid them it just noted their existence. 
After a brief lunch in the park, we'd met some locals who'd emphasized their own warning. They insisted we avoid this part and turn back. There are endless routes and maps for motorbiking Vietnam, checking this particular map we'd now entered the skull and crossbones sections. Still, none of us was turning back. 
From here, the clay roads instantly became clay rivers. Everyone buckled down to attack the first set of obstacles, off-road motorbiking in Vietnam was about to get taken up a notch. I'm not sure if it was the closed gates, the skull & crossbones along with locals warnings, or actually being right in the middle of the madness, but I was now getting the sense we should turn back to safety. I've known drivers that got stuck on this 20km stretch of road for 5+ hours and we were just getting started, well behind schedule. 
The obvious signs to turn back:
Not allowed through the first set of gates

Personal warnings via the map marked with a skull and crossbones

Warning from locals not to attempt the roads

It would be dark soon

Others had spent a whole day trying to pass just 20kms of this road
Why we continued on:
Thick skulled group of inexperienced and

experienced riders

No one wanted to attempt to be the level-headed leader of the group

The wives and girlfriends would be filled with "I told you so's" if we didn't make it

The ego is more powerful than common sense
A Sign From Above?
As a whole, our group of motorcycle misfits are hardcore adventure seekers and no one was about to bail out, no matter how obvious the reasons to do so. After smashing through river crossings and tackling muddy embankments it was really feeling like we were making progress. After each accomplishment, we'd check our progress with Google Maps. 
The little blue dot marking our adventure on Google was not moving faster than the sun was setting. We knew time was not on our side.
As the groups' spirits began to dwindle, suddenly a local man came walking by. Where did this guy come from, was he a sign from above? Renzo and Link had a chat with him and the man assured us that if we pushed ahead the roads would begin to improve. I'm not sure what felt more delusional, believing this guy was a good omen or believing we could make it. Either way, it was the blind faith we were looking for. Onwards we went!

Follow The Leader & False Omens
A river crossing lead to a mud obstacle that lead back to a river crossing that then took us through another mud obstacle. Despite all of this the team continually worked together to push each other through the madness.
By the second hour of this endless push and pull a motorcycle through an obstacle with your friends routine we weren't seeing an end to the madness. It seemed that we fooled ourselves into believing the man who appeared on the road and told us to keep riding knew what he was talking about. He was probably laughing from his house at the idea of sending a bunch of struggling drivers down an impossible road.
We once again we're faced with a serious decision. Turn back or continue ahead.
I knew this road wasn't about to get any easier. On a previous trip, I had to push my parents through here when the conditions were significantly better than on this occasion.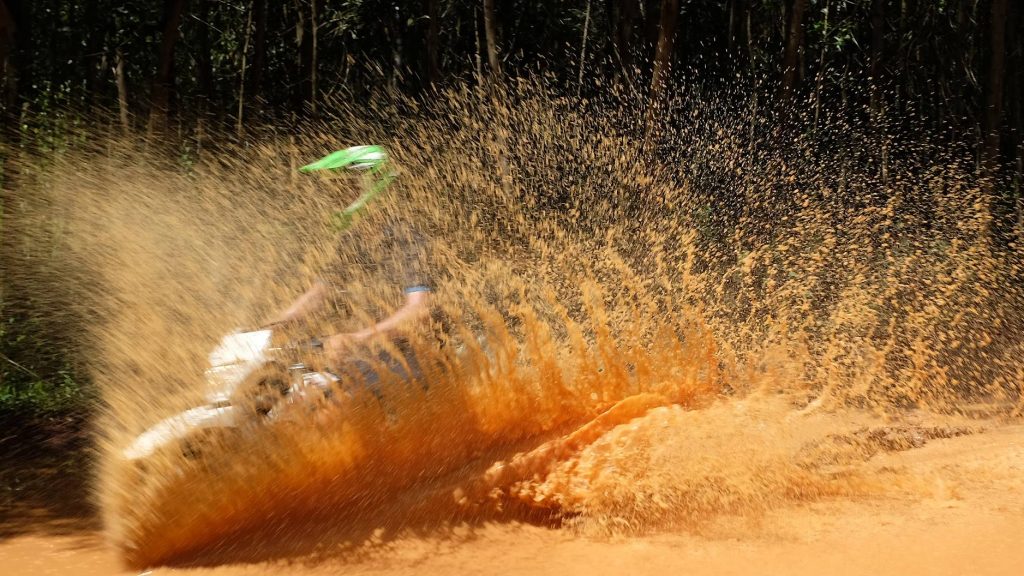 When the roads turn to rivers, the riders get out and play in the mud!
Riding Without Shoes, Just When You Thought It Couldn't Get Any Worse. 
The lads were improving with every minute and learning to deal with the disastrous ice-like clay. Considering half of our team had almost no off-road motorbike experience, they were starting to look like qualified experts. Well qualified experts on the brink of exhaustion from continually fighting the road. I was sure it wasn't going to get any worse than this.
No sooner had the thought passed through my mind and Quocs shoes had fallen off. The boy was now in nothing but socks!
No sooner had the thought passed through my mind and Quocs shoes had fallen off. The boy was now in nothing but socks! Just then Renzo's ability to bite his tongue was also about to come to an abrupt end. After admiring the map for some time he announced a decision he'd made on behalf of the group. He decided we should keep going, head the advice of the guy on the road earlier and assume that eventually, this would get better. 
In the face of his decision, I kept my mouth shut. I didn't really care if this mess continued on into the darkness, so long as I wasn't the one making the definitive decision that might come back to bite me. I liked Renzo's self-appointed-leader decision to make the call, this meant he could later take the blame for when the group would eventually run out of energy and let their hunger turn to anger. #hangry
By now everyone freshwater had disappeared faster than the dry roads. I had bought some water earlier in the day knowing this might happen and suggested everyone else do the same. This fell on deaf ears and my minimal reserve water supply was now on the open market,  rationed 4-ways.
Once in Cambodia, I was in a similar situation. There I was with my wife Tuyen on a famously impossible road called Route 66. In that situation, we'd taken off completely unprepared and embarked on the journey with no supplies. It was one of the stupider things I'd done and wasn't looking to ever repeat it.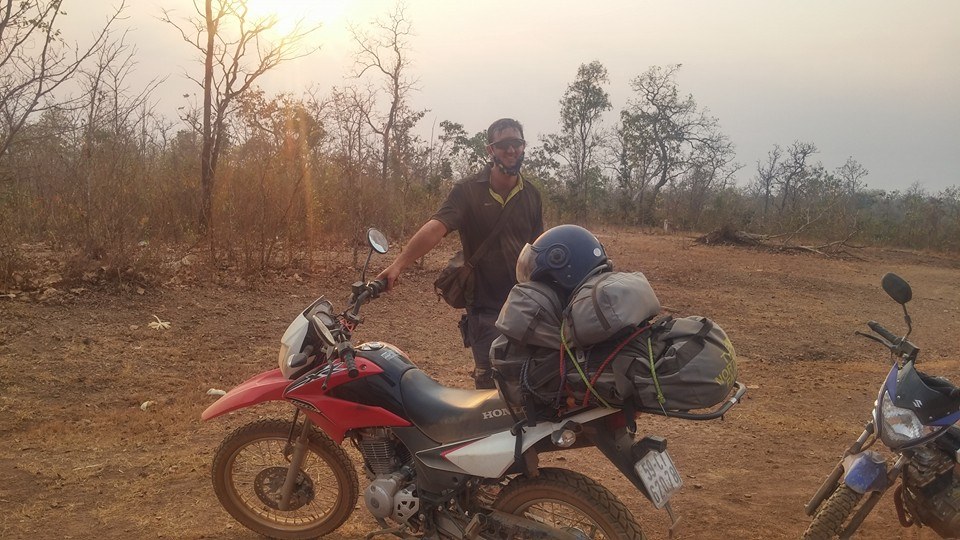 A Quick Confession
OK, so maybe I repeated this scenario on another occasion too, but that was before the Cambodia trip and I'd wised up since then. Or so I thought!
  Prior to the Cambodia trip, I made a similar mistake exploring around the mountains of Dalat. I'd got stuck with some friends between two flooded rivers. We ended up begging the locals to stay in one of their mud huts for the night. On that journey, we didn't make it out and the rain never stopped.
  Come the morning, we were bailed out by local loggers for a small fortune. Brave men that carried our motorbikes in neck-high rivers. I wish it was on camera, but that journey had gone beyond the casual amusement of pulling out the camera trying to get a memorable shot. I think I mentioned something earlier about a thick skull. 
At the time it feels like being prepared is the most important thing. Years later, however, it feels like a complete lack of preparation and these off the cuff adventures are well worth a story that will never be forgotten!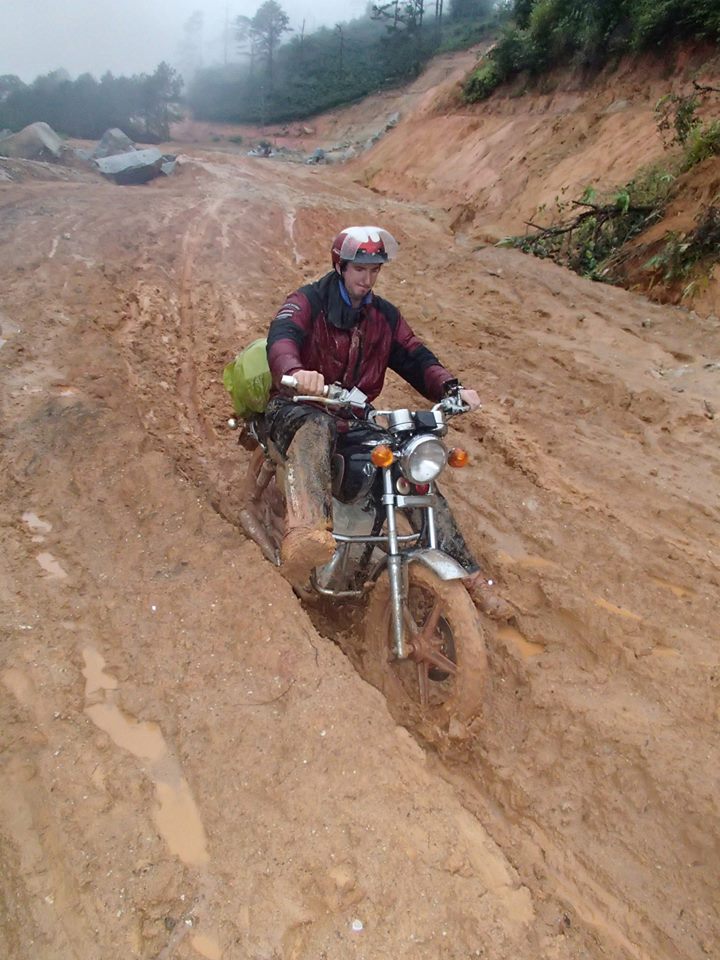 Where Are The Best Roads For Motorcycling Vietnam?
The best roads for motorcycling Vietnam are everywhere, I'd recommend getting out of the cities and into the mountains or backroads for adventures. There is plenty of other Saigon motorbike loops that are tamer than this one.
In just one day our crews driving these roads had improved remarkably and despite the dwindling energy, everyone was eating up the obstacles and our pace was improving. Everyone here can handle backroads with ease, but driving through this ice-like mud and across rivers requires a completely different skill set. The average motorbike rider would be washed downstream or left for rescue in a mud sunken hole.
There were screams of help from the shoeless Quoc 

"I am just a boy, I want to go home"
There were screams of help from the shoeless Quoc "I am just a boy, I want to go home". I told him to check if his travel insurance covered helicopter rescue. If so maybe we could just leave him here 🙂 
As we continued to cover more ground everyone's spirits lifted. We still weren't getting much past 2nd gear, but our time was improving. Our steady pace was showing signs that we might make it out of Cat Tien before dark after all. There was hope, we'd almost conquered The Cat.
The events of the day deserved a dedicated film crew, this was as much television gold as the Top Gear Vietnam Special. Our film crew was, unfortunately, busy that day, and by now everyone's electronic devices had died so pictures were out. Luckily we managed to capture some highlights of the day on the Go Pros, including part of one final crossing where the stream had turned to a full-blown river. There was no riding this one, we needed to carry the motorbikes across.
"Jon you really are crazy". I'd heard that statement echoed a few times throughout the day as our fleet of Honda XR's tackled terrain that might be more suited for tractors or small boats. Knowing that our bulletproof motorbikes are so well maintained that they can handle anything we throw at them left me taking that "crazy" comment as a compliment. I wouldn't do a trip like this on someone else's rental, the motorbike wouldn't survive.
 I wouldn't do a trip like this on someone else's rental, the motorbike wouldn't survive.
The day's events reminded me of one of my first experiences in Africa on a game reserve in Lusaka. As part of the Elephant Charge fundraising event drivers take modified 4×4's through some of the toughest terrain around. Up until this point I'd never seen anyone handle a car like this. The skilled drivers picked their way through mud holes and across rivers. The unskilled drivers, well, they sank to the river bottoms. With a good machine and a good driver, virtually anything can be accomplished.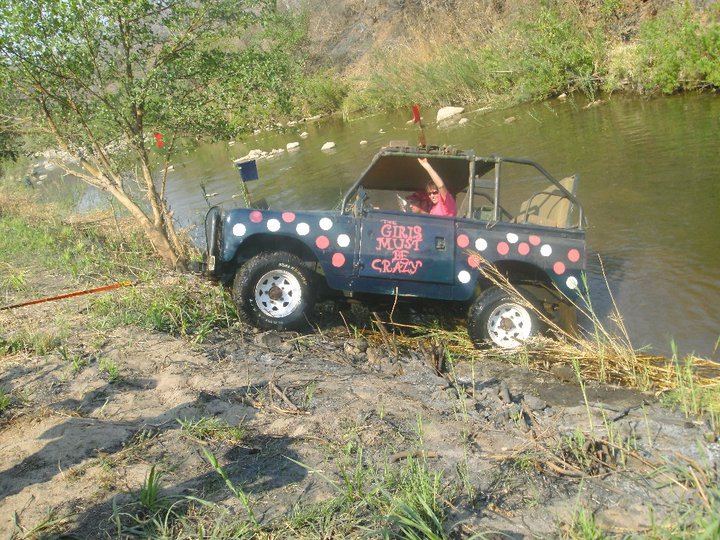 The Final Push Home
Finally, the mud began to lessen and we just have one rickety old bridge to cross before riding the final road out of Cat Tien. This last stretch is a wide empty road where we can finally open the throttles on the XR's. We stop to clear as much of the day's mud and clay from the tires and brakes of the bike and ride off into the sunset. This was the perfect finally to the perfect day for our off-road Vietnam motorbike tour, in one of the countries stunning national parks. 
How To Plan A Motorbike Trip In Vietnam?
This is an incredible team-building exercise and way to test yourself against mother nature. If you're looking to get your own group together or just you and a friend, it's an experience you'll never forget. 
The whole day takes place just a few hours from Ho Chi Minh City and I'd give the experience top reviews. If you'd like to rent a motorbike give the adventure a go we've designed the Two-Day Cat Tien Off-Road Tour. For this you'll want to be ready for anything, maybe even a night in the park!
We thought these videos gave a fairly honest look into what a wet day in the muddy Cat Tien looked like. We loved it. Tigit Tuyen felt a bit differently and was getting angry,  saying "poor bike, it is not happy". What do you think?
Cat Tien National Park by Link

How muddy is too muddy? Have a look at our video to decide for yourself.
What A Day On The Bikes Really Looks Like