Motorbike tours – Experience the best of Vietnam
Buried among the standard roads are networks of truly spectacular routes that only a guide can provide. Maximise what can been seen in a single holiday by using a tour guide who can take you places that are otherwise unreachable as a normal traveller.
Tigit has teamed up with 'nation 7 adventures' to provide new and exciting experiences in the south of Vietnam. Stunning new mountain and coastal roads have recently been developed in the southern areas of Vietnam and very few people have discovered them!
No tour companies operate in the areas that Tigit and nation 7 are riding. Motorbike Tours from Ho Chi Minh tend to be very touristy, the Cu Chi Tunnels and various Mekong Delta trips. Join Tigit and nation 7 for adventure tours that escape the usual tourist circuit.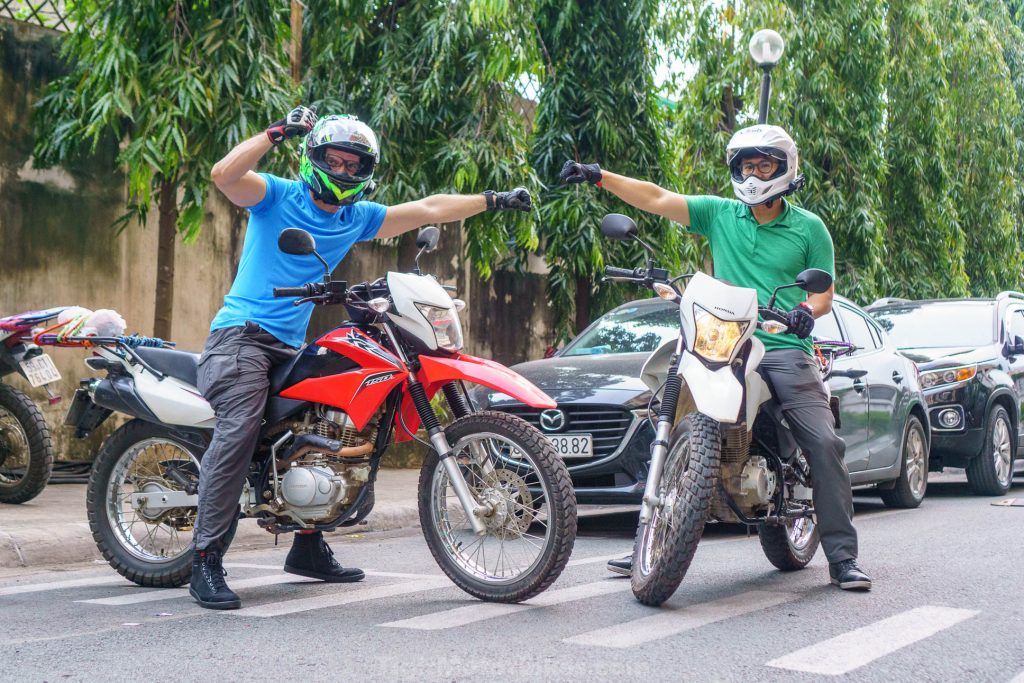 Tour Guide FAQ
Why are you doing Vietnam motorbike tours?
I grew up on the back of motorbikes, riding them in one form or another. My first guided tour was from Melbourne to Canberra (Australia) and back again. It's about a 700-km trip one way and I was wearing an open-face helmet. On the first day the rain fell so hard that I thought it would peel the skin right off my face. My clothes were soaked through and the wind cut right through them with ease. I thought I was going to freeze to death. I was so cold I was shaking uncontrollably.
At about the 600 km mark I started to wonder about my Dad's mental health. We stopped for a hot drink and he saw me shivering and said, 'almost there, hang on, hot shower soon'. I was 12 years old at the time and I hated every minute of it. Until the next day. Even though I was pulling on clothes that were still soaking wet, I couldn't wait to get back on the road.
Years passed before I got my own motorbike in Australia. But pretty much as soon as I did I started doing solo motorbike tours. First just weekenders, but they soon became a week, then 2 weeks, then 3 and so on.
Then in 2005 I rode with a guided motorbike tour company through the northern highlands of Vietnam, and immediately fell in love with the idea of riding around/across other countries. I spent the next 6 or so years finding new destinations to ride during my holidays. Indonesia, Malaysia, Laos, Thailand, Cambodia, and Japan.
It wasn't too long before it dawned on me to come live in Vietnam, the motorbike capital of the world, and help other people experience the joys of adventure tours by setting up Vietnam Motorbike tours. So I packed everything up and relocated. I now get to tour regularly through an amazing country almost custom built for riding. I get to show people parts of it that most never will see, and get them up close to the locals on occasion all at the same time.
And if I'm lucky enough, I get to ride with them through the most horrid of conditions. Weather so bad that we all have to talk ourselves through it at each coffee stop to muster up what's needed to get to the destination. Because that's the story people tell decades after the event. No one ever forgets the time they thought the rain would peel the skin off their face, or the people they were with at the time.
What's the strangest thing you've eaten, and did you regret it afterwards?
I'm the adventurous sort in every way, so I wouldn't say I regret eating any of the crazy things I have. It's all an experience, good or bad, and I'm still pushing my own boundaries with the taste buds.
First, let's get the obvious out of the way. Yes, I've eaten dog. In my defence, at the time I was told it was pork. It was only when the boys started laughing did I figure out what was really on my plate. It's a bit bland to be honest. Not really worth trying unless you want to chalk it up on the list.
I've had the congealed pigs blood, crickets, turtle, crocodile, and of course the balut (fertilized duck egg), plus a heap of others I can't recall at the moment.
But the most memorable of all was the 'beating heart of the cobra'. That was crazy.
A live cobra was thrown on the restaurant floor and well, the rest is a story for in person on a motorbike tour!
After all the ceremonies had taken place,  I was told I would be a 'strong' man between the sheets that night. I followed the whole thing up with so many beers in celebration that even if it was true, nothing was gonna happen too special on my part. On a Vietnam motorbike tour there are no limits and feel free to request some weird and wonderful foods.