Motorbike Rental Deposits
Easy pickup and drop off from Ho Chi Minh, Danang and Hanoi.
Run out of time ?… Finished your planned journey? … Don't want to give a shameless sales pitch to another traveller?….
Drop the motorbike off at one of our offices, HCM, Danang or Hanoi.
Deposit money will shortly be refunded over the internet directly into your home local currency at a minimal cost!
Long distance rental motorbikes
Similar to a traditional car rental company, Tigit Motorbikes takes a motorbike "deposit" and a "rental fee".
Tigit mostly operates using set "packets" of 10 days up to 35 days. With extensions of extra months if the traveller is doing a very long holiday.
Most travellers do not know their exact start and finishing times, and to simplify the process of hidden transport costs, Tigit motorbikes combines everything into one "packet".
A traveller can return in Ho Chi Minh, Danang or Hanoi within their given dates and there are no extra fees.
Other companies may advertise "per day rentals" across Vietnam, but they rarely correctly disclaim hidden transport fees where the motorbike must be sent back to the companies main office.
Tigit Motorbikes "packets" are all inclusive. (apart from oil changes every 1000km (5usd-10usd) and flat tires).
It is also possible to stop in other locations that have a major train station. Customers are responsible for the transport fee back to one of our offices which is usually around $40.
Assuming the traveller returns in Ho Chi Minh, Danang or Hanoi, then there are no additional fees to be paid.
Travellers can plan their holiday around one of our set packets and not worry about exact return dates or locations.
The idea is to have a quick and efficient motorbike rental where travellers can be free to navigate Vietnam without knowing the exact travel plans.
Credit card deposits
To use our deposit customers must use a credit card within the Tigit website.
The Tigit Website converts to British pounds which helps saves on fees by not converting to the less used VND currency.
Tigit accepts:
American Express / MasterCard / Carte Blanche / Diners Club / Discover / JCB / Visa / China Union Pay
Debit cards under a VISA, MasterCard and Discover logo.
Customers may pay the deposit online and the rent in cash resulting in no online fees.
When returning the motorbike Tigit Motorbikes will issue a full refund to the customer's credit card. Returning the sum equal to the original payment.
A refund email is sent instantly, but it can take 5-10 business days for the funds to appear. This is down to the speed of the customer credit provider.
Without a credit card
Customers may pay a deposit of
$1000 for a Honda Blade
$2000 for Honda Winner, Yamaha Exciter, Suzuki Raider
$3000 for Honda XR 150
Payment options without a credit card include:
Cash, Transferwise.com and UK bank transfers.
Paypal may be used for the deposit, but not the rent.
Passport deposits
Tigit has passport deposit options, where the passport contributes towards some of the deposit value.
The passport is sent recorded delivery to the finishing destination. It is possible to travel Vietnam with a passport copy. Hotels require traveller details for police registration forms. They do not need to physically keep your passport.
How do deposit returns work?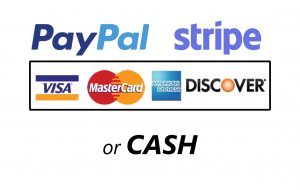 Cash is always good, and Tigit is able to refund both USD and VND cash from any office.
Most travellers pay online through the Tigit website. The Tigit website uses a standard checkout system. Tigit will take two payments, one is called the "refundable deposit" and the other is "the rent".
When returning the motorbike Tigit issues a full refund on the "refundable deposit" which returns the exact same amount of money back to the customer as originally paid.
Tigit deals with British pounds online, and VND or USD within our offices. If customers pay online from a currency other than British pounds, the "refundable deposit" will still return the same amount as originally paid in the customers home currency.
By using Tigit Motorbikes, travellers are likely to save on conversion fees as most Vietnamese companies do not have systems equipped to deal with international transfers.
How quickly are payments processed?
Both Ho Chi Minh and Hanoi have the ability to refund payments on the spot at the time of the motorbike return.
Payment processors can take up to 10 days to issue a refund, however the customer will receive an instant email that Tigit has processed the payment.
Other payment methods such as UK bank transfer and transferwise payments, may take up to 24 hours to process, as these are done through the Ho Chi Minh office.