Reading Time:
8
minutes
Travel Vietnam by Motorbike
 Solo or as part of a guided tour? 
   Deciding to travel around Vietnam by motorcycle is a rewarding experience you won't soon forget. How you choose to do it may be the difference between adventure and agony. For some, it's easier to wake up in the morning and decide if you want to explore the countryside or hit the highway. For others, it might be best to have a plan already laid out for you. Here are some options to help you decide if a guided motorcycle tour of Vietnam is right for you.
Things To Think About
   Everyone is different, and considering the "you" factor is an essential part. If this is your first time in Asia, and Vietnam is your very first stop. You may not want to bite off more than you can chew. A new language, new food, new culture. All the new changes might be a little overwhelming, having a guide to get you started is always helpful. If you are in a group and looking to enjoy your time together with no specific schedule, perhaps just figuring things out together will work best. If you are an adventurer at heart but don't have any motorcycle experience, then a quick guided tour before setting out on your own could be the answer.  Alternatively, you can skip all of the problematic guesswork out, and pick a motorcycle tour package to enjoy the ride.
One Day Motorbike Tours
   Now is the time to get a little taste of motorcycling in Vietnam, and we want to help make it as easy as possible to get your feet wet in this new country. For the newbies, a one day tour is probably the best option. If you choose to make Saigon your base for an adventure in Vietnam, you've made a great choice. Saigon, or Ho Chi Minh as its also called, is the same place. If you've booked a room in Saigon and your plane lands in Ho Chi Minh, no need to worry they're both in the same place! When the Vietnam war came to an end in 1976, the South and North of the country were reunited. The leader at the time who was given credit for bringing the country back together was Ho Chi Minh. In honor of this victory, the capital has been after him.
    Departing on a motorcycle adventure from Saigon, you have some options. The Escape Saigon by motorbike tour is an excellent introduction to navigating traffic, paved routes, and getting your tires dirty on some alternate roads. This way you can see another side of Vietnam and know that your guide is taking you to all the best highlights. The Escape Saigon tour is inexpensive and includes everything you need for the day.
   For an adventure that is sure to fill your GoPro, the 1 day Mekong Delta by motorcycle tour is sure to keep you happy. The Mekong Delta is an all-encompassing mix of rivers, canals, fields, farmers, and all things that keep the heart of Vietnam beating. If you plan to be in the area for a while, you could later drive yourself into some of the more well-known attractions. There's the Cai Rang floating market, Tra Su mangrove forest, Tram Chim national park, and the famous Cu Chi tunnels. Tackling all of these could take your entire holiday. Instead, we picked some of the less traveled highlights and packed them into a 300km all-inclusive journey. Expect an authentic experience that includes regional foods, ferry rides, and dirt roads.
A one day motorcycle might be for you if:
   You're new to motorcycling

   You want some help to break the cultural ice

   You don't have much time

   You want to get a more in-depth cultural experience
Choosing Where To Drive Through Vietnam
   In a country rich with diversity, it's hard to decide where to ride. There's the unpredictable weather of the north. Then there's the delightful and well-traveled cities of the south. As well as the mountainous and coastline regions that connect them both. Each area has its own unique challenges and treasures. For a look into an area that is full of beauty and void of cell service, look to ride around the Cat Tien national park.
   The Cat Tien park is a tropical forest made up of evergreens, bamboo, and grasslands. This diversity helps to support a mix of wildlife within the park. The wildlife Includes; Golden-Cheeked gibbons, sun bears, fruit bats, pheasants, crocodiles, varieties of snake, and for a time, one of two populations of Javan rhinoceros in the world. To say the park enjoys a bit of wildlife is to say the Vietnamese enjoy a bit of rice. A hike through the park could make an excellent addition to a few days riding in and around it.
   The roads around the area will lead you deep into the real Vietnam. Though, unless you're good at memorizing mazes, they might not lead you out! Depending on the weather, roads could turn to mud holes or small rivers without much warning. These roads could lead to fun or frustration depending on how you want to look at it. Whatever the outcome, you'll have some excellent photos and interesting stories to take home.
   This part of Vietnam might be a good place to rely on a guide to navigate you through the dirt tracks and into some charming villages. It's one of the best places to enjoy a two-day motorcycle tour. In this area, you can get to know how the rice fields are cultivated, and spending a night riverside. Then if you haven't had your fill of fun, you can come back on your own to and enjoy the park independently.
A mix of the southern coast and the cool highlands are also an excellent choice if you have some more time on your hands. Enjoying a bit of Saigon city, Nha Trang on the coast, and cooler Dalat could be the perfect mix for getting to know Vietnam. To skip the traffic from the outset, its easier to put yourself and the bike on a train and get you both directly to Phan Thiet city on the coast. This secret is one of the tricks we use on our Saigon Circle 4-8 day trips. Will also teach you loads of methods on how to cross ferries with your motorcycle, eat like a local, get dirtier than you had planned, and avoid getting bucked-off a Honda!
A multi-day motorcycle tour might be for you if:
   You have 2days – 2weeks of time

   You're looking for an adventure tour off the tourist trail

   You are interested in motorcycling dirt, mud, and pavement

   You think a hot shower and a cold beer need to be earned 🙂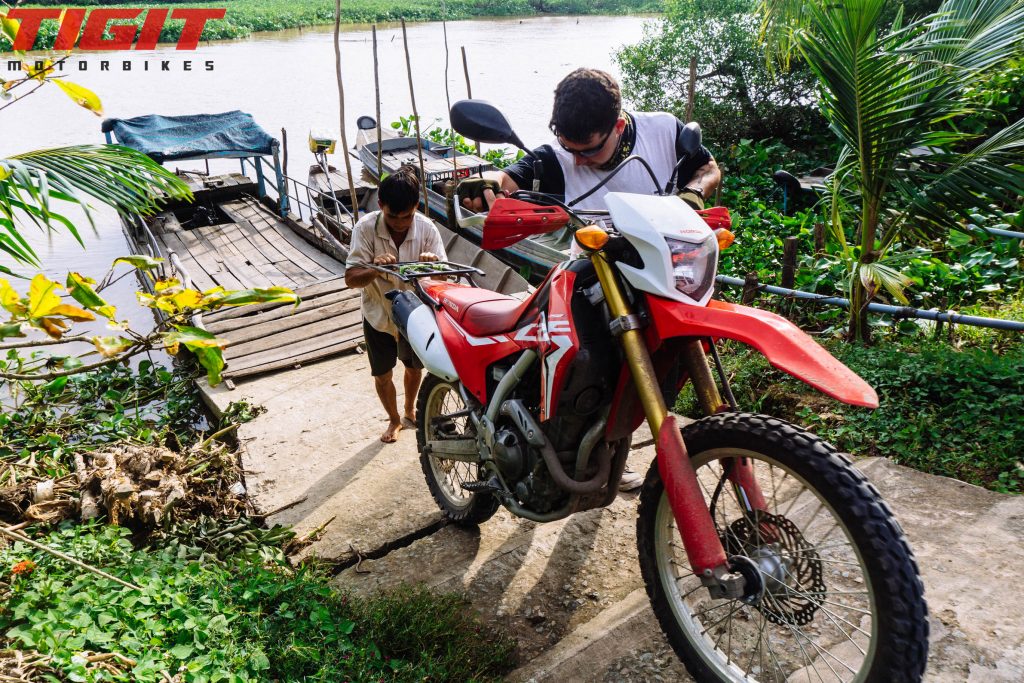 Motorbiking Vietnam Solo. Is it for you?
   Vietnam is a somewhat safe part of the world. Aside from some petty theft in the major cities, everything else should be OK. I wouldn't make it my main concern for deciding where or if I were to go. Making friends is easy, and I focus more on that. You can easily find welcome travelers in the main tourist areas. Around areas like Bui Vien street in Ho Chi Minh, Biet Thu street in Nha Trang, or the Old Quarter in Hanoi. As for making your way around the country by motorbike. The major routes are as easy as clicking your google maps app. The cell coverage is considerably good, and aside from distances taking much longer to get to then the app suggests. It will get you there all the same. When it comes to the back routes with no cell service, however, this all changes.
   Once you get over the uncomfortable bus rides, you might like to take a solo trip one way from Dalat to Ho Chi Minh. You can do so with literally no effort at all. Just kiss the crammed bus good-bye, and say hello to two-wheels and great deals! If you are looking to enjoy some beach time, stick to the coastline and enjoy some fun in the sun. Check out Mui Ne or Ham Tien beaches in Phan Thiet to work on your tan and go for a swim. Alternatively, you could take the QL20 route with some options to turn off just about anywhere and explore without getting very lost.
   When you finally deiced to kick things up a notch, getting lost might not be your best interest. Though you might still feel lost, taking a recommended guide will assure that you are right where you're supposed to be. This way, you can get un-lost if you decide it is time to find your way home again. Whether you choose to go one on one with a personal guide or join up with a group is up to you. Either way, you can allow yourself the freedom to travel with a motorcycle, while still knowing that a trusted guide can help you push the limits and take you somewhere you couldn't have imagined. Even having a guide to show you the best route out of Ho Chi Minh could save you more drama than you bargained for at the start of your trip. Without a guide, you'll never know what you're missing.
   Motorbiking solo around Vietnam might be for you if:
   You're ok with getting lost

   You like to make new friends

   You know when to ask for assistance

   Your comfortable joining a guided group to get to see the country better
Riding Gear For Vietnam
   The average backpacker looks like he/she has strapped everything from back home onto their backs except their bed, and hit the open trail. This example might almost be real, except they probably didn't pack riding gear. If you did, kudos to you. You're just the kind of client we are looking for, one who loves motorcycles as much as we do! Seriously though, don't worry about it. We have you covered. Each bike rental includes a basic second-hand helmet. Aside from this, you can get away with basic backpacker attire for driving around the city and single-day trips. Flip-flop and tank-tops are about all you'll need.  
    If you are looking to get a bit more adventurous and planning to do a multi-day tour, you'll need to get yourself prepared for a variety of conditions. Anything from the scorching sun, to torrential downpours, are all possible in a single day.  Check out the all-inclusive "What To Bring and Wear" list. It's a real eye-opener about the weather in Vietnam and how to pack for it. Unlike you may have been lead to believe, it's not all coastal warmth and temperate days. If you forgot something or want to add more, fear not, we've got a store for that.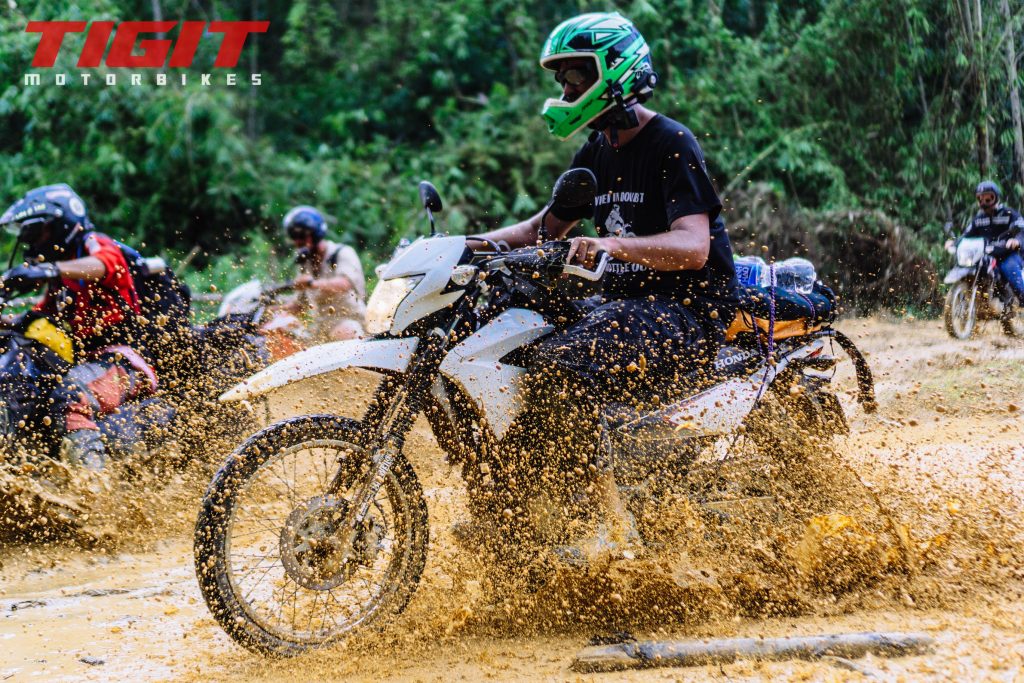 Want to be memorialized like a motorcycle rock-god?
   The above question is a no-brainer. Being memorialized like a motorcycle rock-god should be on everyone's list. Vietnam's scenery is full of more picture perfect moments then you could take in one trip. Taking these photos then becomes even more difficult when your hands are controlling the bike, and your eyes are on the road. To have all your picture perfect moments captured by an expert might be just what you deserve. That and it will make you feel famous, if only for a day. Tigit provides the option to hire a photographer/backup driver. This service is typically out of the budget in the western world, here in Vietnam everything's within reach. You can have someone come along and capture on a high-quality Sony Alpha 86000 and GoPro Hero 5, all of the trips adventure. The special bonus to all this, if for any reason anything goes mechanically wrong on your trip. Your photographer/backup driver can hand over his bike, and catch the whole thing on camera. Enjoy a worry-free trip with premium quality photos.
   A guided tour is not for everyone, and that's fine. You can easily rent a motorcycle and independently explore as much or as little of the country as you want. If you are looking to get the most out of Vietnam, you'll be able to do so in anything from a short, one-day guided-tour. Right up to an eight-day extensive-tour. All the choices are available. Either way, you'll see some fantastic things in Vietnam. When making your decision, keep in mind the time you have, what you want to do, and your experience level. Then decide how deep into the culture you are willing to explore, and what a guide might be able to show you that you never knew. Then, once all the major decisions have been made, why not decide to get a personal photographer and live the motorcycling god lifestyle your deserve 🙂