Reading Time:
3
minutes
5 advantages to motorbike from Ho Chi Minh to Hanoi
A motorbike holiday has been selected, the idea is set… but now the difficult decision of deciding which direction to drive, Hanoi to Ho Chi Minh or Ho Chi Minh to Hanoi!/blockquote>
At Tigit we think Ho Chi Minh to Hanoi is the best way! However please read here for advantages of Hanoi to Ho Chi Minh.
Tigit Motorbikes has office in Ho Chi Minh, Danang and Hanoi. Once a direction is decided, have a look at our travel rental motorbikes.
Advantage one: Motorbike quality is higher with Ho Chi Minh to Hanoi!
Backpacker to backpacker sales set the market values for Chinese motorbikes and motorbike rentals. Hanoi to Ho Chi Minh is less popular, which means the value of the Chinese motorbike is higher in Ho Chi Minh than Hanoi. This provides more room for the reputable companies to correctly fix the motorbikes. They do not need to compete with $100-200 sales of desperate backpackers who are unable to sell their motorbike. The business becomes about quality and reputation rather than mass market buy and sell.
Hanoi is flooded with too many backpacker motorbikes, and fierce competition from the struggling tour companies operating with outdated business models.
Although the prices are high in Ho Chi Minh, the chances of picking up a good motorbike from a dealer at a fair price is much greater in Ho Chi Minh than Hanoi!
Advantage two: Hot weather and friendly locals!
Although subjective, it is thought that the locals in the south are both more outgoing and friendly than in the North. Combine this with hot weather, and it is a great way to begin a journey. The South has less heritage than the North when it comes to local customs, etiquette and unique elements of Vietnamese life that provide a fascinating experience for travelling. As the motorbike miles are covered, a traveller can find themselves further involved in local culture and customs as they become more familiar and accustomed with it. By the time of reaching the less outgoing Northern Vietnam, the traveller has learnt enough to fit in and experience the Vietnamese way of life!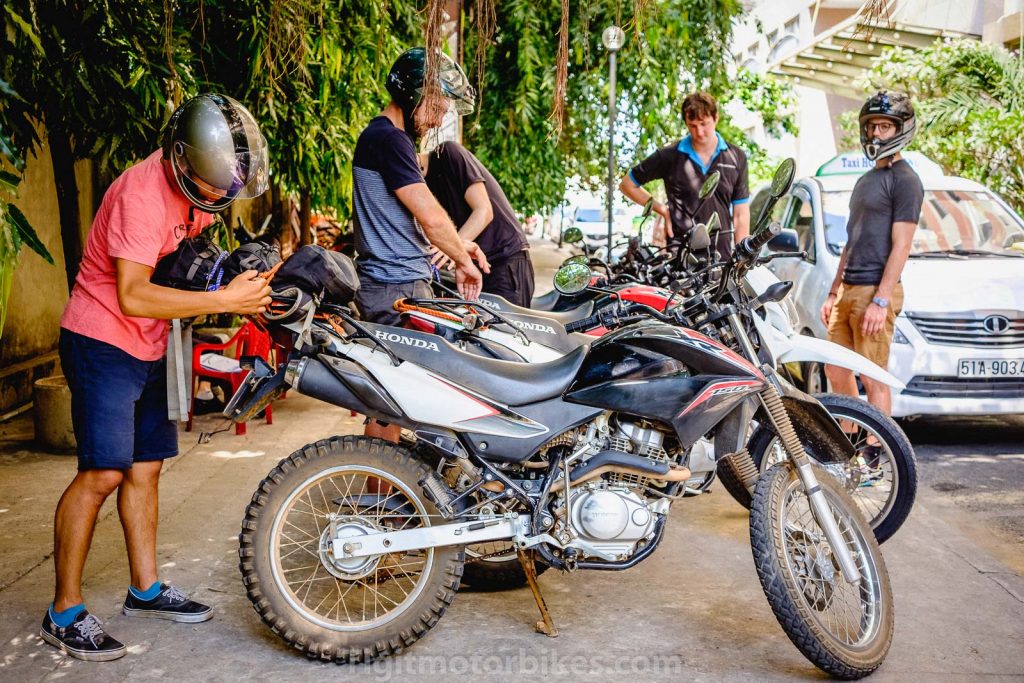 Advantage three: Better test drive areas!
Although Ho Chi Minh is thought to be more chaotic and busy than Hanoi. The areas for practising and test driving on a motorbike are better than in Hanoi. If using Tigit Motorbikes Ho Chi Minh, we have an area that is perfect for practising on a motorbike. Even the backpacker street is relatively closed off in comparison to the rest of the city. Hanoi has no real test drive areas, and this is a problem that every company is faced with.
Advantage four: Experience the sun before it is too late!
Although the south can be rainy, it is nearly always hot! Ho Chi Minh to Hanoi, a traveller has greater chance of experiencing good weather conditions at the start of the holiday. If the weather continues to cause problems, then stopping in our Danang office is possible before the going gets miserable.
A shame not to experience the best mountain roads in Vietnam that are located between Hoi An and Hanoi, but at least some motorbiking occurred and that box of "I motored Vietnam" can be ticked!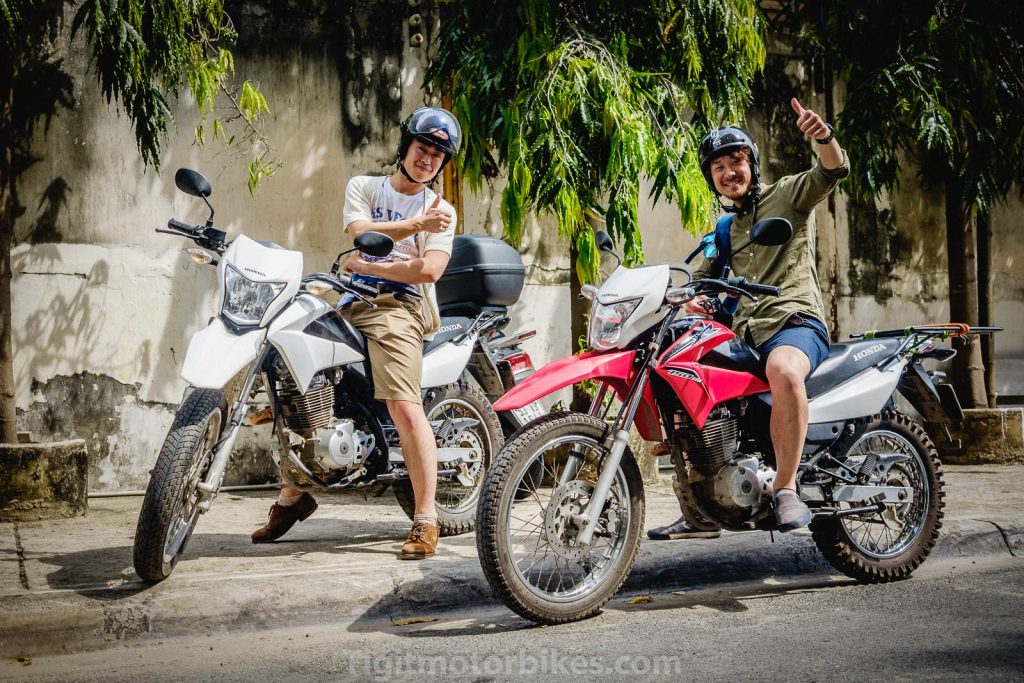 Advantage five: Can't get enough of motorbiking and you just want more!
The biggest advantage of Ho Chi Minh to Hanoi is the flexibility and freedom to simply do more! If the journey is going well, and the experience can never end, then the option to continue deep into the Northern regions are possible. The limestone loops, Ha Giang loops, offroading and the north by motorbike. Even Laos is a possibility!
If starting in Hanoi it can be difficult to judge or gauge the experience ahead, which may lead to missing out the Northen territories. When starting from Ho Chi Minh, everything is revealed and the traveller has all the cards on the table to make a decision on when is a good time to stop!
The Northern roads are more difficult to navigate and drive, they require motorbike experience which as a traveller who has started in Ho Chi Minh… you now have!