Reading Time:
3
minutes
5 advantages to motorbike from Hanoi to Ho Chi Minh:
A motorbike holiday has been selected, the idea is set… but now the difficult decision of deciding which direction to drive, Hanoi to Ho Chi Minh or Ho Chi Minh to Hanoi
This article promotes the idea of Hanoi to Ho Chi Minh. However, when all things considered, Tigit Motorbikes thinks Ho Chi Minh to Hanoi is better!
Tigit Motorbikes has office in Ho Chi Minh, Danang and Hanoi. Once a direction is decided, have a look at our travel rental motorbikes.
Advantage one: It is cheaper!
Hanoi is cheaper for motorbikes than Ho Chi Minh. There are many factors that contribute towards this, and here are a few.
Most people drive HCM to Hanoi which creates a build up of cheap backpacker motorbikes in Hanoi.
Motorbike tours have thrived in Hanoi since the beginning of time, creating a competitive rental market in Hanoi.
Honda, Yamaha and Suzuki all have their primary factories near to Hanoi, not Ho Chi Minh.
The mountains of Sapa and the cheap Chinese motorbikes are relatively popular among minority ethnic groups which creates a better circulation of 2nd hand motorbikes.
Buying in Hanoi and selling in Ho Chi Minh has a greater chance to save money! The average cheap Chinese motorbike being between $50 and $100 cheaper in Hanoi than in Ho Chi Minh.
Advantage two: The best roads are nearby!
No need to worry about running out of time and missing the best roads. Right on Hanoi's doorstep is the incredible Phong Nha National park which is the beginning on the Ho Chi Minh Road.
Straight off the start line through Ninh Binh and on to the remote mountain roads of Khe Sanh. Drive all the way down through the Hai Van pass to the famous town of Hoi An.
If timing is a concern, starting in Hanoi can provide the full motorbike experience in a short space of time with a suitable finishing destination of Danang.
If using Tigit Motorbikes we have an office in Danang for easy returns.
Although only half the country has been driven, a traveller will walk away having experienced all the most popular roads for motorbiking Vietnam.
Advantage three: Hanoi is less busy than Ho Chi Minh!
Most travellers will agree that Hanoi has less traffic than Ho Chi Minh. The roads are also easier to navigate when exiting the city! Hanoi city has traffic rules and regulations that westerners are more familiar with such as following traffic lights. The driving from our point of view is more predictable than in the South.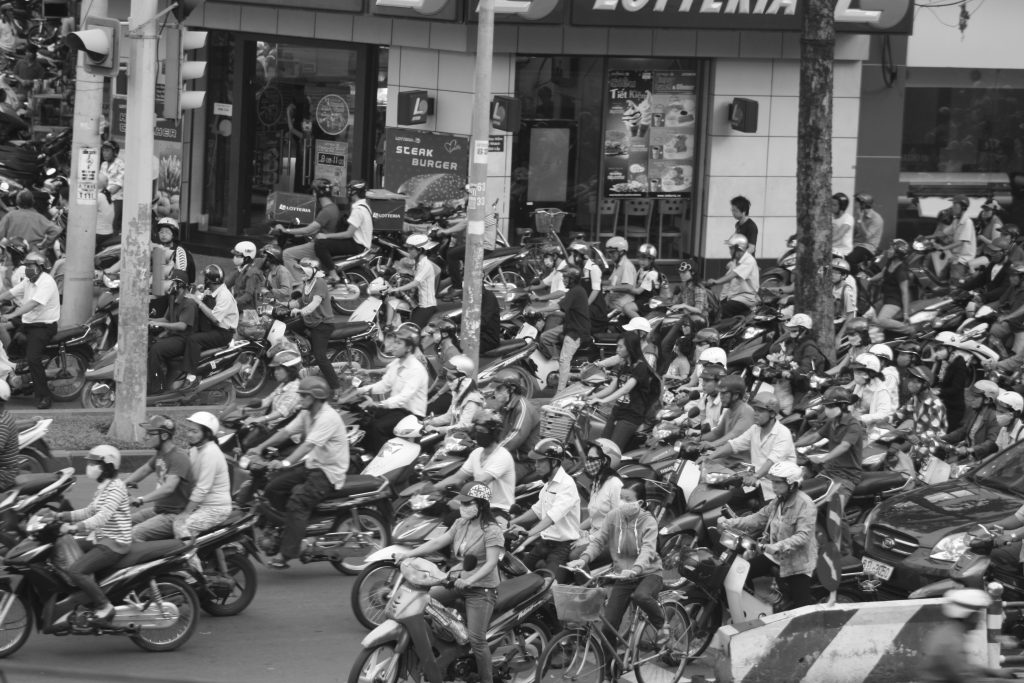 Advantage four: Extreme to moderate weather conditions!
It depends on the season, but in general Hanoi has much more severe weather conditions. It is both hotter and colder than Ho Chi Minh depending on the season.
In general heading South towards Ho Chi Minh will result in each day having better driving weather. A moral booster as the journey continues and the escape from freezing cold to smoking hot Ho Chi Minh becomes the push factor behind logging all those hours on the motorbike.
Advantage five: It is easier to meet people!
Leaving from Hanoi is a set route travelling down through the Ho Chi Minh trail and over the Hai Van pass to Hoi An. Although most travellers drive Ho Chi Minh to Hanoi, there is a far greater chance of meeting other travellers when leaving from Hanoi to Ho Chi Minh. The route is set in stone and their is no need to deviate from it, whereas departing from Ho Chi Minh has more possibilities and directions to head in.
Establish the motorbike crew at the beginning of the holiday, and then as a now experienced biker, head off solo when the options of coast vs mountain present themselves nearer to Ho Chi Minh!