Reading Time:
15
minutes
Traveling Vietnam on a budget isn't all ramen noodles, bunk life, and beach slumming. It's actually having the adventure of a lifetime, safely, for the same price as the traveler bragging about how he just saved $10 by sleeping on the bus & $5 more by not leaving the hostel today. You're probably not coming back to Southeast Asia soon, this might be a once in a lifetime experience.
Slide your face over to a mirror, look yourself in the eyes and ask yourself. Did I  really work this hard and save up my money to: 
A- Bus it.        

B- Risk it.       

C- Live it! 
Read on and we'll explain how to have this adventure of a lifetime for cheap.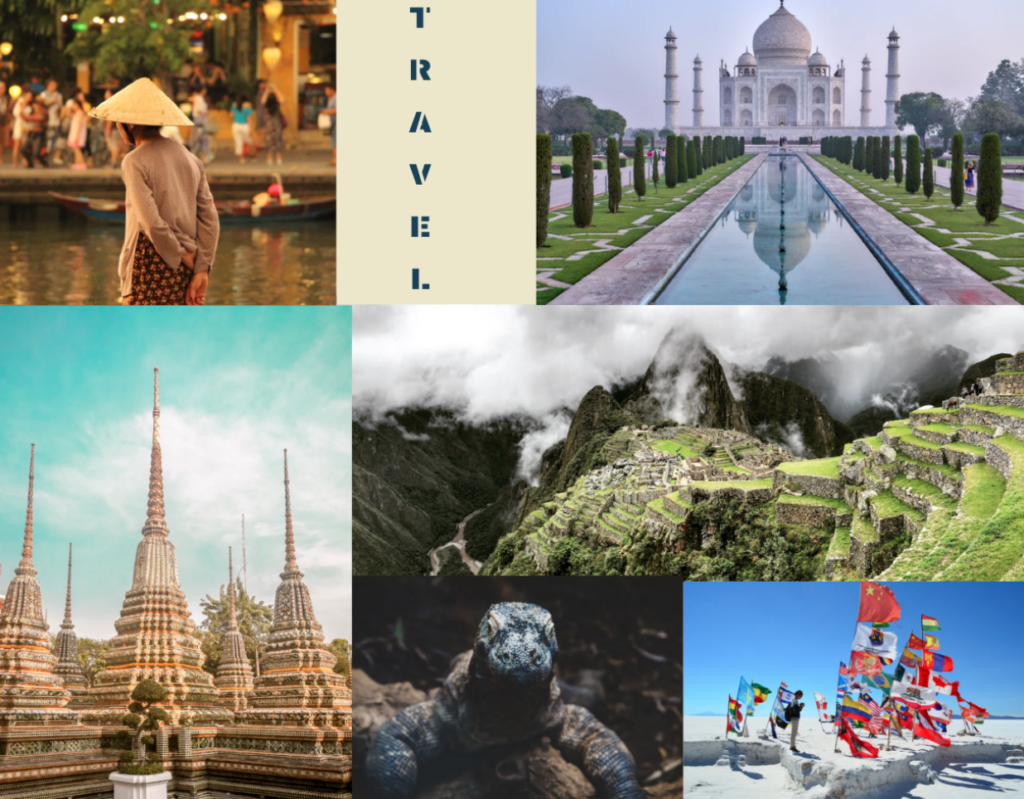 How To Find Cheap Accommodation In Vietnam
Is Vietnam cheap for accommodation? Yes it is! Great prices on accommodation are found all over Vietnam and not just in city dorm rooms. You can find private accommodation and get to know the local culture for cheap, you just need to know where to look.
Free. If you absolutely don't want to pay for sleeping, catch the overnight bus between cities, exercise your options on Couchsurfing, or bring along a hammock or tent.
Online Booking. The easiest way to find accommodation in cities and tourist areas are booking sites like; Agoda.com, Booking.com, Hostelworld, AirBnB, and Google Hotels.  In tourist cities like Da Nang or HCMC, dorms can be some of the cheapest places in Vietnam to sleep, from $3-$10/night online.
Remote Locations. Small towns and villages will usually offer a "Khach Sanh" (hotel) of a reasonable standard for around $15. Homestay where you stay with a family in their home and experience the culture and lifestyle, around $10-$12. "Nha Nghi," a hotel-style accommodation that is usually sub-standard but cheap! $8-$10.
If you can't find remote accommodation in Vietnam by just driving the streets, search "Hotel/Khach Sanh/Nha Nghi + the town name in Google Maps and see what pops up. Ex. "Hotel Lao Cai"
Sleeping Experiences.

Not always the cheapest, but a night in a theme or artist room is memorable. A night in an Ant room in Dalat, the private whale island 110 kms off the coast of

Nha Trang

, or perhaps a night in a treehouse in Don Village on the way to

backpacking Hanoi

. 
Check our full guide to finding cheap accommodation in Vietnam.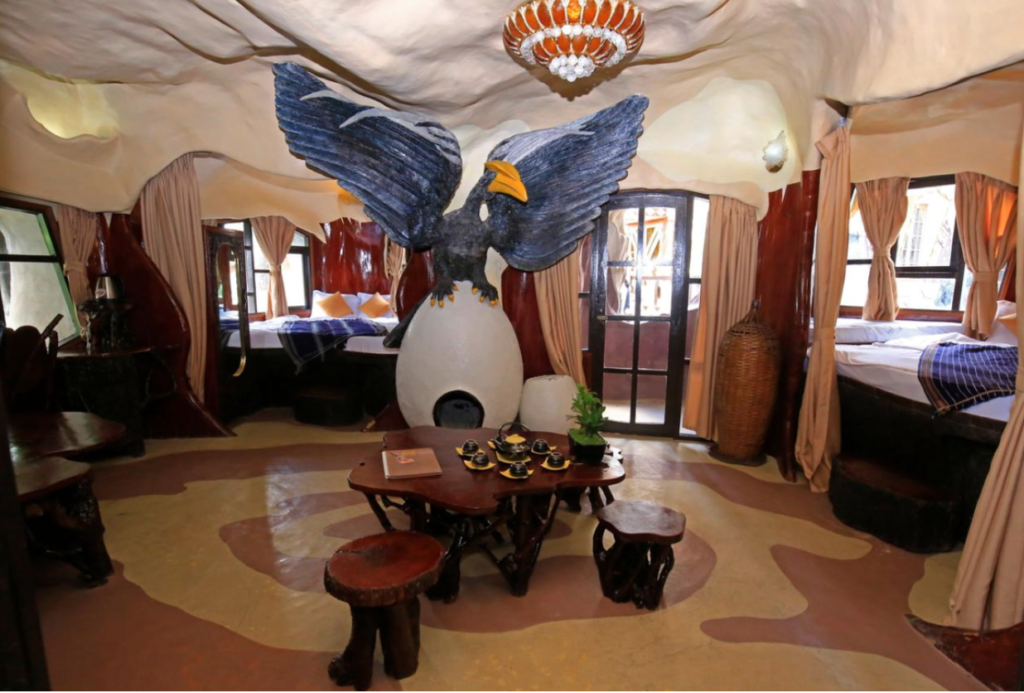 Best Currency To Take To Vietnam
Wondering what currency should I take to Vietnam? The Vietnamese use the Vietnamese Dong, and if you've ever wanted to feel like a millionaire you will in Vietnam many times over.  $1USD equals a little over 20,000VND. Change $100 and get over 2-million VND! 
The major cities are fairly flexible for currency conversion, USD, Euro, Yen, AUD, Bhat, etc etc. The best way to save money is by using the Dong. Some places will accept USD, but that almost always means you'll be paying more. For those planning to exchange money outside HCM, bring only brand new US bills. Damaged or old bills will either get a worse rate or refused altogether. ATMs are widely available and there are fees (check with your bank) but this might mean you're only carrying around a few million VND rather than a few hundred million that could go missing or become an awkwardly large bulge in your pants. 
How To Find Cheap Eats In Vietnam
Vietnamese food is known the world over with Pho being one of the most recognizable dishes you'll find in Vietnamese restaurants across the planet. Now that you're in Vietnam, looking for the cheapest places to eat & these common dishes is easy. 
Where to look for food. As a general rule, if the eatery is mobile and the tables and chairs made of plastic, discount dining is served! Mobile vendors will operate out of anything from pushable carts, to kitchens on scooters, or even just a couple of baskets with hot pots inside that a meal is scooped up and served from.
Saigon: there are plenty of online guides of the best locations for cheap eats.
Small towns: generally search around markets, bus stations or busy areas.
Mobile eateries: you'll almost never find on review sites. Establishments with permanent locations you might find reviews for them on sites like Google/Tripadvisor. 
Get in the line of a stall or restaurant with plenty of locals eating at it. Common traveling sense says that if you are the only one eating there, it's for good reason.
Food. The list of dining options needs a concise guide of its own. Not to worry, we have a What To Eat In Vietnam food guide. For the least expensive options, the ubiquitous Banh Mi Sub can be sourced on street corners for about $1. Next is Pho, the brothy soup made from noodles & meat, served up virtually anywhere and for less than $2. It's safe to say that any street food served next to plastic tables and chairs is going to cost you mere pocket change.
Beer. If you want to travel in Vietnam on a budget and still drink, beer will likely be your main staple. Vietnam produces over 4-billion liters of beer annually. Popular brands like Beer Saigon, Hanoi and 333 will run you about 20,000vnd, less than $1. In the north, Bia Hoi is a daily brewed draft with a short shelf life. These come pouring out of the taps for around 10,000vnd a glass, $0.45!
Coffee. Vietnam has coffee unlike any other on the planet. Around places like Buon Ma Thuot, the volcanic basalt soils help grow extremely premium coffee cherries and you can find these and other beans brewing all over Vietnam for 10,000-20,000vnd! Try some of the unique specialty coffee like the egg or iced coffee made with condensed milk.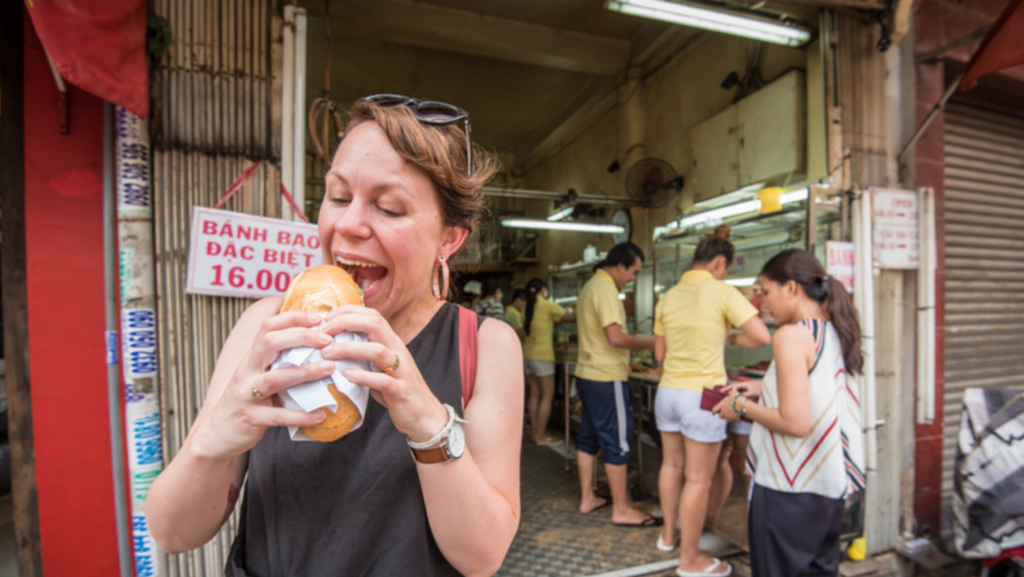 Cheap Or Free Things To Do In Vietnam
Entertainment & Nightlife. Hanging out with the locals will fast track your cheap partying options. Vietnamese are very social and after a few Bia Hoi, you'll be speaking Vietnamese and probably stumble home for under $5! Beach parties with friends cost no more then the drinks you bring and hostels usually organize pub crawls and have discounted promotional party events. 
Cultural Activities. Tours are great and you should pick at least one of the must do experiences in Vietnam. There are lots of cheap or free cultural events too. HCM has the famous Water Puppet shows. Watch the Da Nang Dragon Bridge come to life for FREE. Or simply riding your motorbike to Vietnamese coffee plantations, famous beaches, endless waterfalls, remote villages, and exploring the country is almost always free or incredibly cheap.
Buddhist Temples. Most temples are free or cheap in Vietnam and this is an interesting way to view the rich Vietnamese culture. Remember to dress conservatively, wearing pants and t-shirt or long sleeve shirt is expected. Here are a few of the must see temples in Vietnam.
Cao Dai Temple located 100kms from Ho Chi Minh is a beautiful building that can be visited as a day trip from the city. Taking photos of the people here is allowed.

Temple Of Literature, Hanoi. Built in 1070 to honor Confucius and has since educated some of the countries finest scholars. Make a day of it.

Thien Mu Pagoda, Hue. Picturesque, this temple overlooks the Perfume River and is home to gold-plated Buddhas, lush gardens and historical statues. 
Museums. A great way to look into what shaped a countries future, museums should be part of your cheap Vietnam itinerary. Vietnam's culture can be found on display in every city. Learning about dynasties, wars, ideologies, and people can be done for free or cheap across the country.
War Remnants Museum, HCM. A museum about the hellish Vietnam war. Come, look, learn, and hopefully never repeat what's remembered inside these walls.

Áo Dài Museum, HCM. This traditional elegant dress has shaped the women of Vietnam since the 17th century. See this unique history on display here.

Cham Culture Museum, Da Nang. Champa culture has been in Vietnam since the 2nd century. Learn about its history here and visit the nearby Cham Towers.

Ho Chi Minh Museum, Hanoi. The largest museum in the country is home to all things Ho Chi Minh. A hero to many, come and see what the hype is about. 
Tipping and Bartering Vietnam 
Tipping. Not a natural custom with the Vietnamese, in all cheap eateries or street food locations you'll never be expected to tip. In upscale restaurants and bars, a tip is likely expected. If you're reading this blog, upscale isn't a concern. Private tours or tour drivers often rely on tips as part of their income. For the guide around $3-5, for the driver $2-3. That said, if you ever felt service was above and beyond your expectations anyone and everyone will appreciate a tip. 10%-20% extra gratuity goes a long way in Vietnam.
Bartering. If you're from the western world you may have never bartered for an item in your life. Bartering is a game, social event, and way of determining Vietnam costs for items in the markets and services like hiring a cab on the street. The sooner you get comfortable with that the better. Here are some tips for bartering in Vietnam.
Have some fun when bartering. It's a bit of an art and a bit of a game, so smile, relax and don't get offended by a high price or a no.

Ask a few places for the price of an item to get a general idea of what everyone is selling for. This will give you a better chance to know the real price.

Shop at local markets as opposed to tourist markets. The locals are never going to pay too much.

Expect an overall reduction of around 40% from the original starting price. If you're rude it might be higher, polite it might be lower. 40% a good target.

Buy more save more. If you're produce shopping, buying it all from one stand will give you better leverage. Buying souvenirs, pick up two or three and ask for a deal.

Items in supermarkets, eateries, tours, and with the prices listed are typically not up for barter. 

Learn some Vietnamese. Even knowing

the basics will go a lot further than just yelling what you want in English louder and louder.

Hello

= Xin Chao (Sin chow),

Thank you

= Cam on (kahm uhn),

Can you reduce the price?

= Giam gia duoc khong? (zam za duoc khom).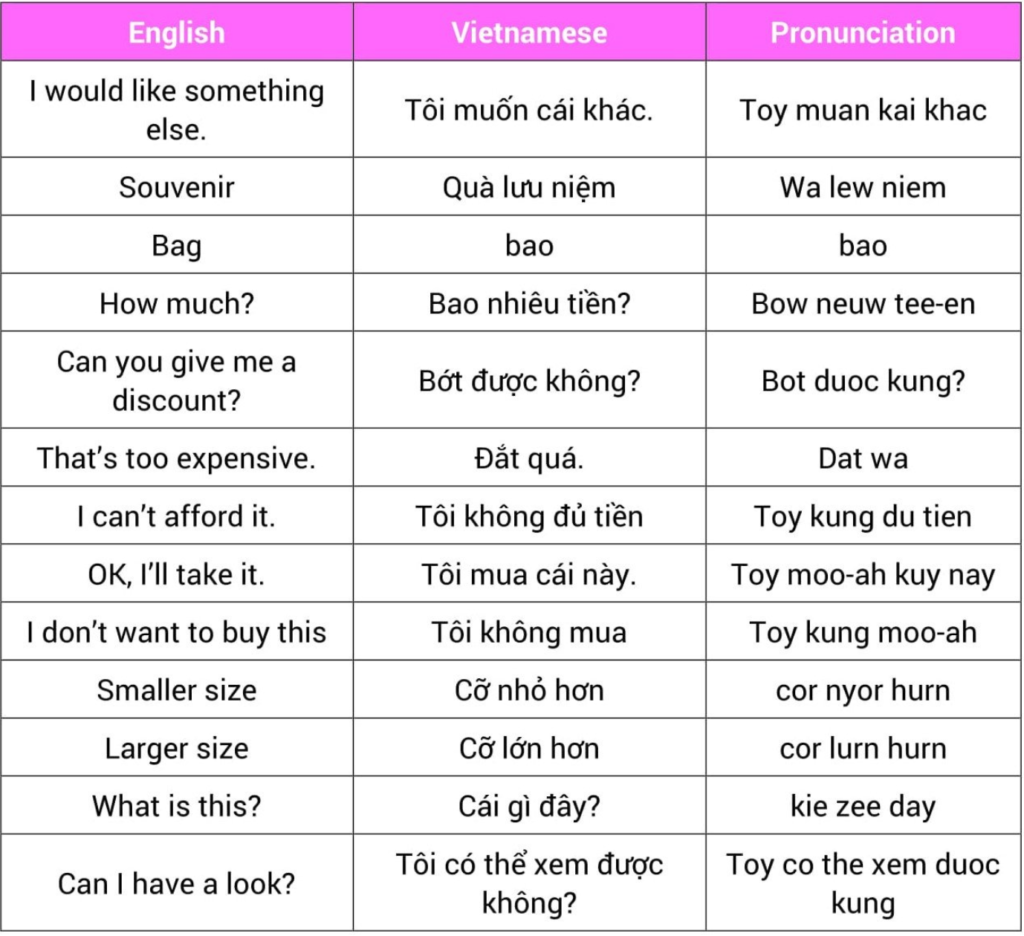 What's A Locals Salary In Vietnam
After you've spent 10-minutes bartering down 10,000vnd ($0.45) off the price of that $8 t-shirt you want, and lost some sleep over the $2 tip you left for the 4-hour guided tour. You might want to ask yourself what does a local earn compared to how much I'm spending on travel costs?
As a wide average, a local worker in Vietnam earns somewhere in the neighborhood of $250/month for a standard job like working in a restaurant or market selling fruits. For more skilled labor like an office worker or administration staff, they might make a premium salary closer to $500/ month. Vietnam is also turning out millionaires, but you won't be bartering for t-shirts with this group.
There are of course tourist scams, as a whole the Vietnamese are honest people and negotiating over your pocket change isn't going to affect your budget. You won't be seen as a walking ATM, but when you're walking around in clothes that cost two-months Vietnam wages you could see the local's lack of moral conflict in charging you double the local price or not willing to negotiate down much more. Just be respectful when travelling in a foreign land and if the price seems fair without negotiation, it's ok to pay the asking price too.
The $18/hr job that you only had to work for 6-months in order to save enough money to travel Vietnam for 3-months is incredible to the eyes of a local. Your money will go along way in the local economy, and you along with them should benefit from this.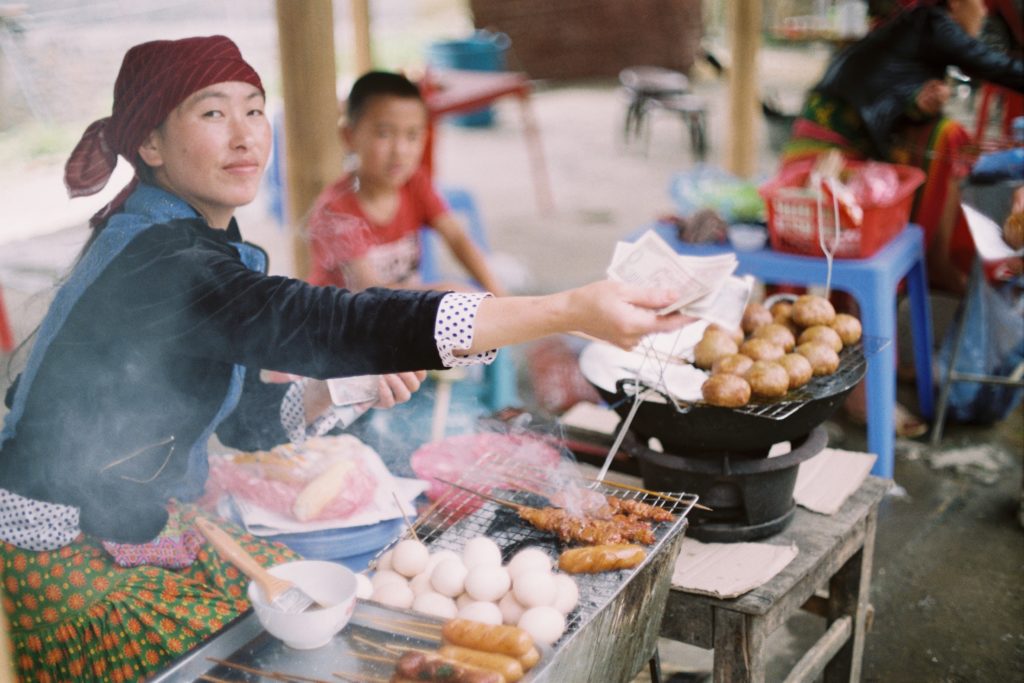 Getting Around Vietnam
Depending on how long you plan to visit Vietnam might help you answer how you plan to get around. When you're looking for cheap places to travel, you'll need to consider planes, trains, buses, motorbike hire, & motorbike taxi. It's all here and often not all that expensive.
Vietnam By Motorbike. As you travel across Asia you'll soon realize that motorbikes and scooters are the main means of transportation for the locals.  When comparing countries like Indonesia, Thailand, or Cambodia you can always find cheap scooter rentals from around $7-10/day. 
Here's a quick look at what you might expect to pay for an adventure bike. HOWEVER, you'll also want to consider the condition of the bikes, deposits, what insurance or equipment is included, and read reviews across multiple platforms to get an idea of the company. 
Southeast Asia Motorbike Rentals Compared
Table:
| Indonesia | Thailand | Cambodia | Vietnam |
| --- | --- | --- | --- |
| CB500X around $55/day | CB500X around $60/day | Honda Hornet 250cc around $20/day | CB500x around $45/day |
| CRF250L around $40/day | CRF250L around $43/day | Honda XR250L around $25/day | CRF250cc around $40/day |
| KLX250 around $38/day. | Versys X300 around $53/day | Honda XR650cc $20/day | XR150cc around $20/day |
If you came for an adventure in Vietnam, a motorbike is the best way to get from HCMC to Hanoi and everywhere else in the country. You'll have the liberty to travel anywhere at any time for an extremely low cost. 
From day one you can venture off into the less touristy areas and experience local culture, stay with the locals, and have a real adventure. You can't put a price on that, but if you want to try here we go.
Motorbike hire from $10/day. – Bus ride from city to city, $12/trip.

Riding your bike to camp in the countryside, $0 – The cheapest dorm, $3-$10

Staying in a local homestay, priceless ($10) – Cheap, smelly dorm $10

Going on a self-guided waterfall tour, $0 – Taking a guided waterfall tour, $20

Riding to remote beaches, $0 – Chair rental at busy tourist beaches, $5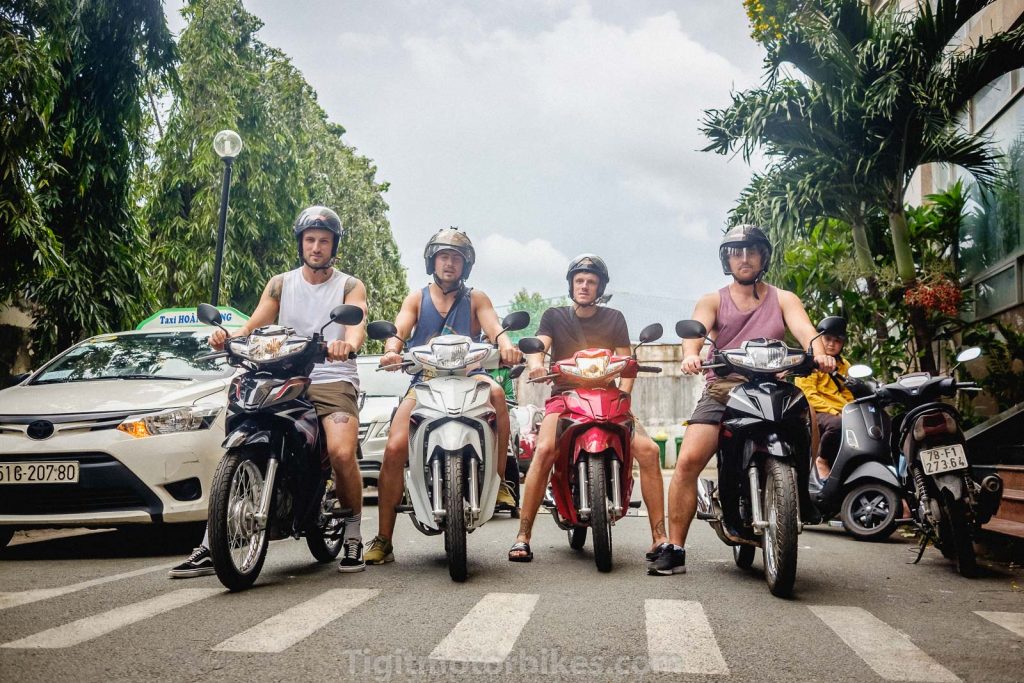 Vietnam By Bus. Busses can be cramped & chaotic roller coasters on the road, or they can be premium sleeper busses with foldout beds and snacks served. Pay more, get more! However, you can usually go from city to city for around $10-$15, this can work out cheaper than a night in a dorm room. If you are looking for the cheapest way to travel to Vietnam from Thailand or Cambodia, it's by bus. You'll need to obtain a Vietnam Visa in advance arriving by land. Arriving by international air travel you can usually get a visa on arrival.  
The Sinh Tourist, Hoang Long, Mai Linh Express, and Phuong Trang are some of the bigger companies that can get you across the whole of Vietnam. If you're on a Gap Year, don't trick yourself into thinking that the best way is to buy a hop on hop off ticket to take you everywhere. As your confidence grows so will your need for adventure and staring out a bus window will take second place to something like motorbike travel. 
Vietnam By Train. The train is owned by Vietnam Railways and for budget travel, is competitively priced against the bus. If you're going from city to city this can be a good alternative. As a bonus, if you hire a motorbike to travel the whole of Vietnam and are running short on time, transporting the motorbike by train is an option. 
Vietnam By Plane. The best airlines in Vietnam are; Vietnam Airlines, VietJet, Jet Star and Bamboo Airways. VietJet is insanely cheap, from $20-$70 you can get around Vietnam. Next is Jet Star, it's where you go if you can't find your cheap flight with VietJet. Bamboo is still fairly new but they look competitive. Finally, Vietnam Airlines would be your premium carrier. Overall you get what you pay for and if you're just going on cost, expect less when you pay less.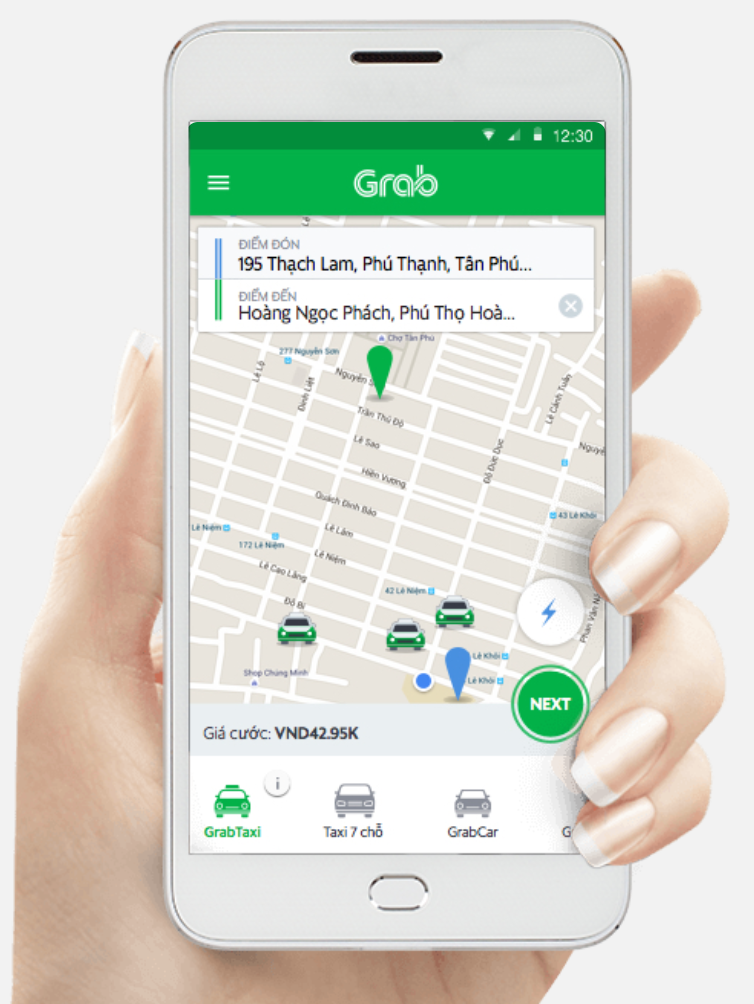 Vietnam Taxis. Before arriving, download the GRAB taxi app. If you're familiar with UBER it's very similar and you can request a car or motorbike taxi. It's the number one way to get around.
Perfect if you don't speak Vietnamese. 

Very cheap, with most routes under $5. 

Drivers are reviewed and you can view their vehicles & plate numbers.

Pay by cash or credit card.

For the most part, this service is only available in major cities. 

Once you have a motorbike, you won't need it.
Vietnam By Boat. A country entirely bordered on one side by water, you can expect to enjoy some of your travels by boat. Tours in popular places like Halong Bay or the Mekong Delta can often be booked online. For island hopping or local tours, you can ask directly from the boat driver for the best deal. Remember to barter!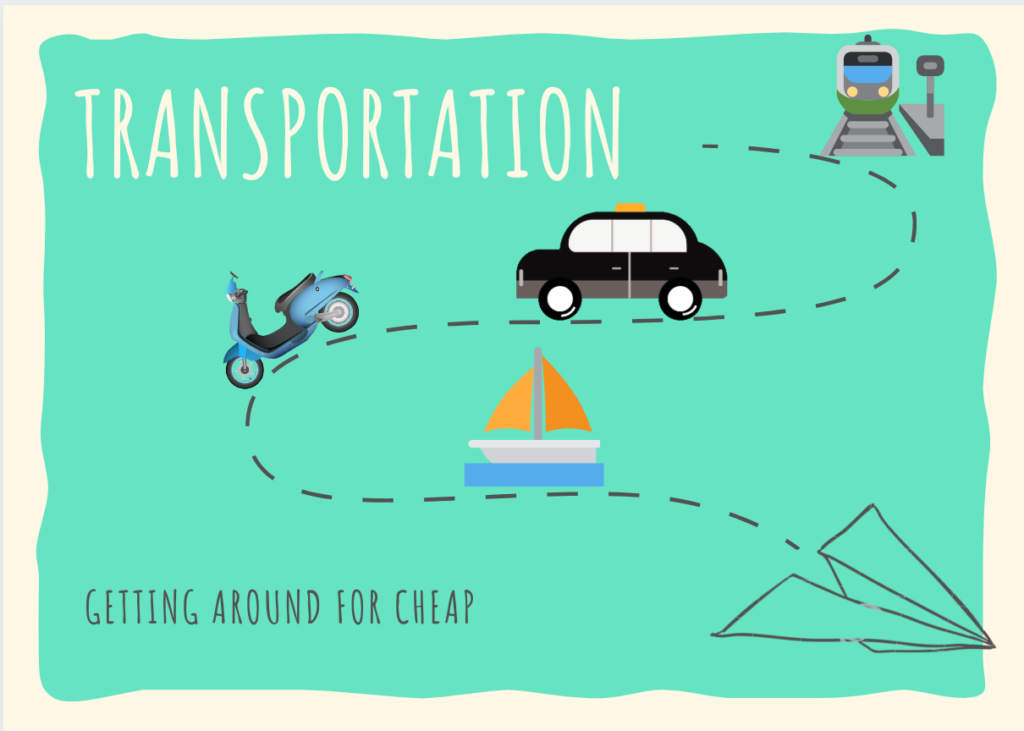 Fuel Price In Vietnam  
Fuel in Vietnam is a competitive commodity similar to a large part of the world. If global petroleum prices crash or spike, it will be reflected in the price at the pump here too. The biggest supplier of fuel to consumers is Pertrolimex, however, there are a number of suppliers who all offer the same 95 octane fuel as the others.
Fuel stations are mostly full service in Vietnam. You pull up to the pump, request the amount of fuel you'd like in Dong, and pay for the total in cash.
Giving an actual cost is impossible as the price changes continually. On average, fuel prices since 2014 have fluctuated from $1.15 to $0.75/ liter.  Compare that to the UK where prices have ranged from $1.30-$1.70/ liter or New Zealand at $1.10-$1.40/ liter in the same time period. In contrast, fuel in Vietnam is cheap.
 What does this mean to you if you've rented a Honda XR150cc or Honda Winner 150cc and you're in Vietnam on a budget for 2 weeks?
Honda XR150cc

with a 12-liter fuel tank averaging 50km/l. $0.85/l x 12l = $10 to fill and 550-600kms on a tank of fuel! Roughly Da Nang to Nha Trang on a tank of fuel.

Honda Winner 150cc

with a 4.3-liter fuel tank averaging 45km/l. $0.85/l x 4.3l = $3.65 to fill and 150-190kms on a tank of fuel. Roughly HCMC to Cat Tien on one tank of fuel.
Summary – Fuel is cheap!
*Note, as you load a motorcycle down with people, luggage, ride them up hills or off road, the fuel economy will decrease. 
Backpacking For A Month – True Monthly Cost Breakdown 
If you're still convinced that you need to travel the cheapest way possible because you're backpacking Vietnam on a budget. A budget that probably bought airfare to Vietnam for $1000 and seems to suddenly vanish after happy hour is finished. Let's look at 1 month in Vietnam cost to see the real price of taking the bus, buying a used motorbike, and renting a quality motorbike in Vietnam. 
Rental Motorbike
Honda Blade 110cc (touring sealed roads) $250/month 
+ Oil change every 1000kms (about 2x a month @ $4 each) $8
Fixed daily costs $840/ month
+ ($8/day for food. $240)
+($5/day for beers. $150)
+ ($15/day sleeping ($10 – $25 depending on homestay or private hotel) $450)
+ (Souvenirs, entertainment, and tours. This varies widely for each person. $0-$500)
=Vietnam budget per day 2020 for self touring and enjoying a moderate holiday $36/day
Honda XR 150cc (adventure motorbike, take anywhere) $450/month 
+ Oil change every 1000kms (about 2x a month @ $4 each) $8
+ Fixed daily costs $840/ month
=Vietnam budget per day 2020 for an adventure holiday that can take you anywhere $44/day
Honda Win 150cc (the bike you buy off other backpackers) $250 total 
+ Oil change every 300kms (about 6x a month @ $4 each) $24
+ Average monthly repair fees $50-$100. $75
– $150 you'll get back for a quick sale. (-$150)
+ Fixed daily costs $840/month
+ Hidden repair costs, days lost for breakdowns, stress, paying for hotels near your mechanic. These add up fast with a broken motorbike.
=Vietnam budget per day 2020 for a risky holiday that maybe half spent at a mechanics. $35/day
Bus
+One major bus ride about every 5 days. $12/trip average. $60
+Taxis of some sort every other day to get around. $5/ round trip. $75
+Fixed daily costs (15% higher as you'll mainly be in tourist areas) $940/ month
=Vietnam budget per day 2020 for what's perceived as a cheaper option because you bussed it. $36/day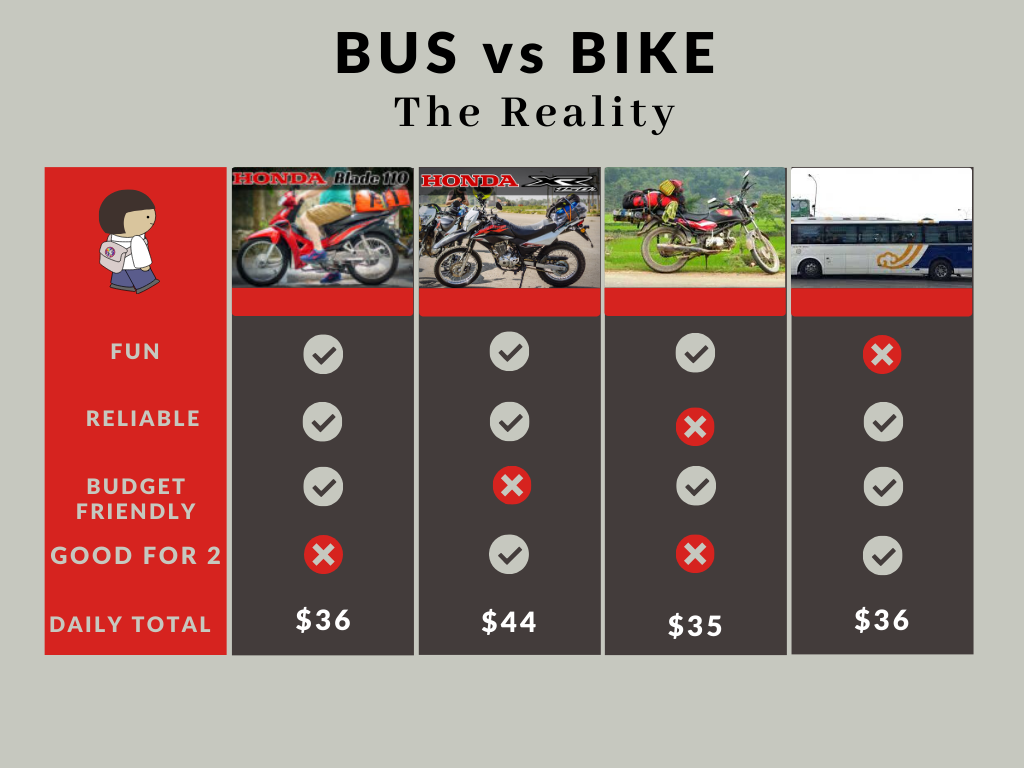 Budget Travel Mistakes
Despite all the assumptions you've come to believe about travelling Vietnam on a budget, no matter how you travel it's going to be cheap. The reality is, the cost of buying a cheap second-hand motorbike that is extremely likely to leave you stranded. The cost of forcing yourself onto a restrictive bus only to stare out the window into what should be the adventure of a lifetime. And, the price to rent a perfectly good motorbike to tour around and experience all that life has to offer, are virtually identical! Come for the incredible travel value and leave having had the adventure of a lifetime.
If you want to know more, check out our Vietnam backpacking blog for travel tips and all things related to motorbiking Vietnam.