Reading Time:
19
minutes
Pho Chau – Tea Hills – Cam Thuy  253kms
(with historical detour add 20kms)

Pho Chau to Thanh An Tea Hills – 37kms
If you skipped it the firsts two installments of HCM Highway By Motorbike series, go back and read over HCM City to Kon Tum, then the central section that covers Kon Tum to Pho Chau. After, you'll be up to speed on 2/3 of the route and be ready to ride this final section towards Hanoi!

    Leaving Pho Chau and heading North on the final stretch of the Ho Chi Minh highway towards Hanoi the road will dull off from those dramatic cuts through the mountains, into long flat stretches flanked by local and industrial farmland that are all part of North Vietnam by motorbike. Lucky for you there are a number of interesting, edible, and odd detours that would make a great addition to adventures like a tea or coffee tour by motorbike tour around by motorbike.

   From Pho Chau to your first scenic stop is just 37-kilometers up the road. Here your camera & taste buds will be significantly rewarded for pulling over. Just off the edge of the HCM highway sits Dap Cau Cau Lake, the home to some of the most majestic looking tea farms on the planet. If you worked for Crayola and wanted to define the shade "Tea Green," you would bring your development team here – it's that stunning.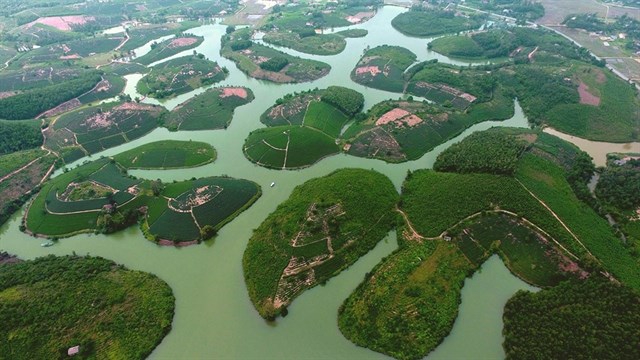 The Thanh An Tea Hills you'll find here in Nghe An province, are rolling hills that grow the regions sensuous tea. The locals didn't just limit themselves to the hills, there is also a tea island that you can visit by boat and do some little hikes around the tea crops. You can even rent boats to go up and down the small inlets of the lake. Trips out to the island around 40,000vnd, and taking a boat up the channels of the lake starts around 150,000vnd. If you happen to be packing a drone, this stop will make for some amazing photos and probably scare the pants off of some of the field workers!

    Reviewers even seemed surprised by this stop. One of the many five-star Google reviews stated, "…It's actually my favorite place on earth. It's romantic, natural, beautiful, clean… just amazing…".  

   Once finished at the Thanh An Tea Hills area, there are several options for food, plenty of choices for a bowl of tea, and a few sleeping options. If you want to wake up to the fresh scent of flowering tea, check out Gio Lao Eco Lodge. The lodge is simple, inexpensive, and you can book or read reviews through Booking.com.

Pros:
Taking photos here is worth the trip alone

You can hire boats to add to the adventure

You can wake up to the scent of blooming tea at the Gio Lao Eco Lodge
Cons:
The area can get busy with locals, avoid it on holidays

You can't access the inner hills or island by bike and will need to hire a boat to get to it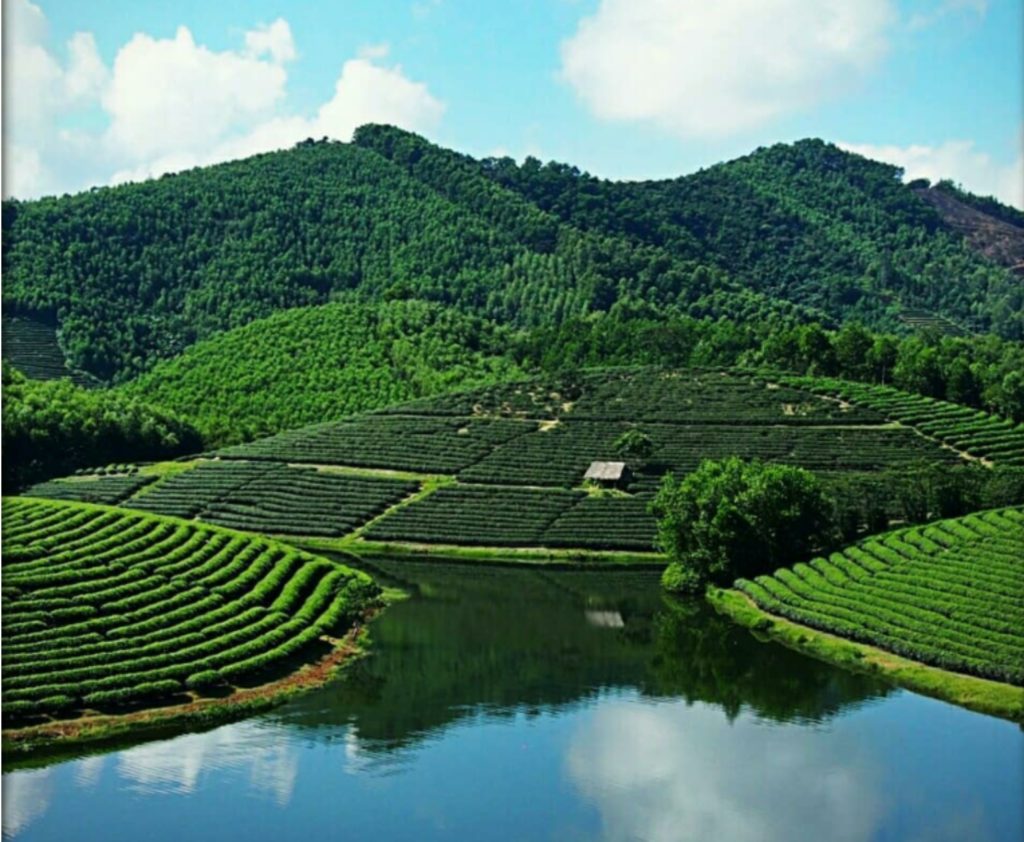 Tea Hills to Uncle Ho's Childhood Home – 39kms
After you've steamed, sipped and savored your way around the Tea Hills you have some route decisions to make. From here you can continue north along the route as planned. Or, you could make a historically significant detour about 39-kilometers to the childhood home of Uncle Ho. For decisions like this, I recommended having the coin toss app pre-downloaded on your phone.
The village here is a far cry from Ho Chi Minh City and has been preserved to look similar to how it did back during the turn of the 20th century. It's not much of a regular tourist stop and is more of a memorialized place of respect by the Vietnamese.
Here, you'll get to know Uncle Ho on more of a personal level. Viewing the home where he lived, the preserved villages of his mother and father, and you could also see where his grandmother, mother and infant brother are buried on the mountainside.
Expect a warm, friendly atmosphere of Vietnamese people in their most humble form.
To get there, you'll need to venture back a bit South until the QL46C road and go East until the T-intersection with the QL46A road. Take a right here and follow that road to Kim Lien village where you should find the location easily. Otherwise, enter " Kim Lien Relic Vietnam " in Google maps to take you right there. While near the village you might want to try some of the local cuisine.
Pros:
You'll instantly gain the respect of locals when you tell them of your visit here

A great stop for those who want a rich & unique Vietnam experience

Everyone here will be extremely welcoming
Cons:
It's a detour so this will chew up some of your time

Not an exciting stop for those of you into adventure

You aren't likely to find an English tour guide to explain the full history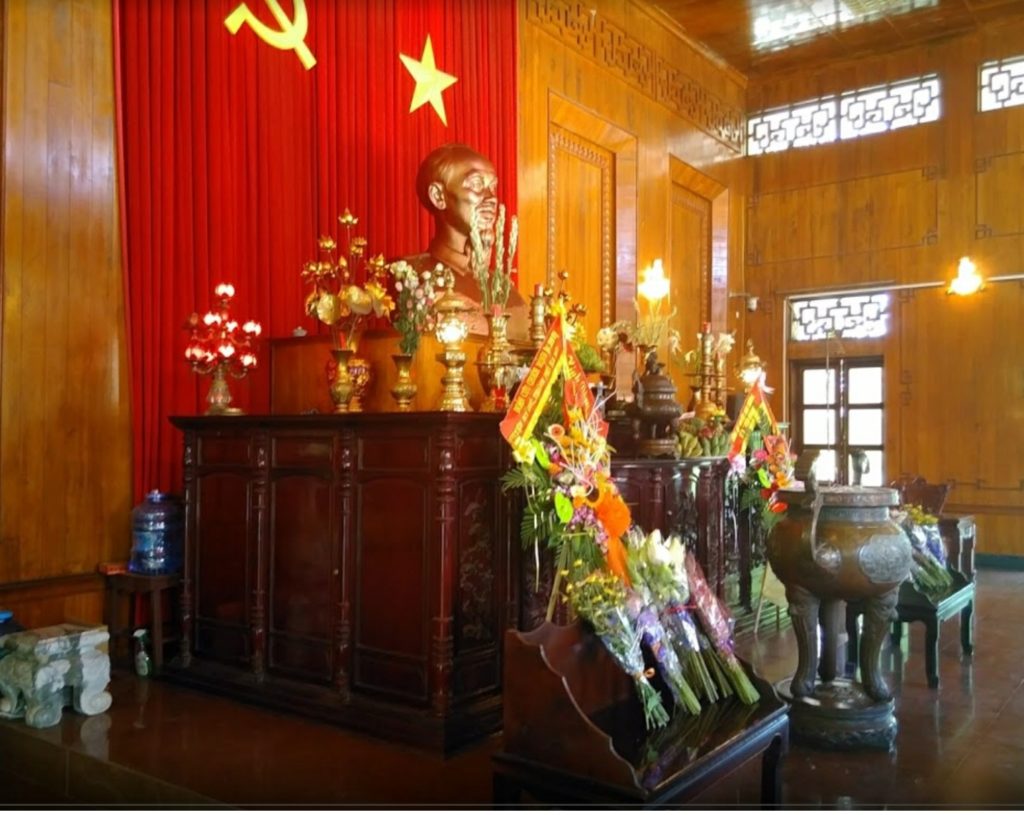 Image: Ho Trong Hoan.     –  Ho Chi Minh memorialized in his home village. A place scared homage where national citizens come to pay respect and reflect on the possibilities of their own humble lives. 
Ho Chi Minh's Childhood Home to KM-0 Marker – 62kms
 If you don't take the detour, continue North on the HCM highway. If you do take the detour, follow the directions in reverse to get back to the tea hills, or you can cut across on the QL15 road that goes around Van Dien and meets back with the HCM highway 62-kilometers later at the marker for KM-0 of the Truong Son Dong road in Nghe An province.
The Truong Son Dong Road, also known as the Ho Chi Minh Trail, was a series of roads, paths, and routes used by the Vietnamese during the war to evade the enemy. The road has significant sentimental value in Vietnam, and the monument here is to memorialize that. It's worth stopping for the photo since you'll be coming by here no matter what route you take. 

Depending on what route you took and how much time you have left in the day, you can either overnight here in Tan Ky or press on a further 165-kilometers towards Cam Thuy. In Tan Ky, there are plenty of sleeping and eating options available around the KM-0 marker and alongside the HCM Highway.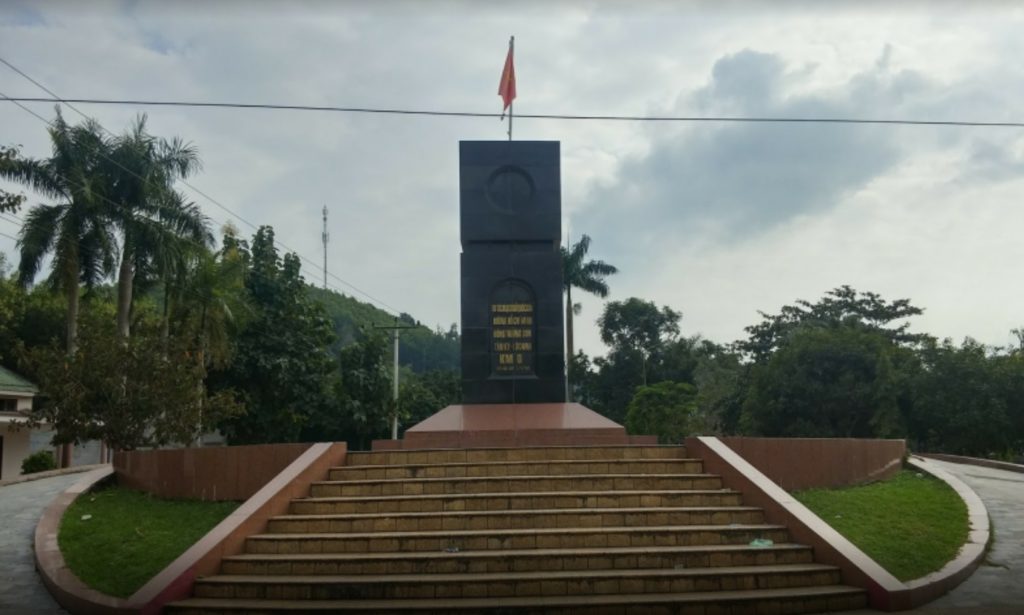 Image: Su Nguyen         
A shot of the KM-0 marker perched atop this little monument. This marks the start of the Truong Son Dong Road / HCM Trail.
KM-0 to TH Milk – 52kms
After the KM-0 stop, head out of town on the QL15/HCM Highway continuing north. Along the way, you'll likely be greeted by big trucks and light traffic, as well as a few sites to look at as you drive along.
As for the next major sightseeing option, well, if you like white mustaches, are craving a bowl of cereal, or simply just had no idea where milk comes from, you're in luck.
"The biggest centralized dairy farm with hi-tech operations in Asia."
A dairy farm on a colossal scale doesn't quite rank as one of those amazing things to do in Vietnam, but you'll make some memories here. There are nearly 45,000-cows on site which were originally imported from Australia, New Zealand, Canada & the USA. If you're from one of these countries, maybe you've already had a glass of milk from one of these 'udderly' beautiful bovines.

The farm also doubles as a spot for pretty flower photos. They grow fields of sunflowers to feed the cattle and it's said that these are typically in full-bloom around December. As for a more 'mooooving experience', there are plenty of photos from people who've taken a tour here. Your best bet for getting inside the dairy dynasty is to contact them via their website the week before, and hopefully, someone can show you the whole process, from teats to table 🙂

Pros:
This will leave you with a Vietnam travel story like no one else
You can take a teats-to-table-tour and wow your friends with udderly amazing photos

It's free
Cons:
You'll need to organize a tour in advance

Sunflowers aren't in season year round

English tours may not be possible
Image: thmilk.vn 
An overview of what happens at the TH Milk facility from cow to courier. A look at this operation from the inside out will forever change the way you look at your morning glass of milk.
TH Milk to Lam Kinh Historic Site – 76kms
    As the road rolls on you'll find your day switching from dairy dynasties to actual dynasties. 76-kilometers straight ahead on the HCM Highway you'll have the option to stop at the site of the Lam Kinh imperial temples in Thanh Hoa province , a great part of your Vietnam culture trip.
Why is this worth the stop you ask? Well, there are some restaurants close by that sell beer. Aside from that, it's also where the royal tombs rest of one of Vietnam's most important dynasties.
   
A quick dynastic run-down;
Lei Lo, later changed to Ly Thai To (Le Thai To), the most significant and initial ruler of the Le Dynasty (1428-1788). Defeated the Lam Son Troops in the 15th century and pushed the Chinese Ming Dynasty who'd been ruling the Vietnamese, back across the mountains where they came from.

This 15th-century victory and reclamation of the lands back from the Chinese would positively change the mindsets of the Vietnamese, and forever launch Ly Thai To into ruling class super-stardom.

The Ly dynasty was also responsible for setting up present-day Hanoi as the nation's then capital.

Ha Noi, meaning between two rivers, was initially called Thang Long, or Rising Dragon

before the Ly dynasty got their hands on it. Personally, I like Rising Dragon better, but my dynasty wasn't asked for their input on this political matter.

As for Ly Thai To, after winning his battle against the Chinese in 1428, he became king and chose his birthplace as the location to build his imperial city, here in Lam Kinh.
There are various mythical tales about a magical sword that Ly had. One was that he had to assemble a sword from two separate pieces and once he did this he obtained all the swords magical powers. It's gripping, it's edgy, and it could probably be a Hollywood blockbuster, but I don't want to dull you with the details. If you want to dull yourself, check out the lengthy Wikipedia page on the matter.
At the Lam Kinh historical site, you can expect to see a 300-year-old Banyan tree, tombs of some Kings from the dynasty, and restored buildings with all their intricate designs.

Pros:
The place is very interactive, with tombs and temples to explore

You can get up close with a 300-year-old Banyan tree

The area is quite pretty
Cons:
A touch boring without a guide to explain everything

This stop could take most of a day. Check your schedule first

There is a fee to get in




Image: Trung Thai.  
One of the restored buildings at Lam Kinh. Notice the incredible detail in both wood carving and decor. Stunning!
Cam Thuy to The Mythical Fountain – 15kms

  After a day or two of drinking tea in the lush green hills, checking out Uncle Ho's previous pad, stopping to smell the sunflowers and see the teats, and getting to know your dynasties, you'll need a break.
Just 40-kilometers more of HCM highway will bring you to Cam Thuy. Here you can take a pho-break from all your exciting exploration around the Ho Chi Minh highway, before setting off on the final leg of this journey. It has been a long haul so hopefully, you choose the best motorcycle to drive in Vietnam.  
 Cam Thuy will make for a good night rest, and from here there are a couple of side-trips to add to your Vietnam road trip itinerary if you're looking to explore more.
15-kilometers North-West of town on the QL217 road you'll find the Cam Luong Mythical Fountain. No, not the fountain of youth, so don't drink that water. But the mythical fountain complete with holy fish, river, and interesting cave walk.
This stop is crazy-popular with local Vietnamese tourists. The kind of popular that you could just go and people watch rather than fish watch. As for foreigners, you'll probably be the only ones there.
   
  To get here, you'll need to cross a one-lane bridge of wooden planks that will bring you to the parking area. Once inside, you can walk around and explore all the mythical options. From the nearby cave in the Bo Um mountain flows water carrying big dark fish with bright red lips.
According to local legend, the fish are holy, and as a result, no one dares to catch or eat them. According to local security, you are also not allowed to feed them, but everyone does. So bring a little bread and get in on the fish frenzy. You can explore the cave, have lunch, shop at the many booths, and take fish selfies with your own personal fish lip poses.
There's a small fee for parking and another small fee to enter, something like 40,000vnd. Really though, it makes for an interesting day out, at an incredibly low fee!

Pros:
Where else are you going to see a mythical fountain?

Entrance fee is cheap, around 40,000vnd

The walks are easy and the fish make for good photos
Cons:
They have rules here, like don't feed the fish. (but everyone does)

You can't (shouldn't) go fishing here

It's busy. Very, very, busy
Image: Dao Nah.  –  The place is teaming with Red-Lipped fish at The Mythical Fountain. These fabulous fish will never end up on a lunch menu, they don't know just how good they've got it!
Cam Thuy to the Ho Citadel – 28kms

   Your other option for things to do if Cam Thuy is your base point and you've got the right amount of time. Is to venture 28-kilometers in the complete opposite direction, South East, and seek out the Ho Citadel. This UNESCO World Heritage Site was built by the Ho dynasty to mark what was the capital during their short reign of power from 1398-1407.
The more interesting points about the location is that is was designed based on feng shui principles. The layout focuses its well-designed setting between the Tuong Son and Don Son mountains, at a crossroads with the Ma and Buoi rivers. The less than cool points are that all that is really remaining to see is the main gates of the Citadel. The rest is minor buildings, rubble, or grass.
Is it worth the drive? Well, if UNESCO World Heritage sites are on your list, then yes. If holy fish with red lips are more your thing, hit up the other detour.

    Ho Citadel Overview
28-kilometers each way from Cam Thuy

A UNESCO World Heritage Site

Learn about the short reign of the Ho Dynasty

Remember to pack your imagination, as the site will require you to use it!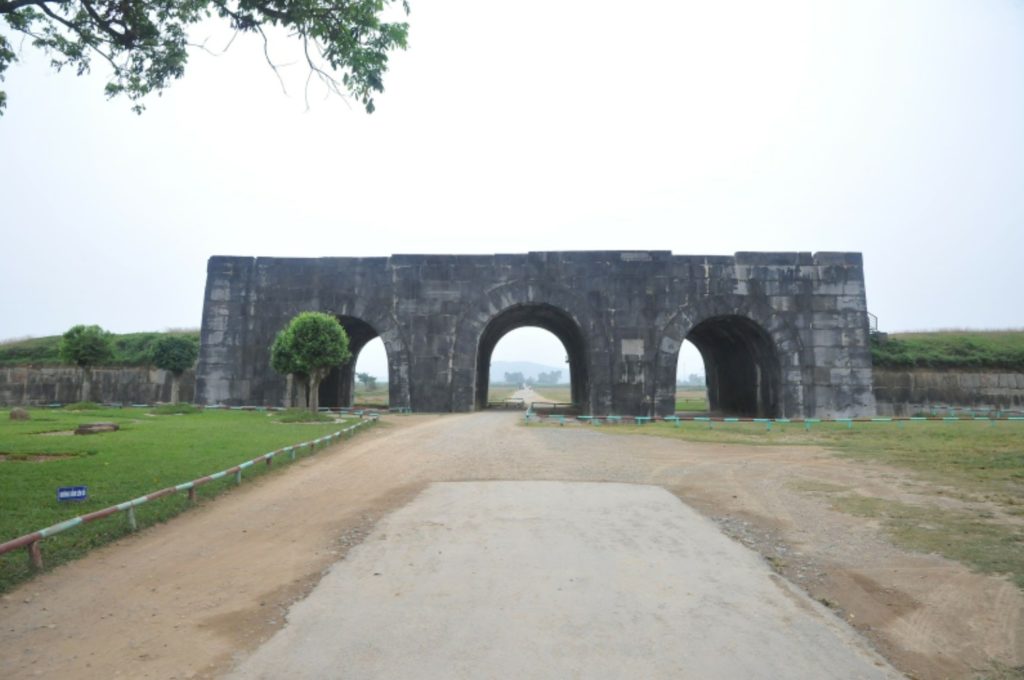 Image: Wikipedia.  –  Front Gates of the Citadel, all that remains here aside from the stories.
Cam Thuy to Cuc Phuong National Park – 50kms

   As you cross into the province of Ninh Binh you'll have a host of possible things to do before finally touching down in Hanoi. It's been a long trek with your Saigon adventure starting in the South to Hanoi in the North. I hope you saved some energy to visit the Cuc Phuong National Park in Ninh Bình Province. Ho Chi Minh himself made this the country's first ever national park in 1962, stating "Forest is gold."
This park awareness was good in that the country recognized the importance of the park for maintaining natural areas. However, it also meant that those looking to increase their position in poaching, illegal logging, and animal trade, now knew where to look. They were even treated to better roads for their harvest.
As a result of this easy hunting, animals like the tiger and Asiatic black bear are extinct in the park, and trees in the park have gone missing at an alarming rate. The good news is, that the more than 22,000-hectares of the park are still home to almost 100 mammal species, over 30 reptile species, and a wide variety of bird and plant life.
Getting to the park from Cam Thuy is about a 50-kilometer drive. Just follow the HCM highway North out of Cam Thuy, and as you make your way towards Hanoi, it will turn into the QL12B road going West. Once the road gives you the option to go back North towards Hanoi or venture back towards the South East, stay on the QL12B going South East. For this part of the road you'll be happy you got a local sim card, as you'll need to watch Google maps on your phone because the road to the park is not named. Just enter in "Cuc Phuong National Park HQ" in Google Maps, or follow it off our route map.

How To Book A Cuc Phuong Park Tour
   Once you're at the parks main headquarters, you can either arrange a guide for your day trip or take yourself on a self-guided tour. For the self-guided tour, first, stop at the headquarters and ask the staff about distances, what they'd recommend, and book yourself into a tour at the Endangered Primate Rescue Center (EPRC). To tour the center you'll need to book before you get there, so you probably want to either email their website or get the headquarters staff to arrange it, and maybe you can come back after the other stops.
The EPRC is a part rescue center, part zoo, that helps rehabilitate and breed some of Vietnam's most vulnerable primates. Basically, all those cute little primates you see for sale in dodgy markets or as display pieces that people have on Instagram. Yes, those are most likely illegally harvested from the forest and in some cases from this park. The EPRC is a great place to learn about the primates, what's being done to help them, and you can even volunteer if you'd like.
Pros:
The park is home to 22,000-hectares of land that aims to protect a number of species

You can see primates up close

You can volunteer here
Cons:
The park's design has actually made it easier to poach and as a result, many species have gone extinct here

You need to book a tour in advance

Illegal logging still goes on here





Image: Khoi Tran Photos.         
Hiking up inside the Cave of Prehistoric Man. As long as you can handle the steps, it's not that bad & worth the mini-adventure.
Park headquarters to Prehistoric Man Cave – 7kms   
It's not like you're doing a big Saigon motorbike loop around the park. There is really only one way in and out of the park so you shouldn't get lost. With that in mind, you can begin by venturing on about 7-kilometers from the main entrance to the Cave of Prehistoric Man.
From the parking area to the cave is a small hike with some stairs to climb. What you won't actually find in the cave is much in the way of Fred and Barney's caveman cousins. What you will find though, are some cool caves and caverns to explore along with many bats who reside here. Bring a headlamp or some kind of torch; otherwise, you'll be stumbling around as blind as the other bats in there.

Prehistoric Man Cave to 1000-year-old tree – 11kms

   At the next stop, you'll be able to do some hiking to see the 1000-year-old tree. From the Prehistoric Man Cave to the parking area where the hike begins is about 11-kilometers. Once you're at the parking area, you'll need about 3-hours round-trip to do the hike. A little added exercise to your backpacking Vietnam adventure will be a nice touch.
A sucker for flowers? – Pack a lunch, some water, and expect to see lush and beautiful fauna along the way. We included a photo of one of the trees, so you know what to expect at the end. I don't want you to get hyped up about a dramatic finish, just a nice hike with a few beautiful and ancient trees at the end.
To get the most out of the park, go early and make a day out of it. There are places to eat along the way, and you can also spend the night in the park, but I haven't found many reassuring reviews about any great places to sleep in the park.
 Overall, the park is beautiful, but not without its ongoing controversy. Aside from the poaching and tree harvest, there is still around 2500 Muong minority tribespeople that live in the park. They live, farm and hunt here. Over the years the Vietnamese government has been trying to relocate these people to other parts of Vietnam, as you can imagine that move is not entirely welcome by the Muong people.
If you are going to go, the best time to visit the park is November to February during the dry season. Park access is cheap, only about 40,000vnd. Come, enjoy, and learn about the animals, nature, and the animals being rehabilitated inside the park, you'll be glad you did.

   Prehistoric Cave and 1000-year-old tree Overview
Bring a headlamp and check out the Cave of Prehistoric Man. You're more likely to see bats than any signs of man here, and no, not Batman!

Take a hike! Literally, to the 1000-year-old tree. It's about 3-hours round-trip, so be prepared with snacks, water, and mid-range expectations

You can book accommodation inside the park, but do your research first as the reviews aren't all gleaming

The entry is cheap, around 40,000vnd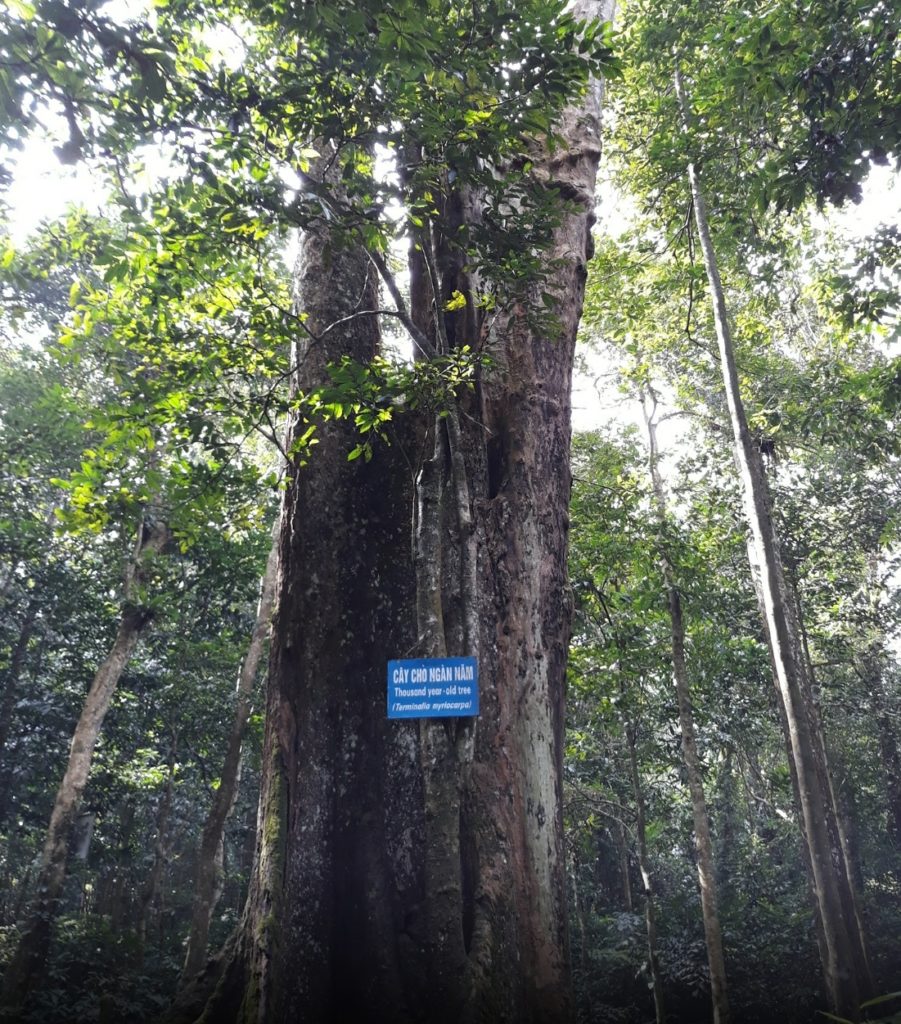 Image: Thu Trang.   
 A shot of the 1000-year old tree, with a slightly out of place modern blue sign attached to it. Really, not so different than many parts of Vietnam, an old world with signs of the modern world just slapped on the front.
Cuc Phuong National Park to Hanoi – 120kms    
Though the HCM highway won't actually take you right into Hanoi, your best efforts for following it through to the city, are to ride back the way you came on the QL12B road until you hit the HCM again. From here the Ho Chi Minh to Hanoi route that has carried you across jungles, mountains, through remote villages, and over some of the most adventurous and diversified landscapes in Vietnam will slip away. The Ho Chi Minh highway veers left towards Son Tay as you veer right and follow the AH13 into Hanoi.
Exploring Ninh Binh
    Anyone looking to explore the area around Ninh Binh for a day or seven before finally touching down in Hanoi. Will be treated with options ranging from outdoor hikes to unique regional food, and off the beaten path motorcycle rides that not all tourists get to enjoy.
When looking on a map you'll notice that Ninh Binh is one: a province. and two: the name of a city. Then if you were to ask locals where various sites are, they would reference the area around Ninh Binh city as the zone of Ninh Binh. It's best you have a good idea of where you want to go, to avoid too much confusion while in the area. Even if you get lost though, it will probably be to someplace beautiful.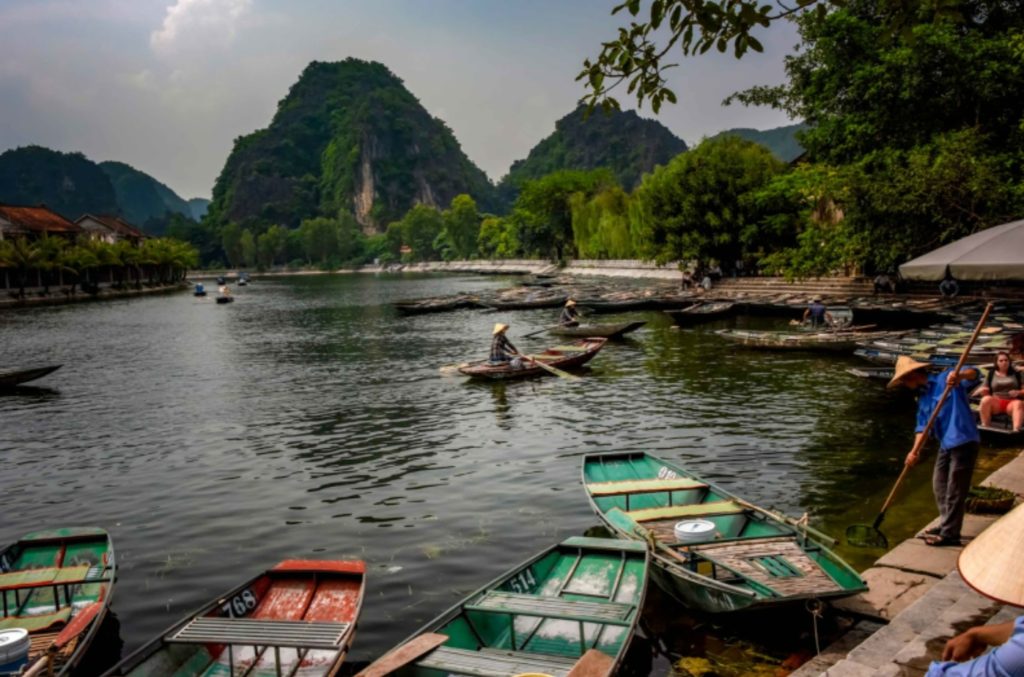 Image: Tom Waddington via Flickr   
A taste of what to expect around Tam Coc. Hop in a boat with a local guide and let the day slowly slip away while you enjoy the tranquility on the water through the beautiful landscapes.
Tam Coc
Some of the top sites to visit around Ninh Binh include locations like Tam Coc. An eye-popping, jaw-dropping view of lush karst mountains, and abundant rice fields caressing the Ngo Dong River. It was made famous with the help of Oscar-winning movie Indochine that featured scenes shot here. A great way to get to know the area is with the two-hour rowboat tour and hiking the area.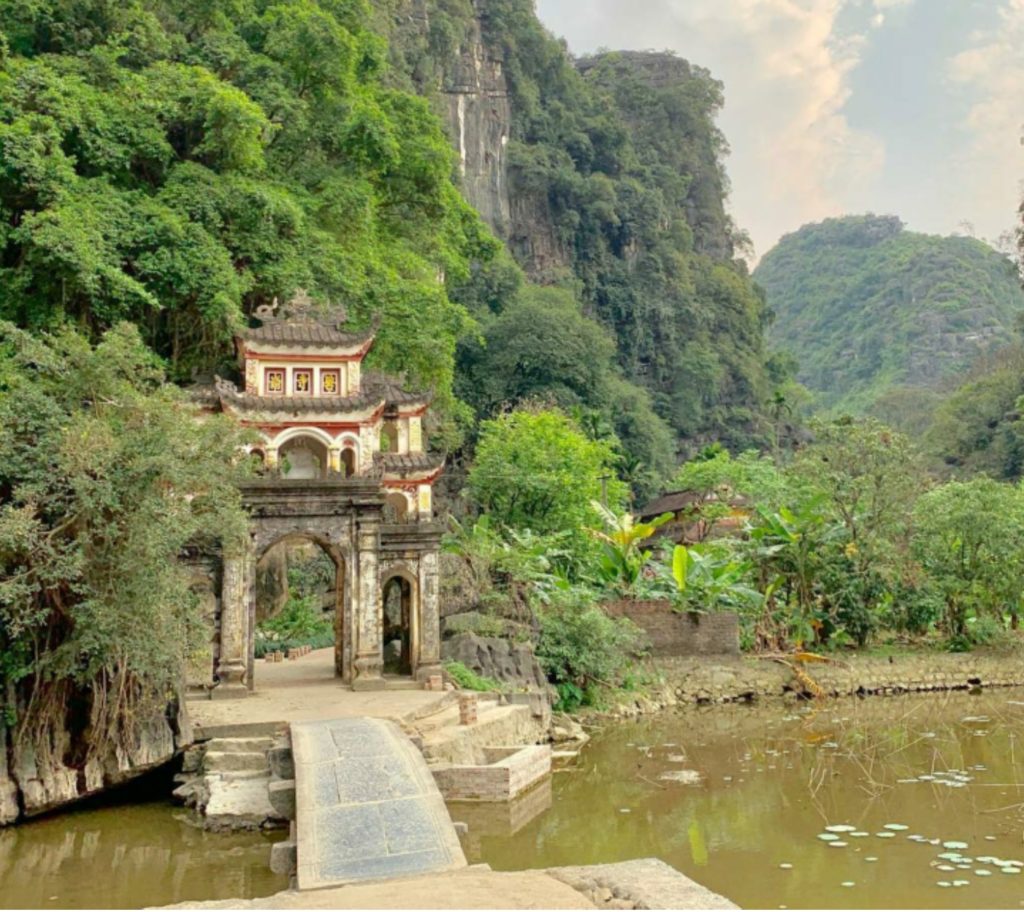 Image:@tharider89   
The eloquently placed rock bridge brings you from your rewarding hike, across the life-giving waters that surround it, and into the entrance of the three centuries-old holy Pagoda. It's a short walk through time with long-lasting memories.
Bich Dong Pagoda
In the early 1700s, two Monks named Tri set about the area building Pagodas and the beauty of the Bich Dong mountains seemed a perfect fit for their life's work. The Pagoda was built in three stages with a separate bottom middle and top. To reach the various stages is a mildly challenging rock staircase that will reward you with pristine views and some cave exploration along the way.
    To reach this Pagoda is a quick 3-kilometer ride on your motorcycle rental from Tam Coc and has no entry fee. Free exercise and free entry, could a backpacker ask for much more? OK, well there's no free beer, but it's still beautiful.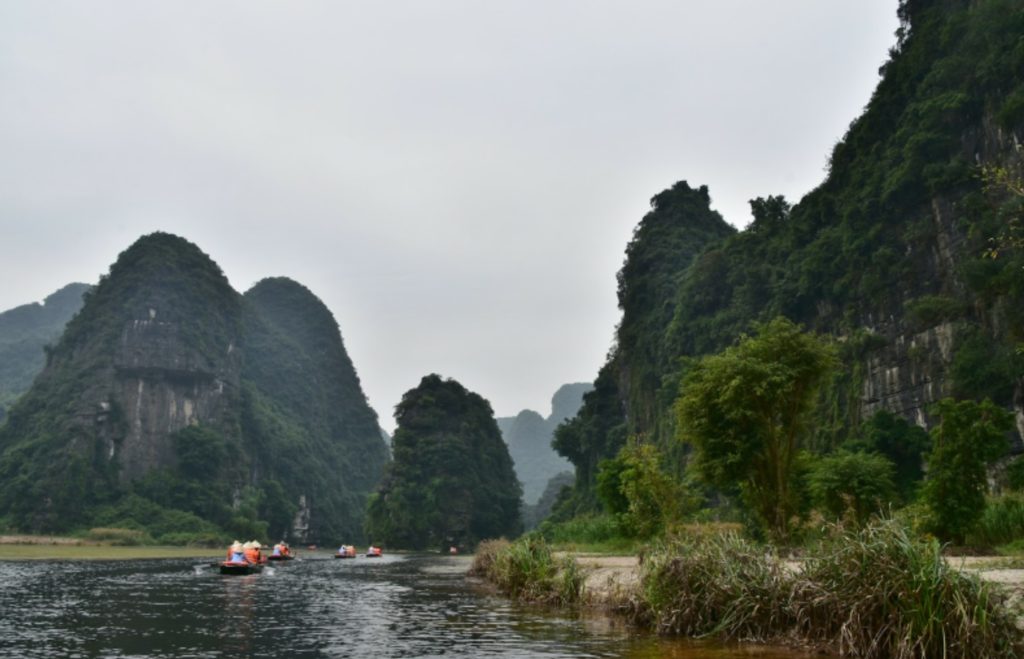 Image: Richard Mortel via Flickr    –   The lush landscapes along the karst peaks that jettison out of the water-filled valley below. You better make sure your batteries are charged for this tour around the Trang An Scenic Area.
Trang An Scenic Area
A UNESCO World Heritage site, the Trang An Scenic Area makes for spectacular photos and exploration like those famous photo spots around Hue. Having found evidence of people living in the area for the last 30,000-years, the Trang An Scenic area is home to rich history and plenty of opportunities to learn about it.
A tour here is best taken by boat to enjoy several caves along the river and the karst peaks. The tour is an amazing way to visit the local pagodas and see the villages here that have seen occupation since the beginning of man.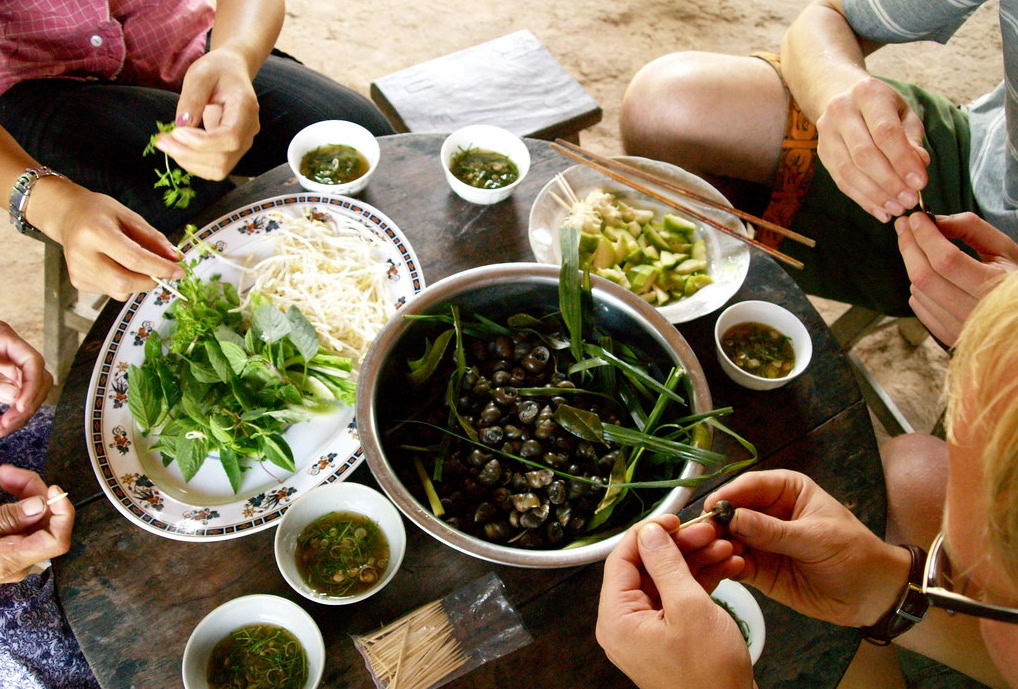 Image: Matt Preston via Flickr  –   A group readies themselves for a nice shared meal of snails. If you thought watching them get anywhere was slow going. Watch a group of foreigners trying to finish a bowl full of fresh snails. Now that's slow going!
Try The Local Cuisine
The area around Ninh Binh has some regional delights that must be tried by every adventuring motorcycle enthusiast. Goat (Thit de), is a specialty of the region and the distinct vegetation of the area gives the goat here a flavor that can't be savored anyplace else on earth. There are a variety of dishes ranging from Thit de nuong (grilled goat meat), that can be found topped with sesame seeds and herbs. To slightly more challenging styles to wrap your taste buds around, like Chan de ham thuoc bac (stewed goat foot).
If the goat-foot isn't your achilles heel, perhaps you'll be ready to up your epicurean game. Mountain snail (Oc Nui),  are a popular dish of the region and can be found seasonally (April – August) around Tam Diep town, Yen Mo, Nho Quan and other nearby areas. Try them sauteed with lemongrass, on a salad, or a straight snail, if you've had a few drinks of courage. If ever in doubt, read up on Vietnam food terms to reduce surprises.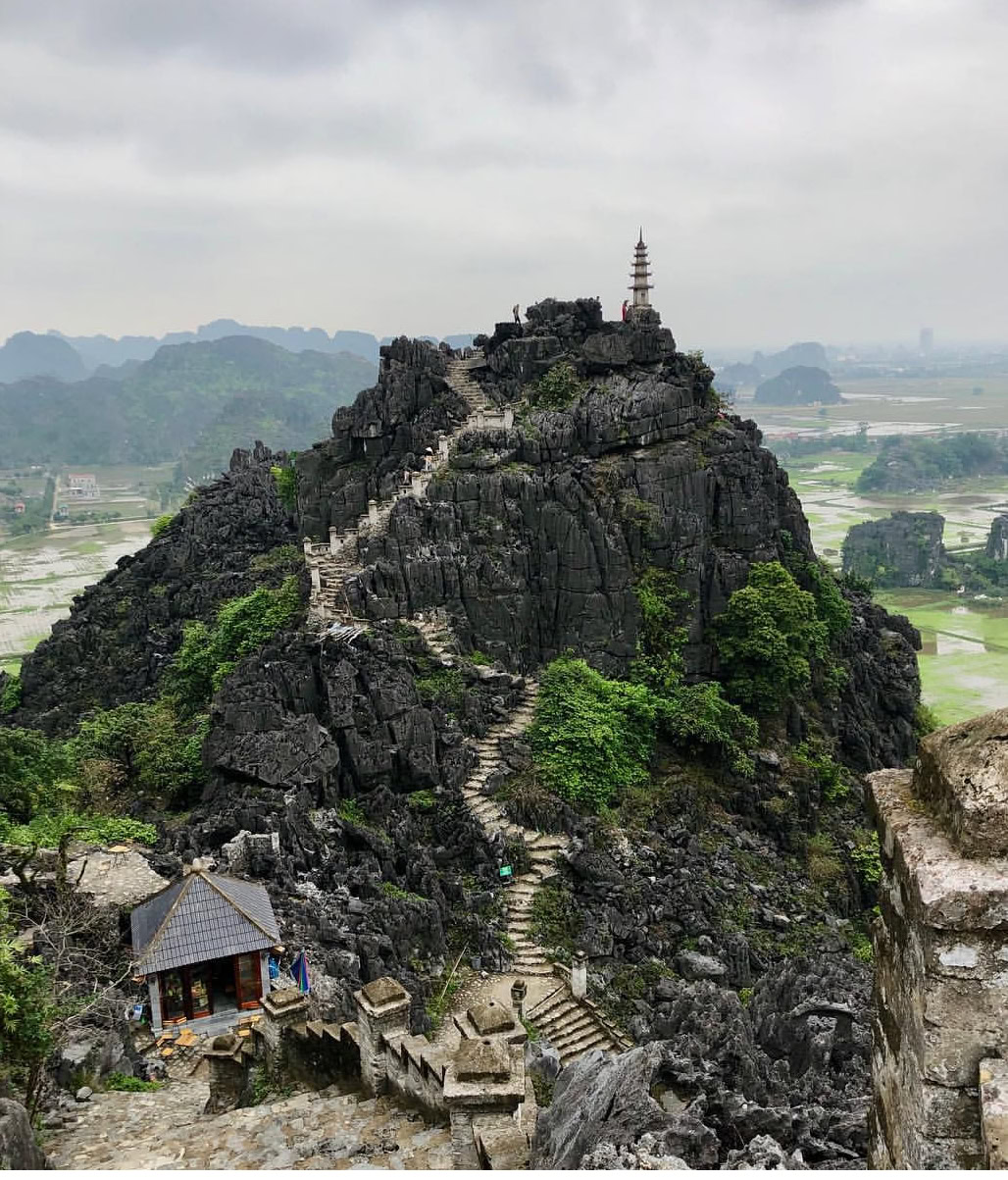 Image:@anett_pol   
 A race to the top of Hang Mua Peak is one of those challenges you set the night before and resolve to let the other person win 251-steps in. The hike up may wear you down, but the photo ops can't be outdone.
Ninh Binh's Other Highlights
With time on your side, there is no need to just touch on the highlights around the Ninh Binh area before heading into Hanoi. If you want to learn more about how to travel Vietnam and are looking for more to enjoy around the area, you might want to seek out some of the following activities:
Explore the Hoa Lu Temples

Go birding at Thung Nham Bird Garden

Get to know the floating Chicken (Kenh Ga) Village

Count your 500-steps to reach Hang Mua Peak

Visit the gothic-inspired Phat Diem Cathedral

   Depending on if your days or Dong run out first, Hanoi is just a quick ride north of here to wrap things up. Once you arrive, Hanoi, what once was the nation's capital. Will treat you to unbelievable amounts of traffic, English menus, the option to pay with your credit card, and people no longer giving you a second look. You'll wonder what happened to those endless miles of lonesome highway that passed you by not so long ago.
You can spend some time exploring the city, return your bike to our Hanoi location. There is really no bad choice from here and you'll be rewarded with every adventure.
The route from Ho Chi Minh City in the South to Hanoi in the North or running Hanoi to Ho Chi Minh by motorbike is extensive, to say the least. To make it easier to navigate, we've broken it down into three geographical sections;
South-    HCM to Kon Tum Guide.
Central- Kon Tum to Pho Chau Guide.
North-   Pho Chau to Hanoi Guide.
Original Header Image By Manh Nghiem