The Ho Chi Minh Highway (*often referred incorrectly as the HCM Trail) or Ho Chi Minh Road as it's also called is a cross-country strip of pavement that connects the South of Vietnam to the North. Ho Chi Minh, the once leader of Vietnam,  was also credited for joining the South and North of Vietnam as a united country, and so it seems fitting that this road is named after him. Here on this often vacant route through Vietnam, you'll find some of the countries most pristine motorcycle riding. Roads that cut through the lush jungle, over cloud-cresting mountains, and down empty stretches of highway that will leave you feeling as though these roads were paved entirely for you.
     The roads official beginning starts just east of the tri-country divide with Cambodia, Laos, and Vietnam, in the city of Ngoc Hoi. Some 600kms or so North of Ho Chi Minh City. From here the road stretches its way along the meandering back of Laos, and all the way up to Hoa Lac, near Hanoi.
Important Note
Be sure not to confuse the Ho Chi Minh Road with the Ho Chi Minh Trail. The Ho Chi Minh trail was a network of thousands of different routes that are mostly located in Laos, the most bombed part of the world. The majority of the Ho Chi Minh trails aren't found on regular google maps, and should only be explored by the most hardcore of riders. We named this article based on the common usage by visitors but we think it's important to mention the difference.
Ask Jon Tigit about these routes in person if you think you're up for the challenge. All in, this official road totals close to 1300kms of two-lane pavement. There are plans to change this, however, and like most things in Vietnam, bigger and grander is better.
     The future sees this scenic route expanding to an asphalt-excessive highway that will traverse from Cao Bang Province to Ca Mau Province. Tallying up over 3,000kms of landscape-erasing tarmac. For the purpose of this guide, we will run the route from Ho Chi Minh City in the South to Hanoi in the North, about 2000-kms. Why? Because no traveler starts a motorbike trip 600kms from HCM and finishes it shy of Hanoi, you'd be missing out on the calamity of HCM and would never know the contrast of Hanoi.
     Taking on the Ho Chi Minh trail by motorbike in Vietnam on this route will take you at least a couple of weeks. That said, there are so many options to make small detours along the way; like stop at a coffee farm, go to a national park, explore remote villages, or venture off into the central highlands route. That if you fancy yourself an explorer, you might need to double this amount of time.
 Motorbike Map for the South Western Border routes
HCM to Phuoc Long – 145kms – Ho Chi Minh Trail by motorbike
    Ho Chi Minh City is a fantastic place to dive right into Vietnamese culture, get to know the local party scene in the backpacker area around Bui Vien street and try the local cuisine. Once you've got your fill of Saigon adventure, Pho and Tiger beer pick up this route guide and motorbike your way into the mountains. To get you started on the first stop of the HCM route, get out of the city and make your way towards the bustling city of Dong Xoai. Its close enough and/or far enough from HCM to justify a first nights stop. Just make your way out of the city to the DT9 road and follow it to the DT741 up to Dong Xoai.
     In Dong Xoai you'll find that all your basic needs can be met, except for maybe entertainment. Seriously, scour the internet and see if you can find a list of fun things to do in Dong Xoai. Ok, you could visit the market, hit up a coffee shop, or delve into some more Vietnam war facts. There was a fairly significant battle fought here between on June 9th, 1965, where the Viet Cong went toe to toe with the Americans. If you're looking to outdo someone with your war facts, look it up. Otherwise, we might also suggest that if you can make it a bit further up the road to Phuoc Long, you will likely be better rewarded with activities. Stay on the DT741 if you plan to go up to Phuoc Long.
    Phuoc Long is not on the HCM route per-say, but you can easily venture off to it for the night and then back onto the HCM route the next day. We're only adding this as an option if you'd prefer to sleep in, and navigate smaller towns over bigger cities. Just don't expect to be making motorcycle memories quite yet. Once in Phuoc Long, you can check out the little lake in the town center, and grab a drink at its nearby coffee shops. Or for a quick motorcycle side-trip, you can zip out of town to the Chua Thien Hung temple for a look at the beautiful shrine at its lakeside location. These are more time-killer stops then say, killer stops!
     Something worth a day trip detour, however, would be making your way to the nearby, Ba Na Mountain. Ba Na Mountain is a favorite spot with local Vietnamese tourists for hiking or taking in its fun cable car ride. From the base to the top is about a 15-minute ride. For those of you feeling a little flabby from Pho and beer week in HCM, you might opt to hike the well-used track to the top. It's about seven kilometers long and includes 1767 anti-calorie stone steps that can take you up to the top. Once you've reached the summit, you can visit the shrine, as well as take in a full panorama view of Phouc Long and its neighboring Thac Mo Lake. The lake has 10 islands on it you can spot, and if you arrive during the rainy season from May-October, you'll be treated to an impressive 12,000ha of water that fills the gaps of the forest and valley below.
     To get to the base of Ba Ra, it's only about 4kms from Phuoc Long Central. Search "Nu Ba Ra Phuoc Long" to find it in google maps, as the roads have no official names. Just make sure not to confuse the "Ba Ra Cable Car" in this area with a google search that might show you the "Ba Na Cable Car." These two attractions are wildly different and in different parts of the country. As this stop isn't on the typical backpacking Vietnam tourist route, we'd love to hear how you enjoyed the hike or cable car.
     If you're looking for accommodation, use this handy guide. Or search in Google  " Phuoc Long Vietnam Guesthouse," for several in-town options.
HCM to Phuoc Long Points
HCM City to Dong Xoai 100kms
HCM City to Phuoc Long 145kms
Phuoc Long to the Chua Thien Hung Temple 15kms
Spend the night in Dong Xoai if you like the bustle of cities
Spend the night in Phuoc Long if you'd prefer to stay in a mellow town
In Phuoc Long, take a quick trip to the Chua Thien Hung Temple if you need something to do for an hour
For a nice hike or short cable car ride with pristine views. Check out the Ba Ra Mountain, just 4kms from Phuoc Long
Photo: ha the bao
Phuoc Long to Gia Nghia – 115kms
    Once you're back on the road, start to venture North on what is listed as the QL14 road on Google maps, to the city of Gia Nghia. Here you'll begin to see the beauty of Vietnam slowly unfold, and you can seek out more of the areas hidden gems.
     For a cool side-trip that's watered down for all the right reasons, venture out to Thac Lieng Nung waterfalls. It's just over 10kms from Gia Nghia and is an enjoyed spot by the locals. If you're expecting to see any other western travelers here on rental bikes, it's probably not going to happen. Enjoy the tranquillity, practice your Vietnamese pleasantries, and get used to the friendly stares. To get to this part of the country, you'll be happy you went with a real Honda.
     To get to the waterfalls, follow the QL28 road out of town the 10kms, and it will bring you to the parking area where you can take the short walk to the waterfalls. If you're motorbiking Vietnam solo, no problem, the area is quite safe.
     Once back in Gia Nghia, you'll notice that same vibe that not too many foreigners come here looking for fun. To rustle up a little local excitement, you might want to drive by the San Van Dong football field to see if there are any local matches. Rumor also has it that there is an amusement park in town with a roller coaster. If being flipped over while strapped to a seat excites you, ask a local where to go.
     To find your way around the city, aim for "Cau Dak Nong," it's a man-made set of cascading waterfalls where the main cities bridge is located. From here you could walk, or if your legs are tired from the 1767 steps at the Ba Ma hike, you can ride your motorcycle to anything you'd need nearby. Food, drink, and accommodation is all easy to find in this area.
Phuoc Long to Gia Nghia Points
Phuoc Long to Gia Nghia 115kms
Venture the 10kms out to the Thac Lieng Nung waterfalls. A nice treat to hang out with the locals
Head to Cau Dak Nong to center yourself in the city or maybe see the locals playing near the water
In Gia Nghia food and accommodation are easy to find, but don't expect pub crawls & McHamburgers
Photo: vovworld.vn
Phuoc Long to Buon Ma Thuot – 125kms 
    Buon Ma Thuot. Picture a big busy city, then small communities with elephants in the streets, then prime coffee country all staking out a very different piece of the landscape. Much like a lot of the HCM route, this area is not a stop that sees busses full of t-shirt buying tourist. So despite the cities population of close to half a million people, you aren't likely to see the streets lined with backpackers. Good thing you have a Vietnam motorcycle rental, you can do what you want!
     The drive from Phuoc to Buon Ma Thuot will offer up a contrasting view of what the HCM route used to look like vs. where it is inevitably headed. The thick forest of the area is slowly being taken over by the various farms and plantations, giving the landscape a mix of hope for the farmers and loss for the planet. Sections of this drive allow you to almost get a glimpse over into Cambodia before steering you back on the QL14 and up into Buon Ma Thuot. There is a lot of variations in this part of the country, so make sure you've packed properly for it.
     Buon Ma Thuot itself isn't where you'll want to spend all of your exploring time. Instead, it's more like a good base for venturing out to the sites close by. To get started you should take in a culture trip in Vietnam and a bit of elephant excitement in nearby Ban Don Village. Here in Ban Don Village, you'll see people still enjoying life in stilt and longhouses just like they have for centuries. Compared to the city you just left, it will feel worlds away.
      The village itself is probably most famous for its long history with the elephants and the locals' ability to tame them. An elephant ride will be one of those amazing things to do in Vietnam, and a good opportunity to park your scooter and ride one of these four-legged behemoths. You can easily arrange an elephant ride in town with a tour agency or tour guide, check at the Yok Don main national park entry located in our map, located on your way into town. Or if your Vietnamese is good and you think you can small talk your way with a mahout onto the back of his elephant, well then you'll probably get a small discount on a large elephant, along with a great story!
     For those of you thinking about mentally picketing someone who's turned a wild elephant into work elephant before you get here. Take note that these people have been utilizing elephants for generations in this area to help work alongside the local people. There is even a statue in town dedicated to a man named Khusanup, born in 1827 and lived to be 110 years old. He was credited with taming over 480 elephants and presenting the once king of Vietnam, Bao Dai with a pair of these domesticated giants. I'm sure it hasn't all been pretty over the years, but I also doubt you'll feel sympathy for a pair of water buffalos you'll see digging trenches in the rice fields. Being more adorable shouldn't garner more sympathy.
     In town, you'll also want to park your bike and take a walk around the village. Here, nestled in the trees you'll find some photo worthy bamboo bridges that are lovely photo opportunities all on their own. Or you're looking to #Vietnam some photos, you could also spend thirty minutes with your travel tripod and camera timer trying to capture the right image of you walking casually across these bamboo beauties. Both photos should get you the desired likes you need, but not nearly as many as a photo on an elephant will!
Buon Don Village
Ride an elephant. You can ask almost anywhere in the village, and someone should be able to point you in the right direction. *Don't forget the selfie stick!
Take a walk across the bamboo bridges. It's a small place, they're easy to find
Visit the stilt and longhouses. To get inside you'll probably pay a fee and be offered an elephant keychain to buy, but when's the last time you were in a wooden house on stilts?
Buon Ma Thuot Waterfalls. Dray Sap & Dry Nur– 25kms
     Before leaving from Saigon to Hanoi for your Vietnam motorbike tour, I might suggest keeping some notes on your phone about each waterfall you visit. These cascading tourist attractions are as abundant in Vietnam as your bowl of Pho. Why? Because they can make for a refreshing swim, stunning scenic photo, and an inexpensive stop. That's usually worth the drive alone. We even have a full guide to days worth of waterfalls closer to the coast. Around Buon Ma Thuot there's a couple you should add to your ongoing list.
     Dray Sap and Dray Nur are the two falls worth the stop around Buon Ma Thuot. Though they look like neighbors on the map, they are separated by a derelict bridge that probably isn't high in the cities list of things to repair. Each is beautiful, each is popular, and each comes with an entry fee of around 35,000vnd plus a small parking fee. To get to either just search out the corresponding name on google maps and follow the AH17 road out of Buon Ma Thuot where it eventually comes to a fork. At the fork, you can continue on the AH17 to Dray Sap, or take the CN1 out to Dray Nur. Both are roughly 25kms from the city, and subsequently, they are about a 25km drive from each other.
Buon Ma Thuot Points
Dray Sap waterfall. 25kms from Buon Ma Thuot on the AH17
Dray Nur waterfall. 25kms from Buon Ma Thuot on the AH17 / CN1
Each waterfall is about 25kms from each other
Both come with an entry fee of around 35,000vnd plus a small parking fee
Keep track of your waterfall stops in Vietnam, in the end, you'll be surprised!
Rice Paper As Far As The Eye Can See – 5kms from Buon Ma Thuot
    If you've ever wandered out to a fish market to see where your dinner is sourced or walked through a coffee plantation to revel at the beans, why not a rice paper village. By now you've indeed consumed this edible rice-wrapper around salad rolls and other Vietnamese delights, now you can see it being made.
     Just 5kms from Buon Ma Thuot on your Vietnam road trip itinerary is a wee village known as Khu 1, Chi Lang. As you arrive in town, you'll be greeted with the sight of rice paper sanitarily drying outside, all across the village. You're not going to find any tours here or anyone looking to sell you a roll of rice paper. You will, however, find some incredibly unique photos of a Vietnamese culinary art that's disappearing faster than the previously mentioned appetizer salad rolls. In town, you'll basically be taking pictures of people going about their daily work, so try not to make your presence here too awkward. Or find someone in Buon Ma Thuot that can translate for you and bring them along! I'm sure a local would appreciate your keen interest in rice paper. It's not as easy as the Hai Van Pass route, but it fun. Aim for the Catholic church in town (check our map), and this will take you out to the village.
Buon Ma Thuot Suggestions
Rice paper village is just 5kms from Buon Ma Thuot
This is not a tourist attraction, yet. So be cool and remember these friendly folks are at work
Round up a local translator if you really what to ask some questions
Photo: walkandeat.blogspot.com
Trung Nguyen Coffee Village – In Buon Ma Thuot
     The city of Buon Ma Thuot is dubbed as the coffee capital of Vietnam, so expectations are high, but so are opportunities to enjoy a cup of black gold. Located about 5kms from the city center is the Lang Ca Phe Trung Nguyen Coffee Village. It's less like a village though, and more like a tourist town. One of those favorite trips in Vietnam for locals. They do however provide quality cups of local coffee, a museum to learn about the history of coffee in Vietnam, and a scenic-setting where you can sip & savor. Tours are also available if you really want to get an education from bean to cup. You can even buy bags of beans and all things coffee related if you're interested. That, and if you're feeling like ditching the hostels and soaking up the sweet life, there is the Coffee Resort right next door. It's no beach resort, but you're likely to feel pampered all the same.
If you need a caffeine day, this is for you
Here you can learn about the history of coffee and all things from bean to cup
Student loans burning a hole in your pocket? Go all out at the "coffee resort" next door
Photo: Trover
Buon Ma Thuot to Pleiku – 190kms

 
     The hardest part about the drive from Buon Ma Thuot to Pleiku is going to be the first 20-30 minutes while you claw your way through traffic to get out of Buon Ma Thuot. Once you're free of the trucks and traffic, you can settle in for a long red road. This stretch of the HMC route is a straight and unexciting road of perfect pavement that makes its way towards the Central Highlands. The road is flanked on both sides by a remarkable deep red soil dotted with cash crops. If you were looking to do some daydreaming or listen to music, this stretch could use a welcome distraction.

   Once you arrive in Pleiku, some 190kms later, you can treat yourself to a day trip, and a few local activates. Hopefully, you are enjoying the lack of international tourists along this route, as there aren't going to be too many more of them popping up here. In Pleiku there are a heap of sleeping and eating choices you can search out on sites like Booking.com, Hostel World, or by searching "Pleiku Vietnam Homestay" in Google Maps. Once you're settled, you can set off to explore.

   Let's start with the fun stuff. Pleiku has a small amusement park just outside of town, complete with waterslide, a small zoo, and a small forest you can walk through. Not all attractions are going to be open during the week & the place is geared more towards families. If you're feeling like a kid, and show up on the weekend, it might be worth checking out. The parks formal name is Cong Vien Dong Xanh or Fossil Tree Water Park. As a reflection of the name, there is also fossilized trees on site, but they are not likely to be the crowning achievement of your photographic memories. 
Pleiku amusement park tips– 8kms
Don't expect thrilling rides and carnival food. Think more, family fun and awkward zoo
Go on the weekends for a better chance at everything being open
If you've always wanted to see a fossilized tree, this might make your dreams come true
Just 8kms from Pleiku central
    Next on the list of Pleiku, and arguably the best site to see, is the Sea Lake. Sea Lake has more alias' and legends about it than a Mafia Don. I've tried to capture a few of them here to make finding information about the place easier on you. Sea Lake, as it might be known in English, also goes by the local name Bien Ho, or T'Nung, or maybe La Nueng. Be open to possible name miscommunication along the way. Sea Lake is dubbed by the locals as the most beautiful lake in all the land and actually sits in the top of a volcanic crater. As far as volcanic lakes go, it is undoubtedly sea-like. Boasting a girthy 250ha of water and an average depth of 18m, its shimmering green color is remarkably beautiful.

    Up here in the highlands, there isn't much in the way of water. For the locals, Sea Lake is the primary source of drinking water for the surrounding communities as well as an abundant source of fish. You can take little-covered boat tours, as the drinking water supply, no commercial boats are allowed on the water, and you can't swim here. If ya need to pee, find a tree. Don't pee in the water!

    As far as legends about the lake go, they range from captivating stories about volcanic eruptions that buried an entire village and the water that filled the crater was from the tears of the survivors. Another excellent bedtime story is that during an animal sacrifice the locals had pissed off one of the Gods. After the sacrifice was complete, the earth shook and split open swallowing up everyone but one family that had been out of town, when they returned they had seen what had happened and were able to pass on the story from one generation to the next. The full versions are going to be full of captivating details of unimaginable death, for today's read I've merely summarized what you might expect to hear during a romantic boat ride on the volcanic crater. Enjoy

    Sea Lake is located just 13kms from Pleiku. Follow one of the great QL roads in Vietnam out, by taking the QL14/AH17 road out of town until you see the turn for the lake on the Pho Duc Chinh road. Follow that out, and you'll quickly see the Sea Lake, a little shrine, and likely get hit up for a small parking fee of around 4000vnd. The weather can vary depending on the season, so know what to bring and you'll have an excellent time exploring.
Sea Lake tips– 13kms
A beautiful green lake located in the crater of a volcano
You can enjoy a simple boat ride here
No swimming or peeing in the lake. It's the locals drinking water supply
Just 13kms from Pleiku

    Lastly, if you're just looking for a free and comfortable place to explore within the city, we might suggest dropping by the park to visit Uncle Ho. Right in the middle of Pleiku is the Quang Truong Dai Doan Ket park. It's got all your usual Vietnam park stuff, like flowers, walking area, trees, and of course the classic Uncle Ho statue that is larger than life and probably cost more to build than what the workers would have earned in a lifetime. Grab a coffee, or some takeaway, and head out into the park and kick it with a bowl of Pho and Uncle Ho.
Chillin With Uncle Ho –  Quang Truong Dai Doan Ket
Located right in the city, known locally as Quang Truong Dai Doan Ket
Just use our map for easy referencing
Cost. FREE!
Great place to enjoy a quiet park in the city center
A day with Ho Chi Minh on the Ho Chi Minh route, what could be more fitting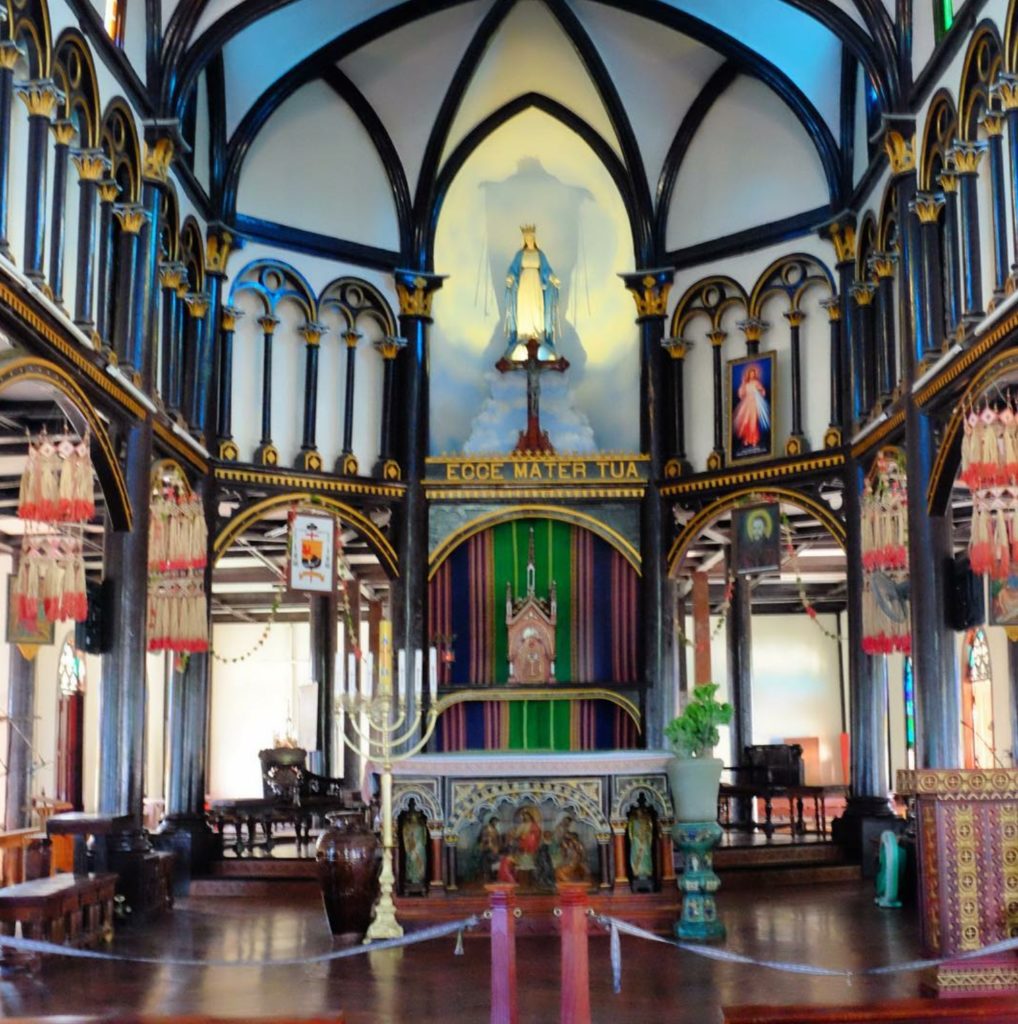 Buon Ma Thuot to Kon Tum – 230kms   ( Pleiku to Kon Tum – 50kms)

        If Chillin with Uncle Ho and volcanic lakes aren't your thing. Or you're a real keener looking to get the most out of your Vietnam motorcycle rental, then you can either skip Pleiku and head to Kon Tum or hit up both stops. Kun Tum from Buon Ma Thuot will make for a pretty big 239km day, or Kon Tum from Pleiku will make for a pretty short 50km day. Whatever you choose, it's nice to have options.

   Kon Tum is your typical small Vietnamese city that has just over 150,000 people, with many eating and sleeping establishments available. Back on the streets and looking for something to do, Kon Tum has several interesting side-trips to keep your newsfeed busy. First off, if you've been looking for a place to cut a deal with his holiness for all the recent sins you've committed, then look no further. The beautiful Cathedral of Kon Tum is just the place to take you recent nights of drinking with the Devil on Bui Vien street in Ho Chi Minh, and turn them into holy water with his holiness, this Cathedral might be your best chance. Seriously though, you're probably too far gone for soul-saving, but as for a place to stop for some stunning photos, this Cathedral is a must!

   The Cathedral of Kon Tum, a.k.a. Nha tho go Kon Tum, is a work of wooden art whose design will interest even the most devote of atheists. Built in 1932, the church has long since been the beautiful centerpiece of the areas more than 150,000 Roman Catholics. Getting here is quite easy, and is located just on the edge of town, about a 2km ride from the main city center. Use our handy map, or search Cathedral of Kon Tum in google maps, it should point you to the intersections of Nguyen Hue Street and Ly Tu Trong street.
Cathedral Kon Tum Highlights
Built entirely of wood, the structure is both stunning and stout
Contrary to popular belief, you won't actually burst into flames by stepping inside
Easy to get to, just 2kms from the city center
Please your parents by posting photos that include at an Alter, rather than an altercation!

    A far cry from the fire-breathing dragon bridges of Danang, English food menus of Ho Chi Minh city, and happy-hour drink specials of Hue is a cultural experience that is still hidden in the hills around Kon Tum. Here, with a knowledgeable guide, you can get to know the lives of ethnic minority groups that still etch out a life reflective of the one they've known for centuries.

   It's possible to do one-day guided Ho Chi Minh trail by motorbike tours with a local agency, a homestay with a local family, or an overnight trekking tour to get into contact with these groups of people and witness a lifestyle that is fast disappearing. A local company with positive TripAdvisor reviews can take you there. Located right in Kon Tum, look up Highland Eco Tours for an experience unlike any other you are likely to have in Vietnam.
Cultural interactions with the local tribespeople
Go on a one-day motorcycle tour to see some of the local lifestyles
Take in an overnight trekking tour to get deep into the hills where villagers still live as they have for generations
Stay the night in a village homestay if you really want to see what life used to be like all across Vietnam

As an alternative for those of you short on time, bit still looking to get in a bit of cultural delight. Doing the Ho Chi Minh trail by motorbike, make your way over to the Bishop of Kon Tum's buildings. Hosted on an expansive grounds of trees, gardens and natural beauty, this is where the Bishop lives. This flashy mansion-style home also doubles as an education center for any of the local tribesmen looking to get out of the fields and into a priesthood. If you're lucky, there is also a museum on the grounds that's sometimes open. It holds artifacts from the local people and interesting instruments you can take a crack at playing. All in, it's an excellent FREE stop that might enhance your knowledge of the area.
Drop by the Bishops incredible home
The Bishops Palace, as it could be named, is a great stop for those short on time & still looking for activities
An expansive grounds to enjoy a bit of relaxing nature
Has an interesting museum on site holding artifacts of the local tribespeople. Note, it does not have regular operating hours
Free! This should fit into any travelers budget
    The route from Ho Chi Minh city in the South to Hanoi in the North is extensive, to say the least. To make it easier to navigate, we've broken it down into South, Central, and North sections, each with its own fantastic list of things to do. View our related post on the Central part of the Ho Chi Minh road motorcycle route to get a better understanding of that section.