One more attraction not so far away from HCM that is popular with our rental customers…
King Kong 3: Monkey Island
It's not an island. Just the name. I don't know why. No one knows.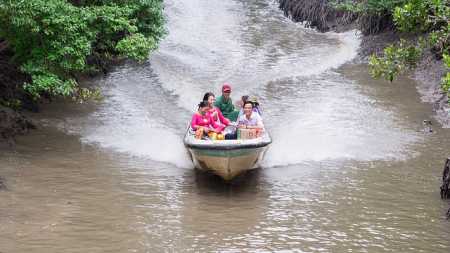 No pictures for this section because laptop got stolen along with tons of pics 🙁
Entrance fee: 35k local, 70k foreigner. I think you have to pay parking fee separately. The place looks like it's still undergoing construction/expanding.
Touristy sight seeing spot
But really, this is just a long walkway through a forest, with many, many, many monkeys. It's kinda fun walking around them and having them staring at you, like you're the monkey and not them. They are aggresive, nasty, and handsy monkeys. Beware! Monkeys will try to steal everything from you. Your food, your drinks, bags, your girlfriend but not your wife… One did sneak up behind Jon and stole his can of coke!
But do not fear! Our government has provided an army of security guards, armed with high-tech slingshots that will shoot down any monkey dares to steal anything from you. However getting back your stuffs in one piece is not guaranteed at all. It might take awhile though.
Along side with the walkway is a canal that goes deeply inside the forest, which you can take a roughly-30mins boat-tour for sightseeing and visiting a historic site. Sadly, one boat cost 600-700k, regardless of how many people. There were only me and Jon so we didn't try it.
They've got a place that you can watch crocodiles (or aligators?) from above them. Boring creatures. Just lie there doing nothing. Maybe can try throwing a monkey at them? No? Okay.
My thought: It's not an island. Just a place to walk around to see stuffs. No restaurant nor food. Nothing else. Takes around 1-1.5hrs to cover everything. Good for a short stop between destinations.
For quick holidays around HCM checkout Tigits fully guided motorbike tours.
If you have any other information regarding this place, I would love to hear it.
Thanks for reading.
Written and created by Link.