Reading Time:
12
minutes
 Anyone looking to motorbike Saigon to Hanoi, or anywhere in-between, will have a lot of questions, and lucky for you, our local motorbike experts have a lot of the answers. It's easier than you think, but there are some common questions that everyone needs to know. Time, budget, safety, and more. It's all here, read on. Read here for a full Saigon to Hanoi route, once ready choose a motorbike.
Is it safe to drive a motorbike in Vietnam?
    The real question here should be, is it safe to drive a motorbike anywhere in the world? If we were comparing nation to nation – with safety equipment used correctly – Vietnam would likely come ahead safer than the western world & it's fast-moving large displacement bikes.
     In Vietnam, the locals drive incredibly slowly. Moving around the city at more than 60km/h is unlikely. Now imagine if you were to ride the roads of your home country at 60km/h. The chances of getting rear-ended or attacked by anyone triggered by road rage from your turtle-speed would be the concern, not the speed. As a foreigner, it's best to follow a few simple rules to get you started, and you should be just fine.
Keep right. No point in being in the center of traffic if you don't know what you're doing. Stay right and let others pass.

Drive defensively. By being aware of what is going on around you and guarding your brake, you'll have a better shot at being prepared and stopping if anything comes up.

Drive slow. Traffic might seem chaotic, but it's chaotic in slow motion. As long as you are puttering along slowly, you should have no issues with controlling the situation.

The horn. Get used to and use the horn. It could mean anything from hello, to move it, to brace yourself. Just get used to the horn!
Learn to ride the motorbike you plan to use. You can see an excellent video on

how to drive a semi-automatic motorbike in Vietnam.
Need to learn how to ride a semi-automatic? This is our go-to explainer video.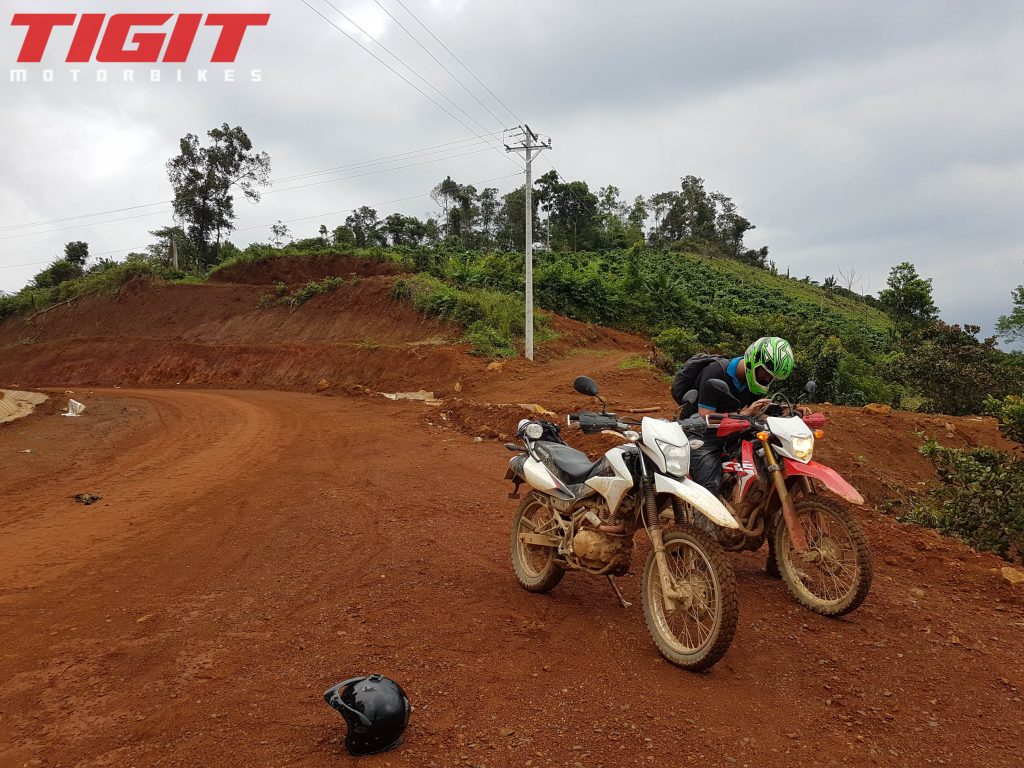 Experience trumps technology when it comes to making your way around Vietnam. Use our advice to plan routes and estimate distances. Then bust out your smartphone to get you there.
Motorbiking Vietnam – How long does it take?
    Distances in Vietnam can be difficult to judge based on simple Google Maps searches. Whatever estimated time you calculate, you should then double or triple that amount of time. The good news is that once you've settled on what part of the country you want to explore, there are plenty of route options to choose from. One day trips around Saigon right through to month-long adventures that span the length of the country.
Saigon to Hanoi.

At least 2-weeks to cover this route, allowing time to enjoy the sites.

Saigon Motorbike loops in the South of Vietnam
Danang Motorbike loops

around the impressive city in the middle of Vietnam.

Hai Van Pass.

One of the routes made famous by the Top Gear Special on motorbiking Vietnam. This quite trip can be made with a one-day

motorcycle rental

.

Central Highlands Route.

This adventure route will take you through the less traveled regions of Vietnam following coffee routes and mountain ranges. Allow 2+ weeks.

Hanoi and the North.

A lesser-traveled section of the country explorers can seek out destinations like the Ha Giang loops from Hanoi in 1-3 weeks.

Waterfalls Route.

There are so many waterfalls in Vietnam, we've even put together a route guide to keep you busy for 2-3 days around Dalat.

Ho Chi Minh Trail.

Crossing almost the entirety of the country, to ride the HCM Trail or HCM Highway, is an exceptional experience that will take you 2-4 weeks to complete.
How to buy a motorbike in Vietnam
    Figuring out and understanding the two different markets of Chinese motorbikes and "real motorbikes" is what could set up your holiday for success or failure. Failing to get your head around the simple concept that a $300 motorbike is not going to work may land your holiday in the back of countryside mechanics instead of driving coastal and mountain roads.
    "Includes Free Beer" or "Includes Free Delivery" are going to be the top two phrases you'll want to avoid when buying a motorbike in Vietnam. If you don't know the local marketplace, then you'll want to educate yourself on how to buy a motorcycle in Vietnam. Read blogs, do Google searches, check sites like Craigslist, FB group "For Sale Vietnam," and hostel post boards are all excellent places to start looking.
    Motorcycles like the Honda Win, are cloaked in tales that waft up from common areas in dormitories, telling stories of adventure, let down, and total failure. As an outsider, stepping into these murky waters unarmed with information could result in drowning in mechanical disaster.
    If you're going to be in the country for less than 3-months, it will make more financial sense to rent a reliable motorcycle to drive through Vietnam. Any longer than 3-months, it will pay to do your research on how to buy a motorbike in Vietnam, and you should be able to roll away with a deal, not a disaster!
Anything $500 and under = breakdowns, mechanic shops, & potential disaster.

$500 – $1000 = a genuine quality motorbike that will safely take you across the country.

$1000+ = The pick of the litter on a real Honda motorbike with no hassles that should also be easy to sell later.

A quality rental company will guarantee the condition of the bike, allow you to drop it off when you're done, and basically eliminate hassles.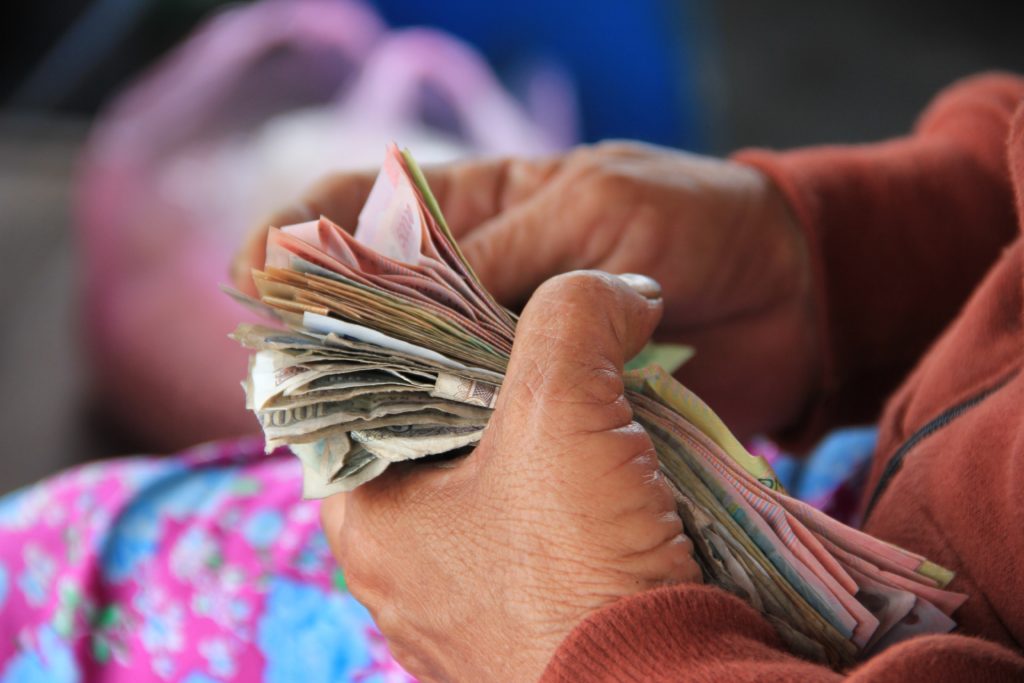 Photo by Niels Steeman on Unsplash  – Every backpacker is on some type of budget, but for less than $30/day you can ride, eat, sleep & drink in Vietnam. The value here is unbeatable.
What does it cost to motorbike Vietnam?
    Costs are so low in Vietnam that stepping up from a low to mid-level budget category is literally a $10 jump in daily expenses. Once you've sorted out whether you plan to rent or buy a motorbike, your day to day costs should remain fairly consistent.
Motorbike Costs
Buying a motorbike $500-$1000

Motorcycle rental

low end $10/day high end $45/day

Fuel $5/ 200kms

Oil changes $5/ 400kms on a cheap Honda win $5/1000kms on quality Honda
Daily Costs
Accommodation $5-$15/night. Guesthouse & hostel $10-15. Homestays and Airbnb $5-$10. Hotels from $20+ unlimited. Or camping for free or very cheap.

Food/Drink $5-$15/day.

Street food

from $1, western food from $5.

Local Beer $1
Extras
$1-$5/day for extras like; Entrance fees, snacks/coffee, western meals, tipping, laundry, "one more beer," flat tire, etc.
Depending on what category you fall into; Budget Traveler $25/day, Falshpacker $35/ day, Comfort Traveler $50+/day
Weather Vietnam – Best Time To Motorbike
    To generalize, you could say that February-May and August-November are the best times to travel to Vietnam. However, mountains, beaches, lowlands, rainy season, cyclone season, and many other factors play a part as to when the perfect time to visit Vietnam really is. We'll break the country down into three regions, then, you can look at our detailed Vietnam weather guide will give you the most accurate information.
South – Ho Chi Minh/Mekong Delta
Anything from Hoi An is almost always hot.
December–February. Dry & temperate. High 20's-low 30's.
March-April. Slightly humid. Averages in the mid-'30s
May. Hot & humid with temperatures in the 40's.

May-October. Rainy season in the high 30's.
Central – Hanoi to Hoi An
August-December. The rainy season, peaking in October/November along the coast.
January-March. Dry and temperate. Averaging around the low 20's along the coast.

May-November. The rainy season, peaking in August-October inland.

Yearly average temperatures in the high-20's. October-March is lowering into the teens inland.
North – Hanoi and North Vietnam
January-March. Cool, with temperatures in the high teens.

May-October. Rainy season. Temperatures in the mid-20's & hotter on humid days.

June-July is the peak of the rainy season.

November-December is typically dry and temperate.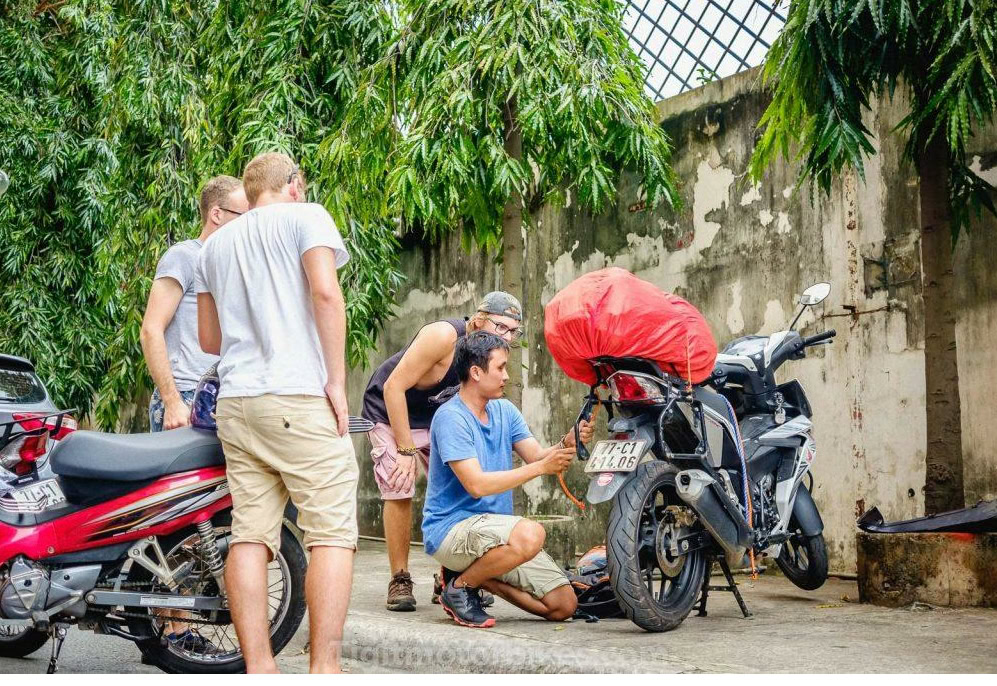 A motorcycle likes carrying around too much baggage just as much as you do. It'll take almost anything you throw at it, but more weight equals less safety.
Packing For A Motorbike Trip Vietnam
    Less is more, and that could not be truer on a motorbike trip. The more weight you have on the back of your motorbike, the more difficult it will be to carry. As well, laundry services and clothes are cheap in Vietnam. What to bring and wear is essential to the success of your trip, and anything you might need to acquire along the way should be easy to get and inexpensive.
    Packing Essentials
Mobile phone with a

local sim card

. Great for mapping, and phone plans are cheap.

Less than 15kg of luggage. We can send your luggage to our office on the train.

Rain poncho. $1-$5 if you forgot yours.

Set of easy to dry rain clothes.

Extra set of dry clothes. Laundry services are everywhere.

Jeans, boots, & a sturdy riding jacket (denim or a motorcycle jacket will do)

Helmet from home. We offer free basic ones. Or you can buy one for $25+.

Gloves & warm clothes for riding in the north, this is essential

riding gear for Vietnam.

International drivers license.

Cell phone holder for the motorcycle (we offer them).

On the road; water, snacks, cash, sunscreen, adventure attitude.
Where To Stay In Vietnam
    Only limited by your imagination and location, where to stay in Vietnam ranges from artistic ant and eagle theme rooms in Dalat,  to family homestays in the remote regions, right up to nights of 5-star sleeping under premium linens in Ho Chi Minh City. Where to look for rooms might be your biggest asset to booking a quality night in Vietnam.
    Booking A Room
Book on popular sites like Booking.com, Hostelworld.com, Agoda.com, & AirBnB.com
Party Hostels. Starting from around $7 & easy to find online. Cheap, loud, and fun!
Budget Hotels. From around $12 & best if shared by 2-3 people. They'll have the basics covered.
Mid-range Hotels. From $25. As good as any basic western hotel & usually includes breakfast.

Nha Nghi. When searching small towns, search for Nha Nghi's. In the cities, avoid them.

Homestays. Staying with a family is a great experience. Search "Homestay + City Name" in Google Maps to find them.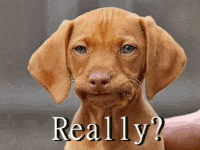 Just because everyone else is doing it, doesn't mean you have too. Vietnam has plenty of meat, seafood, and vegetarian options available. If you're really feeling grounded, get a cheeseburger!
Food. Will I really be eating dog meat?
    Vietnam has one of the most abundant food scenes in Asia, with everything on the menu from the best street food in Ho Chi Minh, to 5-star dining and western cuisine. Depending on your personal tastes, budget, or risk-level for trying new things, it's all here.
    In tourist places or cities like the pubs and clubs of Nha Trang, you'll find virtually any range of dining options. In the small towns and villages like those along the Ho Chi Minh Trail, regional or standard fare like Hot Pot or beef on rice noodles are cheap and everywhere. Of course, if you really want to bite into something that could have once bitten back, you'll want to learn the food words so you're not barking the wrong order at the waitress.
Maps Vietnam – Best Motorbike Routes
    Deciding what kind of adventure you're looking for while traveling might help you narrow down some of the endless routes and roads you can explore while getting to know Vietnam. The options for adventure, top beaches, discovering coffee and learning the history of a nation once divided mean a lot of options. We've got you covered from North Vietnam to the South and everything in between.  
    When you pick up your Tigit motorbike rental, we'll provide you with a detailed packet with route options. Then, the staff can happily confirm your route and advise you on alternatives if you're looking to try anything different.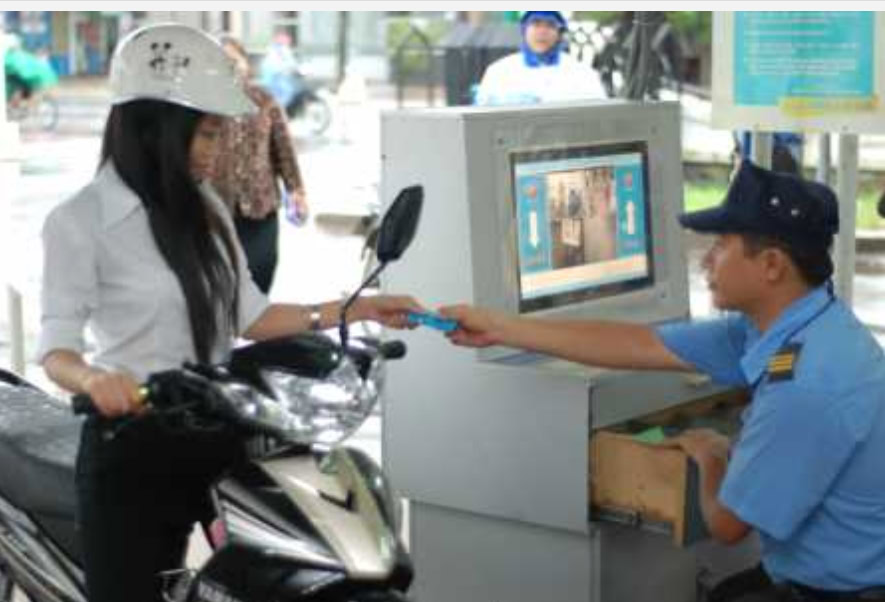 Peace of mind comes cheap in Vietnam. Drive in, put your kickstand down, and hand over the equivalent of about $0.50 and your motorbike can safely hang out with other motorbikes for the day. Too easy!
Parking and Security
    Everyone in Vietnam drives a motorbike, and all of those people need to park their motorcycles somewhere. For you, the easiest and safest place to park your bike is going to be in a paid parking lot with security. These parking lots are convenient, secure, and easy to use. For the price of roughly $0.50 to park, you can't go wrong.
    You could also purchase an additional lock for the front tire of your motorcycle. The general rule though; if you need to lock up your motorcycle in Vietnam, you're parked in the wrong place. Check out our related post on parking and security for full details on the use of parking lots.
Fuel Costs
    One of the lowest items on your list of concerns while traveling is the price of fuel. Gas is so cheap it is not even worth talking about. A Honda Blade is 50,000vnd (2.5usd) to fill. This will last around 150km or 4-6 hours driving. From here, most of our quality models need an oil change every 1000km, which is about $5. This is usually once or twice on a journey. Saigon to Hanoi perhaps $50 on gas and $10 on oil.
Breakdowns & Accidents
    Kiss breakdown problems goodbye! If you rent or buy a quality motorbike in Vietnam like a Honda Blade 110cc, you can virtually guarantee that these indestructible motorcycles won't have a breakdown. If you think that's too good to be true, check out Tigit Motorbikes breakdown guarantee, a promise that our motorbikes are so reliable we will pay to have them fixed if anything mechanical goes wrong on your journey.
    The most common breakdown you're going to have in Vietnam is a flat tire. On average you're likely to sustain three flat tires for every 2000-kilometer journey across the country. A side-effect of this regular puncture occurrence and the dilapidated state of many motorbikes in Vietnam is that mechanics are located everywhere. To fix a flat is cheap, prices range from $2-$5.
     As for accidents, if you drive slow like the locals, the chances of having an accident are incredibly low. Despite what looks like a lot of heavy traffic around major cities, riders move at incredibly slow speeds. Rent or buy a quality motorcycle, drive defensively, maintain regular oil changes, and you should be able to enjoy a problem-free adventure.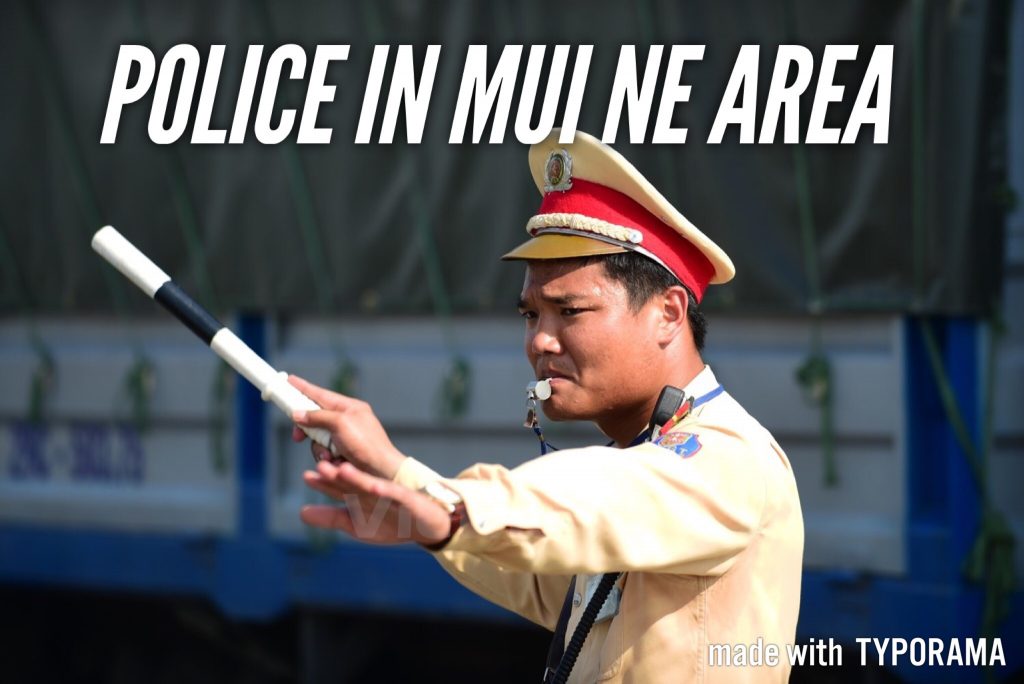 The police in Vietnam aren't all bad, it will however save you some headaches to know what to watch for and some of the top problem areas.
Police In Vietnam
    Police corruption in Vietnam still occurs. The best way to deal with the situation is to obey the law. In some incidences like the infamous Mui Ne Police Trap, police are lined up waiting for you to break the preposterously low 40km/h highway speed limit outside Mui Ne. You can't entirely blame them, as years of dealing with law-breaking tourists who would continually hand over easy money, lead to more and more corruption.
    Often if you are pulled over, you can start by rambling on in English repeating that you don't speak Vietnamese. If that doesn't work, you can try and politely dispute the situation and see if they grow sick of you and move onto the next victim.
    In the event, you need to pay a bribe, be sure to have a small amount of Dong in a separate pocket or wallet. Usually, less than 300,000vnd will do the trick. As a word of wisdom, never hand over your passport, original drivers license, or blue card. Once the police have their hands on these documents, the bargaining is entirely in their favor.  
Overall the police are nothing to worry about, just part of your adventure holiday!
    Basic Motorbike Laws
Do I Need Experience?
    Riding a motorbike like the Honda Blade is probably the most straightforward bike to operate in our fleet, and if you've only just begun riding scooters or motorcycles, this is probably the bike for you.
    We don't offer lessons, but we do offer videos explaining how to operate bikes in Vietnam  and how to ride them in Vietnam. As a company that prides itself on quality bikes, if you are in any way scared to ride a bike or have absolutely no experience, we are probably not the company for you. Accidents can happen, but if you are likely to have one on the way out of the parking lot, we'd rather not be part of your holiday photos.
Traffic Laws In Vietnam
    This might be better stated as a question, Traffic Laws In Vietnam? Yes, they exist, and the police mentioned above will prefer to enforce them with a tourist who looks like a dong and dollars ATM. To keep with the flow of traffic, you'll want to watch what the locals do. To keep yourself on the right side of the law, you'll want to avoid almost everything that the locals do. Real traffic laws like not speeding exist. Assumed traffic laws like the need to use your horn for every bit of road communication are more common. Understanding the road terminology will help you get around easier too.  
    Quick Summary Of Real & Assumed Traffic Laws
In city speed limits average 40km/h.
Rural &

QL roads Vietnam

, have speed limit averages of 60km/h.
Drive on the right-hand side of the road.
No talking on your cell phone while driving.
Two people maximum per bike.
Honk to pass, say hello, & to merge.

Long honk to express anger, bring attention to yourself, and note to others you're not slowing down.
Utilizing Vietnam expat forums to sell your motorbike is a great idea if you're selling a great bike. These people aren't stupid though, and you will be called out for trying to pass your garbage off as gold.
How To Sell A Motorbike In Vietnam
    Take the steps from how to buy a motorbike in Vietnam and reverse them, posting your bike for sale on Vietnam Facebook buy and sell pages, displaying it for sale on hostel poster boards and listing it on Craigslist. If you're running out of options and just want to unload it, you could sell it for cheap with local motorbike dealers. We have a few options for selling on our motorbike for sale article.
    Leave yourself a few days of advertising before an expected deal. Make sure the bike is clean, as mechanically sound as you can make it, and that you have the blue card available. If the idea of selling or possibly losing money on the sale seems like it's too much for you. Do the math on renting a motorbike Vietnam, you might find the ease of motorbike rental and handing the motorbike back when you're done is well worth the money, if not a better deal overall.