Reading Time:
4
minutes
How Fast Is A 110cc Dirt Bike?
Anyone looking to determine the top speed of a 110cc dirt bike is probably coming from someplace like Europe or North America where motorcyclists typically ride large displacement motorcycles and want to travel in countries that typically use small-displacement motorcycles.
The short answer, a 110cc motorbike (with few exceptions) will travel no more than 100km/h. Or, how fast does a 110cc pit bike go in mph/km? About 10% slower, but customization with the sprockets and transmission gearing can help to achieve anything you want.
How Fast Is A 150cc Dirt Bike?
An additional 40cc's isn't going to revolutionize your speed capabilities on the open roads. A 150cc bike like the Honda XR150 is going to go roughly the same top speed as a 110cc dirt bike. If you choose a dirt bike as your bike of choice, speed should take second place to versatility. You'll probably want a bike that can haul you through the mud and over rocky roads rather than red-lining down the highway. If you're lucky, going down the right hill, you might hit 110km/h on the XR150.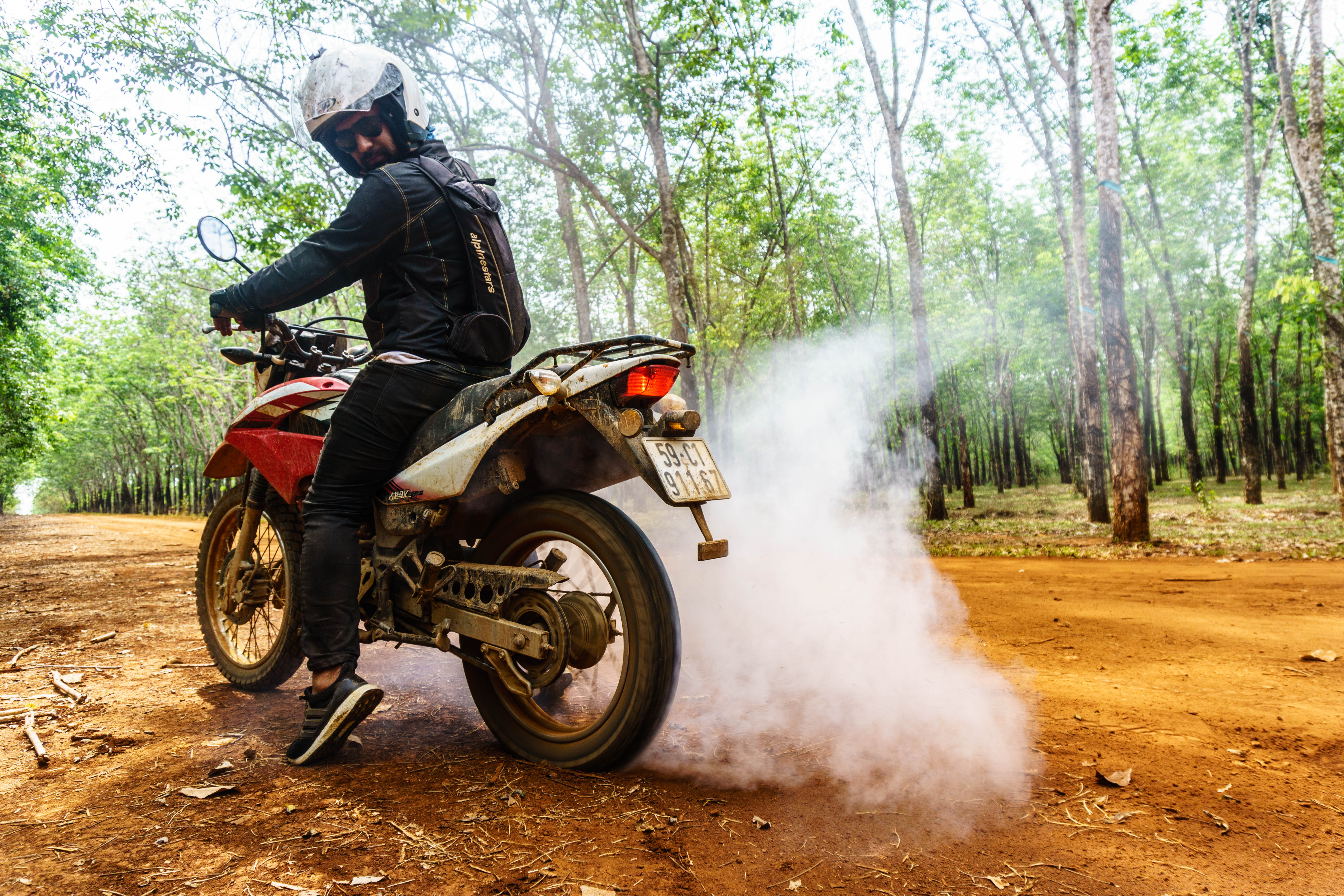 What You Should Look For In A Traveling Dirt Bike
The reality is you'll want to know the country you're traveling with the best motorcycle possible for the job. Using a bike the locals use and taking it easy is going to be more fun than ripping across the country at 200km/h on a bike to fast for the roads and no local mechanics know how to do maintenance on. Maybe it won't be the best bike you thought you needed for the job, but in the end, you might see that the locals know better.
In Southeast Asia or more specifically Vietnam, the most popular dirt/trail bikes are going to be the Honda XR/CRF 150cc. No need to waste your time on a buying guide, just go right for one of these bulletproof machines that are designed to take travelers through the mud, over the mountains, and down the highways of these diverse countries.
In the 110cc class, you'll be looking at popular road bikes like the 4-stroke Honda Blade. One of the most common bikes on the road in Vietnam. The Blade is incredibly versatile and produced in mass quantities, making it easy to maintain. 
Planning a Motorbike Trip? Check Out Best Coastal Route in Vietnam
Traveling newbies beware! Not all motorbikes in Vietnam are created equal. If you put a 110cc Yamaha Sirius next to a 110cc Honda Blade, you'll find that the Sirius engine has less power. About 25% less power. Then, if you plan to buy either of these bikes used and one of them was well maintained and the other wasn't, or worse yet, repaired with cheap Chinese parts, then you'll see a further loss in power and overall performance. Finally, if you've allowed yourself to believe that a cheap Honda Win is the motorbike for you, these garbage Chinese knock-offs have roughly half the power of a real Honda equivalent. It pays to know your motorbikes. 
If you're still concerned whether a 110cc motorbike will be fast enough, first you should know where you're going to be riding it. In Vietnam, the pace of traffic is incredibly slow. Traveling above 60km/h in urban areas is virtually impossible. Heavy traffic coupled with a population of distracted drivers carrying a family of four on a two-seater bike, talking on cellphones with one hand, and riding like the world has no deadlines means that anything above 150cc is probably a waste of power.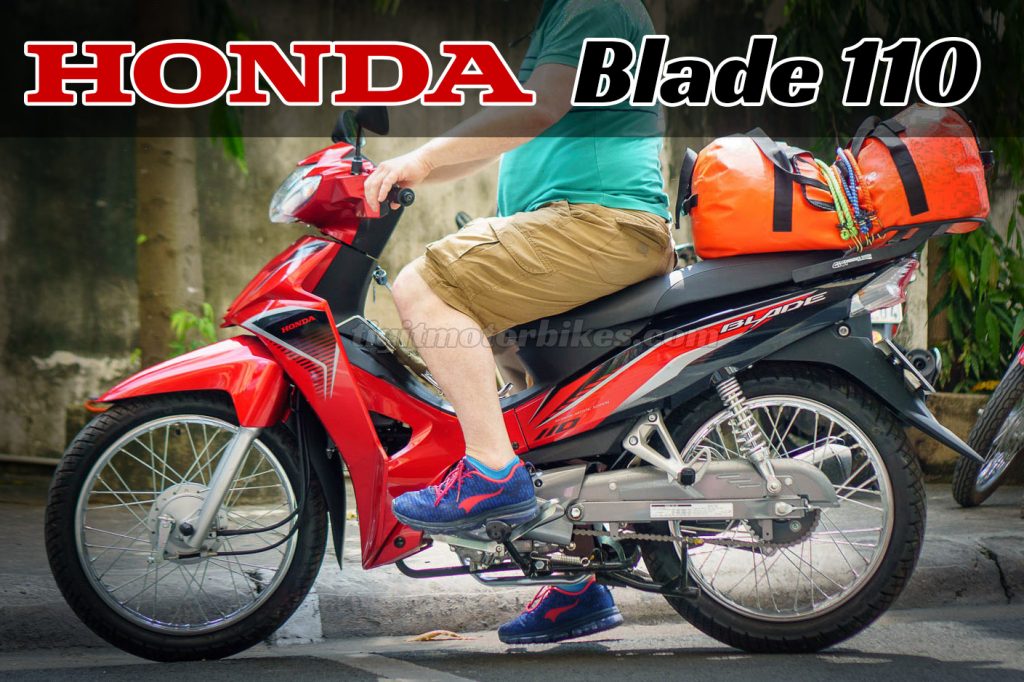 110cc VS 150cc 
🔧110cc Honda Blade 
Pros
Cheap. You can rent a Blade from $10/day in Vietnam.
Reliable. There is a good reason you'll see thousands of these on the streets.
Tough. The Blade will happily take two people and a backpack up, down, and around the country.
Cons
The look. If you're used to riding a cool looking crotch rocket or a badass dirt bike, well, the scooter-look of the little Blade might take some getting used to.
Wobbly. When you start to ride at higher speeds, the Blade starts to wobble. It makes you feel like you're going faster than you are and long drives feel longer.
🔧150cc Honda CRF150L
Pros
Offroad. One of the most popular dual-sport bikes to travel Vietnam.
Unstoppable. take the CRF150 through virtually anything and it will ride out the other side.
Honda. Though not as popular as other motorcycles in Vietnam, a genuine Honda is easy to fix at reputable service centers.
Speed. Marginally faster than the 110cc dirt bikes. You might be able to get up to 110km/h on this bike.
The sturdy, safe design makes this bike virtually bulletproof.
Cons
Frivolous. It's designed to go anywhere, if you are only going to the beach, get a scooter.
Price. This could be a pro if you're looking at big cc machines. When comparing to the $10/day Blade, the $20/day XR/CRF150 could add up to a lot of beer money.
Unfamiliar. The CRF150cc is considered a premium dual-sport motorcycle in Vietnam. It's reliable but will intimidate back alley mechanics when getting maintenance.
Side By Side Comparison
| | Honda Blade 110cc | Honda XR/CRF 150cc |
| --- | --- | --- |
| Top Speed | 100km/h | 110km /h |
| Rental Price | $10/day | $20/day |
| Maintenance | Minimum Required & Any Mechanic Can Do | Minimum Required & Only Honda Mechanics Should Do |
| Versatility | Better For Paved Roads | Can Take Virtually Anywhere |
| Fuel Tank | 3.7L Efficient, but you'll be stopping for fuel more | 12L Efficient, and good for long distance travel |
| Passengers | Good for two people | Good for two people |