Buying a motorbike in Hanoi
The old quarter is the perfect place in Hanoi to buy a motorbike. Full of both tourists, dealers and guided tour companies looking to offload motorbikes.
The choice in Hanoi is massive, so choosing where to buy a motorbike can be a minefield!
Hanoi is cheap for motorbikes and most tourists drive from Ho Chi Minh to Hanoi which creates this very cheap Chinese motorbike market.
Hanoi is also great for tours, and the established reputable tour companies often look to offload their older rental motorbikes for cheap prices.
Due to the fierce competition and incredibly low prices, there is little motivation to sell a "serviced" motorbike, so choosing where to buy the motorbike may be a big and influential decision on the holidays success.
Tigit Motorbikes offers a variety of motorbikes for long distance travelling across Vietnam. Our Hanoi office is located around 10 minutes from backpacker old quarter (Phố Cổ).
Through Tigit Motorbikes it also possible to do motorbike adventure tours to see the side of Vietnam that few get to see!
Choosing which motorbike model
The first and most important decision is to decide between a Chinese motorbike and a genuine motorbike. The difference in both price, performance, and safety are huge.
Chinese motorbikes are sold between $150-400 on the Hanoi streets, whereas rental motorbikes are usually around $200-500 for a journey across Vietnam.
Day rentals range from $10 a day on scooters to $20 a day on manual motorbikes.
If you have time, don't care about safety and don't mind breaking down then choosing a Chinese motorbike can create an interesting holiday of story-lines from things going wrong. In this case, a Chinese semi automatic or a Honda win are the motorbikes to go for!
For everyone else, it is probably cheaper and definitely safer to just rent a motorbike!
Choosing a Chinese motorbike in Hanoi and where to buy them
Buying from backpackers finishing a motorbike journey in Hanoi.
There is an excess in Hanoi of cheap Chinese motorbikes due to most travellers driving from Ho Chi Minh and heading towards Hanoi. Backpackers will advertise on facebook groups, Craigslist and within their hostels.
Buying from a backpacker is dangerous and the circle of lies within these adverts is a shocking disgrace. Backpackers feel ripped off from their terrible purchases and seem perfectly happy and capable of passing on the damage to the next unsuspecting tourist.
Buying from a Honda street dealer.
The motorbike dealers in Hanoi are cheap as they can pickup motorbikes from travellers who run out of holiday time. These dealers have no interest in fixing or servicing the motorbikes because backpackers generally can't tell a good motorbike from a bad one.
However, the dealers do have the skills to reject the complete rubbish! Even a low key street dealer will try and avoid fights and arguments, so carefully selecting the motorbikes they work with is within their interest!
Buy a motorbike from reputable Hanoi tour company.
Some of the reputable and larger tour companies will sell newish Honda Wins. However, they tend to charge a premium (and rightfully so), for the motorbike that has been serviced and checked. Chinese motorbikes are useless, and a service and checkup do not guarantee a perfect motorbike or a motorbike that will work at all.
Digging deep into the negative reviews of tour companies, and it can often be seen the few bad reviews they do pick up, are from backpackers buying Chinese motorbikes who fail to correctly understand the disclaimers and paperwork provided.
Buying larger 150cc or 250cc+ motorbikes from these reputable tour companies is not a great idea either! They are skillful enough to predict when to sell a motorbike to the point of the motorbike being able to survive one last journey. Once reaching Ho Chi Minh, it may be difficult to sell the large motorbike that is now falling apart.
A tour company selling a motorbike will provide after service and phone support to control, and ensure the customer is happily travelling on the motorbike. As a traveller selling the motorbike, it is not possible to pass on this after service.
Tour companies will only sell large motorbikes when they are reaching the end of the maintainable life cycle.
Renting motorbikes in Hanoi
Rental companies are able to provide the newest and most reliable motorbikes. It is within the rental companies best interest to provide a working, reliable motorbike that is in good condition.
Rental companies usually work out as slightly more expensive, but the motorbike is likely to drive properly and not breakdown. Just like you would expect from a traditional car rental back home.
Tigit motorbikes rents buy the day, or by long distance travel packets. The motorbikes are all 2015 and newer, and to stop our fleet becoming too diverse with age, Tigit will sell a motorbike as it approaches 30,000km.
Renting a motorbike provides options for expensive manual motorbikes such as a Honda XR, which off a normal holiday budget would otherwise be out of reach. Tigit Motorbikes rents the XR for $450 for up to 35 days of travel.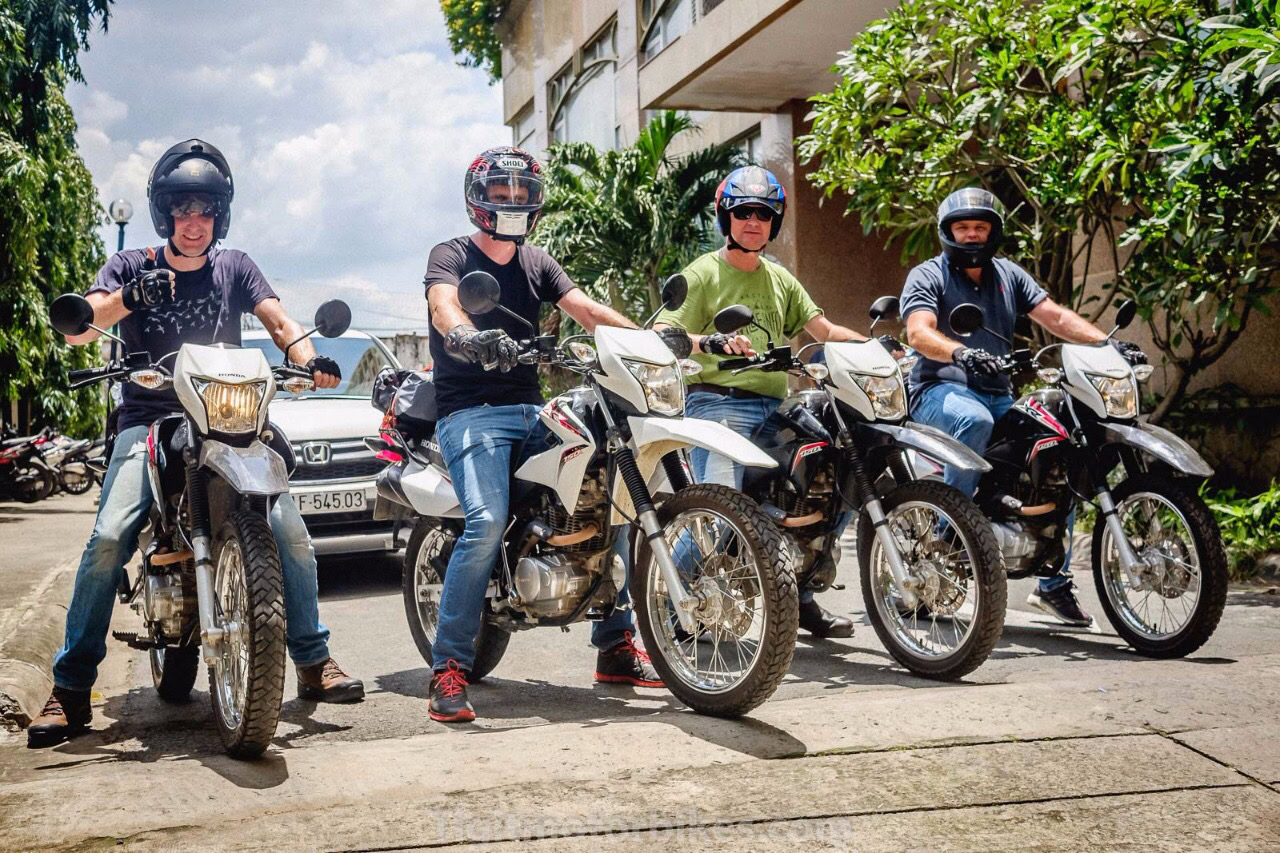 The good  Hanoi rental companies from the bad.
Review websites are still a prominent way of determining the quality of a rental company, and most reputable rentals will be seen on Trip advisor, Google and Facebook.
The good companies will buy motorbikes new and service in genuine service centres. The bad rental companies will buy second hand and service in Chinese mechanic shops.
Although reliability may be similar between the two, the new motorbikes that are properly serviced will drive differently from the cheap ones. The model names may be the same, but the quality will not be.
Dishonesty in rental companies is often a factor in the buy vs rent decision and Thailand has given South East Asia a bad reputation for motorbike rentals. In Vietnam, the motorbike rental companies tend to be honest and relaxed with damages to the motorbikes, but it still worth choose a company that has the terms clearly displayed.
Buy or rent a motorbike in Hanoi
For quality then renting a motorbike is always the better choice. Rental companies can also provide the best after service and the latest information on good routes and roads to travel.  Have a read on why Tigit says there are 5 reasons it is a good idea to buy from Hanoi.
Buying a motorbike is never a guaranteed success. Buying from a reputable shop can still be a gamble, and buying from a backpacker advertising free beer with the motorbike in an attempt to sweet talk a sale, is unlikely to end in success.
If going for an adventure holiday, then buying from a local street dealer is probably the best compromise!