Reading Time:
10
minutes
For this guide, we will take you to one of the coffee worlds most sought after destinations: Buon Ma Thuot, Vietnam. Known for its incredible coffee growing soil, deep history with working elephants, and bountiful beauty, Buon Ma Thuot is a must stop while crossing through central Vietnam and the Central Highlands region.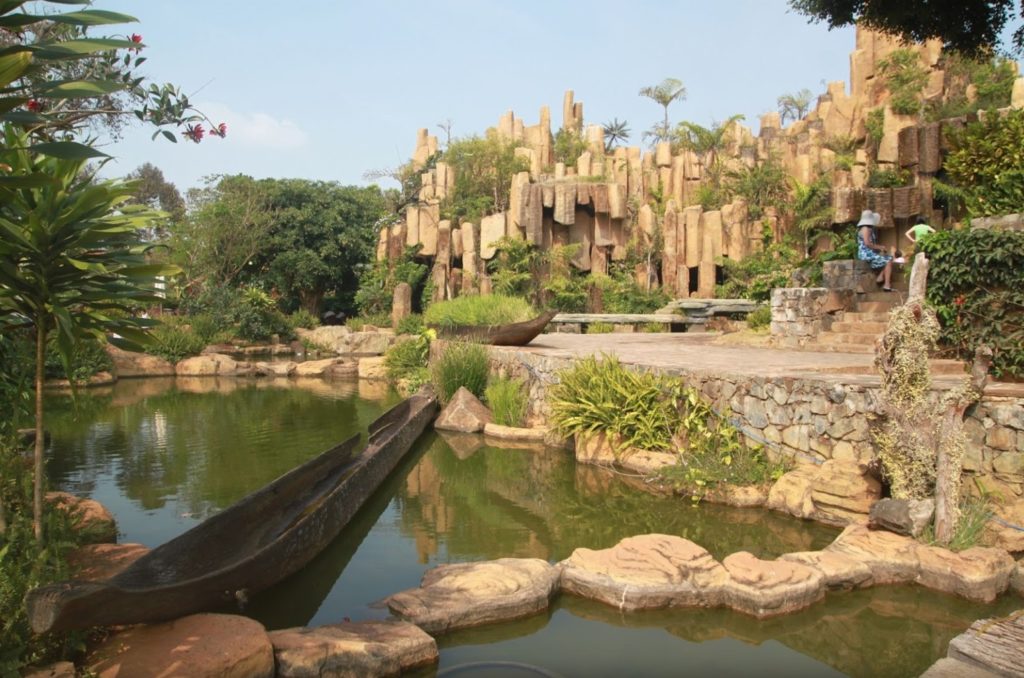 Image: Huong Nguyen.   The gardens and attractions around Trung Nguyen are spectacular. When is the last time you enjoyed a cup of coffee next to a rocky pound & lush gardens?
Coffee Stops
    Arguably, on the list of things to do in Buon Ma Thuot, number one is anything to do with coffee. The entire region is one of the best for growing coffee in the world due to the areas incredible basalt soil. We explain the soil and all things coffee in your Vietnam Coffee Explained article. The soil is so unique that it has now been recognized by the Protected Geographical Indication wth all rights reserved. Coffee shops and sampling are a must when you are in Buon Ma Thuot, and here are some of the best places to enjoy them.
Trung Nguyen Coffee Village. A touristy stop
    The coffee village or Lang Ca Phe as it's also known, is part coffee house, part museum, and part touring facility. There is even a little lake on site, nothing like Lak Lake but good to enjoy a coffee beside.
    Very popular with national tourists, the village is generally busy year round and especially during Vietnam holidays. Not noted for the best coffee in the region, but it is an excellent overall experience to see many sides of the coffee business and its history.
Arul Coffee. An authentic stop
Arul coffee is where you go to see how Vietnam is producing coffee on the indigenous side of things. Arul is set in the countryside around longhouses that are used by the Ede minority people to work, live and produce coffee in. On site, they have a small outdoor coffee shop that embodies the delightful and memorable coffee they brew.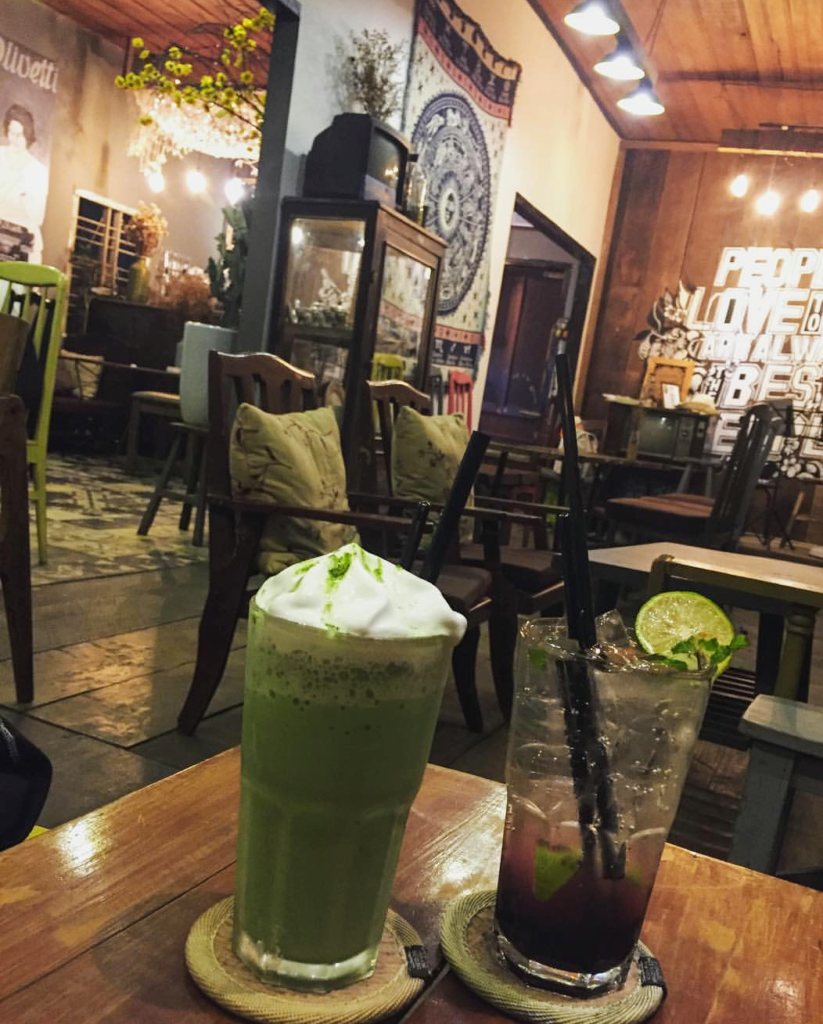 [email protected]    Decor and drinks inside the House Of Lens Coffee Shop. More than just coffee, you can get a selection of drinks and if you're lucky, some entertainment
House Of Lens Coffee. The coolest place in town
Once you've seen the authentic and touristic side of coffee things to do in Buon Ma Thuot Vietnam, it's time to see where the actions at. House Of Lens Coffee turns out their rich black caffeine elixir in a hip, artsy setting. The whole place feels like you're caught somewhere between an old theater house a storage room for cinema props. Check it out for both coffee and acoustic jams.
Coffee Pros:
This is literally the best place to grow coffee in Vietnam. You can't go wrong trying a cup here
Coffee doesn't hold the restrictions that fruits, veg. and meat does when crossing borders. If you wanted to load up a suitcase of beans to take home, this is where you should get them
On a scale of value, the price paid for the quality you get can't be beat in Buon Ma Thuot
Coffee Cons:
Some of the stops are bombarded with tourists and can lack the personal touch
Buon Ma Thuot isn't the best place for authentic coffee tours. Quality coffee tours are better found with our Da Lat coffee tour guide
You'd need to make an effort to get here if you weren't planning a central Vietnam route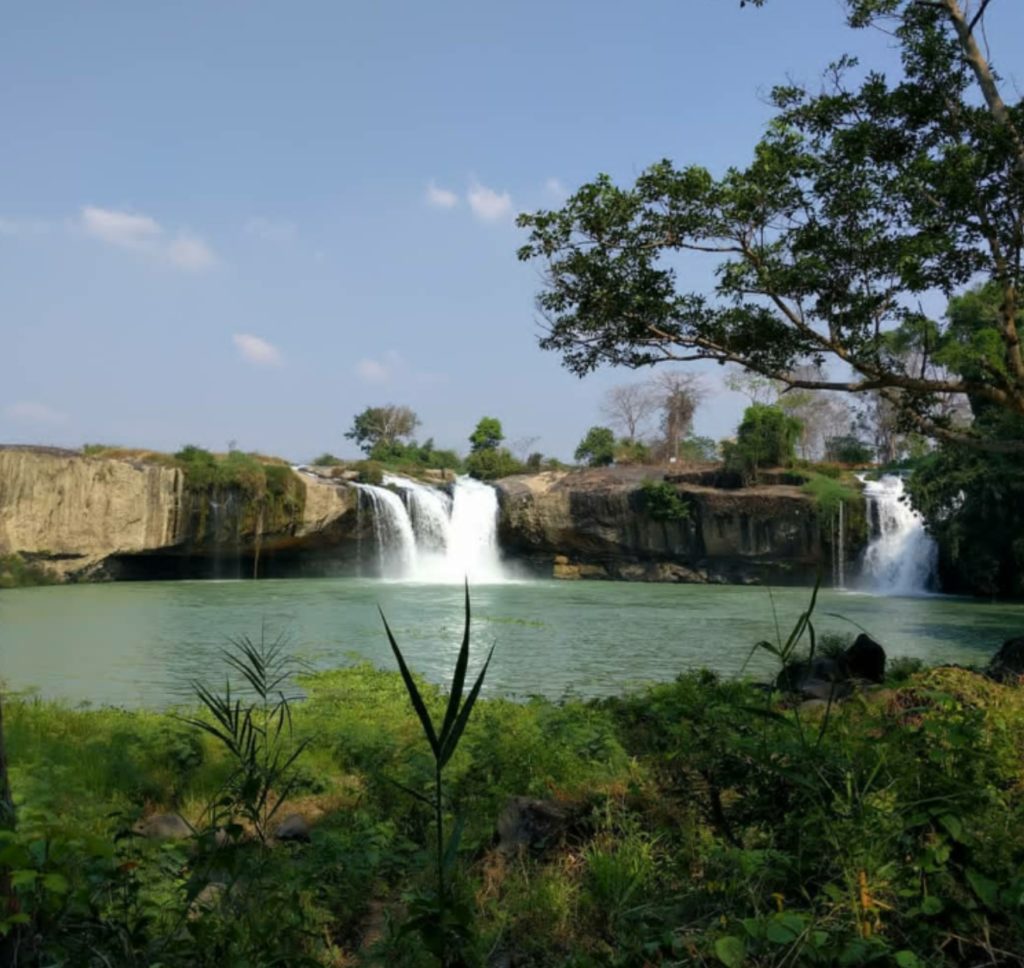 Image:@christoeffelchen    A stunning shot of the Dray Sap waterfalls pouring into the water below. If only you could swim here! You might need to drive to Lak Lake for some real swimming.
Waterfalls Tour
    While planning out your travel Vietnam adventure and seeing a list of caves to explore, pub crawls to stumble your way through and beaches begging for your attention. You might not think that waterfalls need to be on the list. You'll find that after days of running from one attraction to another on your Honda Winner, an afternoon picnic next to some impressive falls might be a nice addition for things to do in Buon Ma Thuot Vietnam.
Dray Sap Waterfalls
These flowing falls might be just what the relaxation doctor ordered. Located roughly 25-kilometers from town, Dray Sap Waterfalls are an easy drive and welcome sight on arrival. The water that comes splashing down over the rocks is from the Srepock River, one of the rivers that feed into the mighty Mekong. Unfortunately, you can't swim here, but to see the falls up close is well worth the drive.
Dray Nur Waterfalls
Equally as beautiful as its neighbor Dray Sap, the Dray Nur waterfalls sit impossibly close, but not accessible from Dray Sap. Resting between the two sets of falls is the reminisce of a bridge that is no longer passable. Dray Nur is also located about 25-kilometers from Buon Ma Thuot, but also about 25-kilometers from Dray Sap via road access.
You'll only need to pay around 35,000vnd to enter and a cheap parking fee to have your bike watched. To make a day of it, you can visit each one on your waterfall tour. Then, if you're searching out sites for swimming, you could venture down towards Lak Lake.
Waterfall Pros:
A day at the waterfalls is cheap entertainment
To reach one set of falls or another is a quick drive from the city
You can picnic here and make a day out of it
Waterfall Cons:
There is no swimming at either of these falls. Boo!
Visiting both falls is made more difficult with the broken bridge that separates them
Garbage lying around can be an eyesore. Considering there is an entrance fee, you'd think the area would also be maintained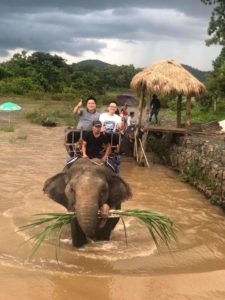 Image: Dak Viet Travel   A multitasking elephant who can eat and provide a lift to some of the many tourists who take elephant rides around Buon Ma Thuot in Lak Province
Cultural Encounters
Elephant Rides
When you want to sink yourself as far into a Vietnam culture trip as possible, you just need to do what the locals do or do what they used to do. An elephant ride through the countryside around Buon Ma Thuot is one of those cultural encounters you just need to have.   
The people around Buon Ma Thuot in Lak Province have been utilizing elephants for centuries, but now probably ride Chinese Honda's. You can even seek out a statue dedicated to a local Mahout legend named Khusan that lived to be 110-years-old in the area. To get your leg over one of these genuinely gentle giants, look up Mr. Chinh with Dak Lak Tours, in Lak Province,  by using your favorite search box. Chinh can help with all things to do in Buon Ma Thuot.
The Rice Paper Village
For the cultural go-getters in your group, this one-of-a-kind stop should be assigned to them. Just 5-kilometers outside of Buon Ma Thuot sits the hardworking village of Khu 1 or Chi Lang. Riding through the village on your motorbike you'll witness rice paper hanging to dry outside of nearly all the houses. The village is not a tourist stop, or on the radar of most travelers. You'll need to stroll around comfortably on your own or look for a local in Buon Ma Thuot to take along and translate your curious questions.
Search "Chi Lang Catholic Church Vietnam" for your best shot at finding the center of town.
Pros:
Cultural encounters in Vietnam are some of the best experiences you can take home
Elephant rides are like no other rides on earth, try it, and you'll never forget it
Visiting the Rice Paper Village is FREE
Cons:
Organizing the rice paper village stop will leave you at the mercy of your Vietnamese language skills or have you looking drastically out of place on the steps of peoples homes
If you're riding an elephant, it means it has forever lost its freedom. Decide how you feel about that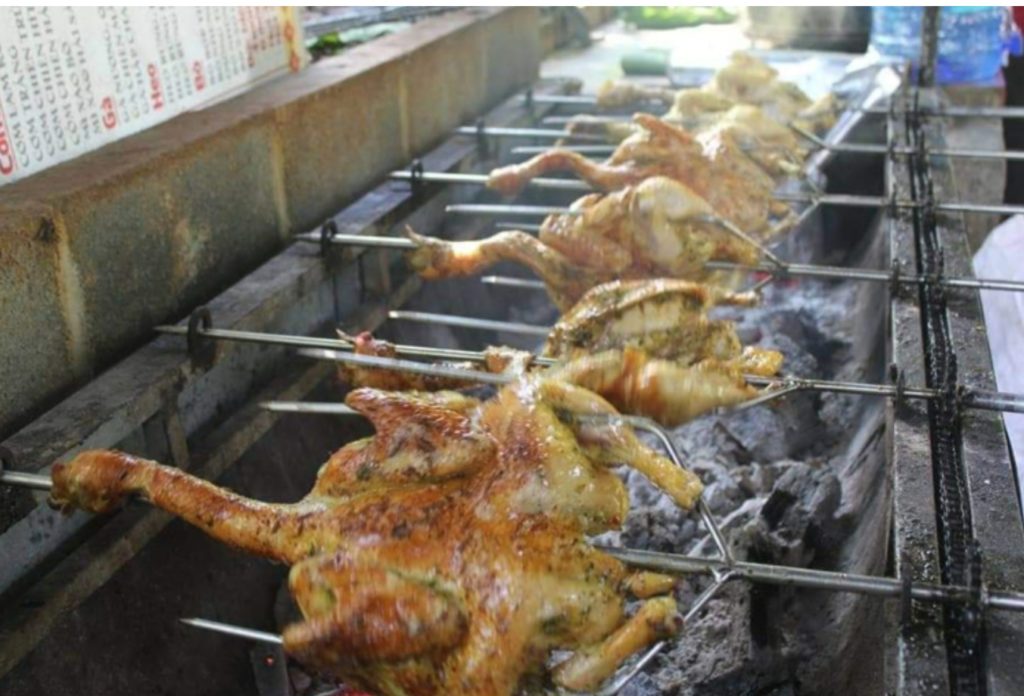 Image: Kotam Facebook page        From the farm to the fire, Kotam restaurant doesn't waste much when they're roasting chicken. Just look at those golden birds.
Best Places To Eat
Area Community Ecotourism Kotam
Less of a lunch stop and more of an all-day experience, Area Community Ecotourism Kotam (Kotam), is a garden, forest, lake, area to sit, explore, and of course eat.
Kotam is just outside of Buon Ma Thuot Vietnam and is extremely popular with the locals. Actually, we'd suggest visiting mid-week to avoid large groups. The 20,000vnd plus parking fee to get in is cheap, and the food is well-priced too. You could easily take most of a day here just lying by the lake and scrolling through your news feed & searching out more things to do in Buon Ma Thuot.
Zone 8
Whether you like local joints or giant beers, this place features them both. Zone 8 is located near the market on 37 Ly Thuong Kiet Street, and you'll be happy you stopped by.
They serve up local dishes and regional delights of Lak Province, featuring fowl from chicken to pigeon. If you're with friends or just looking for some liquid courage to make some new friends, they also feature domes of draught beer the size of your arm. The food is regional, but the beer will remind you of Ho Chi Minh City.
Image: Anthony Tong Lee Flickr    What your spring rolls should look like if you get the local guy next to you to roll yours up. Good luck!
Thanh Tram
For those of you with plenty of experience rolling things, this is your place! Thanh Tram Restaurant is fun, interactive dining. They have two choices, deep fried spring rolls or roll your own spring rolls. The lack of options is even better for those of you with a pre-fried brain who aren't into complicated dining decisions. Order up a plate of self-rolls and see how fat you can stuff them with pork, salad, rice, garlic & chilies. Thanh Tram is cheap and delicious.
Dining Pros:
Eating where the locals eat means the food is going to be tasty and cheap
Any meal where you need to use your hands exclusively to eat is going to be a great meal
Eating out in Vietnam is usually a memorable experience. Options like this won't exist when you get home
Dining Cons:
The more authentic the restaurant, the less likely you'll see anything written in English. See our What's Safe To Eat guide to learn the lingo
Finding off the path restaurant suggestions are going to be more difficult than eating at the lackluster establishments in front of your hotel
Chances are you won't find a long list of Western food joints listed on the things to do in Buon Ma Thuot. Hopefully you're enjoying the local cuisine
Image: Diec Luu via Google      The bird life is alive and well inside the Yok Don National Park in Lak Province. If you can do an overnight tour here you'll get a better chance to see as much of the parks animals as possible
National Parks   
Yok Don National Park
A trekkers delight, the Yok Don National Park is the largest protected park in Vietnam. With over 1000-square-kilometers of protected forest that is home to over 800 tree species and hundreds of birds, reptiles, and animals. Anyone who enjoys hiking surrounded by mother nature's beautiful forests must spend a day or two here.
Declared a national park in 1992, sadly it is still the scene of deforestation, poaching and animal trade. A treasure to find as you explore things to do in Buon Ma Thuot, see it before it's gone forever.
You can do various hikes in the area, but aren't likely to see much in the way of wildlife outside of monkeys. Book a guided tour here in advance in the hopes of finding one who speaks English and could possibly help you find some primates or some of the few remaining wild elephants.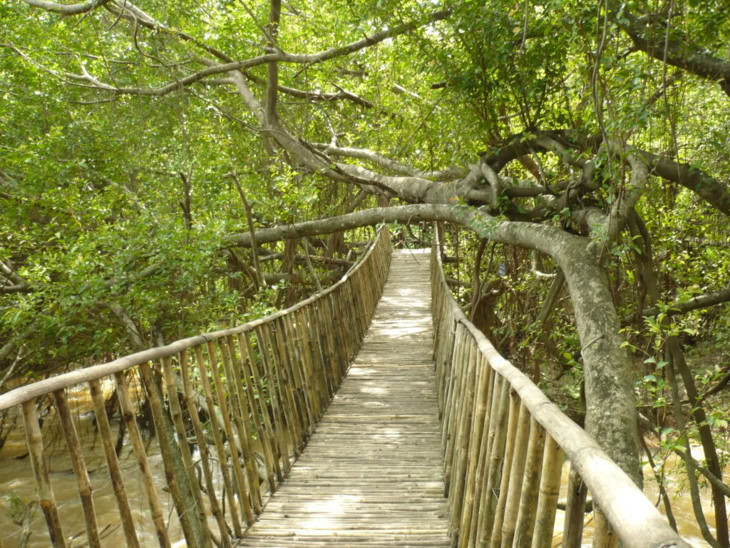 Image: vovworld.vn  Take a walk around Ban Don Village and you will continually uncover exciting finds. Like this, one of the bamboo bridges in the village. Great for walking and photos!
Ban Don Village
On the scenic route from Buon Ma Thuot to Yok Don National Park, you will pass Ban Don Village. The village was originally a central trading point for various ethnic groups from Vietnam, Laos, and Cambodia. Today, however, the villages main focus is on the tourism trade.
    In Ban Don Village you can partake in various elephant rides, try your hand at a cooking class with the Ede peoples, walk the swinging bridges, and even spend the night in one of the local longhouses. Once inside a longhouse and all its preserved history, you'll get the feeling you're part of an ethnographic museum.
   With a vast number of tourists passing through, finding travel agencies and English speakers who can answer your questions will be quite easy. Don't expect the deep cultural authenticity that the area was once known for, but an elephant ride or cooking class with a lady in tribal attire will make for excellent photos.
Park Pros:
Trekking through the forest is an excellent way to see the country from the inside out
You should at least see monkeys while in Yok Don
Interacting with the locals, even if on a tour, makes for excellent cultural exchange when getting to know things to do in Buon Ma Thuot
Park Cons:
A large number of the animals in Yok Don have been exploited, some even to extinction
Both of these stops can get very touristy, leaving a less than authentic feeling behind
The higher the demand for elephant tours, the more elephants they need to tame. Does the world really need more tamed elephants?
As you finish up your things to do in Buon Ma Thuot and make your way further north in Vietnam, you will want to consider where to go and what to do next. We might suggest checking out the Dragon Bridge and all the attractions around Da Nang.