Reading Time:
8
minutes
Here are the best Hue photo opportunities
        If a picture is worth a thousand words, and motorbiking Vietnam is the trip of a lifetime, combining the two will give you an incredibly photographed trip worth talking about! To help you have a memorable motorbike trip with amazing photos, we know some great spots. Read on to find out where.
         For many two-wheeled travelers exploring the reaches of Vietnam, the exciting tour would not be complete without getting to know the areas around the city of Hue. It was here in Hue, from  1802-1945 that the emperors of the Nguyen Dynasty reigned in what was the countries capital. As a result, the city is like a living museum for those curious to know its historical significance. You can wander through the Imperial City and capture photos of shrines, palaces, and the Royal Theater replica. Even the Forbidden City that was once the home of the emperors can now be entered and captured in your photographic stills forever.
         Around the city of Hue, you can also travel to some of the famous tombs that are scattered throughout the area. Each tomb holds its own historical significance, but unless you are big into history or are incredibly eager to learn about Hue and its ruling period, you could probably just pick one or two of the tombs to visit. Your tomb options include Tu Doc, Minh Mang, Khai Dinh, or Gai Long. The first two tomb sites are the biggest, just in case you're looking to get the most out of your 100,000vnd admission. You could visit each site as a boat tour as well, but since you have a motorbike and can navigate your way with google maps. You might as well do it on your own schedule and put the savings of driving yourself towards Pho and cold beers at the end of the day. For the best Vietnam travel photos, try to plan your day around the sunshine and avoid overexposure or flat light.
Great photographic stops at Tu Doc
The throne at Minh Khiem Chamber. Some great shots of the emperor's throne. There is also the option for you to dress up for photos here
Hoa Khiem Palace. The emperor's palace during his visits here. It has since been converted into a place to worship his memory. You can get some great shots of the emperors personal belonging here too

Luu Khiem Lake. The site of the Du Khiem boat landing and the Xung Khiem pavilion. Excellent photo opportunities of where the emperor used to spend some leisure time. Drone shots over the lake would be incredible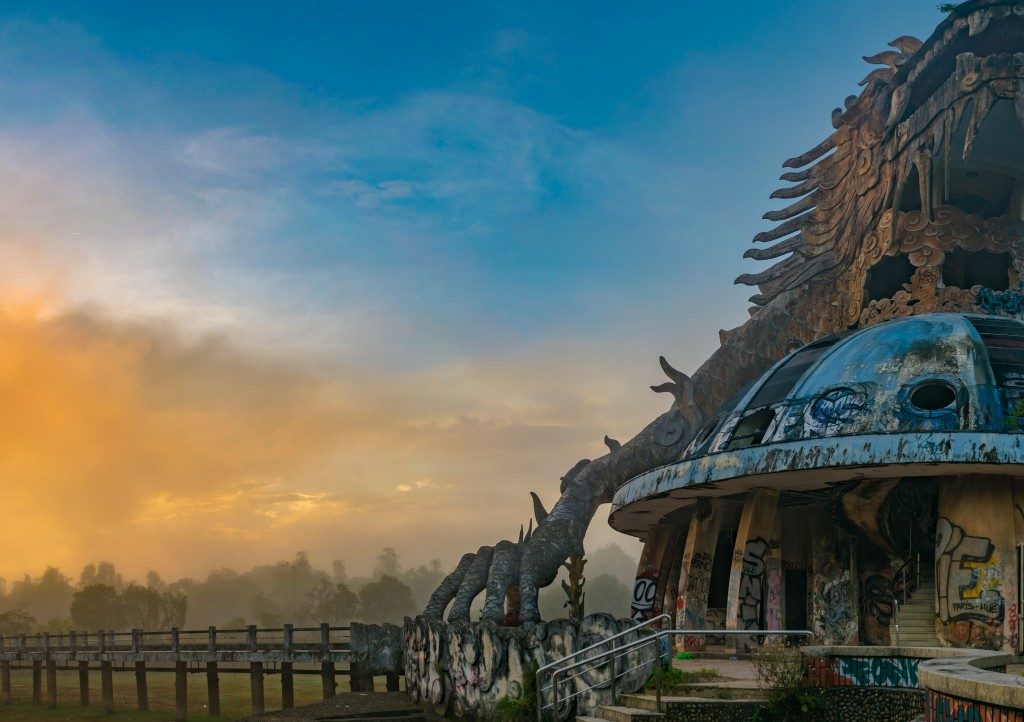 Ho Thuy Tien theme park. Lurking dragons & eerie fun makes for alarming photos
        Not everyone is interested in taking Vietnam travel photos of images already listed in guidebooks or highlighted on brochure covers, it really depends what type of Vietnam motorbike trip interests you. For those of you who are looking to capture alluring moments in central Vietnam that won't mirror the images of everyone else back at your hostel, I'll offer you some memorable places to explore. The haunted Ho Thuy Tien theme park. Wait, did I write haunted, sorry I meant the abandoned Ho Thuy Tien theme park. It looks haunted, but as far as I know, no ghosts are lurking on the grounds. Maybe just some ghostly looking investors who wished they had died after their USD 3-million investment tanked. The good news is, you can now freely explore this eerie fun center at a highly discounted rate.
         The theme park originally opened in 2004. It appears that cash-strapped investors were hoping to start making a return on their capital before they ran out of funds building the park. To start bringing money into the park they opened the doors before the park was complete, and to their surprise, park-goers were less than impressed by the half-assed efforts. This partially finished park originally boasted tanks of fish and crocodiles on display, some water slides, performance stage, and various other attractions for all ages. The crowning jewel of the site was a massive dragon rising from the waters of a lake at the center of it all. Sadly, the Dong dried up, and a few years after the park opened it was officially closed.
        To the shock of many on an international scale, namely those in the animal rights world, workers just walked away when the park closed. With no one wanting to own a rescue crocodile,  the crocodiles, along with the fish were left to live out a wild existence in a half-tamed location. The remaining animals have since found another home, and to the delight of many, you can still visit this apocalyptic-like site. Oddly, the demise of the park might actually be attracting more tourists to the area then a full-functioning park was. It seems this dark tourism site could beat out family tourism over the long term.
Ho Thuy Tien, what to know
          The photos you can get at the theme park are incredible, a place trapped between fantasy and fatality. The vibrant ruling dragon that has since begun to crumble is still accessible by staircase for lake views from his mouth. There are the brightly painted slides that are slowly being swallowed by speckled mold. The yellow, blue, and red theater seating that is now more likely to showcase a show of cattle than anything else. The whole park will have you looking over your shoulder and questioning every unusual sound.
          If you're on a Vietnam scooter trip or driving the trusted Honda XR150L, getting to the theme park is easy all on your own. Just type "Thuy Tien lake Abandoned Water Park" into Google maps. The drive here from Hue is a little over twenty minutes. Once you arrive, you will likely need to pay a fee/tip to the guy who considers himself security near the main gate. However, if you want your photos to be free of other backpackers, post-apocalyptic looking tourists, and to avoid the fee, I'd recommend arriving here to watch the sunrise. You'll need to set your camera to long exposure to get the perfect shot. Or if you're carrying an iPhone, you can just snap the picture, post it to Instagram, and move on to the next interesting thing. At this hour of the morning, it should only be you, the cows on stage, and enough questionable noises to make sure you are wide-awake?
 Tips for the best photos at Ho Thuy Tien theme park
Arrive early to avoid having others in your photos, or paying the questionable park fee. Getting here with the sunrise is best
Plan about 20-30 minutes to drive here from Hue
Get a long exposure shot of the eerie dragon as the sun is coming up

Don't go in the water! It might be crocodile free, but it's probably not without some questionable contamination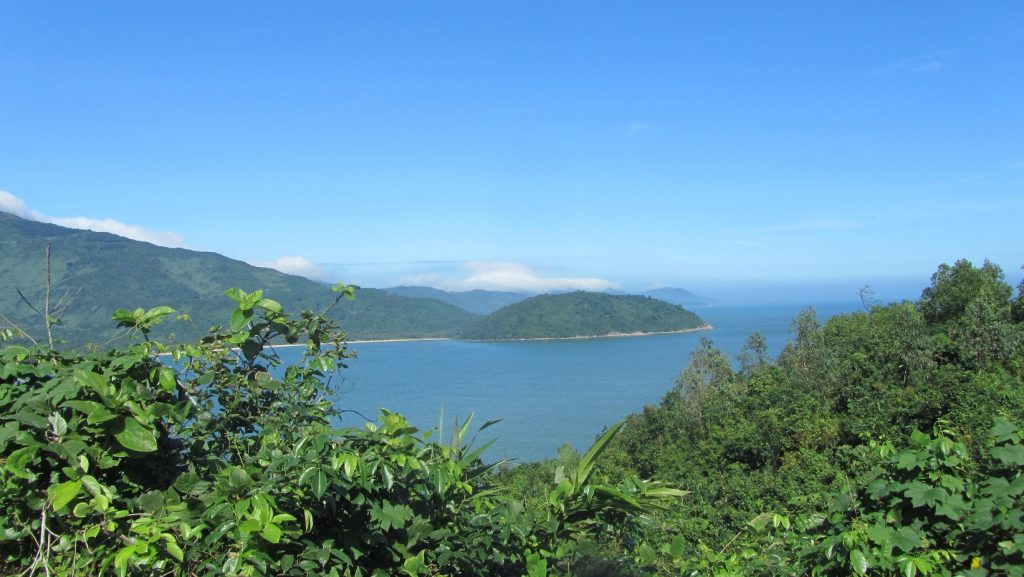 Hai Van Pass, and getting to Hue
       If your motorcycling adventure has you driving the classic route from Ho Chi Minh in the south, towards Hanoi in the north, you'll probably be enjoying the Da Nang to Hue route at some point. Before you leave Da Nang, you might want to see a theme park that is up and running and a dragon that's more lively. This way when you arrive at the Ho Thuy Tien theme park, you'll know what a stark contrast the vacant park is compared to places that are alive and vibrant in Vietnam. Not far from Da Nang is the Ba Na Hills theme park, an area accessible by a Guinness record-holding cable car ride. Here, the fun feels like it never ends. The whole place is a throbbing mix of locals and foreigners enjoying all things manufactured fun. As for the lively dragon, well it definitely feels more alive than the one at Ho Thuy Tien. The Dragon Bridge in Da Nang offers up a dazzling show of lights, fire, and water to wow your senses. Capturing photos of the Dragon Bridge at night time are guaranteed to increase likes on your news feed.
         A growing number of backpackers drive the road around Da Nang to enjoy the beautiful Hai Van Pass. The pass was made wildly popular by the Top Gear Vietnam Special. The episode where the Top Gear boys drive malfunctioning motorbikes around Vietnam and highlight some of the countries beautiful sights, as well as give a false impression that these malfunctioning motorbikes are what the whole country drives. If you are looking for a nice leisurely drive with impressive coastal and mountain views, the Hai Van Pass is worth it. There are stops along the way like the classic Pillbox/Jetson guard posts that look over the ocean and take photos on, or stop for a snack break and just enjoy the views. If however, you are looking for a slightly more challenging drive that isn't teaming with tourists learning to ride a motorcycle for the first time. You might want to take the QL14G route, it's one of the nice QL roads in Vietnam. Both the QL and Hai Van Pass roads will take you up into Hue, but the QL14G routes you into a scenic mountain road that will offer a whole other kind of photo opportunity. These photos on the QL14G are less likely to have vendors blocking your shot asking you to buy drinks like the Hai Van Pass might too.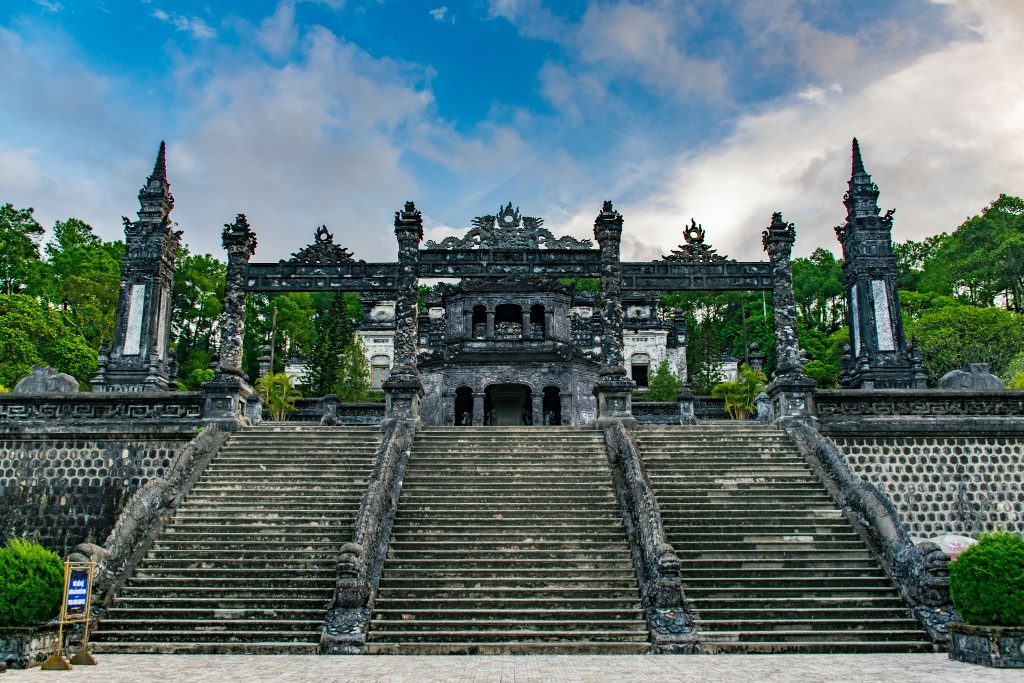 Photo opportunities from Da Nang to Hue
The Dragon Bridge in Da Nang. The best photos of the dragon bridge are at night when the dragon is alive with lights, fire, and water
Perfume river in Da Nang. For incredible nature shots, the perfume river offers up falling flowers, wooden riverboats, and tranquil scenery

Hai Van Pass. The pass is a classic driving route with many stopping options. Look for the

Pillbox/Jeston guard post

to get a perched view of the South China Sea
       There are plenty of sites to see in and around Hue. As the former capital and home to ruling emperors, Hue has landmarks unlike any other in Vietnam. Many people come to this area strictly to explore the remains of the emperor's tombs and see the property where the ruling built their legacy. As well you can see displays of some personal artifacts that once belonged to these rulers. These sites are interesting, and you should probably look at least one of them. If however you are looking for a unique culture trip in Vietnam and want to capture some extremely unique moments. I can not stress enough the mesmerizing photos that can be obtained in the off hours of Ho Thuy Tiens abandoned theme park. For those of you who can trade a night of beers for an early breakfast, you are sure to be rewarded by getting to the park before anyone else does. Really, how many opportunities are you going to have to explore an abandoned park with a lurking dragon keeping watch from his home in the murky waters. This part of Vietnam is a great place to enjoy your motorbike rental and all of the freedom and excitement that come along with it.