There is such a thing as the wrong bike for the right person, or maybe it's the wrong person for the right bike? Either way, not all motorcycles are created equal, and not all riders are equipped physically or mentally to handle all motorcycle types.
Here, we will explain the different types of motorcycles typically used by adventure motorcycle riders to help you decide what bike will be best suited for you, the rider, on your next adventure motorcycle trip.
Adventure Motorbikes
The fastest growing segment of motorcycles in the world. ADV or adventure motorbikes can cover anything from the globally accessible Honda CRF250 to their bigger Honda CB500X model & Africa Twin, through to the thumper 650s like a Suzuki DR650/KLR650 & V-Strom, right up into glamorous BMW 1200GS bikes like those ridden by Charlie and Ewan in the Long Way Round motorcycle series.
ADV motorcycles can usually be ridden on sealed roads as well as handle minor off-roading, or with an experienced rider, be taken into some serious off-road riding. The right rider could take the heavy BWM1250 down the same muddy tracks and river crossings as the CRF250 rider could. The wrong rider could find themselves pinned under a heavy bike wondering what went wrong.
Things to consider when choosing and ADV bike will be; height, weight, experience, roads, range/fuel capacity, speed, price, and look/ego. These all play a factor when selecting the right motorcycle for your needs.
The adventure rider will want to be confident they can pick up an ADV bike when they drop it in the dirt. That the design fits their weight, height and how much luggage they plan to carry. That the motorcycles driving range will be sufficient to make it from one fuel station to another. Then, most importantly, can your ego handle an ugly or tiny bike that will take you safely into the unknown. Or, do you require the right look to appear better than others or to fit in with the crowd you are riding with? Unfortunately for most, the ego will win out over every practical reason offered up. Just look at the BMW & KLIM marketing.
Honda CRF Series
The CRF or Competition Race Four (Four Stroke) series are Hondas full-sized motocross bikes. These bikes are available across the globe in both off-road and street legal from the factory, depending on your desired style. Each motorcycle uses a  liquid cooled 4-stroke engine and is divided up into the R, X, RX, M, L models. An excellent choice for a Vietnam road trip and most widely used for adventure riding is the L model, due to its boom-proof reliability.
    Honda CRF250L Stats:
Electric Start

Full Lighting

Fuel Injected 249.6cc Single Cylinder Engine

24 horsepower

130kmph maximum

270mm ground clearance

Seat Height 875mm

Weight 146kgs

7.7L fuel tank

250km range in optimum driving conditions
This efficient bike can handle just about anything you can throw at it, including luggage or a passenger. If you underestimate the power of a CRF250L, check out Steph Jeavons. She rode this mighty Honda to every continent on the planet.  
Honda CB500X
A motorcycle aimed at converting new riders into the world of adventure motorcycling. The design, price, performance and look all add up to easy decision making when you want to dip your toe into the adventure motorcycle world rather than jumping in with two feet. The Honda CB500X offers up just enough on and off-road performance to keep newbies in either group happy. A great first purchase or motorcycle rental.
    Honda CB500X Stats:
Fuel injected 471cc V-Twin engine

49.6hp

185kmph maximum

170mm ground clearance

Seat height 810mm

Weight 196kg

17.5L fuel tank

510km range in optimum driving conditions
The Honda CB500X is a visually appealing machine, good enough to handle minor off-road conditions and nearly any on road conditions. If you are looking to ride two up, carry a lot of luggage, or test out the world of adventure riding this is your bike. Notice that the weight is high and ground clearance low compared to other bikes listed here. Serious off-road riders should consider a bike better suited to serious off-road riding.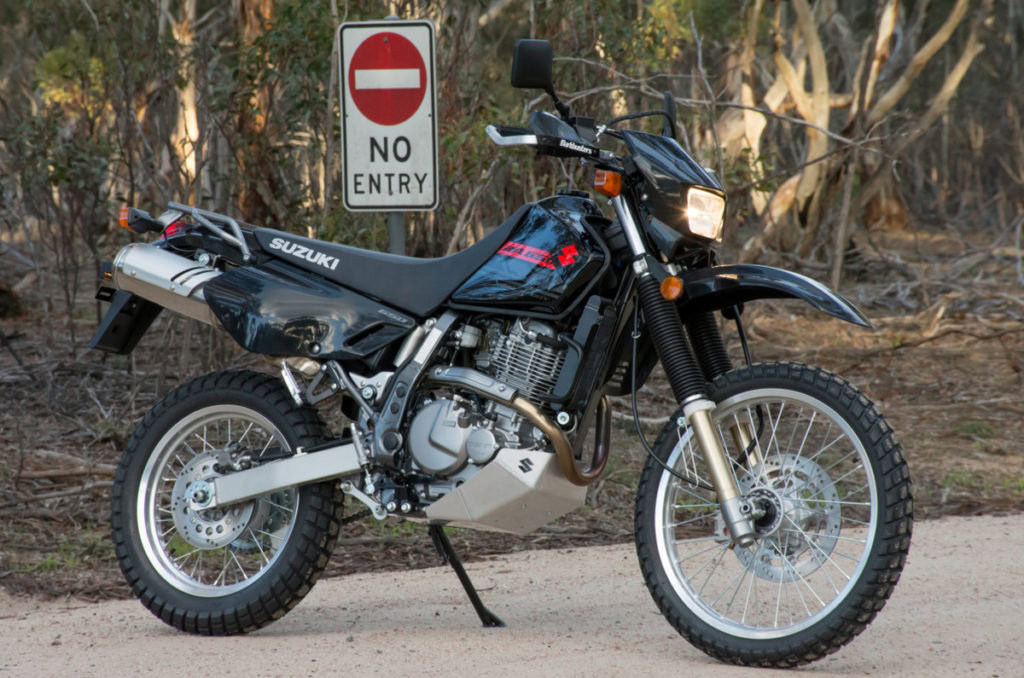 Image: Suzuki Motorsports   –      Light, easy to handle and easy to fix. The Suzuki DR650 has had only minor changes since it hit the roads back in 1990.
Dual Sport Thumpers
Popular across North America and small parts of Europe and South Africa. These single cylinder engines are known for their simplicity and the recognizable "thump, thump, thump" sound they make while running. Popular carbureted models for touring the planet include the smaller DRZ400, larger DR650 and KLR650, as well as a variety of other fuel injected models. The two models here are known for being cheap, reliable, and can usually be fixed by any back alley mechanic who knows big bikes. Their downfall can often be weight as heavy steel frames are used over aluminum parts to keep costs low.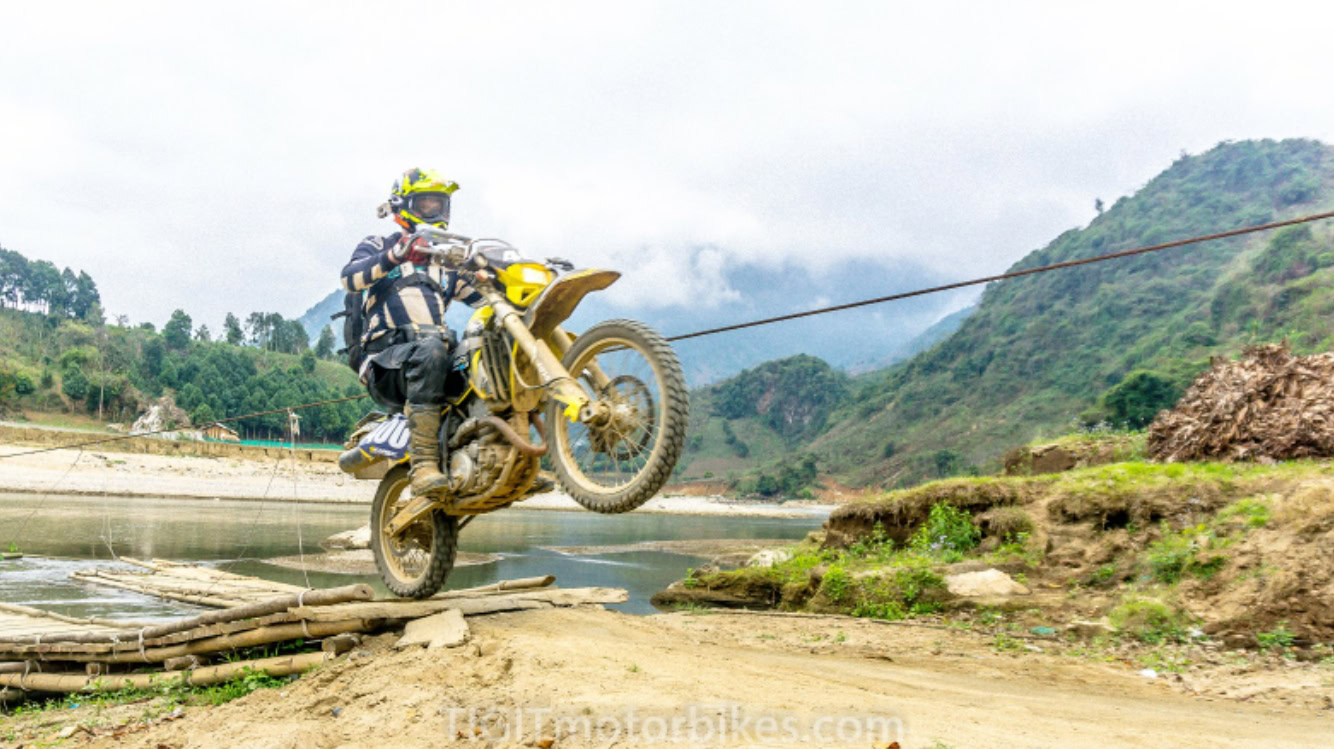 The DRZ400 making a preformance exit onto the drit adventure roads of Vietnam
Suzuki DR650 Stats:
Carbureted 649cc Single Cylinder Engine
270km range in optimum driving conditions
These style of adventure motorcycles are suitable for beginner riders. They are easy to modify, easy to fix, and can be purchased at a very reasonable price compared to most motorcycles in this class. This particular bike isn't very visually appealing nor is it the best choice for a Saigon Adventure.  For other parts of the world I would choose its reliability over its rough looks though.
Image: BMW Motorcycles   –    The big boys of the backcountry. If you plan to ride a BMW1250GS off-road, you best know what you're doing!
Large Displacement Adventure Bikes
The next category in ADV motorcycles are the large displacement or anything over 1000cc. Bikes like the new Honda Africa Twin 1000cc, KTM 1290 Super Adventure R, and BMW 1200GS. These bikes are typically reliable, heavy, modern, and very expensive. With as much focus on sex appeal as technology, these big displacement bikes are usually gobbled up by people who either want "the look" and never get the bike dirty. Or by those who enjoy the best of the best and have no issues with the price. If anything the drawback to these bikes is you typically need a specialized mechanic to work on them.
    BMW 1200GS Adventure Stats:
Fuel Injected 1170cc Engine
590km range in optimum driving conditions
This style of adventure motorcycle is typically used by experienced riders who know what they want in a motorcycle. They can often be modified with every adventure motorcycle accessory under the sun to improve anything from comfort to performance. If you plan to use these bikes for off-road riding, you better know what you are doing or be able to afford to fix them.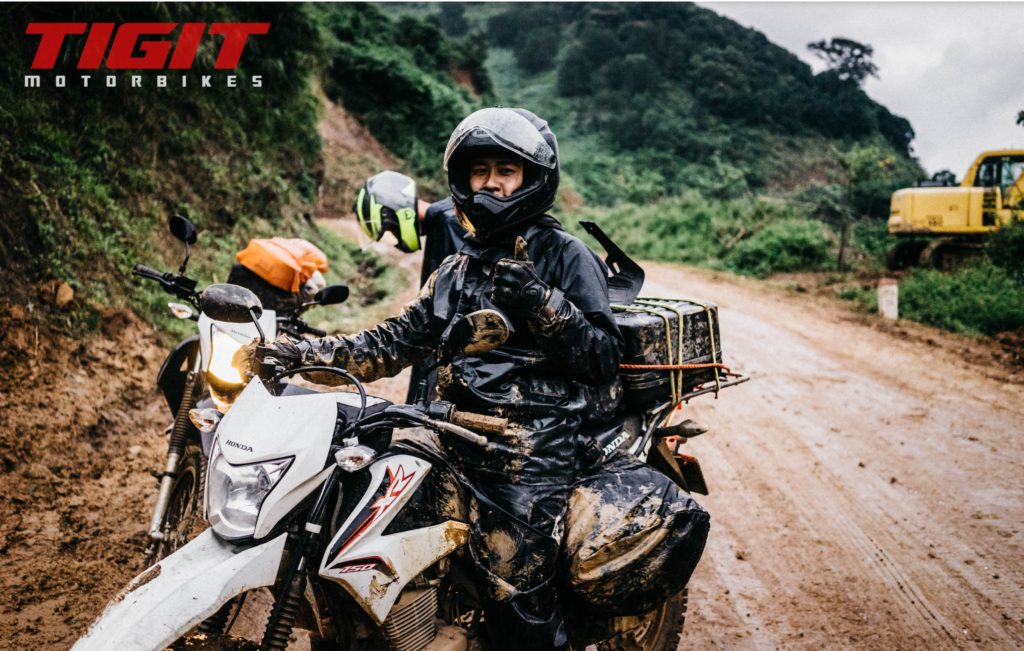 The Honda XR150 is a great example of a trail style motorcycle. Light, sturdy, and great for exploring the roads less travelled
Trail Bikes
Highly capable motorcycles that can handle nearly as much off road as they can on the road. These bikes typically fall somewhere in the 100cc-450cc category and are tuned to offer a smooth and comfortable ride as well as enough engine power to take a single passenger nearly anywhere off-road. Depending on the design, they can carry two passengers comfortably around roadways and light off-roading. Some, but not all, may be equipped with lighting, mirrors, electric starts, seating for two and come with 2 or 4-stroke engines.
    Popular trail bikes include the Honda XR/CRF 150cc, a 4-stroke motorcycle popular in Asia, equipped with electric & kick start, seating for two, and are fully road legal. The Yamaha WR250F, a 4-stroke motorcycle, street legal, with seating for one. Then, on the high end, there is also the Husqvarna TE300i, a two-stroke motorcycle found mainly in Europe and North America, it's not street legal and is designed for only one rider.
"Side by side a trail bike and motocross bike look similar. Once you ride them, you'll notice they are designed for two very different styles of riding."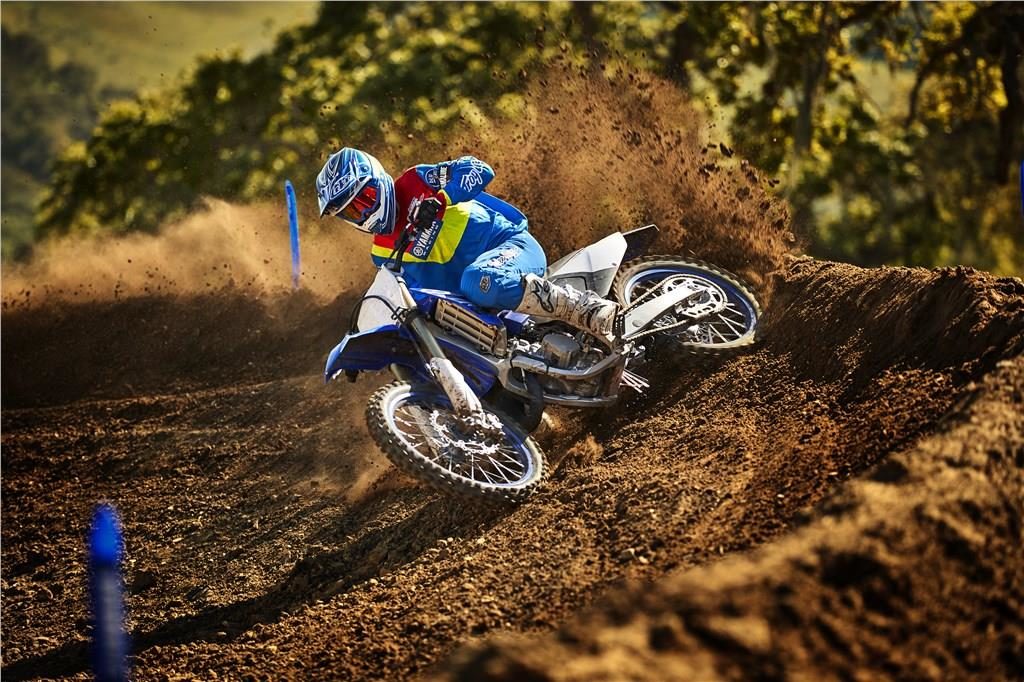 Image: Yamaha Motorsports     –     A stunning shot of a Yamaha YZ125 eating up a dirt track. The Motocross bike is tuned to ride hard for short distances. If you're looking for long distance, keep looking!
Motocross Bikes
Motorcycles built with responsive torquey speed, performance suspension, and designed to be as light as possible. The motocross style motorbike is more specified than you would think by just looking at it. It's not a road or trail bike, but can be modified to act like one.
When you're looking for a motocross bike, you are typically looking for a motorcycle that can run short track races that take you flying over jumps and ripping out of tight, dirt-packed corners. The KTM 350SXF, Honda CRF250RX, and the Yamaha YZ125 are good examples of motocross style bikes. These types of motorcycles are stripped down as much as possible to save on weight. Typically you won't find a kickstand, faring, lights, seating for two, or passenger pegs on motocross motorcycle.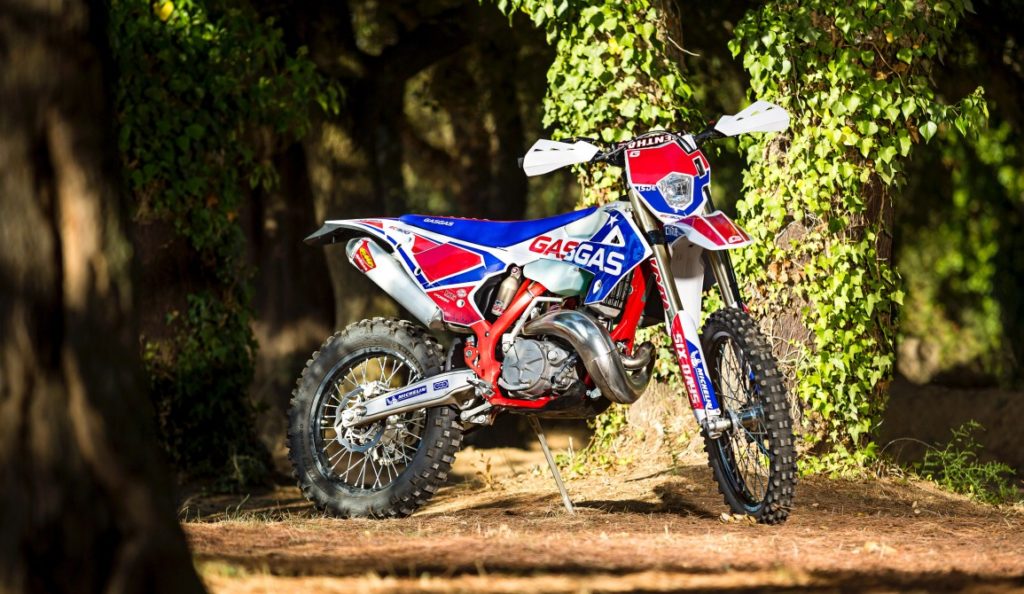 Image: GasGas.com   The GasGas special addition 300cc model. The Enduro style motorcycle can be ridden hard and ridden far. Expect to lose yourself in upgrades on these bikes.
Enduro Motorcycles
A category of motorcycle that's usually customized to fit their respective class with elements like; bigger fuel tanks, larger or more powerful engines,  as well as stronger frames and parts. Many Enduros are customized with quieter exhaust and lighting to be ridden on road. These bikes range from 2-stroke 125cc up to 4-stroke 650cc motorcycles, with the most recognizable style being the 450cc style Rally Enduros ridden in the Dakar Rally.
    Honda makes the CRF450L, a street legal enduro bike. The lesser-known GasGas company makes their GasGas ER 200cc, 250cc, and 300cc 2-stroke, off-road models. Then on the extreme end of the scale, the KTM 450 that Toby Price won the 2019 Dakar Rally on. The line between dual sport and enduro can be very thin. Typically the rider of an "enduro" will have spent a lot of money on sites like Revzilla for upgrades. If you're looking for the epitome of Enduro riders, check out "The Best Enduro Rider In The World", Graham Jarvis. He basically can't stop killing it!
Shopping For An Adventure Motorbike – What To Consider
    Before ponying up the cash to buy your first ADV motorcycle or setting off on an overseas adventure to explore the world with a motorcycle rental. There are some serious considerations you should make that could ultimately benefit the outcome of your adventure.
    What will I be using the bike for? It sounds like a silly question, you'll be using an adventure motorcycle for adventure naturally. While depending on if that adventure is going to keep you mainly on the road or off could narrow down your choices very fast.
    If you like to explore trails and seek out lesser traveled parts of the world like some of the waterfall routes in Vietnam than you'll want a light, easy to ride a motorcycle like the Honda CRF250L. For those looking to keep to mainly sealed roads and carry a lot of luggage, your options can include a larger bike like the Honda CB500X.
    Is the motorcycle the right size for me? Shorter and lighter people require a motorcycle with lower seat height and less weight. Much like the heavier/taller folks require the opposite. Motorcycles can be modified to suit your needs, but this can sometimes require aftermarket parts and can change the dynamics of the bike. The easiest way is to look for something suited more for your size. Use this handy inseam calculator if you really want to get close.
    Can I afford it? The whole world can be financed so people don't often consider if they can actually afford it or not. Anyone just getting started might consider buying a less expensive bike while they decide if this sport is truly for them. If you're going on a lengthy overseas adventure, it's usually cheaper to rent for the month than by the day. Compare the rates on this Himalayan 400, and you'll see what I mean.
    Can I pick it up? Adventure motorcycle riders will drop a motorcycle at some point. If that bike weighs 220kgs plus 30kgs of luggage, are you going to be able to pick it up out of the mud?
    Is it reliable for my needs? You'll need to understand the motorcycle you are getting on top of. For example, the Honda CRF250 looks the same at first glance. Those letters that follow though, change the bike entirely.
CRF 250L – Reliable for long distance. Can drive forever with no maintenance.

CRF 250R – Motocross version. The engine is optimized for power and thus needs rebuilding every 2 races. Basically, it's a bomb on 2 wheels. Outputting double the horsepower of the 250L. Despite the "CC" being the same.

CRF 250X – Falls in the middle.

CRF 250M – A beefier version of the L model with upgraded suspension and bigger tires. Designed with a slightly greater focus for the road.
You'll want to do your research if it's an old clunky bike and you don't know how to fix it, move on. If you're renting from a company overseas, you best check their reviews. A reputable motorcycle rental company will have chosen the reliable bikes for you. A bike that is designed for long, long distance traveling with minimal maintenance.
To Sum it Up
    The world of adventure motorcycle riding is an exciting way to take a regular traveler into places that can often be off limits, or prohibitively difficult to access on an adventure close to home or on an international getaway. If you are considering getting into the ADV world read up on the options, get to know what you are looking for, then take the plunge into this incredible world on two wheels. No one ever said that it would be easy, but it will definitely be fun.
    Check out our related posts on Vietnam motorcycle blogs to see if leaving your hog at home or throwing a leg over your first Vietnam motorcycling adventure is the right option for you.