Reading Time:
2
minutes
Christmas is coming to town and if you haven't got any pictures with friends and family, or you're just a lone photography enthusiast (like me), be sure to check out these locations for the best Christmas spirit in Saigon.
1. Takashimaya Shopping Center
At 65 Le Loi Street, Ben Nghe Ward, District 1, Takashiyama is the brand new luxurious shopping center of Saigon, that has just been opened in last July. This is truly a paradise with many places for shopping, entertaining and food-ing. Takashimaya is also one of the most decorated places for Christmas in Saigon. Almost every shop has their own Christmas tree surrounded with gift boxes and mistletoe on their doors. You don't have to be a photographer to take great pics here. Just swinging camera and every shot could easily be artistic and Christmasy. Great place to hang out at night too. Just a shame I didn't see any Santa around.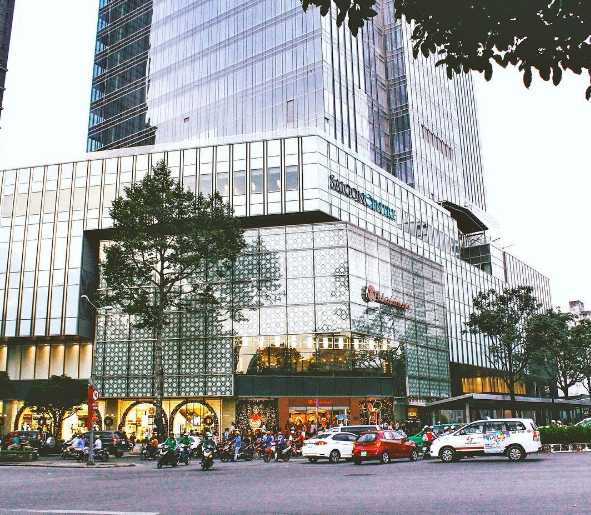 2. Aeon Mall, Tan Phu District
This year,  Aeon Mall will surprise you with an almost-20-metre-high marvelous Christmas tree, created with thousands of LEDs, just outside the Mall.  Inside the Mall, every store is uniquely decorated . But they also run some Christmas activities for families like making cards, baking, designing shirts for Christmas, and of course they have a Santa Claus! Good place for families.
3. SC Vivo City
Right at the center hall of Vivo City is a big big special Christmas tree, with special means that you can climb up inside the tree and pop out a window/balcony to jump down… or take a photo! The tree isn't made of thousands of LEDS like Aeon's, but it's beautifully decorated with lots of ornaments, and stands on an iced-ground too. The decoration outside would amaze you too, especially in daylight with all the snow. Buy some snow spray cans when you're there, they add some cool effects into the shot!
4. Diamond Plaza
Diamond Plaza has always been the first building to get decorated during Christmas and Tet Holidays. This year, with the theme "Lovely Christmas" with the main scene being the two black and white bunnies, and there's a dazzling Eiffel tower right at the front!
5. Nowzone Fashion Mall
235 Nguyen Van Cu, D1
Not the biggest nor the best in town but Nowzone amazes people by simplicity and class
6. Vincom Center
A good combination of shopping, enjoying food and hanging out, plus it's right in D1. Beautifully decorated and right at the city centre so, Vincom is usually crowded all day at this time of year.
7. Christian Town all around Saigon
Alright, the real Chrismas places in town would be the Churches and Christian towns, where people start decorating very early, and are the busiest places during Christmas Eve.
Some of them would be on:
Phạm Thế Hiển street, D8,
Tam Hà street, Thủ Đức District
Từ Đức street, Thủ Đức District
Nghĩa Phát, Tân Bình District
Merry Chismas!
Written and created by Link